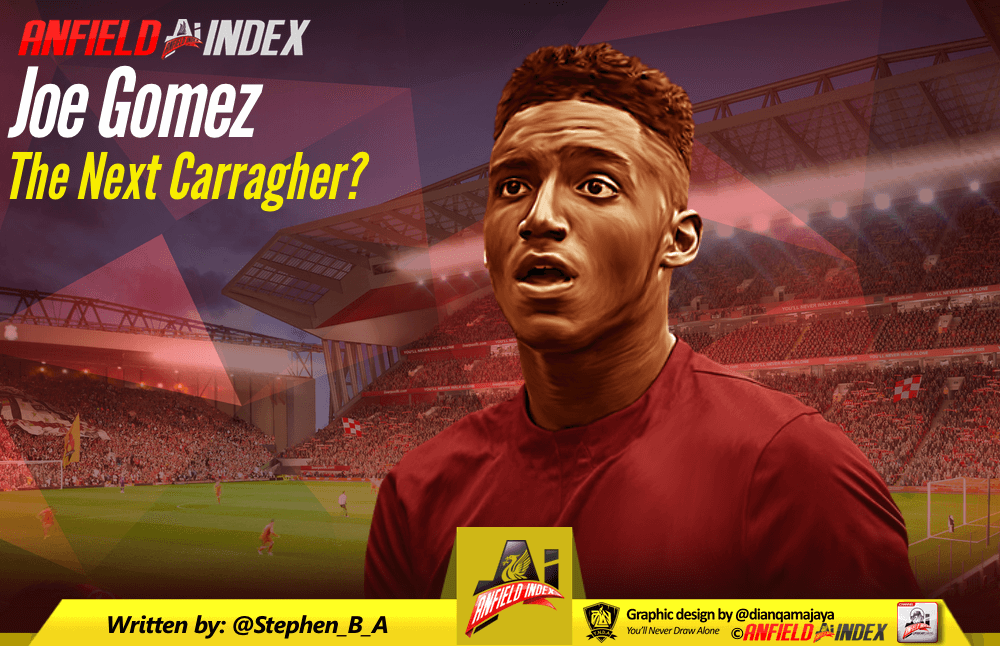 Joe Gomez: The Next Carragher?
Joe Gomez signed for Liverpool as an exciting young centre-back who at 17 years old had broken into Charlton's first team. In 18 first team starts he'd played both centre-back and right-back, showing his pace, power and surprising physicality given his age.
Due to a spate of injuries in the squad, Gomez started his Liverpool career playing out of position as a left back. At 18 years old he looked assured, composed and ready for the challenge of playing for Liverpool. Fans were hoping the club had signed the next Maldini – who was world class as a left back and centre-half. But five games into his career he suffered an injury to his anterior cruciate ligament which would go on to keep his out of the team for nearly 15 months.
Following an injury to Nathaniel Clyne last summer a fully fit Gomez was given an opportunity to cement his place in the team. Mostly playing as a right back, he made 31 appearances for Liverpool last season both impressing fans and piers, but also showing there's plenty of development left to go. His performances led to his first appearance for England, playing three games in Southgate's back three and once again exciting fans and bring his potential to the fore.

So far this summer we've seen him back in his preferred position at centre back getting minutes alongside Virgil van Dijk. And, as mentioned in my Depth Chart piece last month, this is where we should see more of him over the coming season.
Versatility in defence can be both a blessing and a curse. Maldini was one of the greatest and Jamie Carragher used his ability to play across the back three to become a cornerstone of the Liverpool defence for the best part of a decade. However, Joe Gomez is at a point in his career where he needs to concentrate on becoming a top-class player in one position, not a Jack of all trades, but a master of one.
Joe Gomez is quick, strong, has a reasonable touch and looks comfortable on the ball. As a fullback, he looks a little short in terms of on the ball ability, but as a centre-back, he looks above average. Considering his age, he's only recently turned 21, he has good anticipation, is brave, composed and determined. Gomez falls short in a couple of areas, such as reading the flight of the ball and positioning. But these are skills that will come with game time.
Next to Virgil van Dijk, the young centre-back could easily go on to become a top Premier League player. He would have arguably the best defender in the country alongside him week in week out, telling him where he should be, helping him on the training ground with his weaknesses and giving him the confidence to take the next step. Gomez could use his pace and determination to be the front footed defender, with Virgil watching his back, telling him when to go and when to stay and building that relationship that Liverpool have missed since the days of Carragher and Hyypia.
But… as Joe Gomez has proven he can play as a right back, he can cover left back and is capable as a centre-half in a back two or back three, will he be given enough game time in one role?
He's where the comparison to Jamie Carragher comes in. The Liverpool legend made his debut in 1997, playing mostly as a right back until 2001 when he was switched to left back. During this period he played a handful of games as a defensive midfielder and centre back, but it wasn't until 2004 and the arrival of Rafa Benitez that Carra was permanently moved into the centre of defence.
Carragher had over 350 games in a Liverpool shirt before finally taking up a position that would see him through the next nine seasons at the club. Though he was a well-respected centre-back and has become a legend among fans, he was never quite regarded as one of the best at the time.
Joe Gomez has the potential to go on and play for Liverpool for well over a decade, surpassing the levels Carragher reached, and his versatility will always make him an important part of the squad. But at 21 it's time to take advantage of playing alongside one of the ten best players in the world in his position.
Yes, there are games where Lovren and Klavan's 'see-ball, kickball, head-ball' approach will be needed as he doesn't quite have the build and aerial ability to take on the Burnley's of this world. But in the every changing Premier League, it's time to see his qualities come through as a rotation piece and potential starter alongside VvD. His pace allows a high line, being comfortable on the ball is needed against low block teams and reading of the game can only improve by playing.
Yes, Joe Gomez can be the next Jamie Carragher, but let's hope that's because he becomes a leader in the heart of Liverpool's defence for years to come, and not because he spends the first half of his career as the ultimate utility defender.