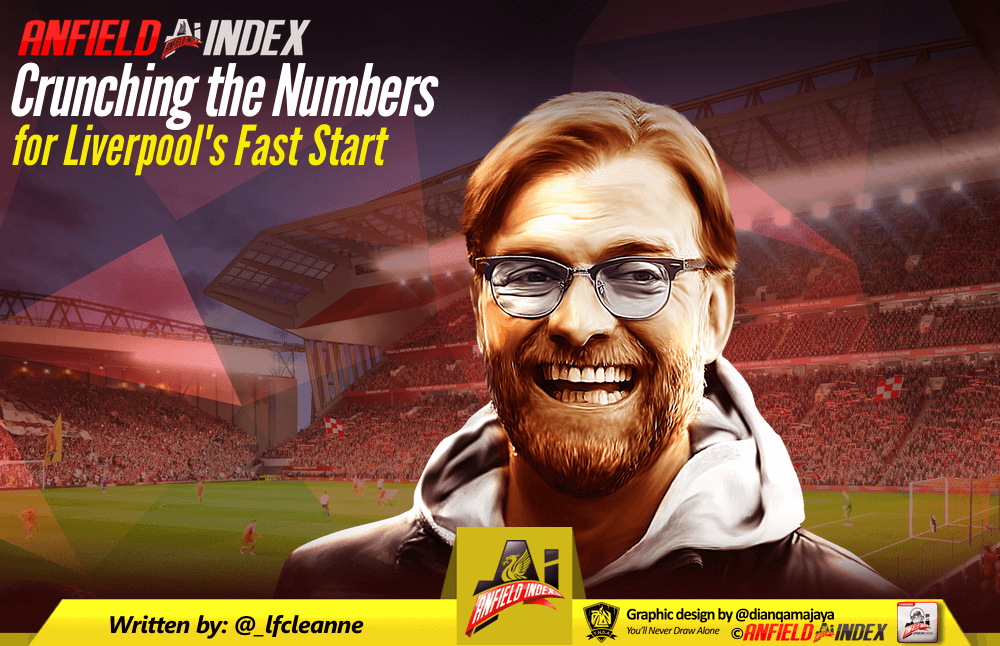 Crunching the Numbers for Liverpool's Fast Start
Fellow Anfield Index writer Olli Emmerson recently wrote an article on what Liverpool must do to win the league. He crunched the numbers, looking at previous league winners and their points tallies alongside goals scored, goals conceded and the results from the opening ten games.
Further to that, I decided to delve into Liverpool's fixtures, compute the average points we achieved against each opposition and thus determine whether the Reds can make the kind of fast start prior Premier League winners have done.
Starting with West Ham, then.

Liverpool cruised to a 4-1 win away from home on November 4th 2017 with goals from Salah (x2), Matip and Oxlade-Chamberlain, whose elated pumped fist celebration while Hammers fans were still blowing bubbles made for a memorable photo. The reverse fixture produced the same score-line as Mohamed Salah, Sadio Mane and Roberto Firmino all got on the scoresheet.
Thus, Klopp's side achieved an average of three points against West Ham last season. I'm good at maths, I know.
Liverpool's second fixture of the 2018/19 campaign is at Selhurst Park, another opponent they beat twice in 17/18. An initial 1-0 win at Anfield marked the club's first league win of the season before a 2-1 away victory on March 31st was sealed by none other than Mo Salah. Another average of three points.
The next three games against Brighton and Leicester all produced an average of three points last season – two convincing wins against Chris Hughton's side and two much closer victories against The Foxes. Thus, Liverpool could well take maximum points from their opening four games of the season – a feat you wouldn't bet against given their exhilarating attacking trio alongside Alisson, Fabinho, Keita and Shaqiri all of whom address real weaknesses present within the side.
| | | |
| --- | --- | --- |
| Team | Home & away result | Average points 17/18 |
| West Ham | 4-1, 1-4 | 3 points |
| Crystal Palace | 1-0, 1-2 | 3 points |
| Brighton | 4-0, 1-5 | 3 points |
| Leicester | 2-1, 2-3 | 3 points |
I bet you're wondering what the purpose of this article is at this stage, given Liverpool bagged an average of three points in every fixture so far. It gets a little bit more interesting now though.
Next up is Spurs and the start of a tricky run of games.
The Reds drew 2-2 with Tottenham in February thanks to some dubious refereeing decisions that saw Harry Kane convert a 95th-minute penalty. Then came the harrowing 4-1 defeat at Wembley on October 22nd – one of Liverpool's worst performances, and results, of the season. An average of 0.5 points reflects the increase in the quality of opposition for Klopp. Yes, I'm aware no such thing exists but bear with me.
The Reds face Chelsea and Manchester City in quick succession during the September-October period – two far more challenging fixtures than the previous opponents. Last season garnered a 1-0 defeat at Stamford Bridge on May 6th before a 1-1 stalemate in late November, producing an average of 0.5 points.
A 5-0 defeat against City left much to be desired from the side, earmarking the stark gap between the eventual league winners, and record breakers, and Liverpool. However, such was our form after the turn of the year, we were able to bag a 4-3 win to soften the blow of the Etihad nightmare. With a loss and a win there's an average of 1.5, again impossible but an indication of how tough this run of fixtures will be so early on in the campaign.
In Huddersfield resumes the trend of an average of three points, hopefully, another routine win and clocking up of the points tally. Meanwhile, Cardiff represents the final fixture of the 'opening ten'; given the club have just secured their place in the Premier League it's hard to establish what the fixture will bring, but you'd imagine Liverpool's quality will shine through against a 'weaker' opponent. Still, nothing is certain in football.
As per Olli's article, 19 points is the minimum a title winning side have obtained in their opening ten games in the last eight years, that being City in 2013/14 and Leicester's miraculous season of 15/16. Last season saw Liverpool gain 16 points from a possible 30 – a poor tally by their standards. However, based on last season's results Liverpool could gain the following:
Liverpool vs West Ham: 3 points
Crystal Palace vs Liverpool: 3 points
Liverpool vs Brighton: 3 points
Leicester vs Liverpool: 3 points
Spurs vs Liverpool: 0.5 points
Liverpool vs Southampton: 3 points
Chelsea vs Liverpool: 0.5 points
Liverpool vs Man City: 1.5 points
Huddersfield vs Liverpool: 3 points
Liverpool vs Cardiff: Undetermined (but probably 3 points)
That would give Liverpool a total of 20.5 points. I am acutely aware that there are no half points within football but the figure gives a rough indication of the ballpark Liverpool could find themselves in should they perform as they did in the corresponding games last season.
Albeit below the average of 23.25 points for the opening ten games, the results would put Klopp's side in a good position at the start of the season. By no means will it ensure the manager's first piece of silverware, but it's interesting to see how Liverpool would fare should they pick up the same points in 17/18.
Then there's the fact Liverpool have quite obviously strengthened their side from last season's eleven. Bringing in Alisson will have a monumental impact on the number of goals conceded while Virgil van Dijk's first full season should also reduce the figure. Fabinho's arrival as the first defensive midfielder since Javier Mascherano offers a suitable blanket to the back four while Naby Keita's dynamism and intricacy in midfield should keep things ticking over in the final third. A certain bicycle-kicking Shaqiri will have an impact, too.
Everything should be taken with a pinch of salt, but based on Liverpool's corresponding results from last season, they could well get off to a fast start, setting the tempo for the campaign ahead and allowing them to fight tooth and nail against Manchester City for the title.
Here's hoping anyway.