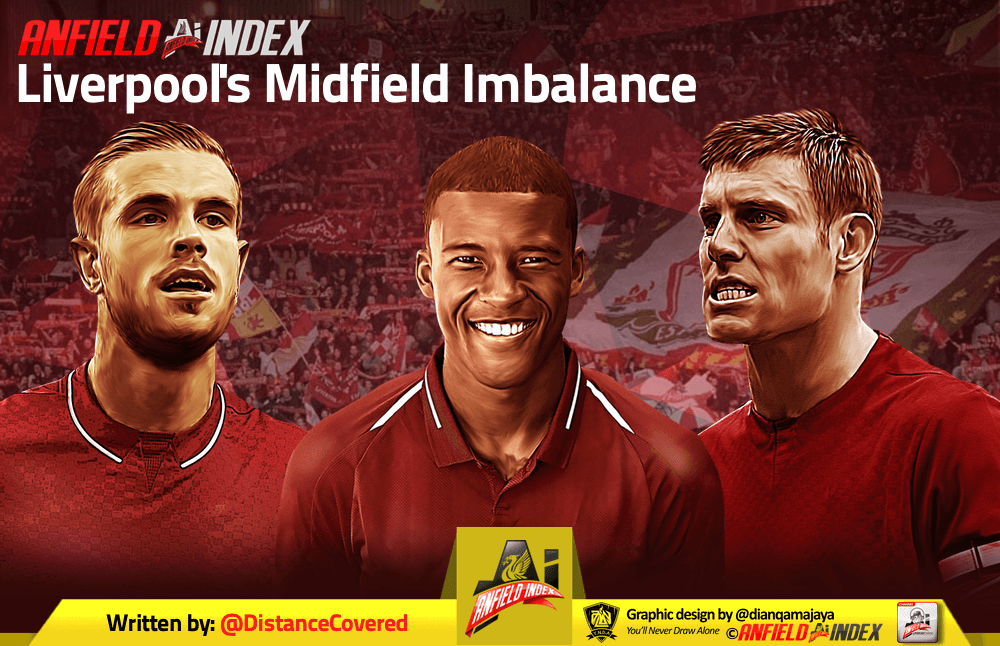 Liverpool's Midfield Imbalance
So far this season, Liverpool have accumulated 12 points after winning their first four matches of the campaign, even despite the Reds barely moving into second gear. Klopp's title challengers have thus far won 4-0, 2-0, 1-0 and 2-1, but in one of those contests, Liverpool struggled considerably to regain control more so than in their previous three matches. Against Leicester City and despite collecting all three points, the team were lucky to escape with the win having lost the battle to assume control for large periods of the match. I'm here to present the argument that the reason for this lack of control was due to an imbalanced midfield after changes made to the XI.
In the first three matches of the season, Liverpool's starting midfield trio was Milner, Wijnaldum, and Keita, with Wijnaldum assuming the role of the deepest midfielder. This position is widely regarded as the #6 and involves acting as the lone pivot with the other two midfielders operating in the space ahead. The player assuming this role will almost always naturally see a lot of the ball, and this is due to the area in which they're required to operate in, as well as the triangular passing lanes that typically open up because of the where the player is situated. The other two midfield roles have been assumed by Keita and Milner, and they generally involve operating in space ahead of the #6 and making vertical movements without the ball to influence build-up play. Let's use Keita as an example, sometimes he will drift deep both to collect the ball and to cover his fullback who has likely moved up the field, and sometimes he will instead drift forwards to receive the ball in the final third closer to goal. This type of responsibility requires the player involved to show for the ball, to want the ball and to influence build up, hence why Keita and Milner perform the role comfortably with ease.
However, against Leicester, Klopp enforced his first starting XI change of the season by removing Keita and including Henderson, who has acted as Klopp's #6 for around two seasons now. If Henderson is included in any XI, he will almost always play as the deepest player in the midfield trio, because Klopp retrained him to learn that position shortly after he arrived at the club. This meant that Wijnaldum's position shifted to the role that Keita had previously been occupying, and this negatively impacted the team's balance drastically.

Early last season I wrote this piece after solely observing Wijnaldum for an entire half of football, at which point he was operating in the role that he played most recently at Leicester. My observation at that time was that Wijnaldum is a player that behaves strangely when his team have possession, as his body language is somewhat introverted and he appears to have no real desire to want the ball or get involved. In terms of showing and offering himself as an option to his teammates, Wijnaldum almost came across as shy and hesitant, which isn't ideal for a player in the middle of the park. At the time of writing that piece around a year ago, Wijnaldum was averaging around 35-40 passes per match after three league games, which was considerably lower than rival players in his ilk such as Paul Pogba and Moussa Dembele, who were averaging around 65-70.
This season in his first three matches, Wijnaldum was averaging 68 passes per match, double from the previous year. This was a considerable improvement on last season and it just so happened to correlate with him starting as the team's #6. In this position, Wijnaldum naturally sees a lot more of the ball for reasons highlighted previously, so his tendency to not get involved becomes redundant. However, in the win over Leicester, Wijnaldum reverted back to his usual self by accumulating just 30 passes, which coincidentally was after his role changed back due to Henderson reclaiming the #6.
So in the 4-0 win over West Ham, Milner completed 102 passes, Keita 68, and Wijnaldum 68. In the win over Palace, Milner completed 49, Keita 64, Wijnaldum 57, and against Brighton, Milner made 94, Keita 63, and Wijnaldum 76. This is evidence that each midfielder in the first three matches was contributing to passing, with the numbers of each player being vaguely in the same neighbourhood for each match and thus, enforcing balance. This in comparison to the win over Leicester, in which Milner completed 63, Henderson 48 (but was subbed on 70 mins), and Wijnaldum on just 30. This is significantly more imbalanced because if Henderson had completed the full match he'd probably have ended on about the same amount as Milner, leaving Wijnaldum over 30 passes behind both players despite playing in the midfield alongside them. This imbalance is demonstrated in the passing graphic below, courtesy of the fantastic @11tegen11, as it's clear that one side of the midfield is much less involved resulting in structural defects.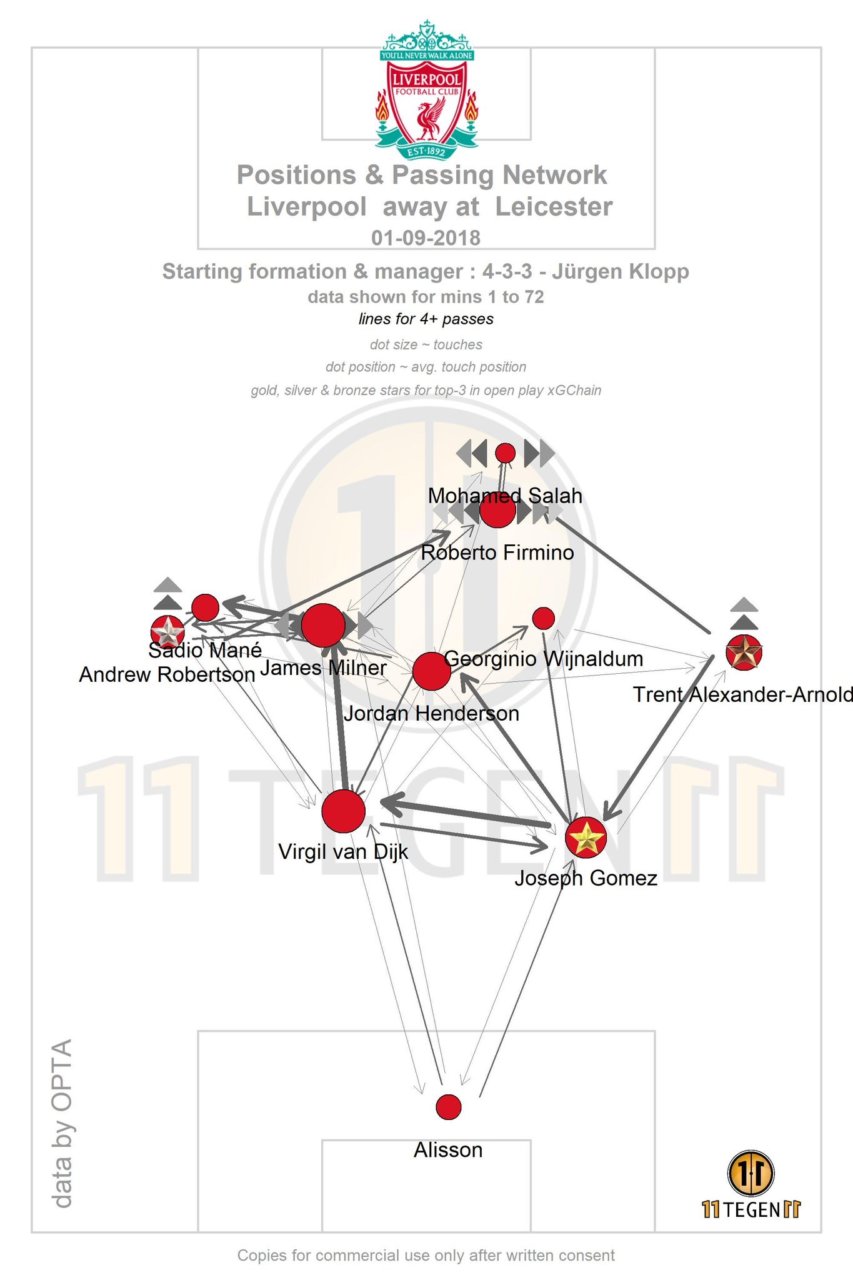 Now, compare that pass map with the one from our other away win against Crystal Palace, which was equally as tough, and the midfield looks significantly healthier with shared passing amongst the trio and thus, more control. This graphic is pictured below, and the size of the dots represent the number of touches for each player.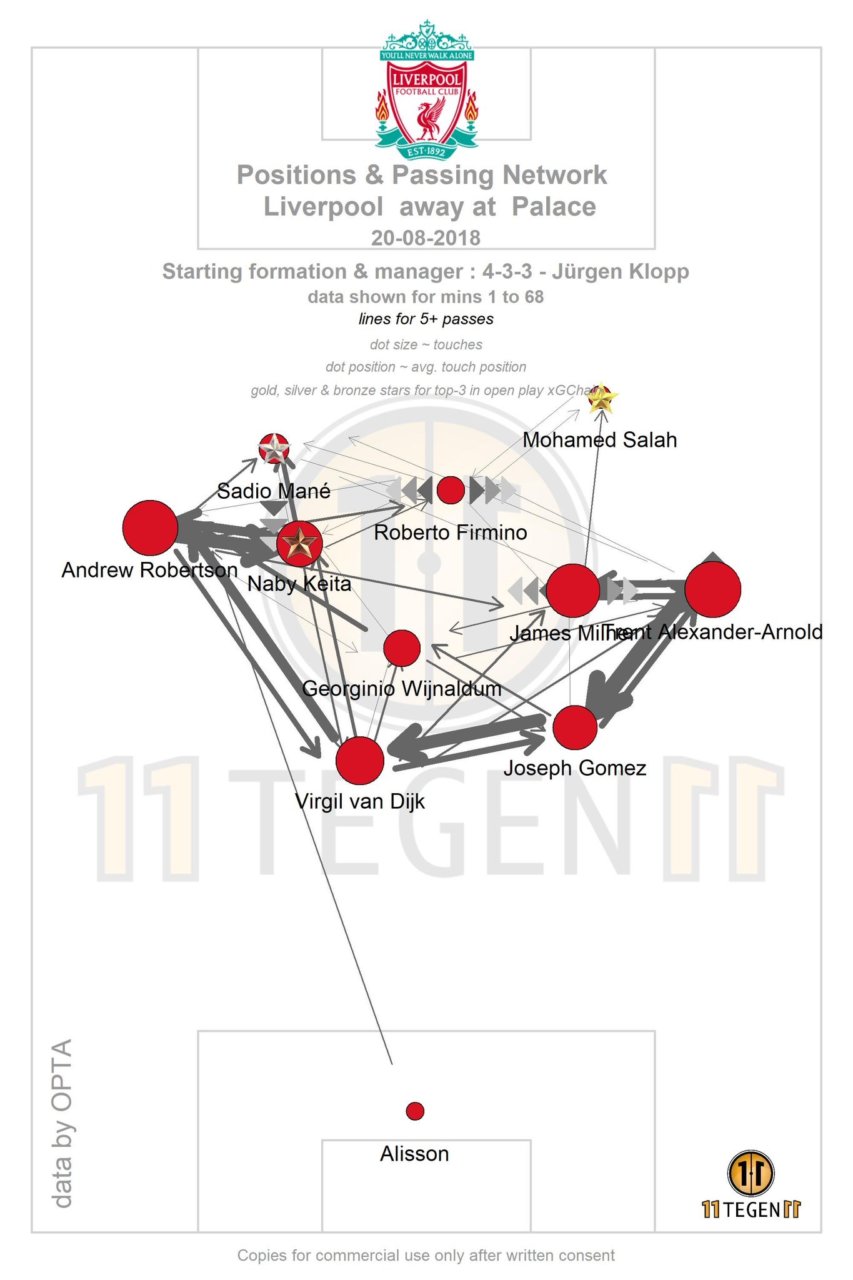 Such an imbalance in terms of sharing passing naturally results in a lack of control, as having a midfielder that completes half the passes of his teammates can act in a similar manner as playing with 10 men. I appreciate this is an extreme example, but if we consider the issues that would arise if Liverpool tried to control a match in which one of their midfielders had been sent off, then that's almost what's happening when Wijnaldum plays alongside Henderson albeit to a lesser extent, because he's barely involved and acts as a spectator for the large majority.
This, in my opinion, is why Liverpool struggled to control Leicester considerably more than their previous three opponents. Liverpool's midfield has structural issues when Henderson and Wijnaldum start together, and that's because they both lay claim to the #6 role, with Klopp always opting for Henderson possibly due to Wijnaldum being the more versatile. When this happens, Wijnaldum is then forced to assume a role that requires much more willingness to show for the ball, and as I established in my observation from last year, that's just not in his nature.
To conclude, I think whenever Henderson and Wijnaldum start together, Liverpool will have structural issues originating from their midfield imbalance, resulting in a lack of control. The outcome may be different when Fabinho is introduced, but the combination should always be two high volume passers playing either side of the player who's assuming the role of the #6, and to an extent, the more that is implemented, the more Klopp's men will be in control.