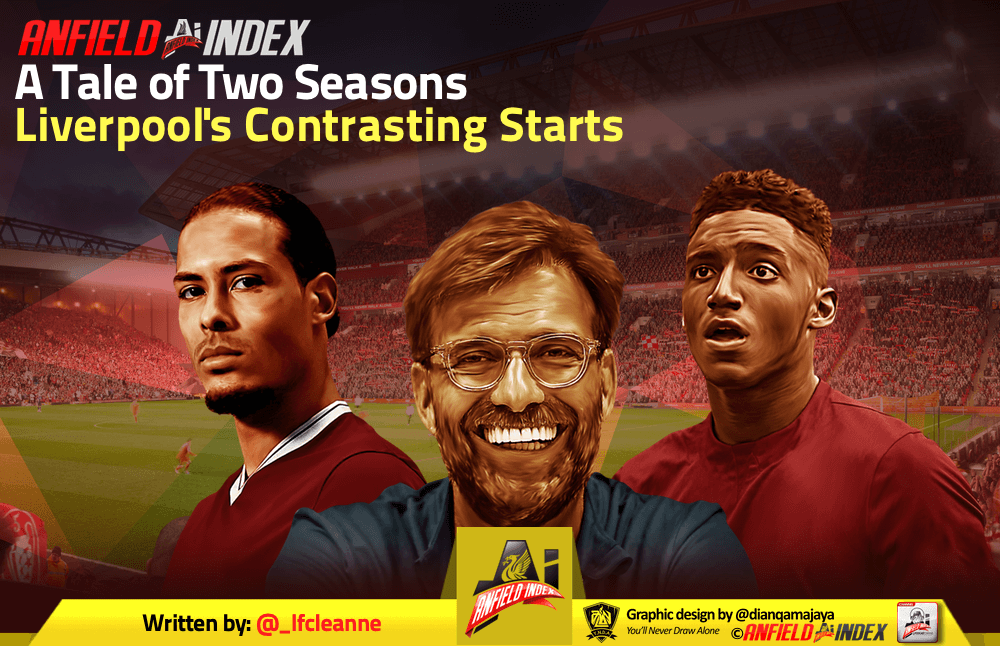 A Tale of Two Seasons: Liverpool's Contrasting Starts

Liverpool played some electric football last season. The thrilling ride to the Champions League final is testament to the fact; netting a record-breaking amount of goals on their voyage to Kiev, Jurgen Klopp's side outfought and outclassed opponents across Europe, developing a reputation as one of the most exhilarating attacking sides in the land.
At the heart of that was Mohamed Salah, who returned to the Premier League determined to prove his worth after a poor spell at Stamford Bridge years prior. Netting 44 times in 52 games, the Egyptian certainly silenced his doubters, taking England's top flight by storm at the heart of a well orchestrated, purring unit at Anfield.
Blowing teams away in short 10-15 minute bursts, Klopp's gegenpressing high up the pitch immediately set the tempo for proceedings, forcing the opposition onto the back foot and enabling the midfield and front three to combine to full effect. Naturally, this took a while to come into full effect during the opening games of the campaign, with Liverpool picking up 16 points from their first ten league games in 2017/18. For measure, that put them sixth in the table and 7.25 points behind the average tally achieved by previous title winners – see Olli Emmerson's article for more details. 
This season has quite clearly seen a change in approach. No longer needing to forcibly outscore the opposition in order to gain maximum points, a calmer, more pragmatic approach has seen Klopp rely far more on his defence. For all the goals scored last season, there would always be an overriding worry that at 3-0 up Liverpool were capable of self-destructing. Dejan Lovren would make a costly mistake or Loris Karius would fumble a cross, gifting a goal to the opposition that would ensue nerves around the ground.
Now, we possess the ability to see out a game even at the very finest of margins; a solid 1-0 at home to Brighton and a resolute away win at the start of the season may have failed to deliver the hammerings of old but instead reflect the new found strength in defending. Virgil van Dijk's authority has brought the very best out of Joe Gomez, who has excelled into a prominent player in Liverpool's season thus far while the full-backs have continued to show their usual buoyancy at both ends of the field.
For all the talk of Liverpool becoming a mundane watch this year, Salah being out of sorts and the attacking fluency being lost in favour of defence resilience, perched at the tip of the table, the Reds have obtained twenty-six points from their opening games – ten more than in 2017/18. What's most interesting and reflective of how far the team have come in the space of a year is the 20 goals scored alongside just four conceded. For context, that's three more (yes, more!) scored than at this stage last season with twelve fewer goals being shipped at the back. Talk about improvement.
As exhilarating as last season was, particularly in Europe, you never got the sense that this was a side who could sustain a title challenge for 38 games. The attack was there, purring in all its power to score goals week in, week out, but a lack of discipline and individual quality elsewhere put them firmly in the shadow of Pep Guardiola's Manchester City. However, emerging out of the darkness and firmly into the limelight, Klopp's squad now look the part.
You can't play perfectly week in week out, although City gave it a good shot last season, and there will be afternoons when you've just got to see a game out, playing poorly but taking the three points. Liverpool have done that this season where they couldn't previously. They've beaten the dross and held their own in the big games.
It's too early to tell whether this could be the year, but the early indications are definitely there that this team, this Liverpool, are finally ready to challenge at the top of the Premier League. Defensive strength, midfield depth and an exhilarating trio in attack, this is the best chance the club has had in years.
Ten games in, it's looking good so far.