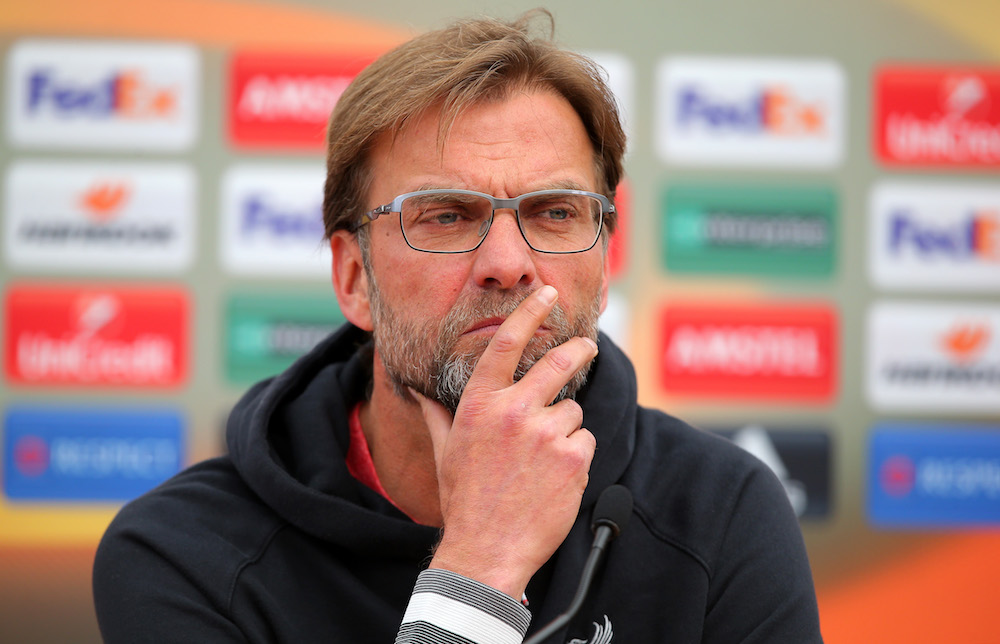 The Jurgen Klopp Game of Player Poker

Last summer, when the club had a bid of £66 million for Naby Keita turned down, Jurgen Klopp jokingly likened the transfer market to the game of poker. But all jokes aside, judging by the way he has handled his dealings since then, be they transfers of new players, rotation or player management, the man is clearly a card shark. With his affable smile and his proclivity to say things how he sees them, he's the epitome of the honest manager. If Jurgen says it is so, then, of course, it must be so.
Only quite often it's not. Fans and even managers of other clubs are calling him a hypocrite, consistently harping on about those Pogba comments and the fee we paid for Van Dijk. And honestly, you can understand what they mean. While Kopites defend his right to change his mind, there's a possibility that Klopp was presenting this unwillingness to overpay for players to throw off his counterparts or perhaps to let selling clubs (we're looking at you, Southampton!) understand that he wouldn't pay over the odds for a player.
After all, the man is a master of psychology, so could it be that his poker face was that good that he had the entire footballing community fooled all along. It's possible, but not likely. So, what about his activity since the summer of 2017? What has he done to convince us that he is the ultimate footballing version of a poker room card shark? Quite a lot.
Transfers
First up is Keita. After that initial bid was rejected, Klopp stood his ground and refused to play ball. He wanted his man and had a figure in mind that he believed was enough. He walked away from the deal, and in the final days of the transfer window, Leipzig came back to the table willing to sell. As we all know, it took a full season to get our man, but instead of betting big, Klopp chose to play a more reserved hand and wait until the better deal came along.
Then came the van Dijk saga. This time, the manager decided that the big fee was worth it, and he went all-in for the defender. Our record in defence since the big Dutchman joined us proves once again that Klopp played his hand well.
And what can we say about Alisson? A world record fee for a keeper, a hole that needed plugging well and good plugged, and the ruthless casting off an underperforming goalie sent out on loan for two seasons. That was Klopp the ruthless saying, to hell with the poker face, let's get it done now.
Can we expect a similar situation with Nabil Fekir? Will we end up buying him in January or next summer? Only time will tell, but with our man Klopp, anything is possible.
Player Management
It is, of course, basic poker strategy to collect good cards to make a strong hand, which explains why Klopp was so reluctant to allow Sturridge to leave. Here he had a player who had all the potential to be the German's ace up his sleeve if only he could convince him to change his attitude and work ethic.
Now there are many fans that assume a loan move for any player over the age of 20 means his time at the club is coming to an end. And in many cases, this is true, but Klopp had other ideas for the dancing man. His comments on Sturridge needing to know the difference between pain and real pain are well-documented, but that wasn't the player's real problem. It was work ethic and attitude, and in this meritocracy, if you lack in either, then it's goodbye to you.
Klopp, though, is a fair man, and once again, his apparent poker skills came into play. Sturridge went out to West Brom, got injured, Liverpool, career over. But Klopp's bluff worked. The player came back thinking that he was done and put his heart into changing Klopp's mind — it's plain to see in his all-around play. Thanks to Klopp's handling of the situation, Sturridge is now a team player and could have a few more years left in him at the club.
His handling of Fabinho is also to be admired. Although we paid a considerable fee for the Brazilian, he hasn't been rushed into the team and must earn his place. While this may not showcase any of those poker skills we mentioned, it's commendable nonetheless, with opposing managers now quite unsure what midfield they'll be up against when playing us. This topic brings us to our next point.
Rotation
This season, Klopp has already surprised us with his rotation policy. Indeed, it seems he's been surprising everyone with Alexander-Arnold missing out on a birthday match despite insisting that he's not tired. It was even more surprising, though, to see Lovren play at the back for the City game.
And what of the front three? With the Premier League our main target for this season and the team looking like real contenders, we didn't expect them all to start in Napoli. Many of us assumed that at least two of the three would be rested. Indeed, that team vs. Napoli was probably our best starting 11 so far this season.
Klopp likes to leave people guessing, and no matter what he says in interviews about "the boy playing well," you never know what surprise he'll pull on matchday. Although one thing we are sure of, though, is that Alisson will almost always be in goal. That makes it hard for opposing managers as they have no choice but to set themselves up to deal with the counterattacking threat of the front three, a situation that worked in our favour during the City game. Guardiola may have left Anfield raging over that missed penalty, but the truth is that they had never set themselves up to win the game. They lined up with our game plan in mind instead of looking to their own. And if Klopp's hard-to-predict rotation policy forces opposing managers into such a position, then he has this psychology thing mastered.
The thing is this is it. It's time to deliver on the promise. You've built up that strong poker hand, Jurgen, and placed all your bets. Now, it's time to claim the prize we've waited for years.