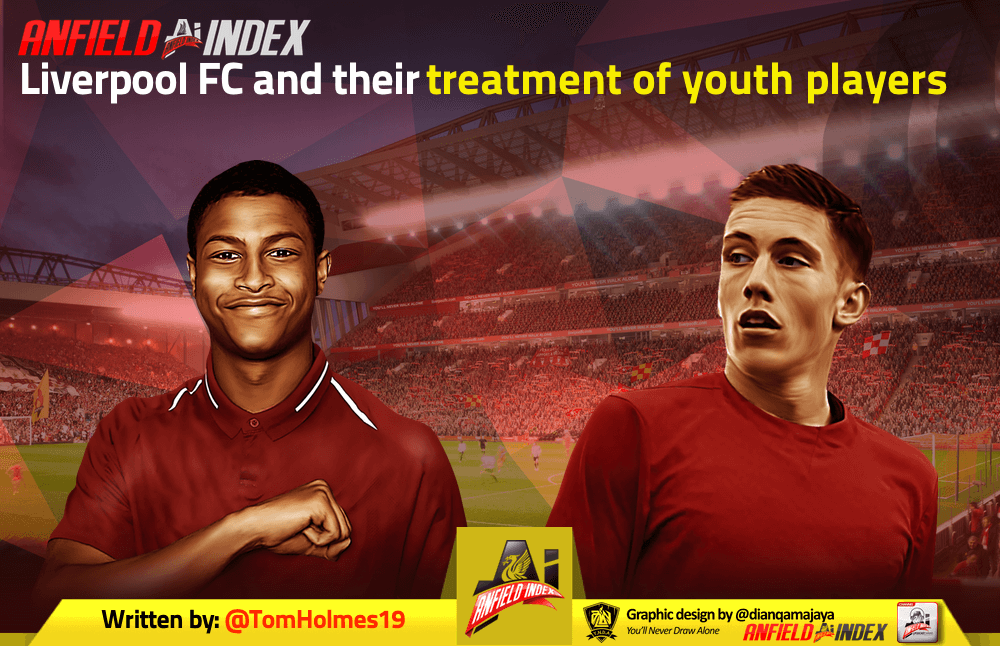 Liverpool FC and their treatment of youth players
The way that Liverpool treat their young players is interesting to me. They seem to fall into two groups under Klopp, and it's curious to see how Klopp treats, and has treated, both young players and the loan system that they fit into.
Take for example, Trent Alexander-Arnold. His meteoric rise may have been accelerated because of an injury to Nathaniel Clyne before the start of the 17/18 season, but it was always clear that Jürgen Klopp intended for Trent to take over as first choice in the right-back slot, or at least to rotate with Joe Gomez, as early as 2016.
Then there's Gomez himself, who is just a year older than Trent, and is already clearly a mainstay in the Liverpool team too, having been used across the defence, and is a hot prospect at centre-back. Clearly Klopp has no issues relying on young players and sees his team as one that is happy to utilise them – if you're good you're old enough.
On the other hand, there are those that despite the occasional first team appearance, are happily moved on relatively straightforwardly. Ryan Kent, Sheyi Ojo and the like will make Liverpool money, as Dominic Solanke has done already in this window, being sold for nearly £20m having been picked up for a nominal fee once the matter was settled between the Reds and Chelsea. Jordon Ibe making £15m is another great example under Klopp.
Which brings me onto three current players in the youth set-up, who are being discussed a bit more this window – as ever.
To begin with Rhian Brewster, who is just 18 years old, but is seemingly one of the obstacles to Liverpool potentially signing Timo Werner. Obviously, this talk is just speculation from journos, but on a certain level it makes sense. Klopp has been talking consistently about getting Brewster into the first team squad once he has fully recovered from his injury, and if he steps in, he'd automatically jump Origi and Sturridge in the pecking order anyway – and both have just 325 league minutes between them. So it makes sense that Brewster is seen as a long term squad option, and in the same way that Gomez has been preventing Liverpool buying a centre-back and Trent has prevented Liverpool buying a right-back, Brewster might be one of the reasons Liverpool aren't dipping into the striker market.
In contrast, let's talk about Harry Wilson. His current loan spell at Derby has finally borne fruit, as he's ended up with ten goals and two assists in the Championship so far this season.Nevertheless there remains very little confidence that he will be a long term option for Liverpool. Personally I've written and spoken at length on Wilson before, but the point is that the club have given very little indication that he is seen as a serious long term option. More likely, he'll be moved on once his loan spell ends, potentially bringing in something like £25m for the club.
And then there's Marko Grujic, a player who is probably somewhere in the middle. Grujic's injuries mean that despite playing well for Hertha Berlin, he's made less than ten appearances in the Bundesliga, although he's starting to find a run of form.
Whilst Grujic could easily come back to Liverpool in the summer, he'd be wrestling for a spot with the likes of Henderson, Fabinho, Keita and Wijnaldum. Whilst Henderson in particular won't be around forever, with Grujic I think selling him might end up being what the player would prefer, as he clearly gets on well in Berlin and he's not a local lad like Trent. Nevertheless, he's another player that the club could easily move on for a huge profit considering he was another free pickup.
The point I want to make here, is that the club's policy on young players is quickly developing into a win-win policy. Pick up lads like Grujic or Solanke on a free, or people like Trent or Wilson through the academy. Give them sniffs of first team action. If they're good enough, let them play and nail down a spot in the team. If they're not, loan them out until someone bites and is willing to pay you decent money for them. It's a great system both for the club and the players.
If they're good enough – and to be clear most of them aren't – then they can be regular starters for Liverpool and great additions to the squad for minimal expenditure. And if they're not, then the club can make a good profit, which can be used to spend on buying quality instead. The club could easily make £70m from Wilson, Grujic and Divock Origi, and reinvest that money intelligently in the squad, and that's before the other deadwood is shifted.
And these are players who aren't necessarily negatively affected either. Solanke for example, was rotting at Chelsea's reserves and opted to leave. Now he's got a place – when he's fit – at a decent mid-table PL club, which is probably about where his ceiling is. Grujic, even if he doesn't come back, has gone from Red Star Belgrade through to a mid-table Bundesliga club where he could easily become a key player over the next twelve months. And Wilson, assuming he doesn't come back either, will surely be playing the Premier League next season, either with Derby or someone else.
Naturally some of the players on this list are still players whose futures are in flux. Wilson I suspect will leave, but Grujic genuinely could go either way – again I'm leaning towards leaving. Whilst Brewster will stay, much will depend on whether or not Liverpool do move in for Werner. Liverpool remain somewhere in and around the odds with the betting sites, and whilst betting on transfers is rarely straightforward, it's usually at least worth keeping an eye on the best odds.
So where does that leave us? Well the future of individuals players might not be decided until the summer, but Liverpool have got a healthy system developing now, where decent young players make them good money, and some of the best young players are ending up playing for Liverpool. And that's something we can all celebrate.