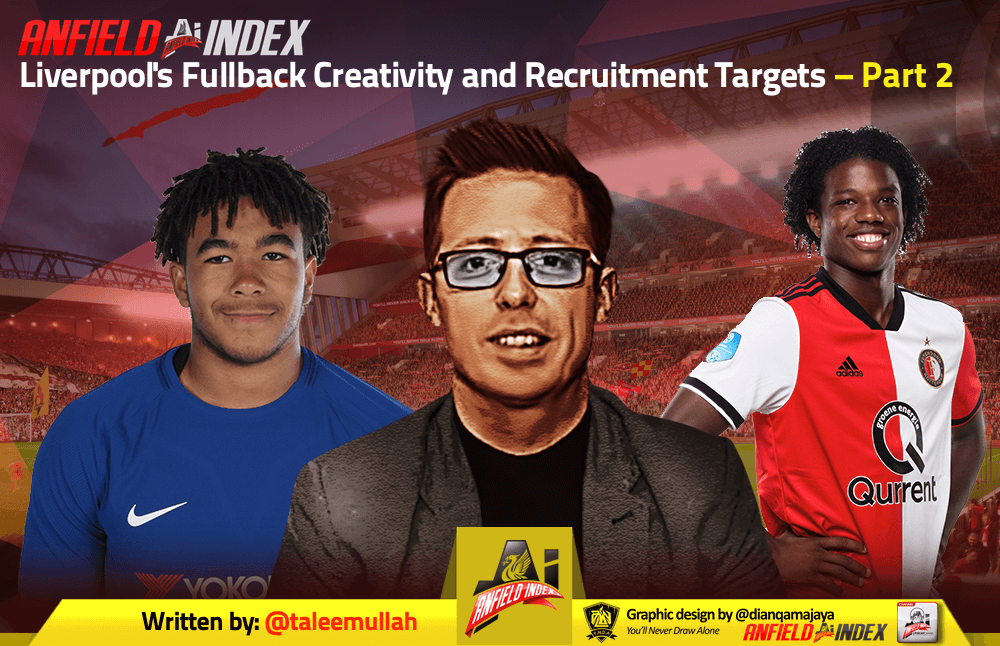 Liverpool's Fullback Creativity and Recruitment Targets – Part 2
In Part 1, we took a deep dive into profiling and analysing Liverpool's fullback creativity and whether it is sustainable – you can read it here.
Here in Part 2, we'll look at select recruitment targets who can meet our depth needs and tick boxes on the club's philosophy, eye and analytics tests.
---
Tyrell Malacia (20 yo, Feyenoord, 1415 minutes, Highest valuation: £2.8 million)
Tyrell Malacia is a highly rated, Dutch, modern left-back for Feyenoord who has represented the Netherlands in the U16s-U20s teams. A product of the Dutch total football education system at Feyenoord's academy, he was promoted to the first team by manager Giovanni van Bronckhorst in December, 2017 making a strong defensive debut in a 2-1 win against Napoli in the Champion's League. This season, he has scored 3 goals but has not registered an assist, playing a unique mixed role as both an overlapping and underlapping left back in attack. He dribbles and interlinks passing play in build-up before and at the halfway line, acts as a prime passing outlet in the left halfspace, and, is also tasked with staying wide left to cross or feed an attacker running towards the byline. In defensive transition, he often has to protect huge amounts of space in both central and left-sided areas of the pitch. Against weaker teams, he attacks space and one-on-one situations down the left wing and against stronger teams, is the more reserved fullback and interlinks play more centrally.
Given he is only 5ft 9in, he wins a respectable half of his aerial duels on two contests p90. He is extremely athletic, boasting explosive pace and great stamina, with excellent technical ability to match in terms of ball control, dribbling and retention in tight areas and during attacking transition. Offensively, he's a strong dribbler, passing outlet and is coached well on timing of runs and ensuring he takes up effective attacking positions based on the rest of his team. Defensively, his positional awareness in a low block is very promising – he's adept at making the right decisions in terms of marking and challenging in wide areas and inside the box, even with two attackers to defend. He also does well at breaking down plays or collecting second balls in defensive transition, in the context of having to mark large areas of space. For the youth team, Malacia played a similar role to the first team role Alexander-Arnold plays now – a dangerous set piece taker, vertical playmaking towards the centre of the field, a focus on dribbling and crossing in all final 3rd areas, but from the left-hand side, and recovering strong in transition.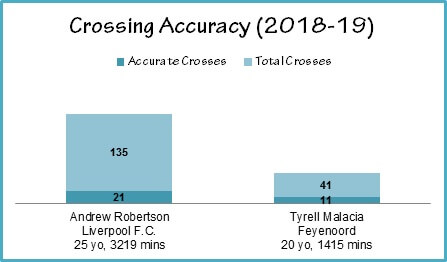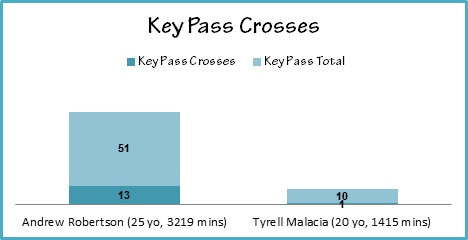 Malacia's crossing accuracy is impressive (26.8 per cent) compared to Robertson's (15.5 per cent) and this also projects well for the amount of time he has spent on the pitch, with a rate of 0.7 accurate crosses p90 matching Robertson's 0.6 p90. He's a more dynamic attacking threat taking 0.3 shots on target p90, 1.4 dribbles p90 at 58 per cent success rate and in on-ball defensive actions (tackles won, interceptions and blocks) makes a huge 5.9 actions p90.
G. van Bronckhorst's conservative utilisation of Malacia to pass-and-move rather than cross in attack, in contrast to the licence given to right back Cuco Martina, is a testament to his defensive coachability for what is a naturally gifted, attacking fullback. Along with measured minutes in his full introduction to top flight football, this has expectedly hampered his attacking output and rate from a crossing point of view with only 0.1 key pass crosses p90 compared to Robertson's 0.4. However, in general key passes, his rate of shot creation for others is one of the best among all fullbacks in Europe at 0.65 p90 compared to Robertson's 0.4 and Alexander-Arnold's 0.5.
Given the profile of fullback creativity outlined in Part 1, Malacia fits really well. He has the Dutch footballing education that Edwards and Klopp value, inherent athleticism, is highly coachable, excels in transition football, is an undervalued set-piece taker and has a dynamic technical skill-set for an overlapping and attacking left back. His breakout situation reminds me of Diego Dalot's at FC Porto, prior to his move to Man Utd. At a likely fee between £5-12 million for a player whose contract is running out, this would serve as a very wise investment for a high potential rotation left back to take 1200-1300 minutes from Robertson or stand in during Cup runs or times of injury.
---
Reece James (20 yo, Wigan on-loan from Chelsea for £900k fee, 3972 mins, Speculated Valuation: £10-20 million)
Heralded as Alexander-Arnold 'Mark II' , Reece James is a highly promising and versatile right back who graduated from Chelsea's development centre and has played an important part of the England youth international set-up from U18-U20 level. He came through playing as a striker before transitioning into a defensive midfielder and right back. He has had a breakout season this year as the star performer on loan at Wigan, scoring 3 goals and 3 cross assists in 46 appearances. He was named their Players' and Fans' POTY, was made captain in the last match of the season and won a community award for his work with charities.
James is an athletic powerhouse and physically dominates most opponents in one-on-one challenges. At 5ft 11in and 82kg, he is incredibly difficult to muscle off the ball, has surprising acceleration and a quick top speed when driving in space. His dribbling numbers are impressive making 1.1 dribbles p90 at 79 per cent success rate. In the air, he wins a solid 52 per cent of his duels on 3.7 attempts p90. This season, he has played a very similar role to that which Alexander-Arnold plays as an overlapping but playmaking fullback – he's involved in passing and playmaking moves along the entire wide right side of the pitch with an emphasis on using his technical ability to absorb pressure, distribute quick vertical passes and try to exploit crossing opportunities from wide right outside the box, more than from the box itself. He's a lethal crosser from open play and due to his incredible vision and technical ability, to retain and turn on the ball under pressure, dribble around or past players, or shift the ball to his right foot quickly, he is able to fashion his own crossing situations and play unique passes – and this is something few players can do. He has been Wigan's set piece specialist, penalty taker and has a unique but accurate delivery technique. He can shoot from distance, though rarely attempts this, but it means he always remains a threat when he finds space in the right halfspace or right side of the opposition box. His defensive fundamentals are strong but he has room to improve – he recovers well in transition but relies on crafty slide tackles in dangerous areas. However, he's a generally excellent right halfspace defender as he positions himself well and closes down passes to pressure regains quickly. In terms of on-ball defensive actions (tackles won, interceptions and blocks), he matches Liverpool's fullbacks with 4.3 actions p90. In saying all this, James has a wide skillset and it's no surprise he has featured for Wigan as a midfielder in a double pivot.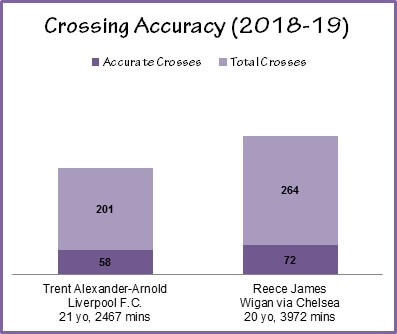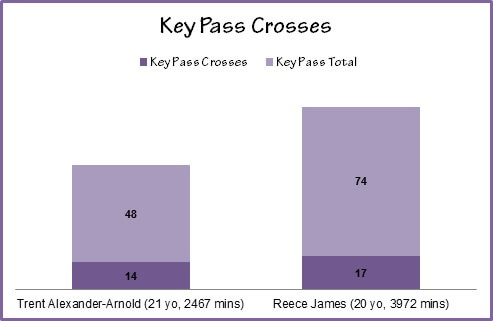 James' crossing numbers are highly promising when you consider his volume, accuracy (27.2 per cent) and rate of key pass crosses (0.4 p90) ties close to Alexander-Arnold's (28.9 per cent accuracy with 0.5 key pass crosses p90) but he is then able to maintain this output across a huge 1500 minutes more.
James profiles really well for our team, is very mature for his age and displays a lot of qualities suggesting he is ready for the offensive and defensive demands of first team EPL football, as a rotation player for a top team. As a young talent with a middle-high ceiling and ability to develop in the defensive and tactical side of the game, he represents a wise investment. Additionally, he helps meet the homegrown quota and is a useful multi-functional player who can play right back, central midfield and right wing – these all help to tick the philosophy, eye and analytics tests. However, the situation is complicated by the fact he plays for Chelsea who face a transfer ban, have a 30 yo Azpilicueta and he's a highly rated prospect for the club. These all point to an to overpay, possibly up towards the £15-25 million range touted for Ryan Sessegnon, but it might be a worthwhile one if the club can pull it off.
---
William (24 yo, Wolfsburg, 2586 mins, Highest Valuation: £6 million)
If Liverpool were to look for a dualistic fullback who could plug in on either side, without compromising on the attacking elements of their style of play, William would be the ideal signing. An underrated, modern right back with a very complete game, William has made the step up to the Bundesliga for Wolfsburg after moving from Brazilian team Internacional in 2017, and he has proven his quality in his second season. A gifted athlete with explosive acceleration, a high top speed and great stamina, he has the physical qualities to fit into a transition-based team. Despite being only 5ft 7in, he wins a respectable 55 per cent of aerial duels on 3 attempts p90.
Equally adept at playing as an attacking over- and underlapping left back or overlapping right back, William is technically gifted in the fundamental but important aspects of fullback play – in his ball retention against a high press, quick pass-and-move ability in build-up sequences with midfielders and wingers, ability to dribble in space and, of course, being able to contribute to the attack in the final 3rd with his crossing and passing from the right halfspace. Furthermore, he's an excellent set piece specialist on direct freekicks and corners with a hugely impressive 96 per cent success rate on 25 freekick attempts. This season, he registered 2 goals, an xA of 0.11, 1 assist from a cross, a shot on target rate of 0.2 p90 and completes 0.9 dribbles p90 at 56 per cent success rate. Reconciling his technical ability, ability to position himself well in the attacking phase of the game, and, dribble and open up the play in areas near the right halfway line, where a top team could often fall into stale periods of sustained possession with penetration, William has shown he has room to contribute to a team that provides and relies on its fullbacks for high width. This is backed by strong crossing numbers with an accuracy of 23.2 percent with 0.9 accurate crosses p90 – on fewer attempts, his key passing via crosses matches Alexander-Arnold's at a rate of 0.5 p90.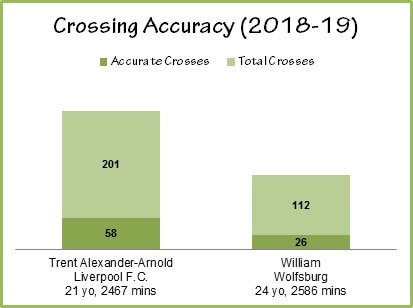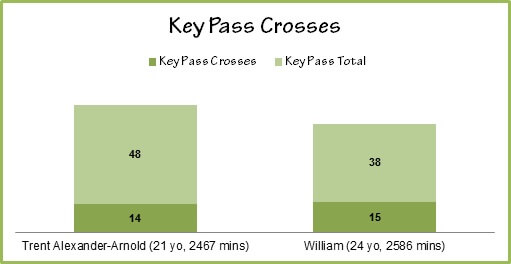 Although suitable for a pressing team who shift quickly into a medium-low block, William does have room to improve in his positioning and defensive decision making in transition. However, he is very aggressive and tenacious as a defender in making challenges once the defensive shape of the team has recovered, particularly in the wide right areas of the pitch in front of the right halfspace. In terms of on-ball defensive actions (tackles won, interceptions and blocks), he puts in one of the highest in Europe with 7.5 defensive actions p90.
He shares the same agency as Simon Mignolet, and given Liverpool spend relatively high amounts on agent fees, this could be an extremely wise investment if Liverpool were to broker a move away for the backup goalkeeper. In William, they would have a high quality attacking fullback with lethal crossing and set piece taking abilities, and, an already strong defensive game. Although room to improve as a transitional player for this Liverpool team, he is about to enter his prime and offers a ready player to relieve the workload of both fullbacks and cover for the outgoings of Moreno and Clyne. And it could be for a fee in the range of £12-18 million.
---
Special mentions go to:
Ryan Sessegnon (19 yo, Fulham FC, 2298 minutes, Speculated Valuation: £20-25 million). Sessegnon is seen as a special attacking left back talent for England with explosive pace. He is an obvious choice here, given consistent links from the days of scouting him, Chilwell and Robertson, as players to challenge Moreno. A highly versatile player, he has featured as a wide left attacking midfielder, inverted right winger and left back this season for a possession-based Fulham team. His attacking numbers are very promising for his age given the hype around his dribbling ability, ability to beat players in tight areas during build up scenarios, and, be a threat who can burst into the opposition box. He's registered 2 goals and 6 assists, including 1 cross assist, although crossing deep from wide attacking midfield areas and playing long verticals to Mitrovic has not been the most effective strategy. By system, 13 accurate crosses on 66 total cross attempts giving an accuracy of 20 per cent can be improved upon but a rate of 0.5 accurate crosses p90 is strong. He's a bigger shooting and dribbling threat than our fullbacks with 0.4 shots on target p90 and 1.3 dribbles p90 with a 48 per cent success rate. Keeping at 3 defensive actions p90 is really impressive given only 7 of his 26 appearances were at left back. I've placed him here due to a combination of strong links to Tottenham and less to go by in terms of assessing him in as a fullback in a transitional team. But if Liverpool see him as a multifunctional and generational talent for England, just like Tottenham do, he is worth signing and coaching for an evolving Liverpool team.
Youcef Atal (23 yo, OGC Nice, 6 goals, 0 assists, 2081 mins, Speculated Valuation: £16-24 million). An Algerian wing back who has broken out for Patrick Viera's OGC Nice team this season, after moving from the Belgian first tier. He's an explosive, combative and high risk playing fullback with the licence to navigate the right wing, dribble and, in certain situations, get into goal scoring situations in the box. He acts as a wide outlet to drive forward in one-on-one matchups and create from the right halfspace or inside the box. A huge 3.9 dribbles p90 at 50 per cent success rate to match 6.5 defensive actions p90, and a respectable 0.4 accurate crosses p90, with more low key passes after passing moves and successful dribbles, is hugely impressive. He's defensively aggressive but not the best decision maker in 60-40 duels in favour of the opposition and this can leave Nice exposed if their right-sided centre back and midfield are not in position. Although a very different player to Alexander-Arnold, he can add tremendous attacking versatility in the position that could change under Klopp's ever evolving team. One to watch for another season.
---
There are so many unknowns and permutations in the transfer window, especially for Liverpool, as they now have a relatively settled first team. I personally see Liverpool's fullback shopping panning out by their attempts to sign a high potential left back and utilising Gomez and Hoever as cover at right back for now. In that event, I really like Tyrell Malacia, assuming Ryan Sessegnon goes to Tottenham, and if they want to add a similar high potential right back, Reece James now is a great target. If they would rather wait to see how the right back position pans out for them, they could easily wait til Chelsea's transfer ban is up to re-assess Reece James and see if Youcef Atal continues his development, thereby getting another look at these two prospects in 1-2 years. If Liverpool cannot sign a young left back talent and want dualistic cover for the now, a move for William will cover them very well, will help sustain their crossing and set-piece creativity, and, after he has had some time working in preseason with the team can fit nicely into their transitional style of play. In the worst case scenario of no fullback signings and a downturn in Liverpool's fullback creativity, the consistent presence of Keita and Oxlade-Chamberlain will be a huge boost, along with any further creative midfield or attacking signings.
Tabish Aleemullah (@taleemullah)
---
Reference:
1. WhoScored. 2019. Football Statistics. 17th May 2019. <https://www.whoscored.com/Statistics>.