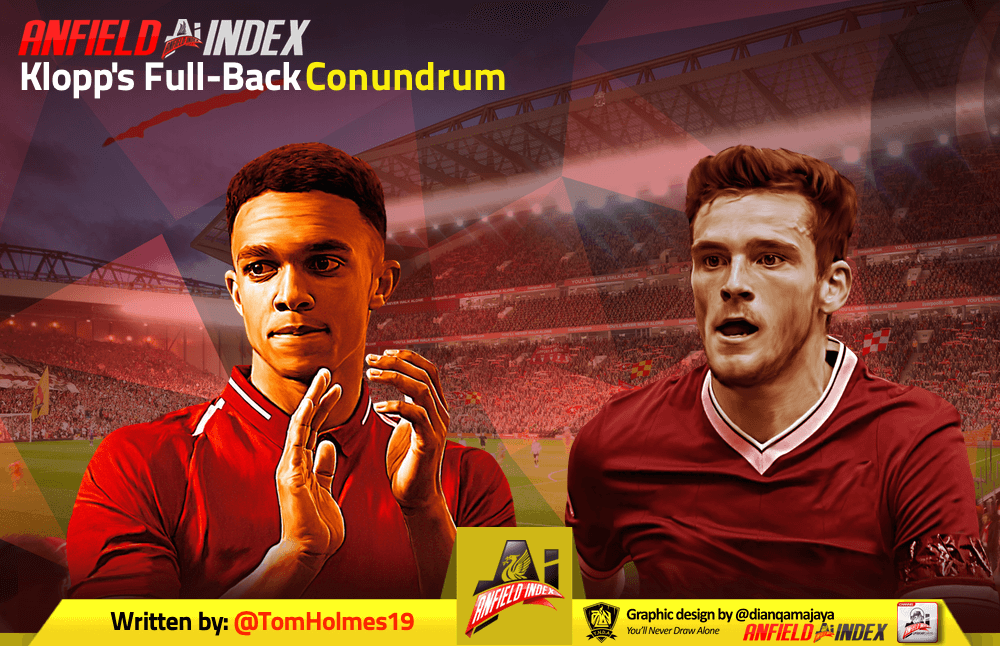 Klopp's Full-Back Conundrum
Liverpool's season is almost over, with only the Champions League final left. That, coupled with the fact that the Premier League transfer window is already open, means that transfer speculation and target hunting is the order of the day.
Now, most of the speculation regarding Liverpool seems to be that the Reds aren't planning to spend lots of money this summer, but are merely planning to replace players who leave and touch up the squad. This makes sense, given that the Reds have had a truly remarkable season, and with the return of Alex Oxlade-Chamberlain and Joe Gomez to the starting line-up next year, there are no glaring holes in Liverpool's starting eleven. Goalkeeper, versatile forward, possibly a centre-back and, of course, full-back, seem to be the areas to address, with Moreno and Sturridge off, Mignolet possibly joining them and speculation over the future of Adam Lallana.
As usual, the club have made it very difficult for speculation to have any substance, as there simply aren't many leaks anymore. Timo Werner, Julian Brandt and Ryan Sessegnon (we'll come back to him in a bit) are possible targets, and everyone wants us to sign Mattias De Ligt, but these are names that seem to make logical sense, rather than names being touted by reliable, Liverpool-related journalists for the most part.
Personally, I think there are plenty of interesting questions and challenges for Liverpool in this coming transfer market, as the club cannot afford to rest on its laurels, as it can be sure that Manchester City won't. But for me, the biggest question is how Liverpool deal with the issue of full-back, which has become almost a problem area for a completely different reason to the way that it usually has been over the years.
Before I dive in, a quick nod to a brilliant piece by Tabish Aleemullah, which does a more deep dive into the contribution of the full-backs to Liverpool's attack this season, as he looks to see whether or not the Reds can rely on Trent and Robbo as much creatively next season, as well as who Liverpool should be looking to target.
My article is on something a bit different. I'm looking to assess not just how Liverpool should recruit at full-back, but whether recruiting at full-back at all is necessary.
The problem Liverpool have, when assessing full-backs, is that they have two of the best full-backs in world football. Both Robbo and Trent are serious contenders to be not just the best in their position in the Premier League, but the best in their position in Europe, which makes it extremely difficult to attempt recruitment in those areas.
For example, both Ben Chilwell and Aaron Wan-Bissaka are names that have been floated around for Liverpool to potentially pick up in the summer, as back-up for Trent and Robbo. But the notion that either of those players would come to Liverpool, should come to Liverpool, or indeed that Liverpool should even try and sign either is nonsense. We simply aren't a club willing to spend £50m each on full-backs only to keep them on the bench all season.
Moreover, nor are we a club that is going around spending £50m a pop on extremely talented young players only to not play them. If you're Chilwell and Wan-Bissaka, two of the best full-backs in the country, who would be nailed on starters at almost any top four team and whom are both knocking on the door for an England call-up, why on earth would you go to the only team in the country that has a better starting full-back? It would be absolutely ludicrous.
Someone like Ryan Sessegnon would make more sense, because he can both cover left-back and further up the pitch at left-wing, giving Liverpool less of a headache in terms of front-three cover. Moreover, at 19, he's six years younger than Robbo, giving Liverpool plenty of scope to keep him around the peripheries of the team until Robbo is old enough to consider taking a slightly less involved role. He's also not good enough yet to be demanding a starting role at Liverpool, having struggled to nail down a place for Fulham this season.
But Sessegnon is one player I am sceptical of us signing, purely because Spurs is an absolutely perfect fit for him, and he has repeatedly made it clear to the press that his preference is to stay in London.
Sessegnon also doesn't address the wider issue, which is that Liverpool need options at both left-back and right-back. Or do they?
To swing back round to the crux of the problem, Andy Robertson is a player capable of playing 45 plus games a season, with over 4000 minutes under his belt in multiple seasons. There's absolutely no reason to plan for Robertson starting anything other than 35 plus league games, plus almost every game in the Champions League. Even if we sign Sessegnon, he's guaranteed maybe ten games a season at left-back? Alberto Moreno is leaving the club this summer having started just two games in the league, and one in each of the domestic cups.
And on the other flank, Trent Alexander-Arnold has had a few niggles but has nevertheless started 27 games in the PL this season, with Joe Gomez and James Milner picking up the slack there. Alexander-Arnold will probably start around 30 league games next season too and whilst Klopp has occasionally gone to Gomez in big games, there isn't really a natural Trent replacement in the squad.
So, you've got two full-backs who are generational talents, with no like for like replacement for either in your squad. To make the issue bigger, Liverpool are incredibly reliant on their full-backs for creativity, so when Trent has been missing, the attack has taken a bit of a hit, with Trent missing three of the four games where a lack of attacking verve seemingly cost Liverpool the title in 2019, West Ham, Leicester and Man United.
What do you do about that in the window? I have previously advocated for signing a centre-back, giving Liverpool the option of rotating Joe Gomez at both full-back positions. This is still, in my opinion, the best solution, but it will require more quality from midfield, and Klopp to be bolder in his midfield selections when one or more of Trent and Robbo is missing, given that Gomez is simply nowhere near the level of either of those two in the final third.
But there are reasonable responses to this too. Gomez has the potential to be an elite centre-back and you don't want to use him as a full-back too much unless you absolutely have to, as it's better for his development that he plays as many minutes as possible alongside VVD in the middle.
Another argument is that whilst neither Trent nor Robbo are injury prone, injuries do happen and if there's a serious injury to either then it's Milner or Gomez who are stuck at full-back for a long period, and Gomez, in particular, can't be relied upon to stay fit.
Another incredibly viable option is for Liverpool to sign a versatile full-back, perhaps someone experienced who can play equally well on either side and is happy to be a reserve option. But then I suspect that's unlikely to happen either, given that Liverpool sold Nathaniel Clyne, who was considered rightfully surplus to requirements. If Liverpool are letting both Clyne and Moreno go, and realistically don't want or need either, then why would they go back into the market for another full-back?
It's a really tricky balance for Klopp to strike. It's hard to see where another full-back would have got the minutes that they wanted in 18/19, with Klopp more than happy to use Milner as a full-back – although this certainly isn't a long term option – and Joe Gomez an exciting and versatile defender. Moreover, as Trent gets older and stronger, Klopp will be hoping he can rest him even less, and we can only expect Trent to play more minutes.
Buying essentially an academy prospect on either side is fine, but it would mean that we would need one for each position, or we're only solving half the problem. Buying someone like Lloyd Kelly, who was a name touted to be Robbo's back-up this summer before Bournemouth snapped him up, would be fine, but he wouldn't solve the issue if Trent got an injury.
There's a number of ways then, that Liverpool could go this summer, either buying a LB, buying a RB, buying both, neither or someone who can do both. Personally, I think the best solution remains to buy a CB and giving Gomez a bit more of a flexible role, but as I've elucidated, there are reasons not to do that.
As to what I think Klopp will do? Honestly, I'm not sure. I doubt there'll be any major incomings at full-back, so it's entirely plausible that we just won't sign anyone at all to cover Trent and Robbo at all. I think that that's fine personally, although it will require us to change our tactics a bit more and be more creative in midfield when one or both of them is out.
Either way, in my opinion, it's the biggest question mark hanging over Liverpool this summer.