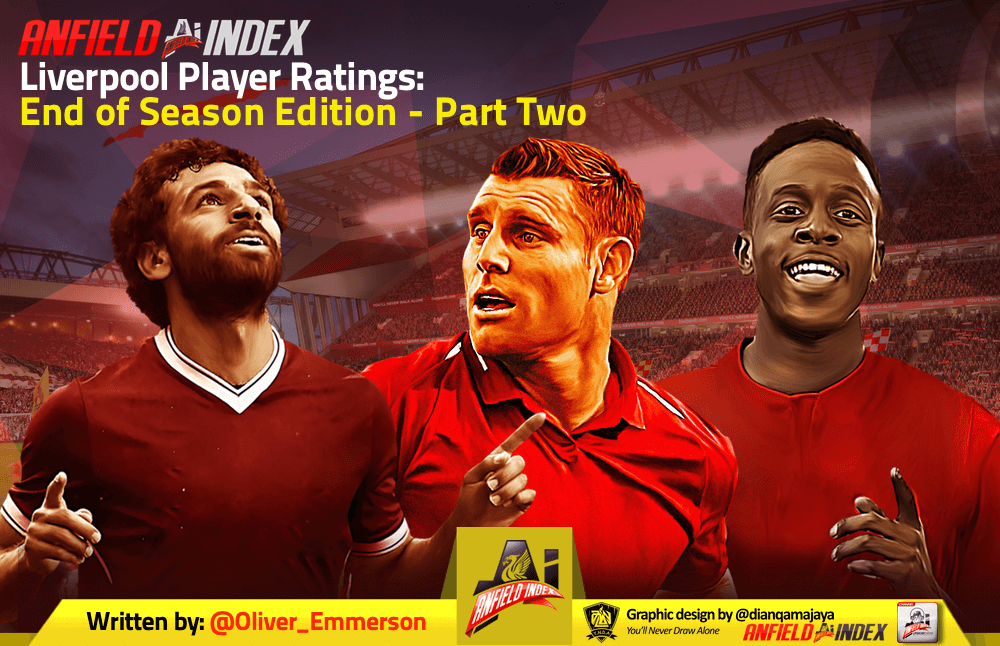 Liverpool Player Ratings: End of Season Edition - Part Two
Here we go again, back for part two as I conclude my player ratings for Liverpool's season. You can find part one here, whilst Anfield Index Pro subscribers can find Adam, Tom and I guided by the lovely Kay as we join together for a Rate, Don't Hate, end of season special two-parter.
Virgil van Dijk was, unsurprisingly, the high scorer in part one of these ratings, but will anyone else achieve a perfect ten as we delve into the midfielders and attackers? Let's find out…
FABINHO:
It took him a few months to get going, but the Brazilian enjoyed a sparkling first season on Merseyside. Adding a unique skillset to the midfield, Fabinho quickly became a fan favourite with many suggesting he should be one of the first names on the team sheet each week. Strong in the tackle and composed on the ball, you have to wonder how good he'll be next season when he's in the side from the start.

Highlight: Announcing himself to the Premier League with an utterly dominant performance against Manchester United in December.
Lowlight: Those growing pains as he sat on the side-line for the first weeks of the season.
Rating: 8/10
GINI WIJNALDUM:
Mr Consistent in midfield for the Reds this season, Gini Wijnaldum has played here, there and everywhere, all to an impressive level. Easily surpassing minutes played by all the other midfielders, he opened the season with a slick display against West Ham and grew from there. Unfortunate to miss out on the PFA Team of the Year.
Highlight: Smacking two goals in two minutes past ter-Stegen to catapult Liverpool back into their Champions League semi-final tie.
Lowlight: Watching him wander around the Nou Camp in a false nine role like some sort of confused sheep separated from it's flock a week prior to the Anfield brace.
Rating: 8/10
JORDAN HENDERSON:
Mixed. In the side, out of the side. In the injury room, out of the injury room. As ever, Henderson has divided the fan-base with his performances but has largely been fine. Obviously, we want a little more than 'fine' from a midfielder that's starting half of our games. Henderson's move into a more advanced role later in the season brought about some improved performances, such as those against Southampton and Chelsea.
Highlight: A robust, all-action performance at home to Bayern Munich in the Champions League reminded the world of the tenacious abilities that Henderson has.
Lowlight: Being unable to follow up his Bayern performance as Liverpool laboured against an injury-stricken United side at Old Trafford, losing two crucial points in the title race.
Rating: 6/10
JAMES MILNER:
About as James Milner as you can get, this season. 80% of games were 6/10 and then there's the odd 5/10 or 8/10 thrown in to skew things. A reliable, if average, performer once more, Milner's experience will hopefully prove useful in getting Liverpool over the line in Madrid.
Highlight: Setting the tone for Liverpool's thrilling Champions League win over PSG by thumping Neymar across the Mersey just minutes into September's clash.
Lowlight: Pretty much every away game in the Champions League group stage.
Rating: 6/10
NABY KEITA:
Something of a stop-start season for our new favourite Guinean as he struggled to make an impact in his early months. A strong run of form towards the end of the season was ended by injury but he certainly did enough to prove why Liverpool were so determined to get him.
Highlight: The turn and pass to Salah against Crystal Palace.
Lowlight: Salah not converting that chance.
Rating: 6/10
XHERDAN SHAQIRI:
Pretty much all you can ask for at £13 million, really? A backup attacker that's had big moments in games against Manchester United and Barcelona can't be sneezed at. He'll be disappointed not to have featured much after Christmas, likely to due not being an ideal third midfielder in the 4-3-3.
Highlight: Two goals off the bench to secure a win against Manchester United.
Lowlight: Falling out of favour with Klopp after Christmas as a brief flirtation with 4-2-3-1 ended.
Rating: 6/10
SADIO MANE: 
How about that, then? A blistering second half of the season that saw him score goal after goal, rocketing himself to a Golden Boot. After 18 months of Mohamed Salah dominating the front three's acclaim, Mane picked up the baton and kept Liverpool's title challenge alive with a string of wonderful performances.
Highlight: An inspired performance in Bavaria, scoring twice to send Bayern Munich packing from the Champions League.
Lowlight: There's few, but he'll have been kicking himself after spurning a couple of great opportunities to score at the Nou Camp. Thankfully it didn't matter!
Rating: 9/10
MOHAMED SALAH:
I've commented that I think Mane and Salah had pretty identical seasons, just the opposite way around. Mane's second half of the season was Salah's first, and vice-versa. Needless to say, he was sensational again. Not quite as good as the season prior, but 22 league goals and vital strikes against Napoli and Porto in Europe mean he's got a chance to avenge Kyiv's nightmare.
Highlight: Twatting one into the back of the Southampton net after sprinting about 290 yards to silence all the freaks on football Twitter that thought a scoring drought had finally elevated him to 'fraud' status.
Lowlight: That particular goal drought would probably be the lowlight. Just started trying too hard, didn't he?
Rating: 9/10
DANIEL STURRIDGE:
Disappeared from the scene in the second-half of the season, much like Shaqiri. Still, was better-used in early months and scored a couple of important goals, PSG and Chelsea the most obvious ones. It seems likely that we've seen the last of him in a red shirt.
Highlight: An absolute screamer in the dying minutes against Chelsea reminded Reds just how good Sturridge can be when fit and available.
Lowlight: Was given a chance to impress at Old Trafford in February, but failed to shine and was hauled off after an hour.
Rating: 5/10
ROBERTO FIRMINO:
A productive season from Firmino, even if he failed to live up to the standards set in a career best 17-18. You can argue over whether the desperate clamour to get him fit for the Champions League final reflects his quality, or the quality of his backup's, but he'll play a vital role regardless if he can make the team sheet.
Highlight: PSG at home. 90th minute. The goal, the scenes, the celebration.
Lowlight: Picking up an injury against Cardiff that derailed the end of his season.
Rating: 7/10
DIVOCK ORIGI:
Ah, we save the best until last. Now, I've been controversial here. Origi this season has given us all some of the happiest moments of our lives, and I'm sure we'll all be eternally grateful. However, let's not pretend he's been amazing at football for 10 months. Okay? Still, I love him.
Highlight: A tough one, this. I'm going for the Everton goal. Pickford's arms, hahahaha.
Lowlight: Scoring winners galore yet still only getting the following rating for his season…
Rating: 6/10