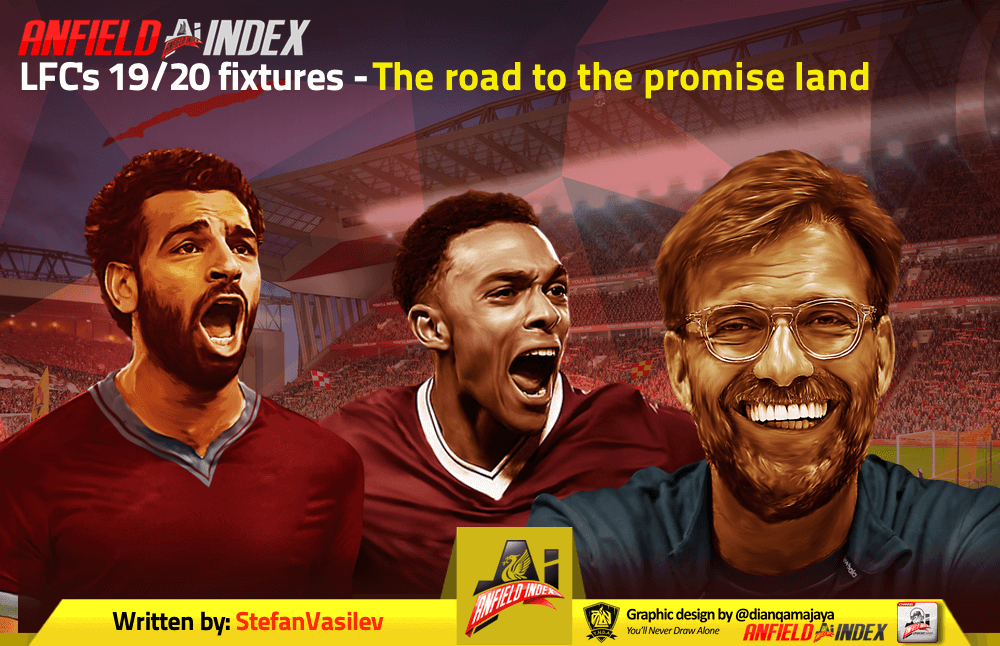 LFC's 2019/20 Fixtures - The Road to the Promised Land
It's only been two weeks since Jordan Henderson lifted big ears in Madrid and we are already moving on to next season. Liverpool supporters eager to see the club build on the success of the past year are now hitting plane tracking websites and looking for our famous van:
https://twitter.com/lfcxsam/status/1140367753536311298?s=21
(Un)Fortunately Michael Edwards and co have been so brilliant over the last half a dozen transfer windows, that I don't really care about silly season. The club targets the right players and gets them on board – I don't need to know the details, as long as the signings improve our (already pretty good) chances of ending our thirty season league drought. The only thing we know for certain (kind of) for next season at this point is our schedule. So let's dive into it and see what do we have to look forward to.

The Super Cup debate
#LFC's 2019/20 Fixtures

Download our graphic for all the important dates this season. It's going to be very busy! pic.twitter.com/Qlrf3bwX1y

— AnfieldIndex (@AnfieldIndex) June 13, 2019
A lot of things have changed over comparing to last year. The Premier League will get a winter break for the first time. The Reds have three super cups to play for and are now in pot 1 in the Champions League group stage. It's up for debate if super cups matter – all the silverware we care about is given out in May (or June). Klopp's Reds have been mostly terrible in the domestic cups (still we played in a league cup final) and that has lead to opportunities for warm weather training in winter and has minimised the need to rotate key players in positions without much quality in depth.
The Community Shield game has little to no impact on the season. Given the circumstances, in which we finished second last season I want us to beat the slave money doped club from Manchester every time we get a chance to. A week after the curtain raiser at Wembley the Reds are going back to Istanbul to face a Chelsea team, which will have a new manager and has lost its best (by far) player. While I wouldn't in any way be heartbroken if we lose one or both of the games I think Jordan Henderson lifting a trophy needs to become a common site. Winning is a habit as the old cliche says and getting the better of two of the top six sides early on will undoubtedly boost the squad's confidence.
The Club World Cup is the only existing tournament in which Liverpool has participated and not won. It will absolutely destroy our winter schedule and might cost us the winter break in February, depending on how well we or West Ham and Watford do in the league cup. The fact that the tournament is hosted in a country with such appalling human rights record. The fact that hundreds if not thousands of people have died and continue to die building the match venues. And the fact that the most popular Muslim player in the world is our superstar makes me wish we can boycott the whole thing as some political stances are much more important than football, especially when human lives are literally at stake. That obviously can't happen because the governing bodies of the game will punish the club. I will personally do my part by pirate streaming the tournament even though it will be available on Bulgarian TV. So the team will be in Qatar for a week mid-December so Klopp will get some early warm weather training in. With our fixture list already all over the place because of it, the Reds might as well and give it go to bring a new trophy to Anfield – we are by far the best team in the tournament.
Premier League fixtures
Last season I put into practice a methodology to assign a relative fixture difficulty rating to each PL match before the season started – you can judge how accurate it is with hindsight. It is based on how well the opponent did last season in the league and how well did they do against us in the last three seasons. I did a few minor tweaks to the methodology this year to make a tad bit more accurate. The graph below shows the end result: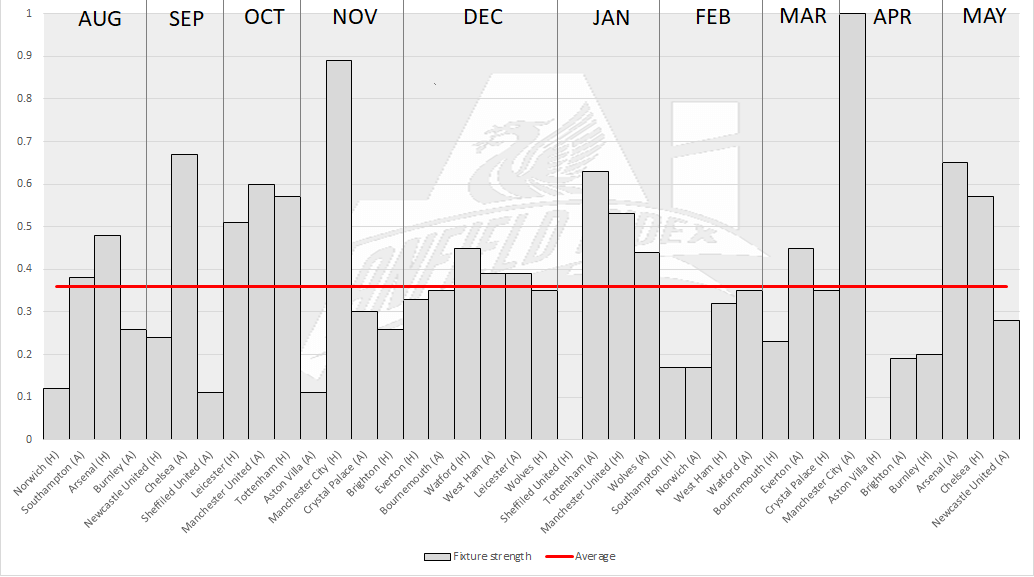 Obviously, some of the fixtures in December will be moved – it is a bit absurd that we know that now but have no idea when the West Ham away game will actually be. The numbers are normalised – 0 means it is the easiest fixture on paper (Aston Villa and Sheffield United at Anfield), 1 means it's the hardest one on paper (Man City away). The back to back PL champions have been so much better than anyone else – no fixture comes even close in terms of the quality of the opponent. The schedule is pretty well balanced. By mid-November, the Reds will be done with the first round of fixtures against the top six sides as well as the three promoted teams. This leads to a festive fixture list against mid-table teams. Klopp's team has struggled in January and February (even though two draws aren't really a crisis) every year since the German took that fateful flight to Liverpool. The first month of 2020 has two top six games, while February (which will have one extra day and boy do we need it) will see the Reds be clear favourites in every game. The title run in (if we get there) will no be easy: two away games against very good home teams and hosting Chelsea.
I broke down the schedule into three and five game streaks to see if there are any particularly easy or hard runs of games: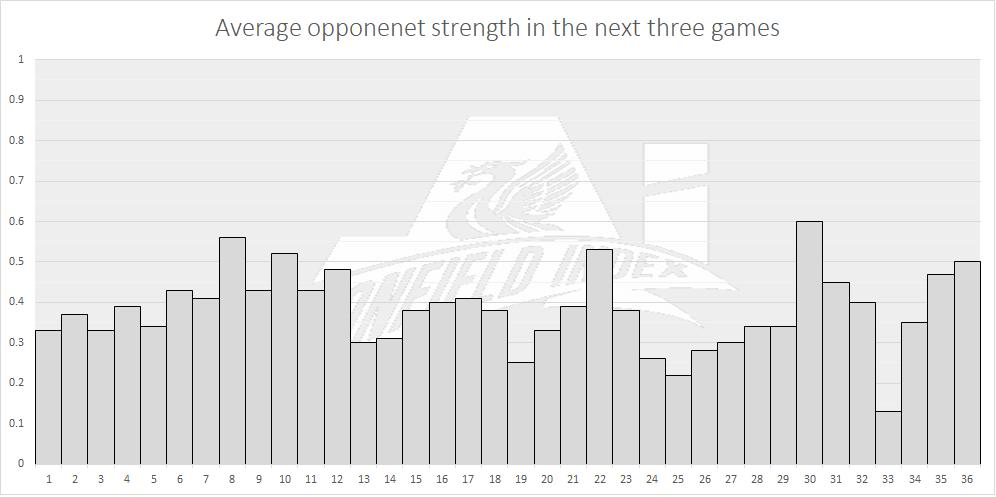 By far our easiest three-game streak is in April 2020 – Aston Villa (H), Brighton (A), Burnley (H) with a possible (probable) Champions League quarter-final in between. The two toughest stretches unsurprisingly include the two Man City games, because the champions are have done so much better than anyone else recently, that it skews the averages. The five-game streak graph gives a better feeling at when the team will face uphill battles.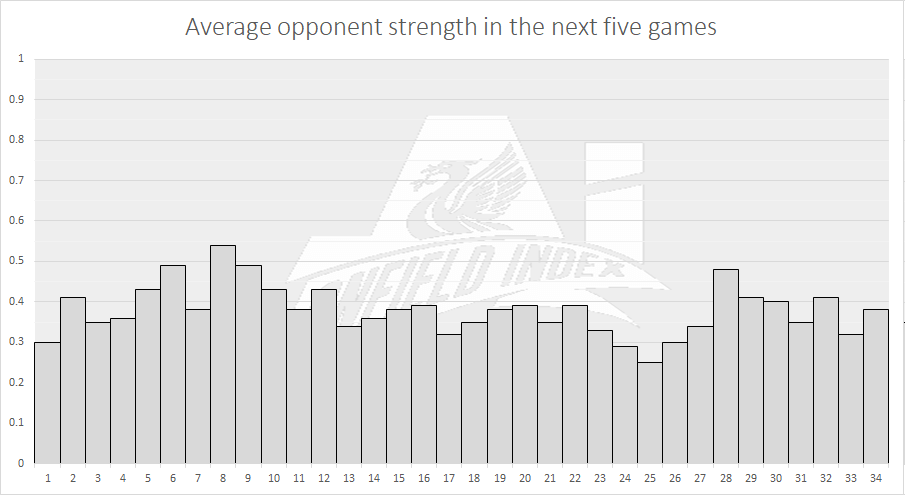 Our easiest five-game stretch is in February 2020 – three home games against mid-table teams and a couple of visits, in which the odds will be with the Reds. Overall the toughest tests seem to be in the beginning and end of the season. LFC will not face a top six team in the league between 9th November and 11th January (a run of 9 games) as well as between 18th January and 4th April (8 games). Continuing the excellence at Anfield will be key for another title challenge.  Over the last three full PL seasons, the Reds are averaging 2.4 points per game (41 points in 16/17, 43 in 17/18, 53 in 18/19). Liverpool is scoring well over 2 goals per game in front of the Kop and conceding 0.5 goals per game over the last two seasons. Klopp is really keeping his promises – Anfield is a fortress now. The model reflects – the average fixture difficulty in home games is 0.35 compared to 0.41 away (17%). Of course, a great home record is no longer enough to secure the title. It's hard to look for improvement to 18/19. You can't really expect a team to win more than 97 points. But if anyone can do it – it's our lot.
All of this is on paper – after all anything can happen in a one-off game in football, just ask Lionel Messi (and a certain former magician). Up the Reds!