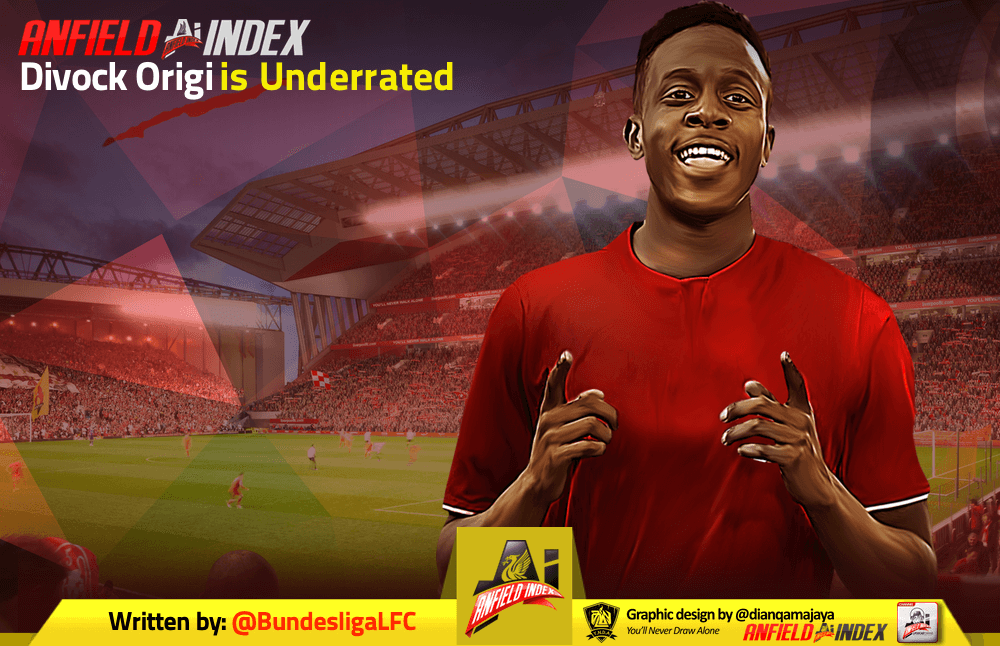 Divock Origi is Underrated
Divock Origi is underrated. 
His goalscoring exploits in the Champions League last term mean fans will always look at him through rose-tinted glasses. A cult-hero for life, the Belgian doesn't have to do anything in his Liverpool career now. 
However, there are some who believe he didn't deserve his new contract and that he should've been sold this summer while his stock was at its highest. There perhaps is an element of truth to that. 

After all, Origi was barely used last season and only got his chance late on due to injuries to others. If Mohamed Salah and Roberto Firmino weren't ruled out, it's highly unlikely he would have started the home tie against Barcelona. 
But the 24-year-old made the most of those opportunities and forced his way into Jurgen Klopp's thinking. That's all he could've done. It's clear, though, the Stuttgart-born tactician didn't truly trust the former Lille man and he was used out of necessity. Therefore, if a substantial offer arrived, why wouldn't the club take it and use it to bring in someone favoured by the ex-BVB boss? 
Those who feel Origi isn't good enough will say it sends a bad message. Perhaps it does. It suggests performances count for little, minds are already made up, which could then have a negative impact on the effort of other squad players.  
https://twitter.com/Kloppholic/status/1149410536020480000
But this argument hinges on the belief players can't develop and managers can't change their minds. These people underrate Origi. 
The Belgian may not have started the season in Klopp's first-team plans but he finished in them. The change didn't happen when players were ruled out injured, either. Origi started to appear in the matchday squad around November. He wasn't getting many minutes but the point is he was in the manager's thinking.
Then when he was afforded a chance, he took it. Just as he's done throughout his Liverpool career. 
During his debut season with Liverpool, he was a key part of Klopp's makeshift starting XI. He grabbed an assist in his first-ever game as manager, a 1-1 draw with Rubin Kazan in the Europa League, and netted in both legs of the quarter-final match against Borussia Dortmund. 
He also scored a 95th-minute equaliser against West Bromwich Albion which led to that now-famous picture of the players, holding hands, in front of the Kop. A prelude to what we'd witness three seasons later on the way to European Cup success. He finished with five league goals that year and an expected goals average of 0.46. 
The 2016/17 season saw Origi given more time on the pitch. His averages dropped, with his expected goals per 90 return coming in at 0.34, but he did score seven Premier League goals and 11 in all competitions. For context, Mane's expected goals average at Southampton was 0.39, so Origi was holding his own in that sense. 
Even during his ill-fated loan spell with Wolfsburg, the versatile forward continued to get into dangerous areas with great regularity. He scored six times in the Bundesliga with an expected goals per 90 average of 0.30. 
Though he only racked up 357 minutes in the Premier League last term, a tiny sample size you shouldn't really read too much into, he did average 0.57 expected goals per 90. Of course, the circumstances need to be taken into account. He'd often come onto the pitch late on with Liverpool looking to score. That undoubtedly helped his cause but Origi was the one carving out openings and that is what matters most. He's done so on a regular basis since joining the Reds.
Origi has appeared in 2,467 minutes since the switch and throughout this time has an expected goals per 90 average of 0.45. He's also scored, on average, a goal every 164 minutes. All this while returning from injuries and playing a bit part tole.
It's only when you look at the numbers you fully appreciate just what an asset Origi is. And why Liverpool have tied him down to a long-term deal, one he deserves. He may eventually move on but in the current market, it'd be near impossible to find a 24-year-old versatile forward with his averages for under the £30million mark. Not only that, it'd be even harder to find one who is happy to play as the fourth or fifth choice forward.
The new deal for Origi wasn't a pity one. Perhaps it was, partly, to keep his value high. Ultimately, however, it's one his form deserves.