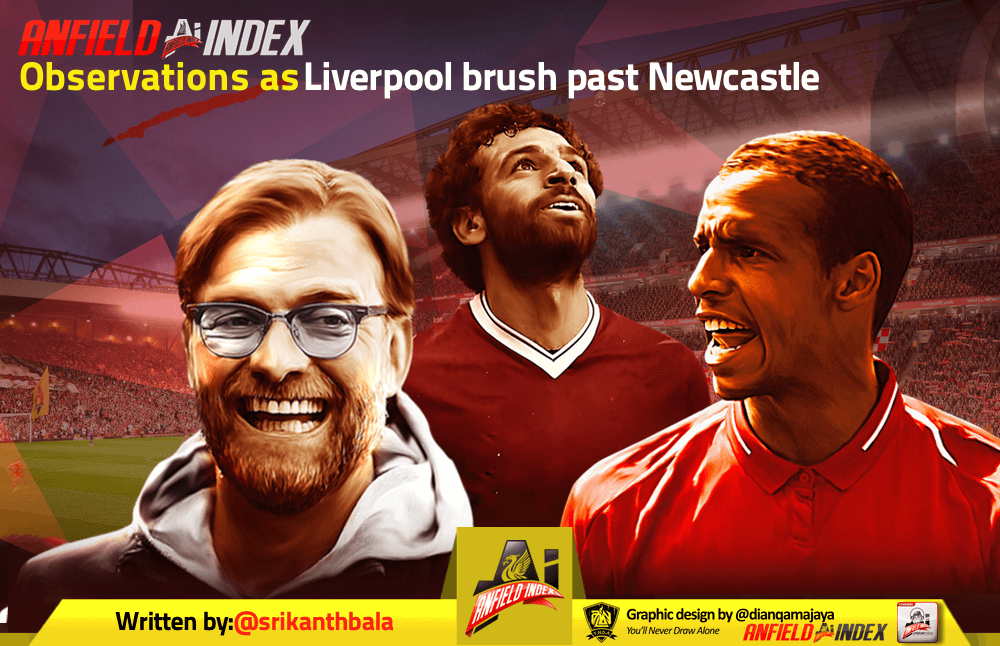 Observations as Liverpool brush past Newcastle
Liverpool maintained their perfect start to the season, making it 5 wins out of 5 as Liverpool got past a determined and compact Newcastle. Mané continued his great home scoring record and Salah's goal capped off a perfect afternoon.
Subtle shifts in the team as games start to pile up
Klopp before the international break had indicated that rotation will happen as Liverpool's fixtures start to pile up. Firmino and Henderson sat out of the starting line up with both of them playing both the internationals. Firmino had to come on earlier than anticipated, due to the unfortunate injury to Origi, but the subtle tweaks are set to continue. Players like Lallana, Shaqiri, Milner have played sparingly and will be set to play in the league cup.
Firmino shows he is the transmission for this team
Liverpool had a slow start again coming off an international break, and though Liverpool equalised before he came on, Firmino was the spark Liverpool needed to shift gears. His intelligence, coupled with his work rate is literally irreplaceable for Liverpool. For all the praise showered on Mané and Salah (rightfully so), Firmino is what makes this team work (as explained in this wonderful piece on Firmino)

Trent continues to struggle defensively
Trent, for all his attacking prowess continued to struggle and get shown up in defence. He was often caught too narrow, leading to easy transitions of space for Newcastle. He was also easily beaten for the goal, though the finish from Williems was top draw. His delivery and crossing was top notch as usual though. His attacking output means its tough to drop him as he is now one of the top play-makers for the team, thus it is more imperative that he tightens up defensively.
Mané burns memories from Burnley
The Mané-Salah argument was just what the media needed approaching the international break. Mané and Salah were back in starting line up this time around, and Mané continued his tremendous home scoring record. His finishing has gone up a couple of notches, typified by his finish for the first goal. He was fortunate for the second, and unfortunate not to score a hat-trick. Man of the match performance.
Bring on Europe
Liverpool start the European sojourn with the trip to San Paolo, a stadium where they were abject and lost last season. Liverpool would hope to play better and the international break should mean that most of the team is fresh this time around. Liverpool actually struggled in the group stages last time, and they would want to do better this time around.