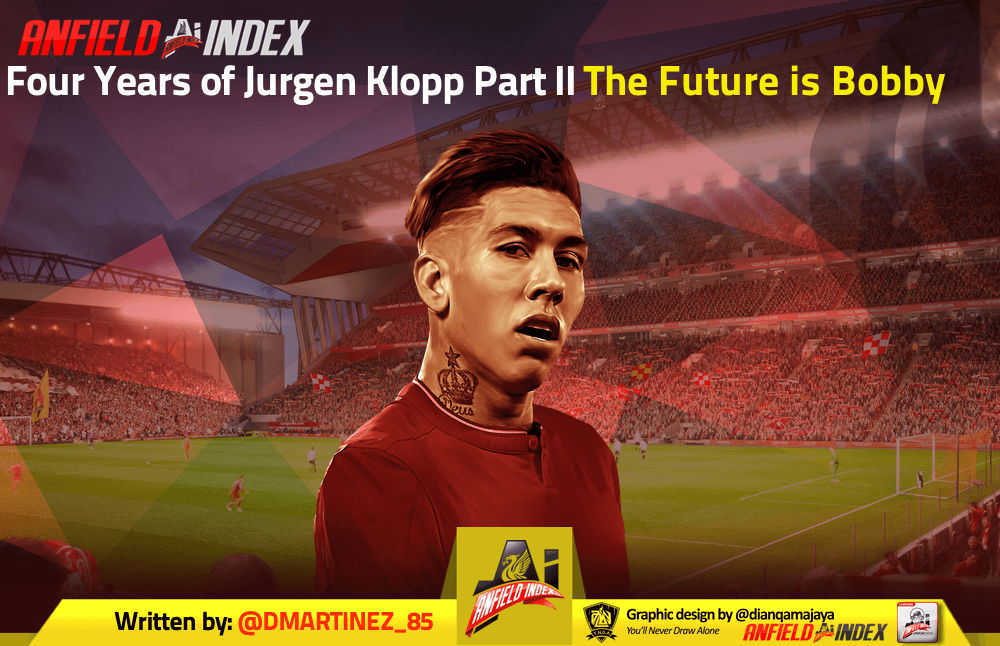 Four Years of Jurgen Klopp Part II - The Future is Bobby

As we celebrate the four year anniversary of Jürgen Klopp's arrival at Anfield this week, I'll be reminiscing about some of the crucial games and moments that have stood out over that period. You can read the first part of this series here. Now it's time for Part II:
Manchester City 1-4 Liverpool 21 November – 2015
Liverpool XI: Mignolet, Clyne, Skrtel, Lovren, Moreno, Lucas, Can, Milner, Coutinho, Lallana, Firmino
Subs: Toure, Benteke, Sturridge, Allen, Ibe, Bogdan, Randall
Goal Scorers: Mangala OG (7), Coutinho (23), Firmino (32), Skrtel (81)
Not many players in world football today shine as brightly as Bobby Firmino. His intelligence, inventiveness and skill burn through like a beacon in the dead of night. His effervescent personality both on and off the pitch in palpable. Even the man's smile is blinding. But this wasn't always the case. Back in November 2015, less than two months into Jürgen Klopp's incipient Anfield tenure, both Firmino and Liverpool much were a much dimmer prospect…
While Klopp had already led his new club to a notable 3-1 away victory against Chelsea during his first few weeks as Liverpool manager, the game we are looking at today was far more impressive and instructive of what was to follow.
Unlike that beleaguered Mourinho side that Liverpool had vanquished in routine fashion at Stamford Bridge three weeks prior, Manchester City weren't struggling when they faced the Reds on November 21, 2015. Indeed, a victory for Manuel Pellegrini's team that evening would have sent them clear at the top of the Premier League. That didn't happen though, and instead it was Klopp's men who left Manchester with 3 points, 4 goals and perhaps most importantly, a new number 9 who would become the foundation for Liverpool's attacking blueprint under the German.
Roberto Firmino had yet to register a single goal for the Reds with December looming and, while there was an acknowledgement that that Brazilian hadn't had an easy go of it under during the early weeks of the season under Brendan Rodgers (a manager who didn't want to sign him in the first place and then deployed him in numerous positions, none of which seemed to particularly suit the player), he needed to start showing why Michael Edwards and co had paid a hefty fee for his services because doubts did exist among the fan base.
It seems almost unfathomable to type such words now in 2019, but this was a very different time, as photographs of Firmino's teeth demonstrate.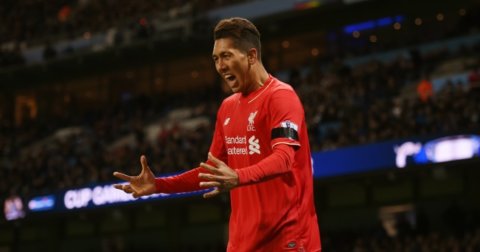 Despite the forward's goal drought, Klopp decided to deploy Firmino at the head of the Liverpool forward line for only the second time away to City. It does get forgotten that he had deployed the 24 year old up front against Chelsea to good effect, but it would be on this day that Firmino would cement this role for himself and paint a much clearer picture of the bright future that lay ahead for the Liverpool attack.
He was supported in attack this day by his compatriot Philippe Coutinho while, in wider areas, James Milner and Adam Lallana were charged with doing their best Sadio Mane and Mo Salah impressions. It sounds almost comical in hindsight, but the Brazilians made it work.
During the early stages of the first half it was immediately obvious why Klopp had chosen Firmino, goals or not, as Liverpool's de facto number nine. Embodying the Klopp style, he was smart, precise and elusive as he popped up absolutely everywhere in the final third. City couldn't get a grip of him.
The terms 'Pressing' and 'False Nine' may not have been completely absent from the collective lexicon of the Anfield masses back in November 2015, but after this game they would become omnipresent and synonymous with Bobby Firmino.
Pellegrini's City side couldn't cope with the intelligent pressure and inventive interplay of Liverpool's Brazilian duo. Firmino led from the front while Coutinho prompted and supported expertly from deeper. Both found space, the ball and each other easy to locate as they repeatedly tore through a shell shocked City side. The consistently with which they applied pressure and regained possession as City tried to play out from the back was startling.
After the aimless, nondescript patterns of play that had epitomised Brendan Rodgers' final 18 months at the helm, this was truly splendid to watch, a welcome tonic and a hint of the football that could (and would) lie ahead for Liverpool fans under Klopp. It was something to grasp onto and believe in again. A plan in place, players executing it to a tee and most importantly exciting, attractive, attacking football.
After just eight minutes Firmino ghosted in behind the City defence and headed toward the byline on the left hand side of the area. Predictably, an incisive Coutinho pass found him. A first time cut back return ball to Coutinho was attempted but City's Eliaquim Mangala managed to cut it out. Unfortunately for the (then) most expensive defender in the world, his interceptive touch didn't help his team. Instead, the ball dribbled off his left foot and past his helpless goalkeeper Joe Hart at the near post to hand Liverpool an early lead.
It was a mistake from the City man, no doubt, but it had been forced by Liverpool's quick, inventive forward play.
Things would only get better from there.
At the midway point of the first half, Firmino seized upon a loose ball 30 yards from the City goal in a central area. With three blue shirts around him, he strode forward toward the right hand corner of the box. At exactly the right moment he released a stunning low reverse pass back across the area toward Coutinho once more. This time the weight of Firmino's pass provided Mangala no opportunity to intercept. Without breaking stride, Coutinho latched onto the ball and stroked it first time beyond Hart to double Liverpool's lead.
The boys from Brazil were tampering with Man City, and they didn't stop there. A sumptuous Emre Can back heel into City the box found Coutinho, who had snuck in behind Bacary Sagna, ten yards from goal on the left hand side. As Joe Hart came out to narrow the angle for the shot, Coutinho simply slid the ball to his right for Firmino to prod it into the empty net and all but finish the game as a contest after less than 32 minutes of football.
This simple tap in was Bobby Firmino's first Liverpool goal.
Before halftime, he could have grabbed two more. Joe Hart saved a one on one (once more provided by a Coutinho pass) and another chance slid agonisingly wide of the far post after a left-footed strike. Yet again, this was the result of combination play between the two Brazilians.
Given the state of both sides going into this game, what Klopp's side did in that first half was scarcely believable and incredibly exciting to see. They could have been five goals to the good by the time the half ended. Instead, Sergio Aguero would grab his customary strike against Liverpool before the break while Martin Skrtel added a flourish to the scoreline on 81 minutes. Liverpool ended the day with a famous away victory and a welcome three points.
More pertinently, Jürgen Klopp had found the new leader of his attack and there would be no looking back.
The future was bright. The future was Bobby.