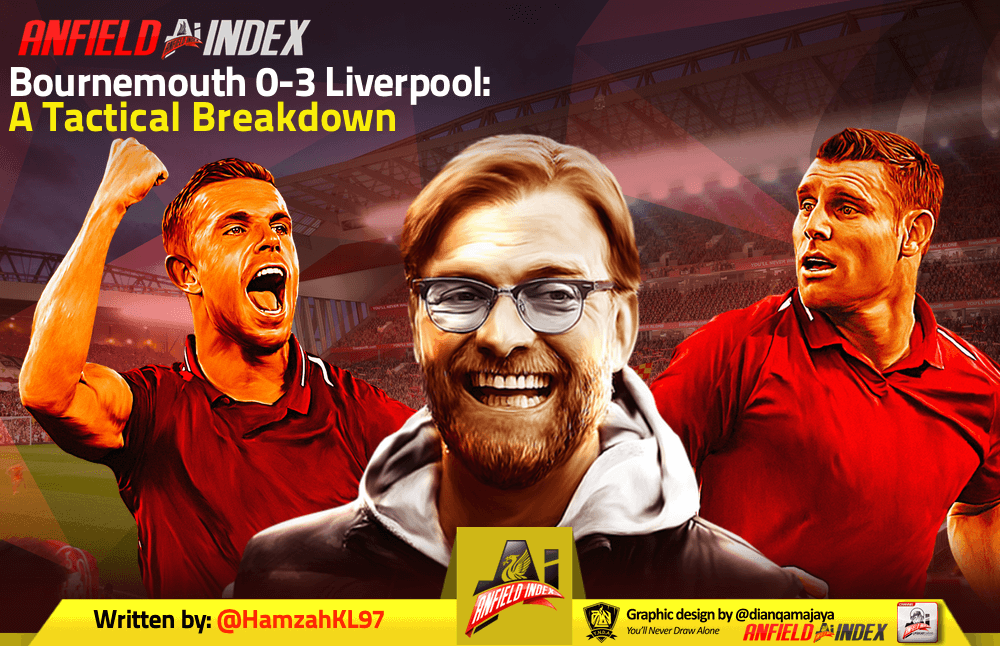 Bournemouth 0-3 Liverpool: A Tactical Breakdown
Ho Ho Ho. Christmas has come early.
Liverpool are finally back at their attacking best.
Now, with eight goals in two games, and both Mohamed Salah and Sadio Mané in searingly hot form, it seems Liverpool have their attacking mojo back. This is seriously ominous news for the rest of the league, given Liverpool had only dropped two points without even hitting their stride.

Whilst Liverpool's results over the opening fourteen league games was two points away from being perfect, their results, in terms of the overall attacking performance, were below the standard that characterised an unprecedented 97 points over 38 games. In this season, games against Leicester, Spurs and Manchester City stand out as brilliant offensive displays, but beyond those, Liverpool were largely more clinical or simply more resolute than their opponents. In the past two league games though, that has changed, and now we are seeing what looks to be something more akin to the barnstorming, brilliant performances that have terrorised Liverpool's opponents over the past two seasons.
Bournemouth found themselves amidst an injury crisis that no doubt allowed Liverpool to dominate, but we saw a few changes in Liverpool's style and tactical shape, which really allowed them to utterly dismember Bournemouth, in a masterclass of attacking football.
With Mané rested, Oxlade-Chamberlain was brought in, positioned on the left side of Liverpool's attacking three. However, he played a little deeper than Mané usually does, and came inside frequently, giving Robertson the left flank for himself, and linking up play on the left side of Liverpool's midfield well, with Milner positioned deeper, at times.
In midfield, at first operating almost exclusively within the right-half space channel, was Naby Keïta, who put in a comeback display for the ages.
Keita
a goal,
Assist,
created a Big Chance
7 passes into the box
31% passes to a forward
Gained possesion 15times!

A fucking phenom

— SimonBrundish (@SimonBrundish) December 7, 2019
Near untouchable, he incessantly applied forward pressure with the ball at his feet, driving Bournemouth's midfielders and defence back, linking up with Salah utterly brilliantly and remedying the lack of forward impetus from midfield that has seen Liverpool struggle with progressing the ball through the central areas into the box of late.
Against Napoli, Liverpool's midfielders were far too deep, and in my breakdown of the game, I stated:
"…Liverpool retained their typical system, in the 4-3-3. However, with Henderson and Milner starting together as the number 8s, they were a little too flat positionally and Milner, in particular, was positioned too deep, thereby depriving Liverpool of a player between the Napoli lines, and putting extra strain on Liverpool's buildup and reducing the ability of Liverpool to press effectively and retain the ball in the final third.

"This poor start to the game, characterised by a lack of structure and compactness meant Liverpool could not press effectively, nor could they use the ball effectively either, as Liverpool's forwards needed to drop deep to receive the ball, and neither the fullbacks nor midfielders broke beyond them when they did so."
Naby Keïta, however, performed completely contrary to the Liverpool midfield against Napoli, instead looking to constantly link play with the forwards, and not only feeding them incessantly with passes to feet, or in behind, but also, perhaps most importantly, he broke beyond the forwards, thereby creating a central overload within the half space and central area, as the Bournemouth defence doubled up on Mohamed Salah. Keïta's first goal is the clearest example of this, and was something discussed on AI Pro's Tactics Weekly podcast too.
Naby Keïta scores his first goal of the season. Most importantly though is the movement displayed. @AnalyseSport & I discussed precisely the importance of the no.8s breaking beyond the forwards last week!

Perfect example of it & creating central overloads with LFC's second goal.

— Hamzah (@HamzahKL97) December 7, 2019
Before Keïta's goal though was a period of on-ball dominance in which Liverpool did not challenge Bournemouth's back line. Fifteen minutes in, and Liverpool had a single shot to Bournemouth's zero, and an astonishing 120 passes, compared to the 27 Bournemouth completed (at a 56.2 pc completion rate). Liverpool pressed excellently and completely disrupted any attempt for Bournemouth to buildup their possession from deep, holding 74.1 pc of possession. Despite this though, clear chances were few and far between, until Keïta broke in transition and played the ball through to Salah, who was thwarted by Nathan Ake, who, unfortunately, picked up an injury in what was a brilliant piece of one-on-one defending. Almost immediately after this, Henderson picked up the ball in a deep position. Bournemouth, much like Everton in midweek, simply did not apply ball pressure – a cardinal sin when the defensive line is pushing up, thereby leaving space in behind. With that space available, and Henderson afforded the time to look up and drive forward a pass that former Liverpool legends Xabi Alonso and Steven Gerrard would be proud of, directly onto the boot of Alex Oxlade-Chamberlain, who ran in from deep, and attacked the half-space off the shoulder of his marker.
Liverpool's opener precipitated a change which saw them exert far more pressure offensively, holding the ball in the final third with much more confidence and authority. The introduction of Alexander-Arnold strengthened the grip Liverpool had on the game, and their ability to hold the ball further up the pitch, with his runs on the outside, and crosses from high up the field depriving Bournemouth any respite opportunities, and allowing Salah to move into an even more threatening central area. From the '34 until half time, Liverpool had two goals, three big chances, 105 passes (at an utterly staggering 94.6pc success rate), whilst Bournemouth just about mustered a miserly 14 passes (at a 56 pc success rate). Liverpool's spatial dominance was total, with the midfield perfectly poised to counterpress when the ball was lost, and they did so diligently and efficiently, using the width provided by the fullbacks to utterly overwhelm Bournemouth, who could not react to Liverpool's ball speed, movement and directness.
Liverpool's midfield setup diverged a little from what we usually expect in the 4-3-3 though, with the midfield three almost inverted at times, with Milner and Henderson coupling as a double pivot, with Keïta given free roam ahead of them. Milner did move up and the traditional 1-2 or staggered 1-1-1 positioning returned, but for a significantly surprising period of the game, Milner sat alongside Henderson, allowing Firmino and Keïta to dictate the direction of play, operating in and around the "pocket" usually associated with the classic no.10.
By halftime, the game, as a contest was settled. Liverpool realised that, and following Salah's goal, courtesy of another sublime pass by Keïta, the side decided to close out the game. However, unlike how in recent games Liverpool have closed out games in which they have held the lead through surrendering the ball, dropping deeper and looking to counter, Liverpool elected to hold the ball, keep possession and attack without risk. In the second half, Liverpool had a single big chance (the Salah goal), and ten shots.
Not only was this an utterly brilliant attacking performance, it was a display of composure in possession and total chance control, leading to Liverpool's first clean sheet in fifteen matches. Holistically, this was as close to perfect as a performance as we've seen this season. Admittedly, Bournemouth were depleted, ravaged by injuries, and looked utterly shorn of confidence. However, given the direction of offensive play in Liverpool's last three games (including Liverpool's last 60 minutes against Napoli), and the electric performances of both Sadio Mané and Mohamed Salah, it's fair to consider this a trend in terms of Liverpool's attacking performances increasing in quality. In my report on the Everton match,  I closed with the following comments:
"To concede two goals, and 3 "Big Chances" is a little disappointing, but given Liverpool have lacked the same level of offensive fluidity and effectiveness compared to last season, it's extremely promising to see the side put in such a well rounded, creative offensive performance – a sign which is extremely ominous for the teams set to face Liverpool in the coming weeks, for it looks like this side is just about to play even better."
If Liverpool are to combine their offensive performances with the defensive one they just displayed, this December may well be the most fruitful a Klopp side has ever had.