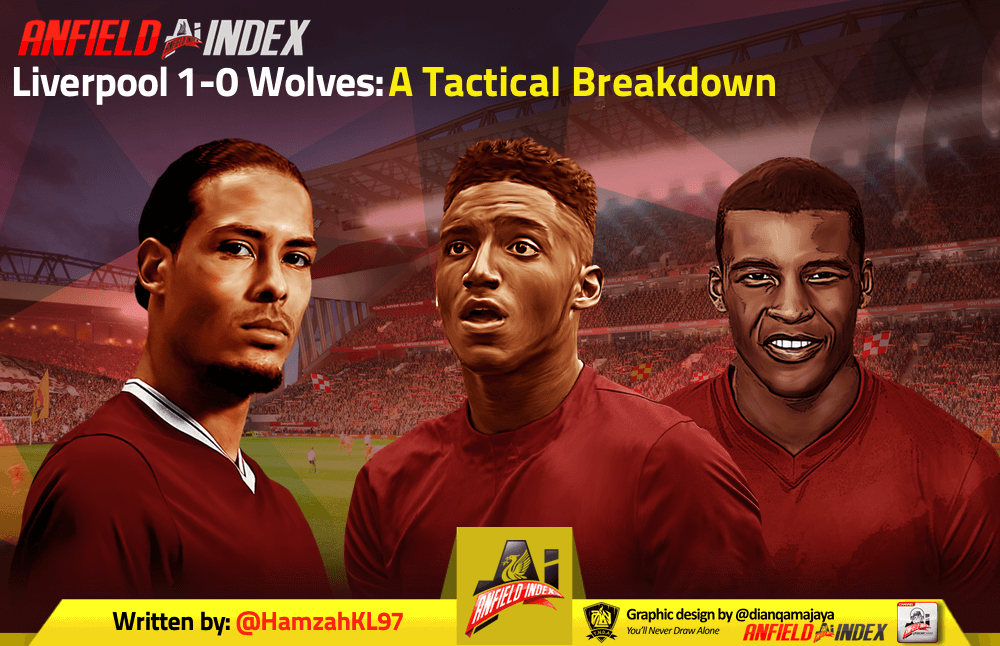 Liverpool 1-0 Wolves: A Tactical Breakdown
"This was a marvellous tactical battle, but for Nuno Espirito Santo, despite his best efforts, couldn't quite deliver a surprise in morphing into Nuno Espirito Santa(!!!), but with Liverpool, rather unexpectedly, now four points clear of Manchester City, it seems Christmas may just have come early…" – Wolverhampton 0-2 Liverpool: A Tactical Breakdown, 23/12/2018
It's remarkable how much, and at the same time, how little has changed in just over a year. Indeed, given Wolves' comeback against Manchester City, I was more than tempted to pull out the Nuno Espirito Santa joke, before realising I used it in last season's article (above).
Liverpool were expected to make changes to their starting XI, but as Jürgen Klopp explained in his pre-match interview, Xherdan Shaqiri, who was lined up to start, was unavailable, hence Sadio Mané, who played a full match against Leicester, retained his starting place, rather than being rested. Nonetheless, Liverpool still lined up in the 4-2-3-1 system which mostly correlates with the inclusion of Shaqiri on the right side of the 3, or rotation within the team during a dense fixture schedule (as was the case last year, as the 4-3-3 remains the first choice system in almost all other instances).
Wolves, unlike most teams who travel to Anfield, started with two forwards up top, leading a 5-3-2 shape. The idea behind this system was to:

Prevent space between the defensive line for Liverpool's forwards to operate in
Prevent Liverpool's fullbacks carrying the ball into the final third and creating wide overloads or crossing opportunities in the final fifth of the pitch
Leave enough players (3) in midfield to prevent Firmino and Lallana passing forward (as Salah and Mané would presumably be positioned up against the back five)
Keep Wijnaldum and Henderson deep, and unable to support or access Lallana and Firmino in the half spaces, through positioning two forwards who would press Van Dijk and Gomez – meaning one of the two Liverpool defensive midfielders would offer support in a deep, and more benign, position.
The plan made sense on paper, in practice the Liverpool forwards, as they usually do, took apart the system. Mané and Salah's movement, as they came inside and received the ball from Firmino and Lallana dragged in the Wolves wingbacks, creating more space for Alexander-Arnold and Robertson to position themselves in. One full back would be more advanced than the other, creating an asymmetrical formation, and thus another horizontal line for Liverpool to pass along or beyond. At the same time, Jordan Henderson identified the Wolves pressure, and deepened his position accordingly, aiding buildup and ball circulation from deep. The asymmetrical nature of the formation meant one of either Alexander-Arnold or Robertson would be positioned as an outlet option too, thereby negating the tactical problem the Wolves system posed. Combined with the presence of Wijnaldum on the open side each time the ball moved into a deep position, i.e. at Van Dijk, Gomez, Henderson or Alisson's feet, Liverpool were able to circulate the ball freely and then support the attacking midfielders in the half-spaces.
An early chance followed, with Alexander-Arnold making use of the space on the right side and linking with Salah, who missed a good opportunity with a first-time effort. As the game wore on, Wolves' forwards pressed less, wary of moving out of position and compromising the player in their cover shadow, thereby vacating a passing lane through which Liverpool could directly move the ball forward.
This was the case with Liverpool's goal, with Van Dijk given time on the ball to look forward and drive a pass in behind the Wolves line. With Salah deeper, and expecting pressure to be put onto Van Dijk, the Wolves line pushed up. However, both Mané and Lallana used this as an opportunity to run from deeper positions, beyond their midfield markers, and onto the Wolves backline, who would be facing the problem of both tracking two quick runners and an aerial ball which was going over their head, requiring them to reposition their bodies accordingly as they were running towards their own goal.
This simple move by Liverpool seized upon the tactical opportunity presented, and was enabled through a collected and exquisitely composed shoulder-pass by Lallana into Mané, the finish was unerring, and from that point, the gamestate suddenly favoured Liverpool, with the onus on Wolves to chase the game, and expose themselves in doing so.
At half-time, despite a late Wolves rally, it was fair to conclude that Liverpool controlled the game comfortably. Liverpool had eight shots to Wolves' single effort, from a free kick, and also generated two big chances to Wolves' none. Even without looking particularly fluent, Liverpool were comfortable and deservedly ahead. At the time of the restart, the xG score was 1.38-0.05.
For the second-half Liverpool changed from a distinct 4-2-3-1 to a 4-4-1-1 shape, with Firmino behind Salah, but Mané deeper on the left side. Liverpool were already wary of the Wolves counter-attack, evidenced in the two deep midfielders deployed, but given Liverpool led, there was no need to incur unnecessary risk, hence, Lallana and Mané were positioned deeper. Wolves though, spurred on through the fury of a disallowed goal, pressed higher and more intensely posing a few issues for Liverpool that resulted in possession losses as a product of individual errors. Soon these issues were quashed, and Liverpool reestablished their control over the game, until Wolves' substitutes were brought on.
The direct threat of Adama Traore – an elite-level ball carrier with the ability to break lines through dribbling, commit men, break defensive team shapes and create space to attack for both himself and teammates – invigorated after a thrilling display against Manchester City put Liverpool on the defensive. The game opened up and Liverpool's midfielders, caught amongst both an injury crisis and fixture pileup looked leggy and fatigued. Wolves, despite having a single rest day between their match against Manchester City, looked vibrant and focussed. Naby Keïta's introduction and a concerted effort by Liverpool to seize the ball and then keep it soon put a stop to Wolves' resurgence, and once again, Liverpool reestablished control over the game, through circulating the ball from deep, tiring out the Wolves pressers, and progressing the ball into midfield and then around into safer positions.
Against Leicester, we saw Liverpool approaching their best level. This was a much more challenging affair, and Liverpool treated it as such, with respect and an appreciation of the type of game itself. Whilst not at their best, Liverpool were definitely in control of the game for a majority of the time and both in tactical and technical aspects were superior. Wolves, though, to their credit, were excellent, thoughtful, purposeful and driven. Given the challenging context, it is fair to not expect Liverpool to score multiple goals every game or to expect total performative domination. But whilst in a number of games this season, Liverpool could be considered fortunate, this was an extremely mature and considered performance, which warranted the full three points in not just how it overcame the tactical and technical challenges posed by Wolves, but how Liverpool generated enough chances to win from and denied Wolves any serious opportunities to score too.