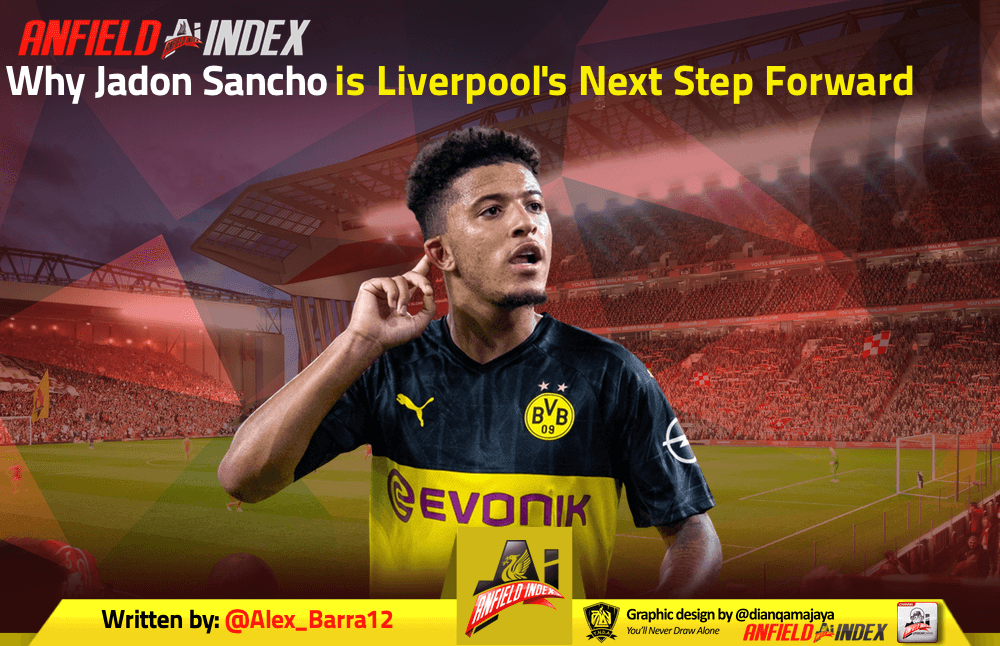 Why Jadon Sancho is Liverpool's Next Step Forward
Last week, this writer published a piece exploring how it is practically impossible to upgrade on this Liverpool team. Which, obviously, would make this piece seem slightly obtuse: why should the Reds pursue a very expensive winger if it won't actually upgrade them?
Well, despite currently being un-upgradeable: the best team in the world, reigning champions of Europe and the world, not to mention champions elect of England, there is always a way forward in football. Standing still, even when atop the tallest of peaks, is dangerous.
Klopp and co. have got this far by being clever. In recruitment, in philosophy, in mentality. Clever in data analytics, clever in conditioning, clever in scouting. They will undoubtedly have a plan to continue the dominance they've worked so hard to achieve, there will undoubtedly be a way forward.
Jadon Sancho has the potential to be that way forward.
Everybody knows about the English wonderkid, whose departure from Manchester City as a 17-year-old made waves in both Germany and England despite not playing a single senior minute for City during his time at the club. It was a landmark moment; like the Bosman ruling, but its ripples were in English football culture, rather than the transfer market. It paved a path for English players to seek the greener pastures of the Bundesliga, where their faith in developing youth would lead to actual football, rather than just hype and the occasional appearance in the Carabao Cup.
Liverpool has bucked that trend, however. The conservative nature of English football in regard to trusting youth had its face spat in by Trent Alexander-Arnold, whose opportunity came due to an injury to Nathaniel Clyne. Trent made it last, and Klopp – naturally a product of German football and their belief in football development – helped the young right back become one of the most creative players in the world.
So, should Liverpool's pursuit for Jadon Sancho in the summer bear fruit, it's safe to say the young trailblazer would find himself right at home, returning to England but playing for a German manager, one who would trust him.
Any sensible person would, of course, be questioning where Jadon Sancho fits into Liverpool's effervescent and everlasting front three. Would the prodigious talent be content with a rotation role?
Usually, the answer would surely be no. Except he'd be playing for the best team in the world, in a system that will surely be adapting past its current state.
It's not extraordinary to think that Klopp may adapt his squad to a 4-2-3-1, or perhaps even a 4-2-2-2 as the squad continues to develop and shift.
The average age of Liverpool's squad is 27.9 years old. (It also happens to be the smallest official squad list in the Premier League alongside Southampton with 22 players.) While it's true that James Milner's wisdom brings that up a notch or two, it's also notable that Mo Salah and Sadio Mané will both be 28 this year, while Bobby Firmino will be 29. Liverpool won't want to be left behind with an ageing squad, and the key to good management: as the venerator of Manchester United's success taught the world, is adaptability.
For Sancho, it's the opposite. To be featured in the best team in the world, he would have to be at his best at all times. And at 19, going on 20 in March, Sancho should be aware that he needs time to develop, to become attuned to the very highest level. Should he choose Liverpool as his ultimate upgrade, he would not only be allowed the time to settle into the way Klopp's finely tuned system operates, but slowly become the star the world sees in him.
As for Klopp's system, Sancho would offer yet another dimension to an already versatile machine. As Jonathan Northcroft's tweet below illustrates, Liverpool are capable of attacking via pinpoint long balls over the top, intricate short passing between the front three, and devastating counter attacks that cover great distances in miniscule time lapses.
Ole's remark about Liverpool's directness is being seen as a jibe but he has some basis – LFC play 3rd most long balls in the PL.

However they're also 3rd best for short passing and 2nd best for total possession.

Actually they're just a remarkably versatile, effective team.

— Jonathan Northcroft (@JNorthcroft) January 20, 2020
With Sancho, they would have an unpredictable presence capable of beating defenders without seeming to break a sweat – a product Sancho's street-football mentality – and an attacker capable of contributing in both the G and A columns: becoming the first player in Europe's top five leagues this season to reach 10 goals and 10 assists.
He's done it in the Champions League, he's done it in big games, he's blazed a trail few had ventured as a highly rated youngster seeking acclaim in a foreign country, and should Liverpool find a price that suits them, Jadon Sancho could well return home a very different player than the one he left: the kind that shows Liverpool to be the best team in Europe.