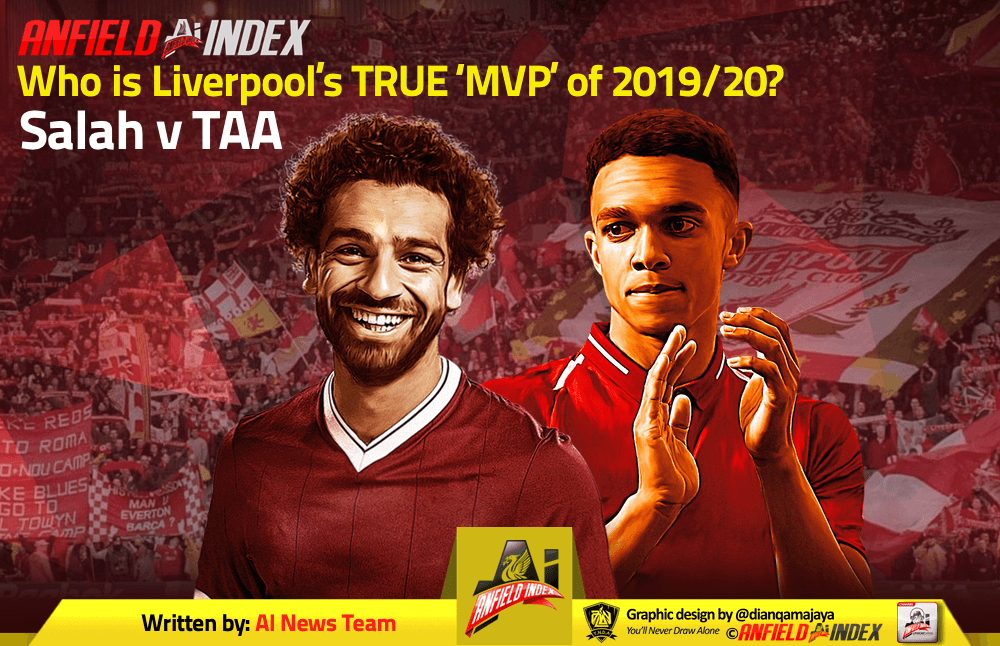 Salah v TAA – Who is Liverpool's TRUE 'MVP' of 2019/20?
In real terms, the only 'contest' involving Liverpool now is an internal one—namely, the identity of who becomes the club's latest Player of the Season. But who deserves it more? We highlight two main candidates, with Trent Alexander-Arnold and Mohammed Salah as the prime outfield contenders.
'TAA' – Already up there with Gerrard?
Underdog stories within sport come in many forms, with the legendary Champions League final comeback of 2005 and last year's two-legged fightback versus Barcelona being Liverpool's standout contributions this century. On a more personal level, however, the tale of how Trent Alexander-Arnold became perhaps Liverpool's greatest local talent since Steven Gerrard is undoubtedly another story of that ilk.
Alexander-Arnold has consistently been miles above the rest where it really matters over the past year, especially in pure terms of league assists from homegrown players since the start of August 2019. Indeed, across the whole league, only Kevin De Bruyne stood ahead of him in the same period, by the time the weekend of Liverpool's win over Bournemouth had played out.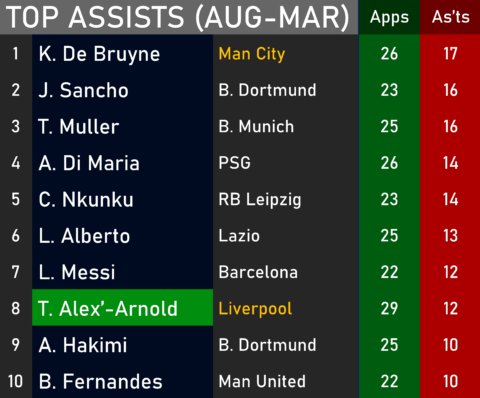 The top ten assist makers across Europe's biggest leagues. Correct as of 12 March 2020.
The numbers show that Alexander-Arnold has found ways to improve upon his overall game since the end of his breakthrough 2018/19 season. Significantly, according to FPL stats after the first weekend of March, he was averaging 0.0053 assists per-minute, which is up significantly from his average of 0.0013 in the same stakes back in 2018/19.
His rate of conceding goals per-minute since 2018/19 had also improved massively by the same point, with just 0.006 going in at the wrong end per-minute in the league after 29 league matches in 2019/20, down significantly from 0.011 last season.
Based on how much he has improved on top of his existing talents, Alexander-Arnold likely shades the contest and will receive at least one more tangible form of recognition for his efforts in the near future. After all, his Champions League winner's medal will start to look lonely after a while…
Salah: Born to be a winner
A near-unanimous pick amongst fans for the club's Player of the Season award in 2017/18, the Egyptian has shown absolutely no sign at all of letting up. While Salah may never emulate his golden boot-winning tally of 2017/18, the rate of victories in his goalscoring exploits (as seen below) is well worthy of personal honours, such as Player of the Season.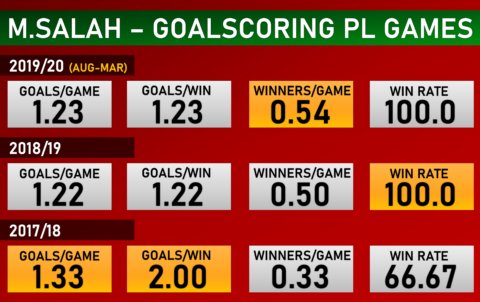 Caption: Correct as of 12 March 2020. Only includes league games featuring a Salah goal.
With no end in sight for the irrepressible nature of the Egyptian king's reign on the flanks, the world is now very familiar with Salah's strengths and what he can do. Yet, when measuring the past eight months of his Liverpool career by significant chronological milestones, the more intricate aspects of what Salah does for Liverpool become apparent.
For instance, as recently as the eve of Liverpool's heartbreaking exit from the Champions League, Salah stood proudly on a 70% strike rate from 100 Premier League appearances. His presence has guaranteed almost nothing but success, with 25 matchwinners amongst them following his opening goal at the London Stadium on 29 January, as seen below:
After recent events in the world, the sight of him smashing all opposition in his wake through sheer speed and endeavour will be more welcome than ever. He is also a worthy candidate and may yet get the opportunity to win personal internal honours with the Reds sooner rather than later.
And finally…
Liverpool's chances of a first successful European cup defence in over forty years may have crumbled, but nothing can be taken away from Liverpool's dominance of domestic proceedings since the start of 2019.
Said dominance has run concurrently with Anfield's fortress status, and the start of this April will represent a milestone three years to the month that Liverpool were last beaten in the league on their own turf.
It is an anniversary set to be cherished deeply in light of disruption amongst global sport, and it is stats such as those that make picking a 'Player of the Season' such a tough call.