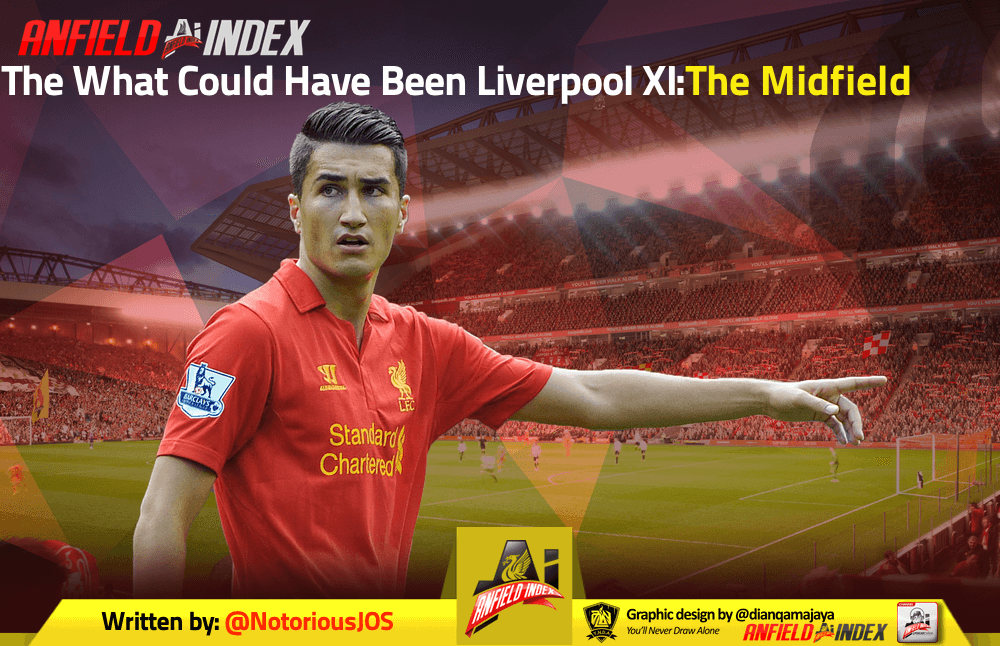 The What Could Have Been Liverpool XI: The Midfield
There have been several players in Liverpool's recent past who have enjoyed the best football of their careers at Anfield and inscribed themselves into the club's history with memorable performances.
Steven Gerrard, Jamie Carragher and Fernando Torres — to name but three — either spent all of their careers or, in Gerrard's case as good as, with the Reds or — with Torres as an example — enjoyed their career-best runs of form in a Liverpool shirt.
There have been more players, though, who — despite having all the credentials to claim a bit of Liverpool history for themselves — didn't spend long enough at the club, through a combination of factors — injury, moving to pastures new to develop, signing at the wrong age or time or falling out with the club — to fully blossom on Merseyside.
We will form a "what could have been Liverpool XI", comprised of players whose stints with the current European Champions whet the appetite of what they could have done but, ultimately, were cut too short.
For the sake of balancing all of the players into a formation that would suit their abilities best, a 442 shape will be used.
In our first piece, we looked at the goalkeeper and defence and now we turn our attention towards the midfield.
CENTRAL MIDFIELDER: NURI SAHIN 
The Turkish international joined Liverpool on loan from Real Madrid in the summer of 2012, a signing which was considered a massive coup for the Reds given the massive role Sahin had played in Borussia Dortmund's Bundesliga title win in 2010-2011.
A creative, left-footed playmaker, Sahin struggled to establish himself at Madrid and their then manager, Jose Mourinho, spurned the advances of Arsenal to send the Turk on loan to Anfield and to Brendan Rodgers, the Portuguese's former coaching protege at Chelsea.
Rodgers, however, misused Sahin — only playing him 12 times, in which he managed three goals and three assists — as a number  10 — a role in which he rarely, if ever, played — which sparked bemusement from Jurgen Klopp, his former manager at Dortmund.
Speaking to the BBC, the current Liverpool boss said: "It was the wrong position [for Sahin to play. If you are a No. 8 or 6 and you have to as a No. 9 or 10 – it's not possible. For some guys of course it's possible, but Nuri's a brilliant player – not nine-and-a-half and not 10 – and I don't know why Brendan Rodgers would do this."
Sahin's loan deal was cut short in January of 2013 and the current Werder Bremen midfielder rejoined Klopp at Dortmund, playing his part as the Westfalenstadion team finished runners up in both the Bundesliga and Champions League to F.C. Bayern.
Inferior players, such as Joe Allen and Jonjo Shelvey were given precedence over Sahin in his preferred position at Anfield in an early display of Rodgers brand transfer politics, which was to the detriment of the team.
CENTRAL MIDFIELDER: GARY MCALLISTER 
Joining on a free transfer from Coventry City in the summer of 2000, Gary McAllister proved to be one of the most astute signings the club had made in decades.
Offering a cool head, tactical intelligence, and set-piece prowess, the Scottish international provided an experienced foil to young midfielders Steven Gerrard and Danny Murphy as Liverpool won a treble of cups — the UEFA Cup, the League Cup and the F.A. Cup — in the 2000-2001 season.
McAllister, who was 36 at the times of joining the Reds, wrote himself into club folklore with a string of important goals, such as the winning penalty in the UEFA Cup semi and a memorable 44-yard last gasp free-kick to win Liverpool the Merseyside derby at Goodison Park.
The former Scotland captain left Anfield upon the expiration of his contract in the summer of 2002 and left behind quite the legacy, not only in terms of trophies and qualifying the club for the Champions League but of the young players he helped nurture, none more so than Gerrard.
The Liverpool legend says he is thankful for McAllister's tutelage when he was a young player, making his way with the Reds.
"I knew there was a player there that I could learn off both on and off the pitch. He took a shine to me and helped me a lot to progress as a footballer on the pitch but also how to be humble and be a decent person off it.
"So I owe Gary Mac an awful lot," the current Rangers manager — who hired McAllister as his first-team coach at Ibrox — noted.
It is a shame that the Scots move to Merseyside did not materialize earlier as the exciting Liverpool teams of the mid to late '90s would have massively benefited from an experienced campaigner in the middle of the park, bringing a semblance of balance to their hung ho attacking approach.
LEFT-WING: JARI LITMANEN
The signing of Jari Litmanen on a free transfer in January 2001 sparked excitement among the Liverpool fan base.
After all, only five years earlier the Finnish international provided the attacking impetus from the number 10 slot as a young Ajax side entertained the whole of Europe on their way to winning an unlikely European cup triumph.
Litmanen was reunited with his former coach at the Amsterdam Arena, Louis van Gaal, at Barcelona in 1999, but his stint in Catalonia was short-lived, thanks to a spate of injuries and the emergence of Rivaldo as the team's chief creator.
When the opportunity to sign for Liverpool presented itself, the Finn — a boyhood Red — was keen to take it, telling the club's website that he was fulfilling a lifetime ambition.
"It has always been my dream to play for Liverpool. I have supported them since I was a child and there has been talk about me joining them before," Litmanen told the club's official website.
Gerard Houllier, the club manager, was equally excited. He said: "We have signed a world-class player. He comes with a massive reputation and I believe he's one of the most exciting signings we have made."
Despite a strong start to life in Red, the attacking midfielder's progress was beset by injuries and he missed all three of Liverpool's victorious finals in 2000-2001. The following season followed a similar pattern, with Houllier reluctant to use Litmanen and there being no natural slot for him in the Frenchman's preferred 442 shape.
It would prove to be the legendary Finn's last at Anfield and he rejoined Ajax on a Bosman.
It was a shame how Litmanen's Liverpool's career transpired, especially as the missing element — a creative spark and passing incision from midfield — to the Reds' 01/02 title challenge could have been provided by the Finn, who signed off his on boyhood dream with five goals in 26 appearances.
RIGHT-WING: MAXI RODRIGUEZ
The 2009-2010 season isn't fondly remembered by Liverpool fans and with good cause.
The Reds limped to a seventh-placed finish in the Premier League, were eliminated early from both domestic cups and were denied a place in the Europa League final by a late Diego Forlan goal for Atletico Madrid at Anfield.
The off-pitch outlook wasn't optimistic, either, as fan favourite Rafael Benitez was sacked as manager amid the infighting of the club's hapless owners, Tom Hicks and George Gillett.
One nugget of positivity, however, was the signing of Maxi Rodriguez from Atletico. The Argentinian arrived on a free transfer in January 2010, taking the number 17 jersey.
Initially playing under Roy Hodgson, the attacking midfielder's best football came under the Englishman's successor, Kenny Dalglish.
Rodriguez scored 10 league goals in the 2010-2011 season — including two hattricks, against Birmingham City and Fulham — and struck a solid on-pitch understanding his fellow South American, Luis Suarez.
Never blessed with pace, the Argentinian international's clever movement and manipulation of space made him a constant threat to the opposition and he was part of the Liverpool team who won the 2012 League Cup. It proved to be the former Newells Old Boys academy products last season in England, however, as he rejoined his first club on a free transfer in the summer of 2012.
The Reds' lacking a supporting cast of sufficient calibre to assist Fernando Torres and Steven Gerrard in the 2008/2009 was ultimately the reason they narrowly lost the title to Manchester United.
A far superior player to the likes of Nabil El Zhar and Albert Riera, Rodriguez could have provided the attacking impetus to seal Liverpool's 19th league title if he had arrived at Anfield a year earlier.