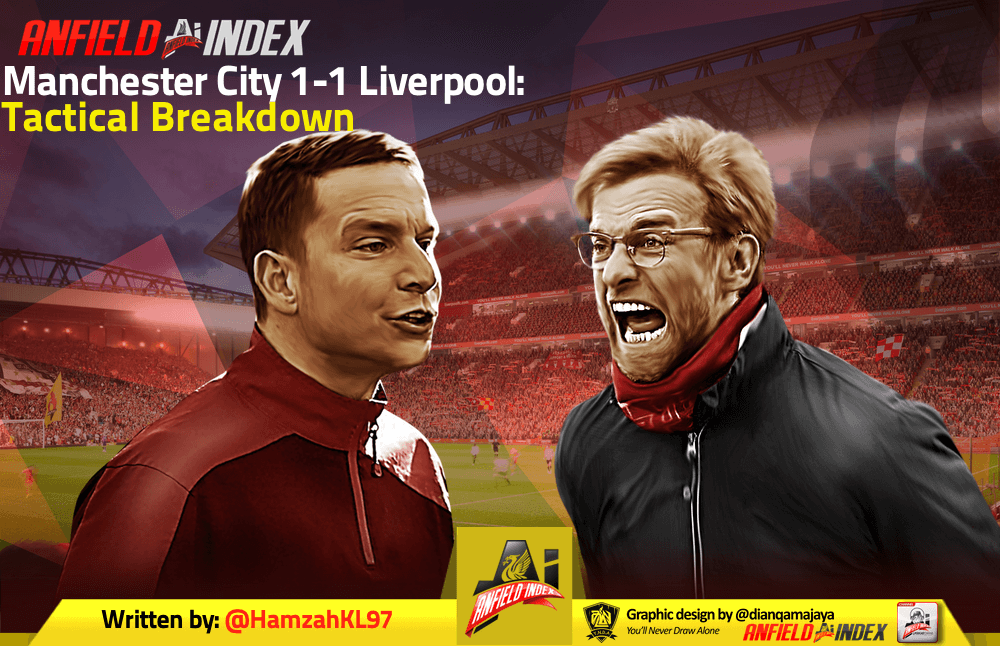 Tactical Breakdown: Manchester City 1-1 Liverpool
As I have grown up, I have witnessed titanic clashes between footballing behemoths. Games for which the world would stand still for 90 minutes in order to witness the spectacle. In the early noughties, it was Arsenal and Manchester United; then Chelsea and United; Liverpool and Ferguson's side followed briefly, before the rise of Pep Guardiola's Barcelona precipitated a new dimension to El Clasico, now a monumental clash between the world's two finest teams. Matches between Klopp's Borussia Dortmund and Heynkes' Bayern Munich Der Klassiker followed, but for the last three seasons, it's clear what the finest footballing spectacle in the world is: Liverpool versus Manchester City.
Each game is fraught with possibility, a constant tactical battle between arguably the finest tactician of his generation – Pep Guardiola – and the irresistible man who has defeated Guardiola more than any other single opponent – Jürgen Klopp.
With injuries aplenty for both squads, and player fatigue forming the backdrop to this game, both coaches had to adapt to their circumstances but also to the unique threats the opponents posed.

In an extraordinarily surprising move, Klopp set the champions up in a 4-4-2, in which Roberto Firmino and Mohamed Salah led the forward line, supported by Sadio Mané and Diogo Jota in conventional left midfield and right midfield roles. When in possession, Jota and Mané would move forward, as did Trent Alexander-Arnold and Andy Robertson, leading to a 3-3-4 system, in which one midfielder would drop to cover for the advancing fullbacks.
The key objective for Liverpool's tactical system was to hem Manchester City in when they wished to build from the back. The system was designed to keep them away from dangerous or high-value areas across the pitch, ideally pinning them in their defensive third. This, in turn, would lead to the Citizens opting to play long passes forward, which Joel Matip and Joe Gomez would seize upon against the more slight City forward line. This would then allow the Reds to regain possession and ideally look to progress it forward, into their attackers.
In order to pen Manchester City back, Salah and Firmino were tasked with blocking passing lanes into Rodri, who is the fulcrum of Guardiola's side's buildup play. To do this they used a relative zonal marking system, in which they would rotate the role of marking Rodri, dependent on where the ball was on the pitch, and where they were relative to Rodri. Each player would step out towards the centreback on the ball, and use their cover shadow to mark Rodri, thereby discouraging passes forward, and limiting the potential for City to access Kevin De Bruyne.
The champion's wide players, Mané and Jota, were positioned deeper than usual and were tasked with defending the half-spaces, and keeping a compact bloc when out of possession, to minimise spaces for De Bruyne to receive the ball in.
Manchester City's system was a 4-2-3-1, which Pep Guardiola has tended to call upon in recent fixtures (for a reminder of last season's match at Anfield click here). The double-pivot of the 4-2-3-1 has a dual purpose. It works to offer greater protection on counter-attacks and in offensive-to-defensive transition (which Liverpool are the best side in the world at exploiting), but it also provides an extra player in buildup, which should theoretically reduce the effectiveness of an opposing team's press on a singular no.6 (deepest lying midfielder). This extra man should allow for a more comfortable buildup phase, and provide the capacity to move the ball across laterally with more ease.
At Anfield last season, this system was City's undoing, as it actually meant they had too many players in deep positions, and thus were unable to progress the ball to their forwards effectively, nor were they able to support them when they did so. In the first half of this fixture, to a large degree, the same was true. At the same time though, as Omar argues below, with a great example from City's 4-0 victory last July, the City double-pivot can result in Liverpool's midfield moving up into riskier areas, which when bypassed, can lead to one-on-one opportunities for their forwards.
Even in the first minute of the game, you can see Gini needs to step up to press their second pivot and Robbo has a dilemma of leaving Foden to Walker, so Fab has to shift to cover Foden and KDB almost recieves in space with our CBs pinned by Sterling / Jesus and a potential 3v2 pic.twitter.com/eAIQepTVT5

— Omar (@topimpacat) November 8, 2020
Kevin De Bruyne was key to this system, and as the no.10, he usually worked in the ball side halfspace, drifting between players. Even when Rodri dropped into the City defensive line to create a back three, City struggled to progress the ball forward, with their only option being to play around the Liverpool midblock and press. Hence the ball went wide and into non-threatening areas. Whereas Liverpool, early on, played direct passes in behind which their forwards were able to run onto. A number of these chances were cut out or wasted, but the inability for City to involve De Bruyne early on, with Gundogan the only central midfield option between Rodri (positioned in his defensive third) and De Bruyne (in the final third), meant Liverpool were comfortably on top early on.
Guardiola hoped to use Ferran Torres as someone who could occupy the Robertson-Matip halfspace and exploit it in the manner Foden did back in July. However, the opportunity for City to access and utilise this option was minimal because of how effectively Liverpool blocked passing lanes and opportunities into their defensive third. Despite De Bruyne pressing the Reds' centrebacks early on, they were able to get the ball into their fullbacks who were free and able to progress into space, as the Citizens' fullbacks were occupied with Mané and Jota.
So effective were Liverpool in the opening twenty minutes that they managed to break on a number of occasions, and they utilised the familiar combination of Mané, Robertson and Wijnaldum to isolate Ferran Torres, who Robertson beat in a one-on-one, before playing the ball into the box for Mané who was fouled by Walker.
The exceptional ball speed and movement of the Liverpool players, coupled with the tactical system and frequent forward passes, meant City were on the back foot, unable to retain possession in a meaningful and progressive sense in order to regain control of the speed of the game.
However, City are absolutely brilliant at exposing and utilising space, and the video below shows how one positional error, in which Mané was out of position, and Kyle Walker was afforded space, allowed Man City to exploit the one fewer man in Liverpool's midfield. This was a classic example of how Guardiola's side built up in possession through the wide areas – avoiding the Liverpool pressing trap – and then moved the ball back inside once they had progressed beyond the middle third.
It was a positional error and the attempts made to compensate for it that contributed to Manchester City's equaliser. That happens when a team plays a new system though, and when players like Mané are functioning in a role that is not entirely natural for them.#LFC#MCFC pic.twitter.com/imqjbKQFR0

— Hamzah (@HamzahKL97) November 9, 2020
In his pre-match interview, Klopp said of his new system that,
"If you want to get something here you have to be really brave. It's an offensive lineup, but if everyone does their job it's a solid defensive formation".
Unfortunately for him at this moment, a lapse in defensive concentration allowed the Sky Blues to break inside, and finally access both De Bruyne and Jesus, whose first touch was sublime, and befitting of the great tactical contest that was unfolding.
The equaliser saw the game move into a more even contest, with more space opening up for City, who were awarded a penalty after De Bruyne was able to move more freely, and slipped into the right channel before hammering a cross into Gomez's arm.
Had De Bruyne scored his penalty, the game state would have favoured Guardiola's side, who would have been able to dictate the pace of the game, and look to break as Liverpool committed more forward. His missed attempt meant that at half-time Guardiola still needed to adjust his tactical system.
The second half was comparatively drab but filled with tension throughout, as City crept forward, slowly gaining more control over the ball and space as time progressed. Guardiola's tactical change was to essentially mirror what Liverpool did in the first half. City moved up and into a 4-4-2, which prevented passes into the champion's midfielders. The result of this was Klopp's side circulating the ball in deep areas and then launching it long, attempting to get Salah or Firmino involved. However, as Wijnaldum and Henderson dropped deeper to support the defence in playing against the City press, the forwards were left isolated, and unable to contest the aerial balls against the aerially dominant Laporte, Dias and Rodri.
Salah, as the most advanced forward, was unable to be as creative as he usually is. Liverpool really struggled to get the ball to him, and consequently the capacity to create attacks diminished. Only in the final ten minutes of the game did Salah drop deep and begin to link up with the forwards, but for the majority of the second half, he was isolated, as City controlled the game. Alexander-Arnold's calf injury only exacerbated this issue, with the Reds' ability to launch counterattacks or accurate long switches minimised.
The absence of Van Dijk and his long balls was apparent, but so too was the regular deep movement we usually see from Firmino when he plays as a false 9. Essentially the Liverpool forwards were isolated and redundant when the side had the ball in deep positions, with them only being vectors for City to reclaim the ball, following which the forwards set back up in their defensive shape.
City's in-possession back three structure then allowed them to progress up the pitch, with Ederson even becoming involved in build up in the closing phases of the game. De Bruyne pressed Wijnaldum and looked to lose him when his side was in possession, whilst Jesus did the same with Henderson, albeit to a lesser degree.
Klopp's changes in the second half were largely ineffective in an offensive sense and unable to resist the changing flow of the game. Nonetheless, despite controlling the ball and having more of a say in the spatial arrangement of the pitch, City was unable to create significant openings beyond Gabriel Jesus' headed effort in the 54th minute. Tiredness appeared to creep in, but so too a wariness that a mistake from either side could have far greater repercussions than the status quo. With neither side willing to go in for the kill, the game petered out with the tension of an uneasy truce.
This was a superb match from a tactical contest, with most of the major events happening in the first half. Klopp would likelier have been the happier of the managers at half time, but Guardiola's tactical change posed questions to which Liverpool's midfield had no answers. No doubt a fully fit Thiago, Fabinho and Naby Keïta would have been exceptionally useful in breaking City's press and exposing the space as they pushed up, but such is the nature of this extraordinary season; similarly, no doubt City supporters will contend a fully fit Sergio Agüero may have been a difference-maker in such a tight contest. Nonetheless, this was a game of the highest quality given the circumstances, with genuine respect between each side characterising how the second half played out. Klopp's men may rue their missed chances in the first half, but a point at the Etihad is more than they have mustered in their past two seasons combined. If anything, this display has shown that even with their squads pushed to the limit, and after two immensely competitive seasons between these two clubs, their managers still have plenty of tricks up their sleeves to remind us that neither side is going away easily.