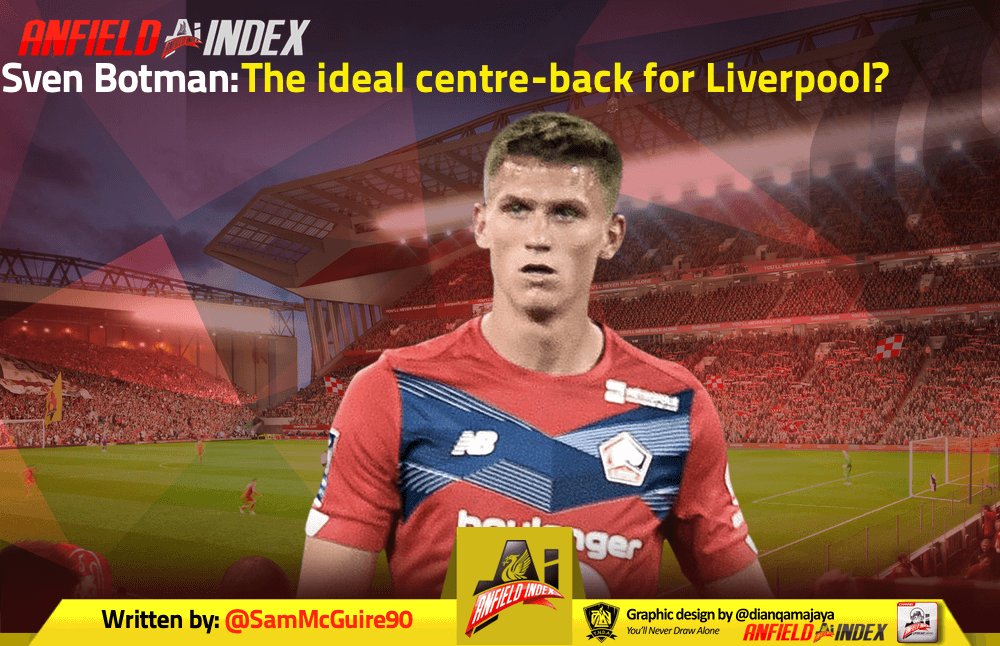 Sven Botman: The ideal centre-back for Liverpool?
Lille tend to be shrewd operators in the transfer market, especially when it comes to selling. Yet the feeling was they'd allowed Gabriel Magalhães to leave the club for a knockdown price having only pocketed £27million for the in-demand centre-back. Liverpool, Chelsea and Everton had all been linked with the Brazilian but it was Arsenal who stumped up the money to bring him to England. What many didn't realise at the time was the Ligue 1 side had already signed an upgrade in Sven Botman. 
The Dutchman arrived from Ajax having caught the eye while on loan at SC Hereenven during the 2019/20 season. He cost the French club in the region of €8million and was one of the more under the radar signings of the summer. 
He's settled into life at the Stade Pierre-Mauroy with relative ease. The 20-year-old has been at his dominant best and his form is one of the reasons that Lille sit top of the table with the joint-best defensive record. 

Due to only recently moving clubs, Botman hasn't been mentioned as someone who could be on Liverpool's wish list this winter. But Les Dogues are in financial trouble and they may be forced to sell a number of their players to stay afloat. If the Dutchman is available, you can guarantee a host of clubs will be in for him. 
The left-footed centre-back has everything you want in a modern-day defender. He puts his 6ft 4ins frame to good use in the air, winning 74% of his aerial duels in Ligue 1. For context, that puts him in the same sphere as Virgil van Dijk. Unlike Bremer, a player Liverpool have been linked with, Botman is competing for a decent number of headers (6.2) on a per 90 basis. He's also winning 66% of his ground duels which, again, puts him in the same ballpark as Van Dijk. 
Liverpool want their defenders to be dominant. They need their defenders to be dominant in order to play such a high line. Botman ticks that box. 
It is also a necessity for any defender in red to be competent and composed in possession. Van Dijk regularly acts as a quarterback, pinging passes to wide players to stretch the play and up the tempo. Joe Gomez and Joel Matip tend to play more incisive passes into the feet of the midfielders and Rhys Williams has taken up the mantle in recent weeks. 
Rhys Williams is really growing into this team. pic.twitter.com/vz6p0wfVxK

— Sam McGuire (@SamMcGuire90) December 17, 2020
Something that is often overlooked is how often a Liverpool centre-back is in possession. Van Dijk averages around 70 passes per 90 for the Reds so, in an ideal world, any incoming player would be used to that sort of volume. Nathaniel Clyne is the prime example of why the assumption that scaling up is easy is, well, wrong. Following his move to Anfield, his touches per match almost doubled. The more of the ball he had, the more limited he looked. It was similar when Brendan Rodgers tried to turn Simon Mignolet into a ball-playing goalkeeper. Sometimes, players just aren't comfortable seeing that much of the ball. 
Botman, however, is. For Lille in Ligue 1 this term, he's attempted 71 passes per 90 and his passing accuracy is around the 87% mark. The No.5 is quite expressive when in possession, too. He isn't just playing simple five-yard passes. 
Using the KeyFrame Sports platform, we're able to dissect Botman's on-ball ability.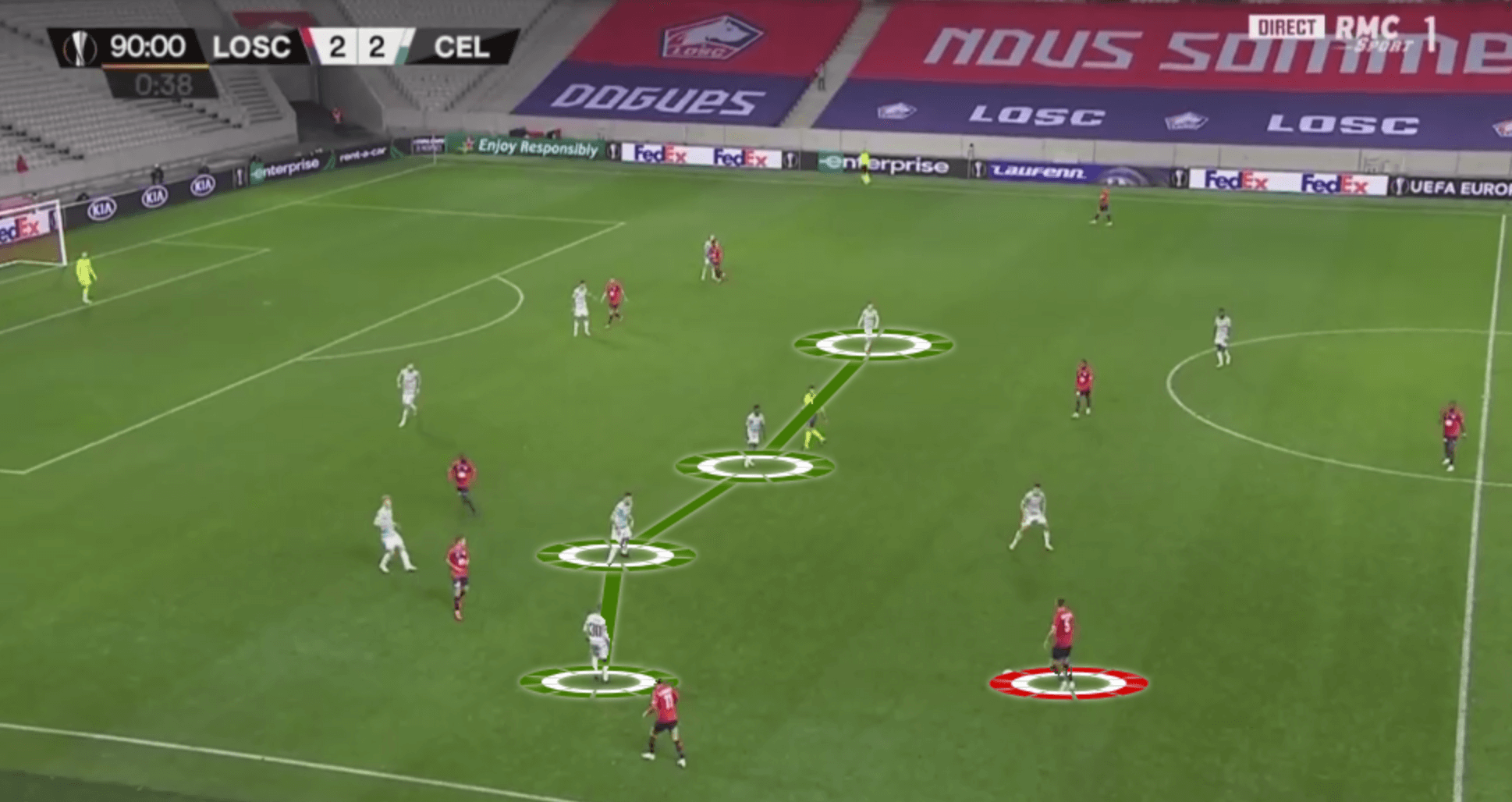 In the still above, you see the Dutchman in possession. Celtic are in a decent defensive shape and they're blocking off the passes into the feet of the attackers in the final third. Botman could go backwards in an attempt to keep play moving with a pass to his centre-back partner. He could look for a big switch to the right-back.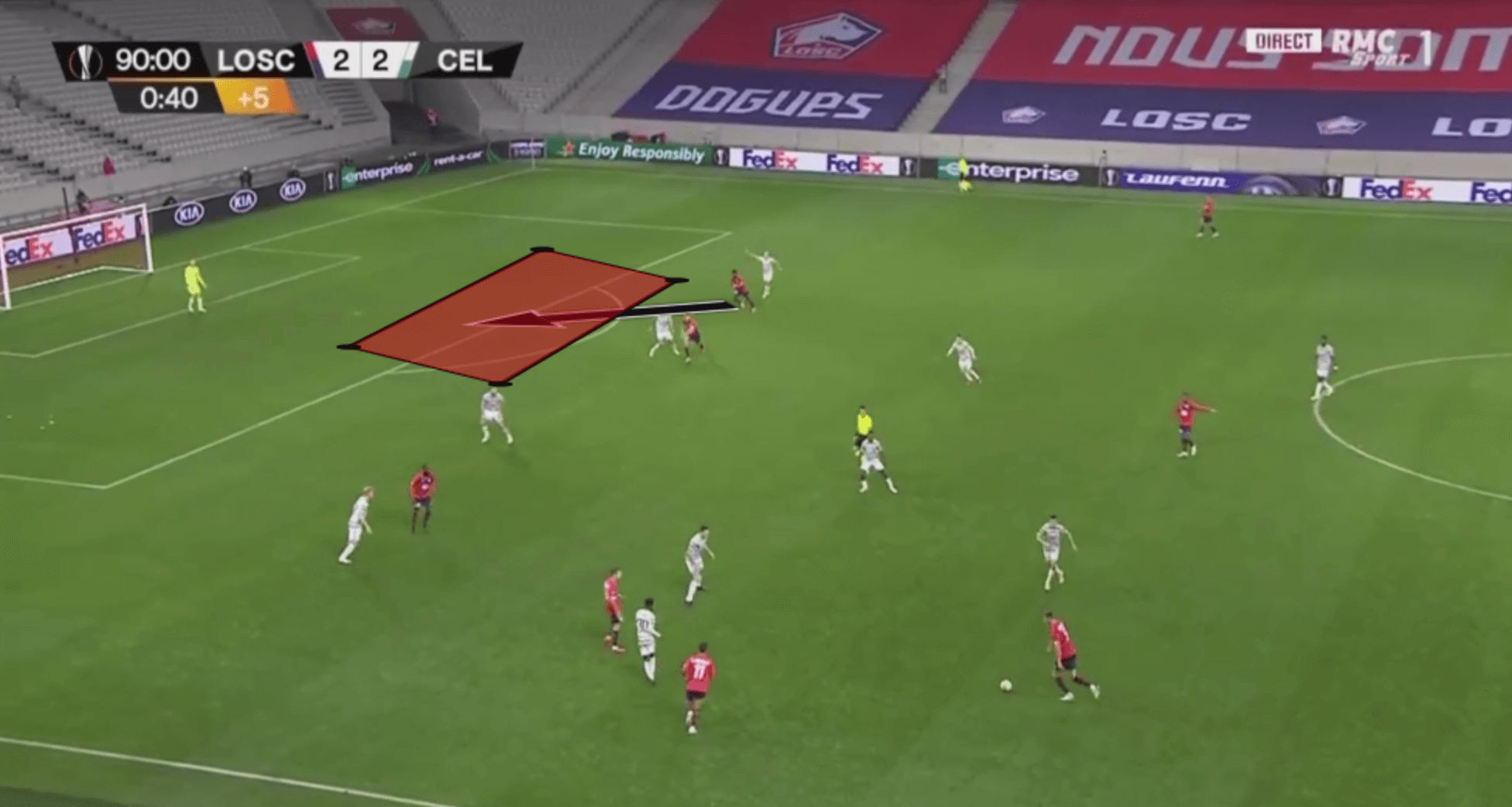 Instead, he plays a superbly weighted pass into the highlighted area. The attacker isn't able to make the most of the opportunity and it may have been ruled out for offside, but the vision to spot that combined with the ability and the confidence to execute such a pass is encouraging. Against those teams looking to dig in, having a centre-back who can pick out those runs is invaluable. 
If Liverpool are wanting to bring in a centre-back in January, Botman should be at the top of their list now that Lille are needing to sell. It's opportunistic and very unlike the Reds in that sense, but they've always said they're in a position to react to the market if an opportunity presents itself. This is definitely an opportunity to improve without breaking the bank.