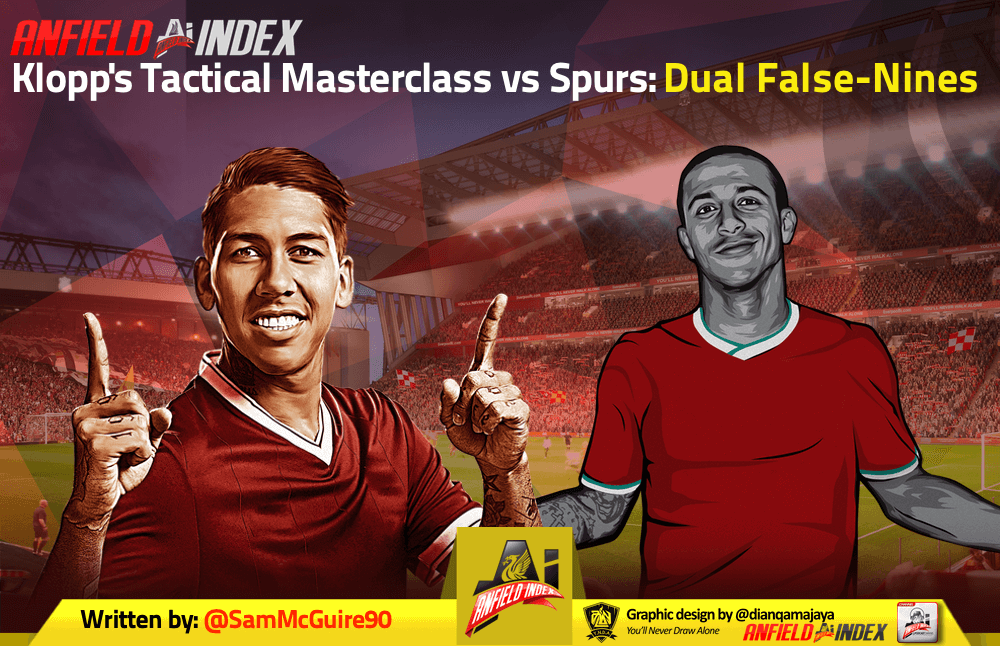 Klopp's Tactical Masterclass vs Spurs: Dual False-Nines
Inside of two minutes against Spurs, you could tell something was different. In previous matches this year, Jurgen Klopp had used Alex Oxlade-Chamberlain and Xherdan Shaqiri as attacking No.8s, with Thiago and Gini Wijnaldum anchoring the midfield. 
In those games, the dynamic felt a little off and people kept getting in each other's way. Thiago was carrying the ball forward and with there already being a more attacking eight in the system, it forced Roberto Firmino higher up the pitch. This resulted in him getting into dangerous areas and the majority of chances carved out by the Reds falling to him, as discussed here. 
Since the 2018/19 season, Trent Alexander-Arnold, Virgil van Dijk and Firmino have been the playmakers. They all operate in different parts of the pitch so it just worked. Since the turn of the year, Thiago and another midfield playmaker have been added. 

If you look at it from a basic perspective, the playmakers within the team shifted from left-sided centre-back, right-back and false-nine to right-back, right-sided centre-midfield, centre-midfield and false-nine. It's no wonder it felt a little forced. 
Against Tottenham, however, Klopp switched it up. Instead of using Thiago as a No.6, he gave him more attacking freedom. 
Klopp on Thiago: "We played a slightly different positions, Milly and Gini worked well as No.6 Thiago can do much better than tonight but it was an important step. He came late, was ill, injured then playing in a decisive position. We played him higher up the pitch."

— Paul Gorst (@ptgorst) January 28, 2021
It was as though Liverpool were playing with dual 10s in Firmino and Thiago. They had space to operate in and, because of this, the Premier League champions looked dangerous. It was a fluid, interchangeable shape and system.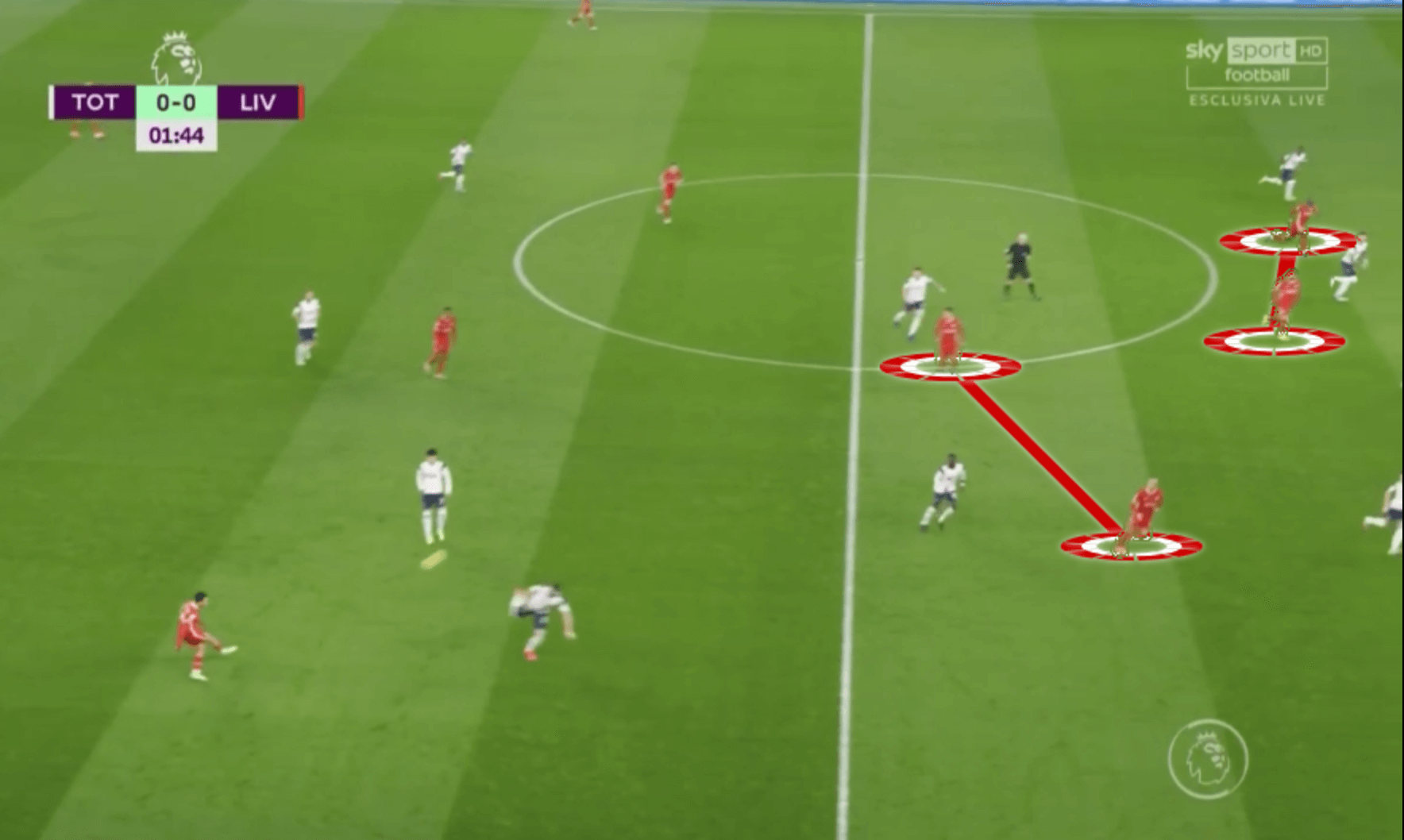 The still above is taken just prior to Mane's first shot of the match. Firmino has dropped deep, as he does, and Thiago has dropped behind the Spurs midfield. This has forced Ben Daves to step up so he's in a decent position if the ball is played to the Spaniard. So, in a way, Liverpool have duals 10s who are better at receiving the ball to feet, and two strikers playing on the shoulder of the defenders. Spurs wanted to cut off the passes into the two dropping, so stepped up, but that opened up space for the speedsters in behind. 
It was a clash, and one they couldn't get to grips with.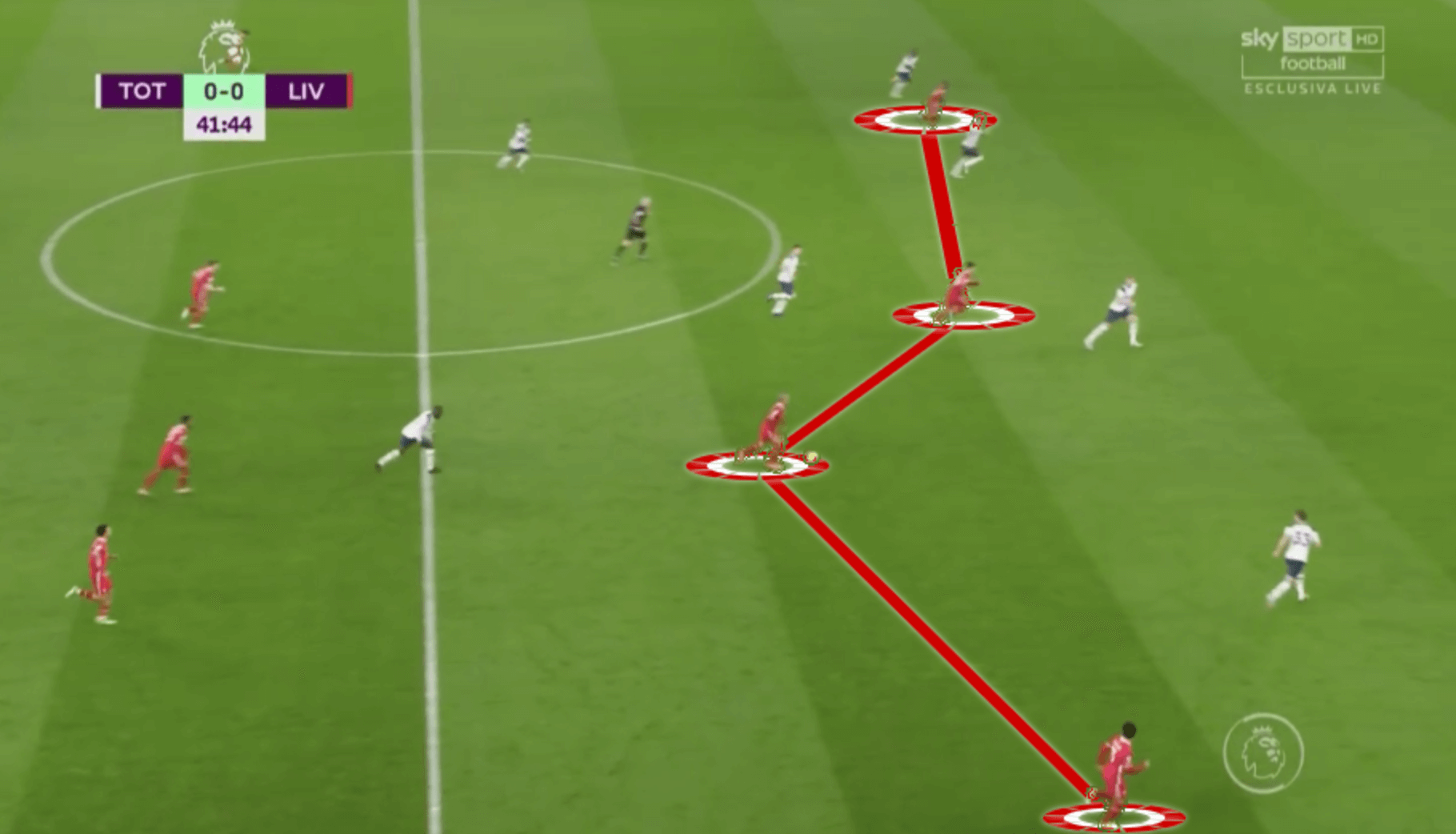 Spurs had looked to press high in the above but Liverpool, with Wijnaldum and Milner supporting the defence, had been able to play out. 
Thiago had maintained an aggressive position in the home side's half. As soon the ball is played to the No.6, Firmino moves to his left to open up space and to occupy Eric Dier and Joe Rondon. This is a clever piece of movement as it leaves Mane in a one-on-one situation against Serge Aurier. 
The Spurs backline are basically pinned and their midfield can't get to Thiago. He plays a pass to Firmino who then threads it through to Mane. Usually, it'd be Firmino in the Thiago role and hosts would be able to manage the situation. 
The pair of them worked in tandem to pin the Spurs backline on multiple occasions.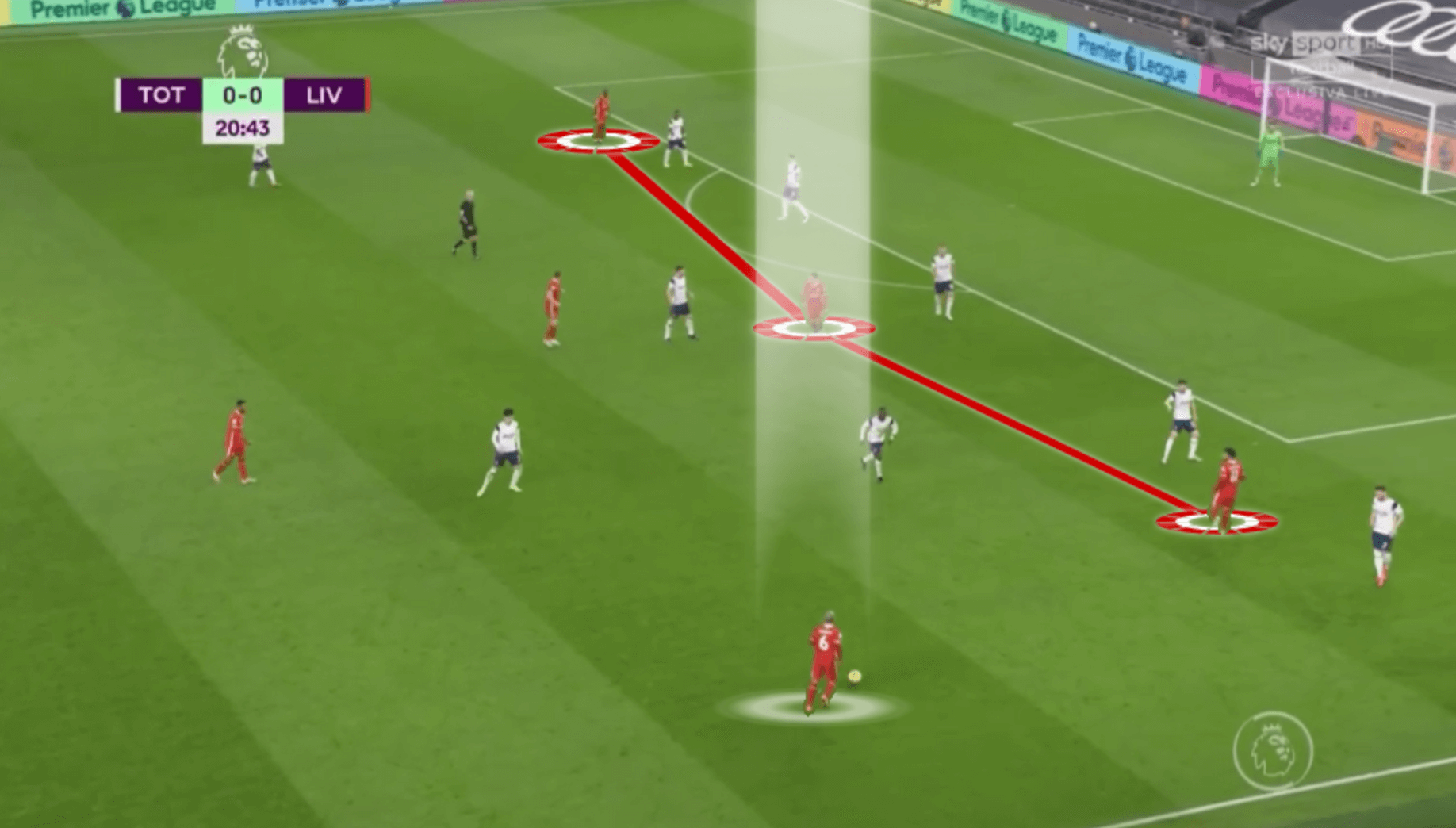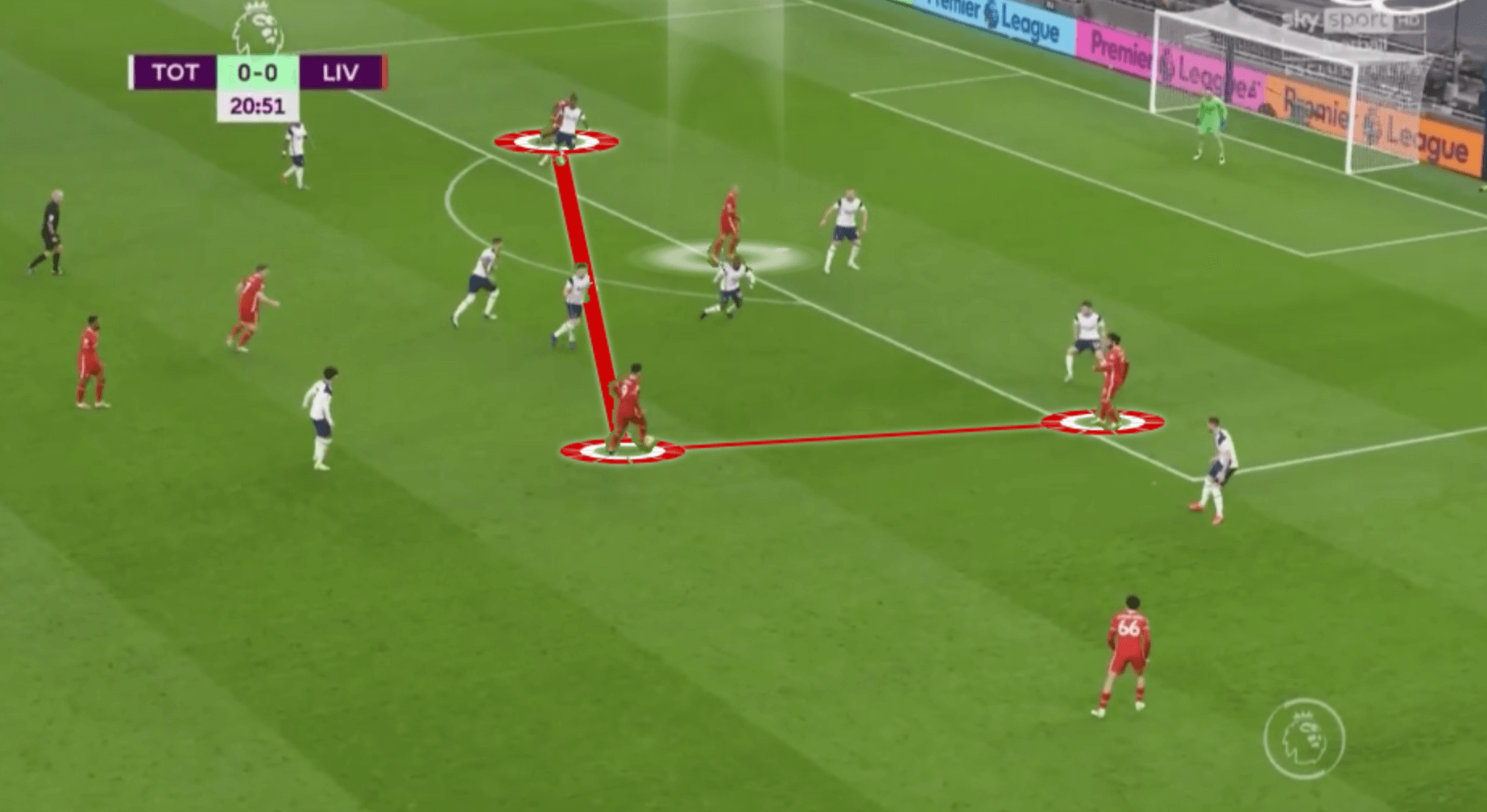 You see it in the above. Thiago starts off with the ball on the right. Liverpool are patient and shift play to the left. As soon as Firmino drops, the former Barcelona man takes up the No.9 role. This action opens up the space for the Brazilian and he gets a shot off. It isn't the best, but it highlighted the fact the gameplan was working. Instead of one false-nine, the Reds essentially used two. 
It nullified the Tottenham plan. They regularly double up on wide players and due to Firmino dropping, they have a free man at centre-back to cover. The addition of Thiago to the attack meant Liverpool could occupy their entire back five with three players and still have a man free to create. 
Klopp won't get the credit for it, but it was a tactical masterclass.