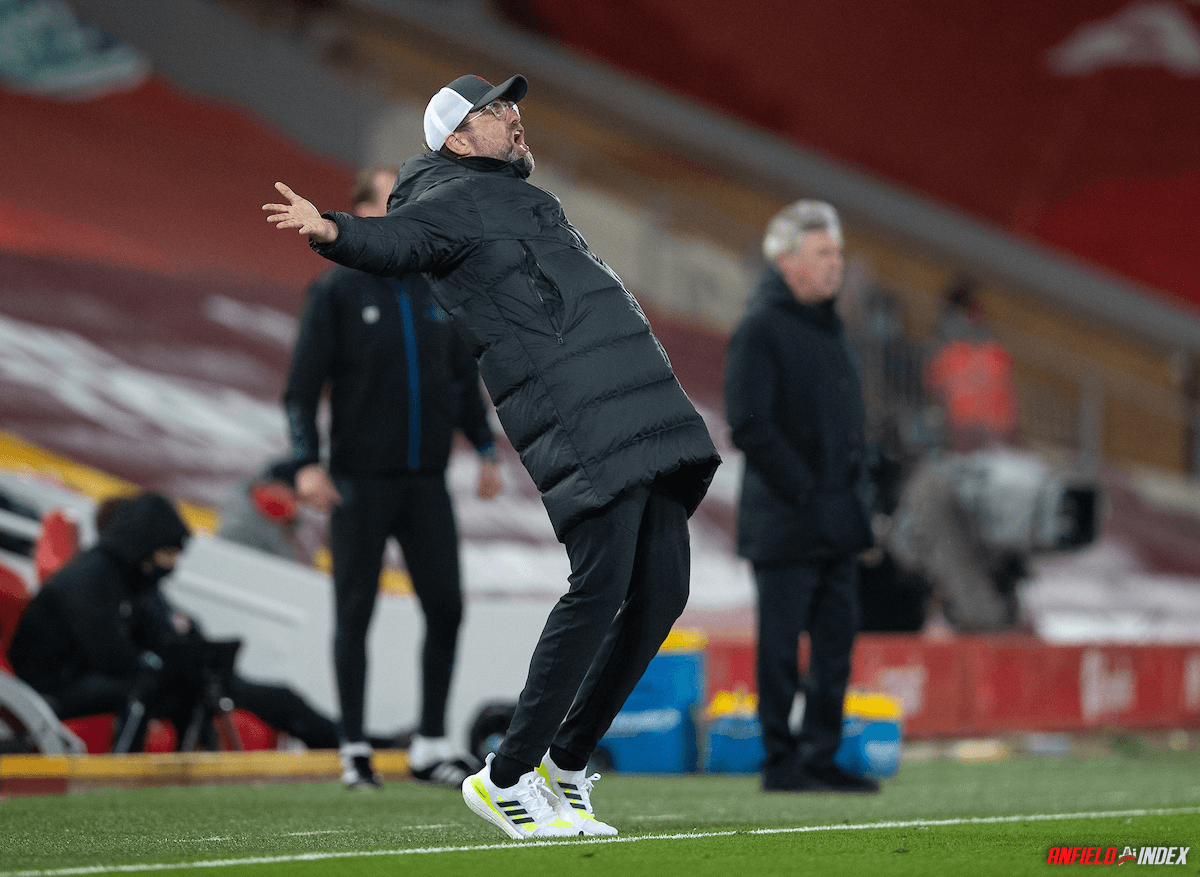 Heavy metal football and squad dynamics

To say Liverpool are in a rut would be an understatement. The Reds are in unchartered territory under Jurgen Klopp having lost four consecutive home games. They're without a Premier League win in February and they're five points off the top four with just 13 matches remaining. If Everton and Aston Villa win their games in hand, the champions will be in eighth position. 
Injuries were, rightly, the focus of conversation. The debate centred around whether they were an excuse or a valid reason for the drop-off in form. I struggle to understand how anyone could look at the injury list and feel that isn't enough justification for the team's struggles, but each to their own. 
However, people are bored with injuries now and Klopp's perceived stubbornness seems to be what most journalists and pundits are focusing on. Liverpool are trying the same thing over and over again and expecting different results. Albert Einstein is usually credited with that saying, but I've since read it wasn't something he said. 
Anyway, I've seen the excessive crossing criticised even though the Reds have been near the top of the list for crosses per 90 for three seasons now. During that period, they racked up 196 points in the Premier League and won the Champions League. The Marginal Pains newsletter did an entire feature on why this is a tactic used by the champions. It's peculiar that crossing wasn't viewed as an issue when Liverpool were winning. 
Over recent days, I've seen some articles appear online saying the Reds need to move away from Heavy Metal football. I had to check the date. There have also been pieces focusing on how Klopp is too rigid with his system and, eventually, he's always found out. 
More than anything, these two complaints irk me. 
Heavy Metal football hasn't been seen at Anfield on a regular basis for over two seasons now. Teams sat deep, nullified the chaotic press and Liverpool had to adapt. If teams are brave enough to play football against the champions, they will revert back to that. It's rare in the Premier League and you see it more often in the Champions League. 
The last time it was a regular occurrence was probably during the 2017/18 campaign. Since then, Klopp and his team have evolved. They're a possession-based side who focus attacks down wide areas. To claim Liverpool need to ditch a tactic they've barely used in three years is odd, to say the least. 
The former BVB boss has a favoured system. It used to be 4-2-3-1, but since the switch to England, he's primarily used a 4-3-3 shape. What is often overlooked is how he tweaks the variation of this shape, though. 
At first, he used two box-to-box midfielders on either side of the No.6. Then he had the left-sided centre-midfielder acting as a left-winger at times. Occasionally, the right-sided centre-midfielder would be a right-winger. 
There are periods in every single season in which Klopp shifts to a 4-4-2. He'll do it for a run or games or in a one-off fixture. He's not just a one-trick pony as some will lead you to believe. When he feels it is warranted, he'll switch it up. Just as he did against Spurs when he played with two false-9s. The narrative that he's been found out is a lazy one. The idea that he doesn't try different things is just plain wrong. 
People are making bold statements and ignoring the fact that there was clearly a different plan for this season. The arrivals of Diogo Jota and Thiago provided Klopp with options he'd not previously had. Look at the damage Liverpool did to Atalanta when Jota played as the No.9 instead of Firmino, for example. Injuries have prevented the manager from being able to use both at the same time, but we'll likely see it at some point this season. Nobody will ever truly know what the plan was for this campaign. Injuries robbed us of seeing it. However, you can't accuse Klopp of being too stubborn when his two summer signings changed the dynamic of the squad.