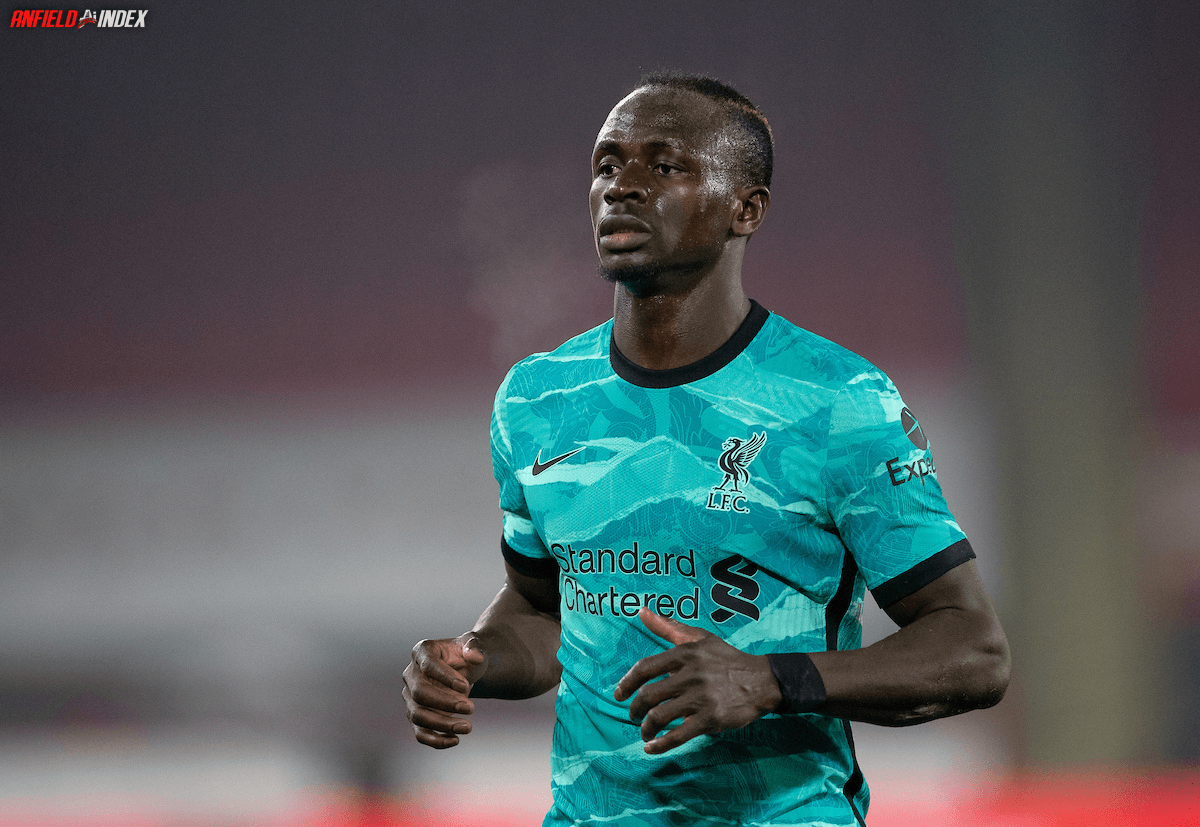 Why Sadio Mane partnered Roberto Firmino in attack

Jurgen Klopp has tried a number of different things with this Liverpool team over the past month or so, from two false-9s against Spurs, a diamond against West Ham and then whatever that was against Sheffield United. The shape in the latter was a big talking point. 
On paper, it was a 4-3-3, in practice, it was anything but that. Trent Alexander-Arnold seemed to play right-back, centre-back and centre-midfield. The No.66 impressed and, despite playing what is deemed more of a defensive role, he was really involved going forward, finishing with six shot involvements. 
A look at Alexander-Arnold's new role and the impact it might have on the Liverpool attack.https://t.co/tSNm5uWsTz

— Sam McGuire (@SamMcGuire90) March 2, 2021
Andrew Robertson played as a left-winger and appeared to be part of a front five for the Premier League champions. Curtis Jones started as the left-sided centre-midfielder but was tasked with playing the Sadio Mane role. When looking at the average position map, he was actually the furthest player forward. 
On Monday night football, Jamie Carragher analysed the youngster's role, highlighting the fact Liverpool have needed that extra body in the box for some time,
Has the #Liverpool set up changed? #MNF

— Jamie Carragher (@Carra23) March 1, 2021
Because of, well, everything, Klopp's decision to use Mane as the centre-forward as opposed to Mohamed Salah didn't seem to dominate the post-match conversation. Yes, some people did question whether such a role played to the Egyptian's strengths and, at first glance, it didn't appear as though he was involved as he previously might've been.
Yet Salah's xG of 0.75 is significantly up on his Premier League average this season (0.54). He also had two shots inside the six-yard box when prior to the match he'd only taken one throughout the campaign. He also had more touches in the area and attempted more passes than his average. Optics can sometimes be deceiving. The prolific forward was heavily involved in proceedings. 
Liverpool have tasked Salah with leading the line when the team has switched to a 4-2-3-1 or a 4-4-2. Mane has done it on occasion, but the feeling has always been that if that formation was used with greater regularity, it would be the former Roma man tasked with spearheading the attack. 
On the surface, it seemed like a strange decision to have Mane partner Roberto Firmino in the attack. 
For starters, he's out of form. During the 2018/19 and 2019/20 seasons, the ex-Southampton man ran really hot. He was adding value to his efforts and outperforming his expected goal average on a regular basis. In this campaign, however, he's underperformed this metric. Granted, finishing is random and previous stats can't be used as a predictor, but putting a player going through a rough patch at centre-forward doesn't make the most sense. 
When you look at the system, though, the thinking behind Klopp's decision to use his No.10 as a No.9 is obvious. 
There aren't players in the squad with a similar profile to Salah. In fact, there aren't many left-footers in general. The only one in attack is Xherdan Shaqiri and he is a ball-player, not a ball-carrier. If Salah was shifted into a centre-forward role, the dynamic of the team changes with Shaqiri filling in at right-wing. 
Jones isn't as explosive as Mane, but he was an inside forward in the academy. He has that ball-carrying ability and he can, when unleashed, be a goal threat. He can do a lot of the things that Mane does. The youngster also gives Klopp the option to revert back to the usual 4-3-3. 
Curtis Jones' transformation into an all-action centre-midfielder shouldn't come as a surprise, he's profiles like many of Klopp's midfielders. Words on why the Liverpool youngster has been able to settle in so quickly. https://t.co/0f0tCONfZN

— Sam McGuire (@SamMcGuire90) December 10, 2020
The decision was likely based on that. How easy it is for Liverpool to switch between systems without there being a huge impact on proceedings. Shaqiri can play in a midfield three but he's at his best with runners ahead of him. When there's only two – Salah and Mane – it can be a little limiting and the Reds are a little predictable.
Jones gives Klopp the freedom to tweak things without lots of upheaval. Because of this, Mane gets the nod to lead the line.