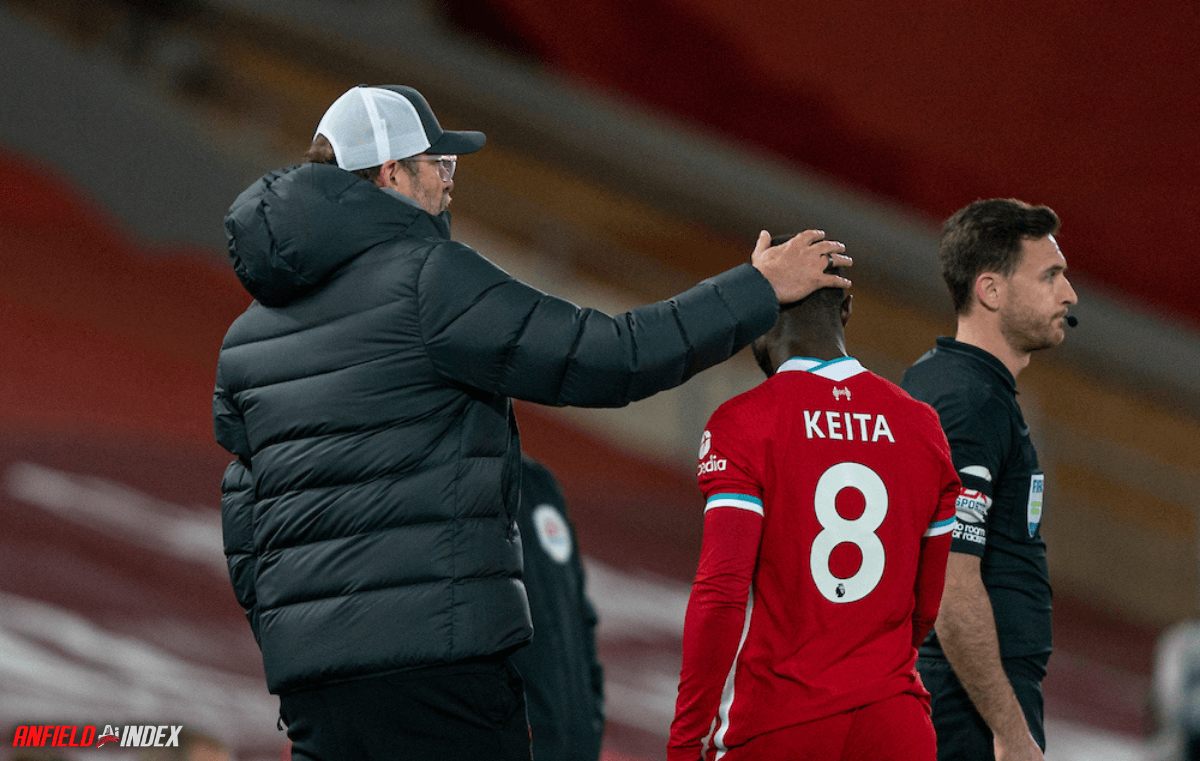 Naby Keïta - Last Chance Saloon
When the vacant number 8 shirt was reassigned to the little Guinean (Naby Keïta), it was another sign of Liverpool shopping from close to the top shelf.
Naby, when playing under the RB umbrella of first Salzburg and then Leipzig, signed on amidst much competition. The main rival to his signature appeared to be Bayern Munich, and this will go some way to recognising his worth at the time. His final two seasons at Leipzig (he signed a pre contract midway though for the following season) were explosive at times, and the fee seemed a potential coup. The continuing reshaping of Liverpool under Jurgen Klopp & Michael Edwards was both exciting, and ultra coordinated. Naby coming aboard would offer that ability to break lines, ball carry, press and play either a 3 or 2 man midfield. The signing was celebrated, and the excitement was unanimous.
Fast forward 3 years and just 53 appearances later, the fanbase is most probably tilting towards Michael Edwards selling him on, at a significant financial loss. The idea of what Naby Keïta could and should be, can only be levelled against the damning truth of reality. Naby has become an untrusted, often injured and relative outsider within the Liverpool squad. There is absolutely no doubting his ability, and if his availability matched that of the recently departed Gini Wijnaldum, then we may be talking elite levels of form. Sadly, as with Daniel Sturridge, the ability may just not be enough to ensure one final chance of a notable Anfield career. His persistent injuries are never helped by international call ups (are they ever), and it's hard to see a way to curb the trend of injuries.

The current midfield roster comprises a strong list of players that can operate in either a 2 or 3 man midfield.
Thiago Alcântara
Fabinho Tavares
Jordan Henderson
The above trio will most probably start the season as the preferred names, with the below making up the backup crew.
Curtis Jones
Saúl Ñíguez (we really, really do hope)
Naby Keïta
This would leave James Milner as a multi functional utility option, that will see his minutes lesson, short of another injury crisis. Alex Oxlade Chamberlain offers all sorts of energy and dynamic play, and his versatility will benefit both the midfield and attacking group. The obvious name dropping of Saúl Ñíguez is more in hope than anything, and his signing would see him part of a rotating 4 name list of starters, rather than a pure back up. His inclusion is to notify the logic that Klopp wants an elite midfielder to replace the now departed Wijnaldum, and hopefully that will become clear in the coming weeks.
The pure fact, with regards to Naby Keïta, is how Klopp views him. There is obviously a want for him to perform, and his starting ahead of Thiago (in the Real Madrid 1st leg defeat), will surely point to that. I believe Klopp will throw him one last chance, and with the minor injury concerns surrounding the careers of the starting trio, he may feel that the established squad member Keïta, can offer a tactical knowhow, where incoming and younger players are still adjusting. I for one would like Naby to be thrown an early season role as starter, and the chance to build both his chronic load, form & confidence from the outset. Any new midfield signing must always integrate himself into the side, with the tactical side of the game oh so important to Jurgen and his coaching team.
With a current valuation probably sitting at half of the original £52 million paid fee, one last chance of achievement would surely make sense. His talent (if unlocked within a more robust body), could elevate and evolve this side once more. His numbers remain strong, and when he plays, the attacking play becomes more poignant and progressive as a result.
Whether or not Naby can achieve a career that matches his ability is very much in the balance, but the hope is that he can be for Klopp what Daniel Sturridge could've and should've been. This last chance saloon could offer Naby the role as a match winning first team player, and that would be a welcome sight to see for all Liverpool fans.