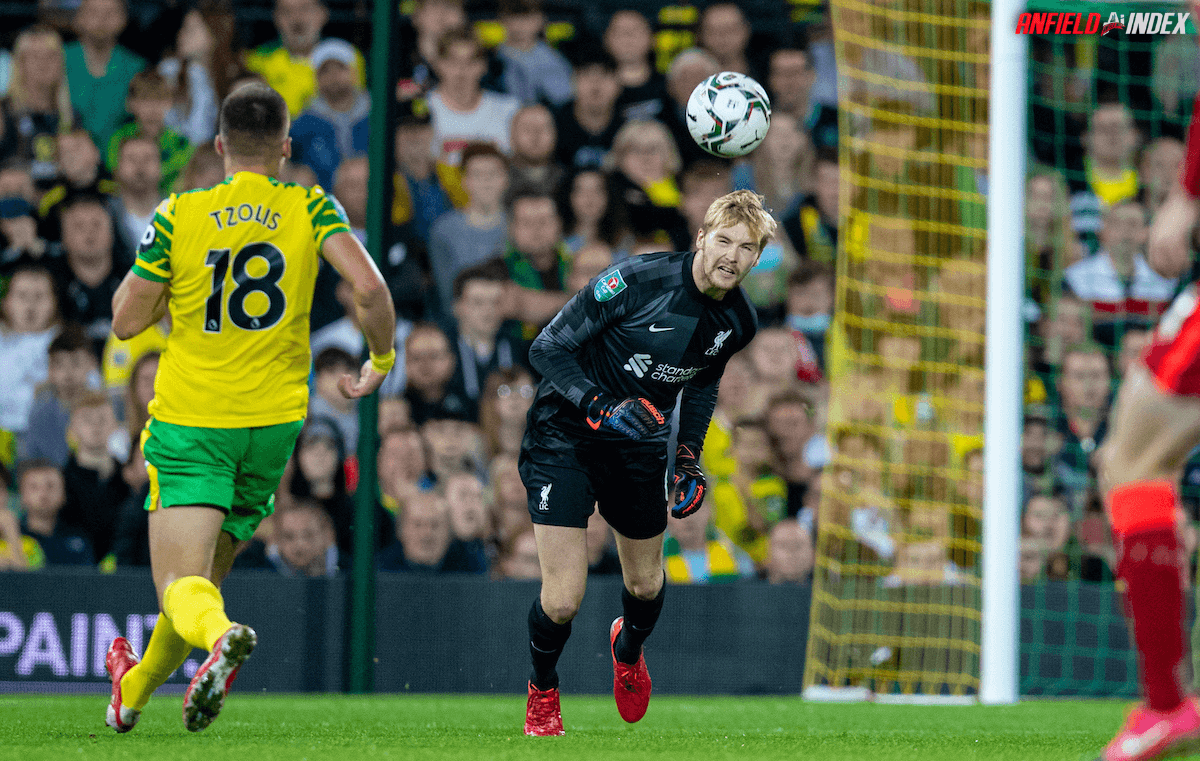 Is Kelleher too good to be a back-up goalkeeper?
Liverpool might soon have a problem with Caoimhin Kelleher. If he keeps on developing at the rate he currently is, he's going to be too good to be a back-up. 
He'll want a season as a starter and who can blame him? 
Kelleher needs it if he's to make that step up and fulfil his potential. 

After all, It is one thing coming in and impressing in the odd game, but it is another playing on a regular basis under a different kind of pressure. The 22-year-old needs exposure to first-team football, he needs to have bad games in order to develop as a player and as a person. 
Redmen TV said it in a video they posted online following the win over Norwich City in the Carabao Cup, but we're looking at a potential Thibaut Courtois situation in the sense Kelleher could do with a long-term loan to a top club to play as a starter. 
Courtois spent three years with Atletico Madrid before returning to Chelsea and replacing Petr Cech. I'm not saying the Republic of Ireland international should go on a three-year loan spell somewhere with the view to replace Alisson Becker upon his return. But a spell as a No1 is going to be on the agenda sooner rather than later, it has to be. 
He's too good to spend 99% of his time on the bench. He's also probably too old to be doing that. Kelleher is at that weird age. He's too young to be an experienced back-up and too old to be a youthful understudy. At his age, for example, Alisson had just broken into the Internacional team in Brazil and it wasn't long before Roma snapped him up. 
Kelleher himself will likely know that he needs regular games, too. His rival in the international team is Gavin Bazunu. Signed by Manchester City in 2019, he spent 2020/21 on loan with Rochdale and now he's on a season-long loan with Portsmouth, playing on a weekly basis. Granted, the standard is much lower, he's still getting to experience the highs and the lows of starting and at some point that is going to count for something. 
Look how assured he looked against Norwich. He was sweeping like a seasoned veteran and players seemed happy enough to play the ball to him under pressure. The one-cap international never appeared flustered and always seemed to pick the right pass. 
If we're being overly picky, he probably could've done better with the shot that resulted in the penalty. It wasn't pushed wide enough but that was the only questionable thing he did in what was otherwise a flawless outing. Kelleher made a number of decent saves but the most impressive thing about him was how confident he was. I'm not one for hyperbole but he had the Alisson vibe whereby everything looked dead easy, even though it quite clearly wasn't. 
No doubt he's only at this level because he's remained with the club, but soon there's going to have to be a conversation about his future. There has to be a plan in place for him if he's viewed as a potential rival to Alisson in the long-term. If he isn't Liverpool could make some serious money on him if a loan move or two works out well.