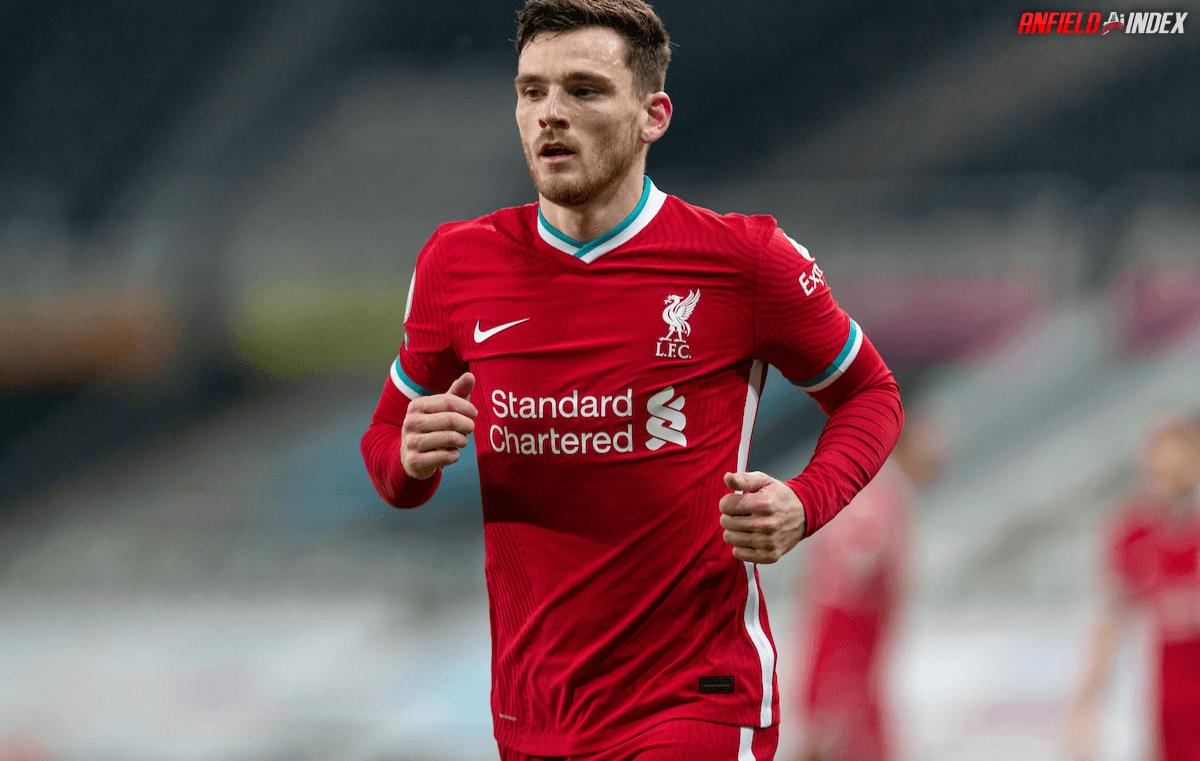 Assessing Andy Robertson's 2021/22 Form

Andy Robertson's place in Liverpool's starting line-up is under intense scrutiny. Over the past few weeks, maybe even the past couple of months, the calls for Kostas Tsimikas to replace him have grown progressively louder.
Before the season began, I'd argue that the only position up for debate in Liverpool's strongest XI was centre-forward, but with Tsimikas displaying his capabilities and Robertson failing to hit the heights, Roberto Firmino isn't the only stalwart looking over his shoulder.
This should, of course, be seen as another victory for Liverpool's recruitment team. For £11.75million, the Reds have recruited not only an able back-up, but a worthy competitor for Robertson.
I'm not going to cast my own judgement on that battle. That conversation has played out in enough articles and podcasts already. What I am going to do is consider the possibility that Robertson's struggles have been exaggerated.
Where is Robertson lacking?
Let's start with the grounds for concern. I scanned the data for any particularly alarming figures.
Robertson's crossing accuracy is down at 17%. Now to be fair, in our title-winning season it was only 19.5%, but it can admittedly be frustrating to watch. Fans may bemoan the poor execution, or worse still call many of his deliveries hopeful or aimless. For further context, Alexander-Arnold's accuracy stands at 29.5%, with Tsimikas only fractionally behind at 29%.
What's more, they attempt significantly more crosses per game than the Scot – nine and 11.5 (!) respectively.
Robertson, then, is delivering the ball less often and less accurately.
To add to the doubts about his impact, he's also recording fewer touches in the final third than he did in that title-winning season – 31.3 per 90 relative to 35.2.
The drop-off is far from dramatic, but it's easy to see how Robertson can become a target in the event of a setback.
Liverpool's full-backs are at the heart of their attacks, and five out of every six Robertson deliveries are finding opponents.
He wound up with 12 assists in 19/20 with only marginally more precision, but when the Reds slip-up, he can seem, through a lens heavily tinted by frustration, a hit-and-hope merchant.
However, it's in a defensive sense where Robertson's really been off the boil.
This is most clearly reflected in his ground duel success percentage. He won the majority in 19/20, but he's now losing nearly 60%.
And there have also been a number of lapses which freely-available stats don't necessarily reflect.
Consider, for example, the Brentford game. Robertson had to do to more to stop the cross that led to the Bees' second goal, with Liverpool outnumbered and overloaded in the penalty area.
Against Brighton, as Virgil van Dijk held position on the edge of the penalty area, Robertson dropped five yards, allowing Adam Lallana to slip in scorer of the equalising goal Leandro Trossard (who incidentally sat down Robbo down before he applied the finish).
A week and a half earlier, he'd been bailed out by Alisson after playing Thomas Lemar onside in the closing moments of the first half against Atletico Madrid. Liverpool very nearly went down the tunnel 3-2 down, somehow.
It's a habit that goes back further than the current season and while pundits like Jamie Carragher have taken issue with Liverpool's insistence on playing offsides rather than running back, that doesn't excuse Robertson's loss of concentration.
If we're going to play this high-risk system, it's critical that he remains attuned.
The flip-side
You can, if you wish, also pick out stats that paint a different picture.
Can I just shock you? Despite what I said earlier, Robertson's xA/90 tally of 0.26 is actually up on 19/20 (0.22).
He's created 11 chances this season, and only one of those has resulted in a goal.
Indeed, his xA of 2.0 compares favourably with some of the league's top assisters, like Paul Pogba (second, 1.4 xA), Gabriel Jesus (third 2.1 xA), Mateo Kovacic (fourth, 1.8 xA) and Jarrod Bowen (sixth, 2.3 xA).
Robertson has come under fire for his set-piece delivery, with many fans calling for a change of taker. But I've also felt that Alexander-Arnold has struggled over a dead-ball, and the stats back that up.
On average, Trent's corners/free-kicks are leading to a meagre 0.1 shots per game, compared to nearly 0.4 for Robertson.
But let's again go beyond the statistics. It seems to me, and again this is only my perspective, that Robertson's stronger performances have largely gone under-appreciated.
Against Leeds, for example, he created four chances and largely kept one of the league's most effective wingers quiet, but I saw little in the way of praise.
And then when AC Milan came to Anfield three days later, he was absolutely electric in the first-half. He teed up presentable opportunities for Divock Origi and Diogo Jota and it was his shot that led to the award of a penalty. Again, though, acknowledgement seemed limited.
And then there have been games where he simply wasn't bad as many made out. In that Brentford game, he nearly cancelled out his defensive mistakes with a rampaging run that led to a free-kick 20 yards from goal and a cross that Jota and Jordan Henderson so nearly converted.
What about West Ham last time out? How different is the narrative if the cushioned pass he plays to Sadio Mane at 1-1 ends up in the back of the net, as we should expect? Robertson is no longer a perceived culprit for a defeat, but potentially a key contributor to a victory.
He can't control the outcomes.
More generally, there's an interesting discussion to be had here. When a player has established himself as world-class – most Liverpool fans would still argue there isn't a better left-back out there than Robertson – do we praise them when they deliver, or do we merely expect eight/nine out of ten displays?
It shows how highly you rate a player if you don't flinch at their brilliance, but equally there's a very real danger of them going under-appreciated.
A final assessment
So, how good/bad has Robertson been?
To put it simply, offensively he probably could do more, and defensively he needs to do more. I'd say it's been a 6.5/10 out of season from him so far – six a little harsh, seven too generous.
Unlike Alexander-Arnold or Tsimikas, he's been short on 'wow' moments up to this point, his only Premier League assist a simple short pass to Curtis Jones, who then ripped it beyond David Raya from 25 yards.
Split-second moments of supreme quality – like the balls into Jota against Atletico from both flanks – do naturally have a pretty big impact on wider perceptions of a player's performances.
But it's worth stressing that Liverpool's problems this season haven't been individual – they've been systemic – and that's probably why Jurgen Klopp has been reticent to drop Robertson, or indeed any other established starters, following setbacks.
We as fans can demand more without looking for scapegoats.
If Klopp genuinely felt he had a dilemma on his hands for the Arsenal game, then Robertson's tight hamstring will solve it.
He was described as '50/50′ on Wednesday but, with the impressive Tsimikas fully fit and firing, he surely won't be risked.
Data sourced from FBRef and Squawka.