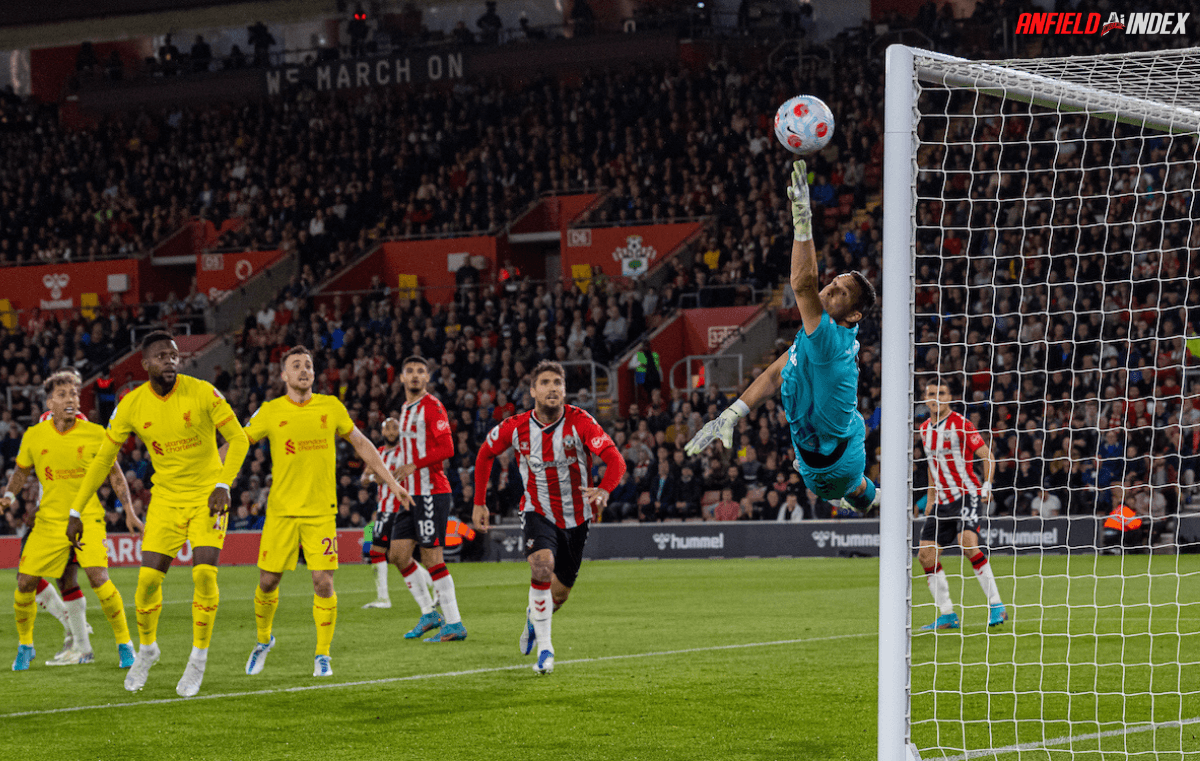 Observations: Liverpool grind past Southampton
It's never easy these days is it? Seems as though every single match some random slice of misfortune strikes to put Liverpool on the back foot. In this game it was a freakish deflection looping past Alisson after one of the most blatant fouls you'll ever see wasn't given at the other end of the pitch. The Reds overcame the deficit to win 2-1 courtesy of goals from Takumi Minamino and Joel Matip, but it should never have gotten to that point. Even with the brief period of pressure at the end of the game, Southampton managed just 4 shots, none from inside the box, for a total of 0.12 xG. If the goal had been correctly ruled out, that would be just 0.07 xG. This was a dominant defensive display from a makeshift rotated team. But at least Klopp got the 3 points he wanted in the end.
Taki has now scored 11 goals this season from 11 shots on target. It is an absolutely remarkable finishing streak, one that is more down to luck than skill for those hoping to label the diminutive attacker as ultra-clinical, but even still, its thoroughly deserved for the effort and graft that he has put into every minute of his Liverpool career. Our top scorer in both domestic cups, Taki has proven to be the ideal squad player, and it was good to see him get to be part of one final win for the season, as he is unlikely to feature in the remaining two matches. It may also have been the final appearance of the legendary Divock Origi. He didn't score this time, but it was still nice to see him.
At the other end of the pitch, Ibrahima Konate put in possibly his finest display of the campaign. He was the supreme authority over the pitch, not letting Broja have a moment's rest and constantly pushing back anything Southampton could throw at him. It was, dare I say, a performance Virgil Van Dijk would have been proud of. The box was his fortress, unassailable from any angle. However, his fellow defender Joe Gomez was not so lucky. Poor Joe must have the worst injury luck of any player in Premier League history. It is not just the frequency and magnitude of his injuries, but the manner of them that stings so badly. This is not a case of a player who's body is made of glass, unable to get through any period without their body breaking down. Every single one of his major injuries has been a freak accident, the consequence of bad tackles or players falling onto him and trapping his body at strange angles. We can only hope this one wasn't serious, because if anyone deserves to get some fortune, its Gomez.

The title race goes down to the wire then. Goal Difference is out of the picture, its simply a matter of beating Wolves and hoping that Steven Gerrard can give one final helping hand to the club of his heart. Whatever happens, it's gonna be one hell of a ride.