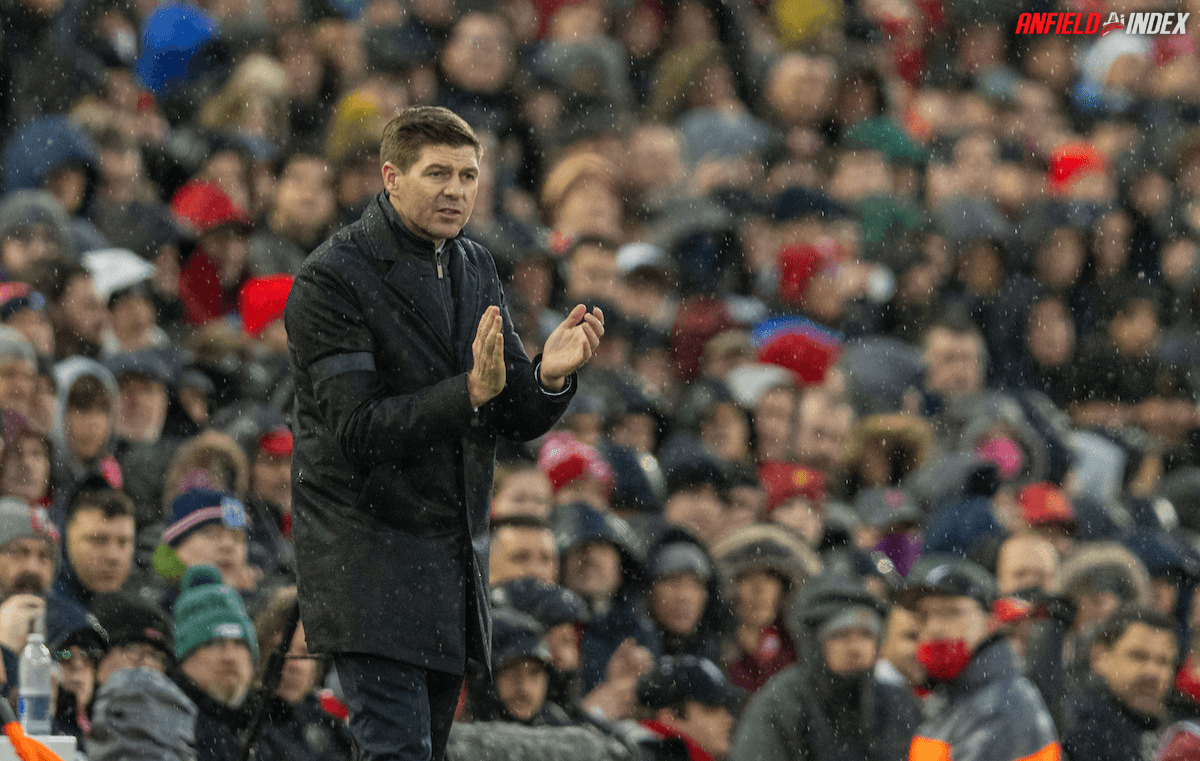 One Last Steven Gerrard Assist
This coming Sunday marks potentially the most important day in Liverpool's season, certainly until the following weekend. The Reds' campaign has been littered with pivotal games, vital weeks, and must win scenarios. This is where the Anfield giants now sit within the hierarchy of all things football, and long may it continue.
Nothing less than a Reds win at Anfield (against Wolves) will suffice this Sunday. To have any chance of clinching the title, three points must be achieved in order to take Jurgen Klopp's side to a brilliant 92 points. Even then, Liverpool would require Manchester City to at least draw their game (at home to Villa), and thus maximise their own season tally to 91 points. No other two teams in the history of the Premier League have been consistently able to drive each other to such high totals, and you can literally place the moments where those few points have been dropped.
A perfect season would represent a 114 point tally, so to look at these two teams and their incoming final tallies, is beyond remarkable. Given the amazing abilities and consistency of each side, both should simply see out their seasons with easy home wins. That scenario would see the Reds fall short, and Pep Guardiola's financially fair play compliant team victorious, again.

On paper, City should have no reason to fear an average Aston Villa side that currently languishes in the bottom half. A fine squad of players lacks true identity, and they are a team that lacks any real fear factor. When Liverpool played them a few weeks ago, they were a negative side that tried to low block their way to a result. The Reds emerged that day, and the frustrations of the match were not enough to deny them all 3 points.
In any normal circumstance, City would sweep such a side away, and work their way through the low block within constant pressure, and some 70% possession of the ball. The difference is, and hopefully will be, the fact that they are managed by Liverpool legend Steven Gerrard.
Steven Gerrard was the embodiment of the perfect midfielder. His power, natural ability, brilliant right foot, and will to win were perhaps unmatched in his or any era. To compare him today's generation of player, you would probably need a hybrid of Kevin De Bruyne and Toni Kroos. The unfortunate reality is that he will often be remembered for 'that' slip, which perhaps led to his failure to secure an English League title. The pain, rage, regret and need to eradicate that memory must therefore be channeled into his pre and pitch side management on Sunday. Danny Ings' ability to poach and Phil Coutinho's genius may also have a hand in this game. The counter attacking nature could suit both these players, with one able to finish sublimely, and the other able to produce the spectacular. Both are former Reds, and both will surely be looking to aid their former employers.
Steven Gerrard is a raw manager who has enjoyed very good moments as a young coach. At Rangers he exceeded expectations, and created a system built to win the SPL. He harnessed the best of which he had, and though he was well backed, he was still able to deliver. On Sunday, if his team were to grab an unlikely point (at the Etihad), the title would be dedicated to him by much of the fanbase.
In seeing the entire duration of Steven Gerrard's career, the memories are littered with wonderful moments. Moments of genius, moments of tenacious intent, and moments that brought an often timed average side across the line. Most Liverpool fans of my generation, will probably point to Gerrard never winning the title as the major regret of such a world class career.
Steven Gerrard's last game for Liverpool was a humiliation, that saw his side lose 6-1 to Stoke. That day was one of the final dark days, before Jurgen Klopp started to bring light back to this famous club. That loss and the earlier inability to clinch that elusive title, can never be completely stricken from Gerrard's mind. But in this moment, this weekend, he has the opportunity to aid his beloved Reds. With a career that had so many last ditch moments of on pitch brilliance, perhaps Liverpools very own Steven Gerrard can produce one final assist as a manger, that would see Jurgen Klopp's men clinch the most dramatic of victories.