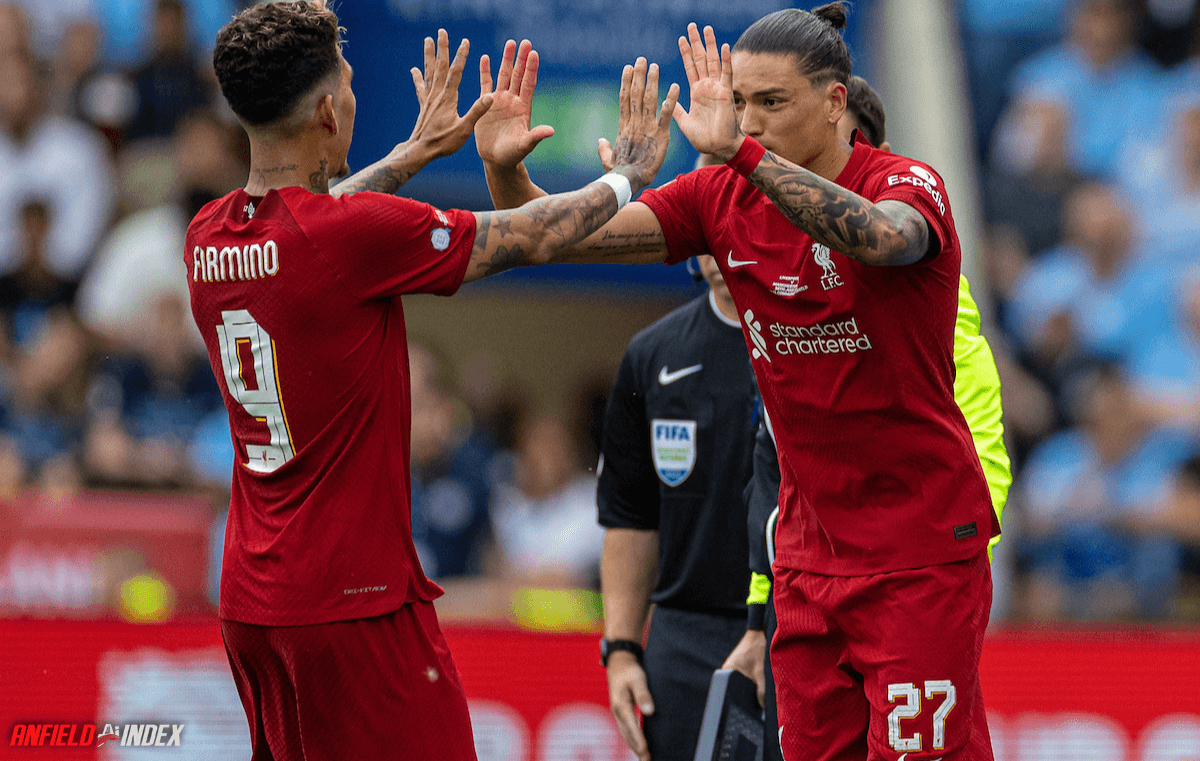 Liverpool 3 - 1 Manchester City - The Community Shield Player Ratings
Adrian – 7.5
Came in as a back up to the back up, and had a good performance, all things considered. This is the clubs training ground keeper, and his shot stopping throughout the game was solid. Maybe could have done better for the goal, but still a good outing for the popular Spaniard. Another trophy in a one off spectacle.
Trent Alexander-Arnold – 8.0

He looks determined, prepared and ready to inflict maximum damage on the league. A great goal, and very good performance by the brilliant right back. Good in possession, keen off the ball, and should have had an assist with a great cross to Robbo.
Subbed – 74 mins
Andy Robertson – 8.0
Always willing, always running. He's looking primed for a very long season of penetration, and will revel with a new target man up top. A good and energetic game for the Scotland captain. A lovely assist for Darwin, and this is a sentence that'll be repeated.
Virgil Van Dijk – 8.0
Was assured, dominant and in control. Commanded the line with his usual composed manner, and seemed unworried but Haaland. The worlds greatest defender looked steady and imposing throughout. So calm in retreat, and City just couldn't break through with consistency.
Joel Matip – 9.0
His senior role is just about keeping Konate at bay, and he was able to put in a brilliantly solid shift. Covered when needed, stood up to the physical battle when they arrived and was good in possession. A great defenders performance.
Fabinho – 8.0
Snapped and snarled from the outset, and looked to disrupt any sign of City possession. Was physical and assertive to all dangers, and proved why he is the worlds leading defensive midfielder out of possession. Dropped off a little in the second half as his pre season regime continued.
Thiago Alcantara – 9.0
The tempo setter, the controller of the games flow and the man that pulled all the strings. The first half was a Clinique in midfield play, and the team flourished within his rhythm. Was dogged in his work and he showed why he is on Virgil levels of importance.
Subbed – 85 mins
Jordan Henderson – 6.0
An average game with some bright moments of creation, some poor decisions, some good moments of pressing, yet often was found chasing the game. He plays with two world class midfielders, and the drop off is too significant. His regression is the reason why Klopp is so eager to recruit a midfielder, as he simply can't keep up with those around him.
Subbed – 73 mins
Mohamed Salah – 8.5
The contract is signed, the indecision over his future is gone, and the Egyptian king was in a terrorising mood throughout. Cancelo is a brilliant attacking fullback that was targeted and taken apart time & time again. Could have scored early after a brilliant run, and was both an outlet and creator throughout. The king is back, and scored a great pen too.
Subbed – 90 mins
Roberto Firmino – 7.0
Does exactly what it says on the tin, and these types of games are built for Bobby. Press, harass, repeat. If teams want to play out, Bobby is your man, and was a good conduit between the lines. New contract please, as a squad rotation role for a man with his attributes is a must.
Subbed – 59 mins
Luis Diaz – 8.0
The devil in Kyle Walkers side. Much like Robbo, the left hand side is all about non stop running. Direct when needed, strong throughout, and his movement was perfect to unsettle a jittery backline. A brilliant season awaits.
Subbed – 90 mins
Subs;
Darwin Nunez – 8.5 (on 59)
Sensational, keen, hungry, incisive, brilliant and ruthless. It begins, and he deserved his goal. With this cameo, Dias couldn't handle him.
Harvey Elliott – 6.0 (73)
Brought a higher level of technical interplay, but got lost in possession at times. Just starting out.
James Milner – 7.0 (on 74)
Had a good outing, was good in possession, good in delivery, and showed that nice leadership to support the in coming Harvey. Strong beard.
Naby Keita – 6.0 (on 85)
Showed an intent to exploit space, and deserves to start with Thiago & Fab next weekend.
Fabio Carvalho – n/a (on 90 mins)
Kaide Gordan – n/a (on 90 mins)
The Manager;
Jurgen Klopp – 9.5
Seemed delighted throughout, as his team worked their socks off. Went with a tried and trusted group, probably knowing that City would be in transition. Seems to know how to hold players back and ease them in at the right times. The game was a friendly, the contest was not. Won the day with ease, and seems (much like his team) to prove a point to everyone.