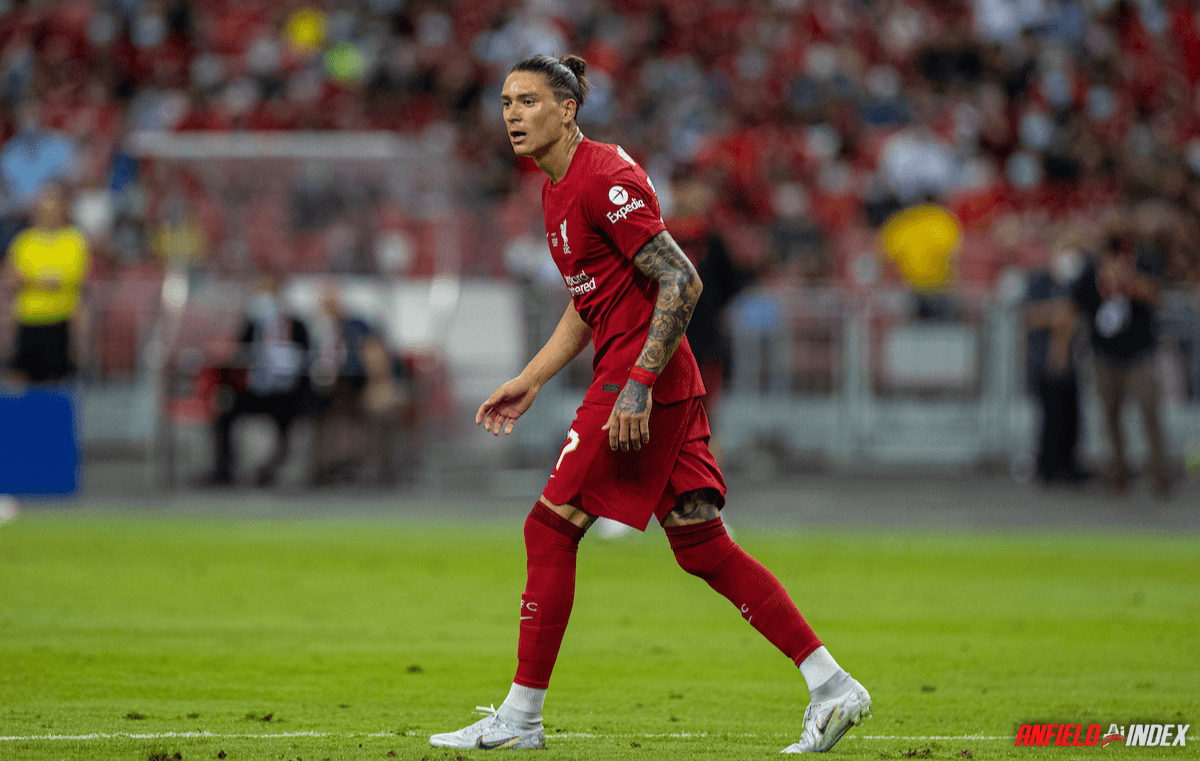 Liverpool v Crystal Palace - Time For Darwin To Explode
No Liverpool fan is happy with how the Reds' opening game against Fulham went, and it really is a question as to who starts this game. Injuries are an issue, but there is still more than enough to collect all three points. The balance of the team needs to be addressed and certain games simply require certain players to be starting.
We know Thiago Alcantara is out, joining both Curtis Jones and Alex Oxlade-Chamberlain on the midfield injured list. With Harvey Elliott & Naby Keïta both vying to make a start, we could conceivably see both ushered into the team. The midfield last week lacked dynamic presence, and Thiago's first half injury meant he wasn't really able to take control of the game. With Fabinho tasked with shielding the backline, Jordan Henderson struggled to add any energy as the more forward thinking middle man. The line up will point to just how Klopp saw that game, and it'll be an ingesting wIt to see the confirmed line up.
Despite his 36 years, James Milner managed to impact positively from the bench. Regardless of this impact, Jürgen Klopp should ignore his desire to start the veteran, and look to start with a more dynamic outlook. Milner can act as a good late in the game option, but not as a starter in this must win game. Marco Silva devised a plan to full on outwork Liverpool last week, and hunt the reds down whenever they were in possession. Patrick Viera is therefore unlikely to let his side sit back, and will probably look to force the home side into their own panicked mistakes.

Roberto Firmino is primed to become a legend as soon as he leaves this football club. He has been a magnificent servant, that still offers much to the squad over the next year or two. Much like James Milner and perhaps even Adrian, his impact on the squad (and the dressing room) appears important, as the Anfield group seems as tight as any. The key for Jürgen Klopp is to park sentimentality, and see what is actually unfolding. There are certain parts of this team that he has evolved superbly, yet there are certain areas, areas that he has grown alongside, that he appears almost too loyal to.
Jordan Henderson and Roberto Firmino struggled last week, alongside many others. The issue remains however, that their struggles are far from isolated, and it's now become a major impact on the team. Would Bobby and Hendo even make the Manchester City bench…? Probably not, and they certainly wouldn't be starters outside of the League Cup. The scenario that saw them start last week was not just overconfidence, but a show of trust that he has attached to players he simply has too much affection to. Jordan Henderson will probably start again, purely out of necessity. Yet until Diogo Jota is back from injury, Darwin Núñez must be the constant starter for Jürgen Klopp.
With a possession stat likely to surpass 60% (much like at Craven Cottage), Liverpool have to make sure they're equipped to deal with a torrent of pressing coming their way. Bobby is now best off the ball, and  thoughI could definitely see the argument for him starting against either Manchester City or Arsenal, it's simply not the case at home to Palace. This Monday evening we have to be more incisive on the ball, and courageous when encountering on ball pressure. To quote the great Brendan Rodgers, we need technicians and wonderful footballers.
For me, it's a Harvey Elliott , Fabinho & Naby Keïta midfield. That type of midfield is built for on ball carnage, and would probably allow Fabinho to hone in on his duties. Harvey and Naby are players that not only want the ball, but crave the idea of creation. We have to be offensively strong, and we have to ensure we are effectively playing through their press. For Klopp, he should be grateful that it's probably not another low block to contend with, and remember the very reason he sanctioned the £85 million deal for Darwin Núñez.
Darwin Núñez looks (to me) like a Fernando Torres / Ruud van Nistelrooy hybrid. He may lack on the on ball creation, but sometimes we just need a guy that's there to destroy. Ruud was a player that exploded in the box, and the final ball was built upon him and his movement. Ryan Giggs, Paul Scholes & David Beckham became infatuated with feeding Ruud van Nistelrooy, and he became the attacking focal point of that superb Manchester United team. None of the above can be arrowed towards Roberto Firmino's direction, as some players are simply designed to operate in different ways. Monday night needs a bigger goal threat, and that means a change in the central striking role.
Darwin needs to be the focal point, and you could see the enthusiasm of Mohamed Salah when he (Darwin) came into the Fulham match. Both Trent & Robbo are crying out for that presence, and if we are to adopt a midfielder that can push into the 10 position (like Naby Keïta, Fábio Carvalho  or Harvey Elliott), then they too would hugely benefit from a player like Darwin. This specific incarnation of the 9 is far from traditional, and Darwin can offer endless options to every attacking component around him. This is no Christian Benteke, but a player built for the modern game, and last week showed this team requires a Darwin Núñez shaped kick start.
A win is a must, and a performance comes almost secondary to that. What we do need to see is intent from both the players and the manager. Loyalty wins you very little, and you just have to look at Fergie's trophy cabinet to see that. Jürgen Klopp may just be about to unleash a new pattern of play for the reds, and that needs to be built around the intimidating frame of Darwin Núñez. Game day 2 awaits, and I feel Darwin may just be about to explode.