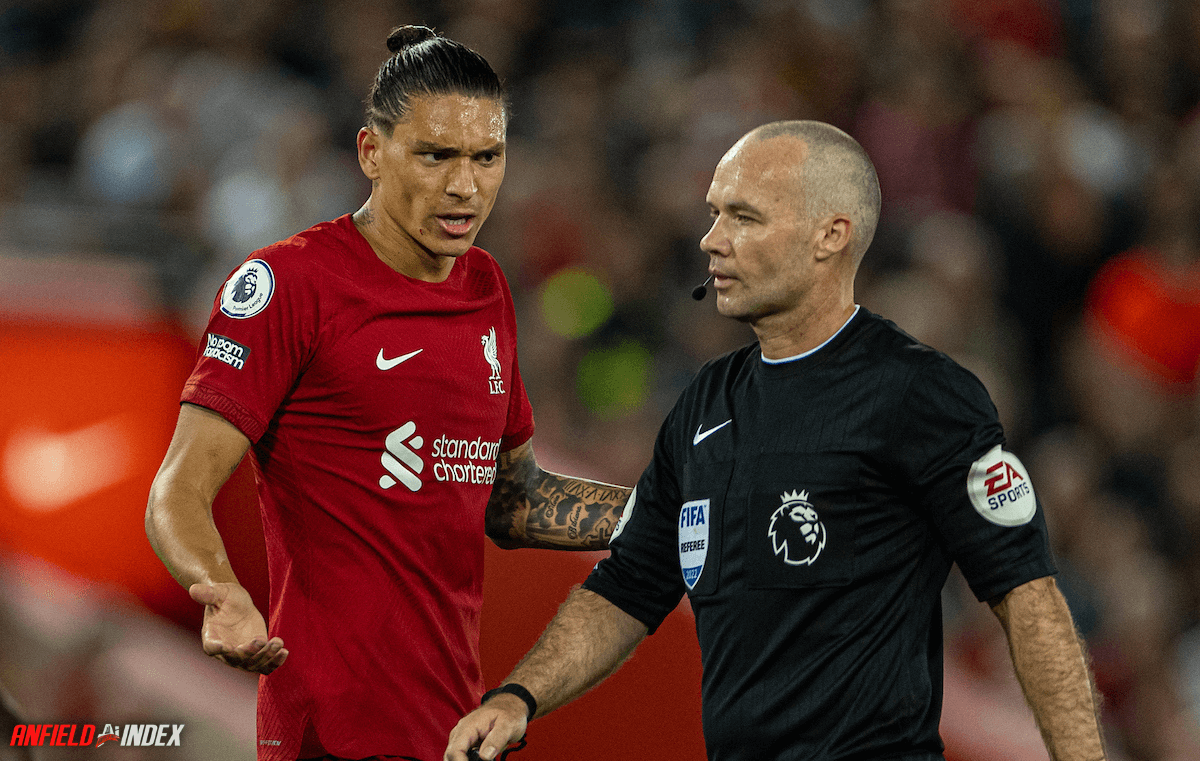 The Good, The Bad and The Ugly from Liverpool vs Crystal Palace
Two games, two draws, four points dropped.
Liverpool's start to the 22/23 Premier League season has been less than ideal on and off the pitch. Performances have been well below what is required, the squad is short of quality in midfield and the injuries are mounting up. Liverpool have failed to win their first two Premier League games, with disappointing draws against newly-promoted Fulham and Crystal Palace.
Hyperbole abounds, with some people already writing off the title this season and others trying to use some big brained logic to explain why it would be absolutely fine for a Liverpool team, containing Virgil Van Dijk, Thiago Alcantara and Mohamed Salah in their primes, to take a season off challenging for the Premier League crown. That sort of thinking is just bizarre. When you have a team with six, count them SIX world class players – Alisson, Trent, Virgil, Thiago, Fabinho and Salah, in your team you need to maximize every single season. Especially when the age profile of your team is a little bit older than ideal.

Four points is nothing with 36 games remaining in the season, though it is notable how easily City swept aside a good West Ham team, and how ruthless they were in scoring four against Bournemouth despite Erling Haaland having a poor game.
Liverpool had an easier start to the season than City, but find themselves looking up at the defending Champions and knowing that they can't continue to gift them any further advantages in the title race. Jurgen Klopp and his staff of coaches and analysts will no doubt have spent the last couple of days looking at what went wrong against Palace, but also taking confidence from what went right. Despite the result, it would be wrong to say Liverpool played poorly against Palace. They played poorly against Fulham, without question, but Palace was entirely different.
With that in mind, I thought I'd take a look at the Good, the Bad, and the Ugly from the Reds draw against the Eagles.
The Good 
Harvey Elliott.
Let's start with the biggest positive, and that is the performance of Liverpool's 19 year old midfielder. Elliott started last season in good form before a horror injury against Leeds torpedoed his season. He return after four months out to feature in some games in February and March but didn't look the same and spent April and May largely watching on from the stands. Making only his fifth Premier League start, the former Fulham starlet was bright, inventive on the ball and confident in possession. There were no sterile touches for Elliott, every time he got on the ball he was looking to make things happen.
More impressive perhaps, and more promising for his manager, was Elliott's off ball work. He pressed well, he harried Palace players when they had the ball, he got his foot in and disrupted their attempts to play out from the back. He was a two way menace and that is exactly what's required from a Liverpool midfielder. He wasn't perfect, far from it, but there was plenty on display to suggest that with time and patience, he could develop into something of a Bernardo Silva type "all phases" player who can impact the game in multiple ways.
Reaction to the Red Card.
One-nil down and reduced to ten men. Heads could have dropped but instead, Liverpool attack Palace ferociously. They threw men forward and relentlessly tried to open up the stubborn Crystal Palace defence that had been extremely well marshalled by Marc Guehi and Joachim Anderson. Luis Diaz's goal is a moment of magic, dribbling past five players across the edge of the box before firing off a vicious shot that gave Guaita no chance, but it came on the crest of a wave of pressure from a Liverpool team that had decided in that moment that they were not going to lose this game.
The goal came only four minutes after Darwin Nunez's red card and the roof almost came off Anfield. With the way Liverpool were playing in that instance of the game, it felt certain that they would go on to win the game. It wasn't to be, in part because of what came next, but it was great to see that much fight come from a team that had ended the first half and begun the second half quite flat.
The Bad 
The triple substitution.
Immediately after the goal, it felt like Liverpool were unstoppable. Even with 10 men, they had Palace swamped and were pinning them back and allowing no breather, but then Jurgen Klopp decided to change things up. Kostas Tsimikas came on for Andy Robertson. Robertson had been lively but his end product didn't seem to be on point and the Greek Scouser is normally very reliable with his delivery so you could see some logic in that move. Joe Gomez for Nat Phillips made sense because Phillips is a liability in a high line against counter attacks. And then Jordan Henderson for James Milner, a move that made very little sense.
The game had been crying out for Naby Keita from about the five minute mark. Milner was fine, he did ok, he put in a 6/10 performance, but he doesn't have the on-ball ability to break down defences from central areas and defensively he's not up to scratch for what's required in that role. Again, he was fine but fine isn't good enough for a team that operates on the level Liverpool do. Keita was what was needed, but Klopp opted for Henderson. Henderson, like Milner, was fine.  But he didn't offer anything. His terrible form to begin this season, against City and Fulham, was a continuation of what he put forward last season and he had been rightly dropped.
Bringing him on was a mistake as he and Tsimikas combined to completely gum up the flow of Liverpool's attack in an ill-fitting left side pairing. Between Henderson's inability to play left side, and Kostas apparently coming on wearing wellington boots and launching every cross he attempted far beyond any Liverpool player, Liverpool created nothing between their arrival and the end of the game. The only two shots of note were speculative efforts from Salah and Carvalho from outside the area.
The midfield balance.
Fabinho needs defensive help, and has since Gini Wijnaldum was allowed to leave on a free and Liverpool decided not to bother replacing one of the most crucial cogs in the machine. Gini was the one who shared the defensive load with Fabinho, allowing the two of them to share the burden of playing with a third midfielder who was less defensively inclined. When they played with Thiago in the run-in of the 20/21 season, it seemed like Klopp had found the perfect balance to the midfield.
Wijnaldum's work may have gone unnoticed by some but he was absolutely vital in stopping counter attacks. He was the one who allowed Fabinho to be so aggressive in going and winning the ball back. Gini would slot in behind him and should a dribbler escape Fabinho they would have to deal with the Dutchman. Just take a second to go and locate James Milner in any images of the moment Eberechi Eze skips past Fabinho. It's not Milner's fault, the role just doesn't suit him and he doesn't play it often enough to adapt properly. Keita and Thiago both do a good job of it, but neither are on Gini's level as a transition defender. Few are. Few possess his combination of athleticism, and intelligence.
Liverpool were very open to the counter attack last season, largely down their right side for obvious reasons, and that trend has continued this season and cost them two goals already – Mitrovic's penalty and this Zaha goal. Klopp needs to find the right balance, and it appears extremely unlikely that the current squad possesses it.
The Ugly
Darwinism.
Joachim Anderson is a good defender. He's a good footballer. He's also clever and knows how to get under the skin of opposing players and that's what he did here. From their first interaction to their last, he was needling Darwin Nunez. A shove here, a bump there, a sprinkling of grabbing and holding thrown in for good measure. It was the perfect recipe. Darwin snapped and reacted in the worst possible way on 57 minutes.
It's important to say that it was undeniably a red card and claims to the contrary are just biased ramblings. This was a nailed on red card all day long.
It's also important to point out that the headbutt wasn't intentional but was the exact outcome that Anderson was looking for. Having shouted at and then shoved Nunez, Anderson anticipated his next move and stepped in as Darwin spun around to go chest to chest with him. As Darwin turned, his forehead caught Anderson on the chin and like a mighty Danish Horse Chestnut tree that had been felt with blows from a Uruguayan axe, the big central defender fell to the floor in what appeared to be slow motion.
He'd played the Liverpool striker like a drum, making him dance to a beat, and Darwin had fallen for it hook, line and sinker. The shame of it, for Nunez, is that he was playing quite well. His hold up and link play had been decent, he was making good runs in behind and getting in good positions. His was snatching at chances, but that's just a confidence thing. He'll score goals by the bagful, but he needs to learn not to rise to the type of provocation he received from Anderson.