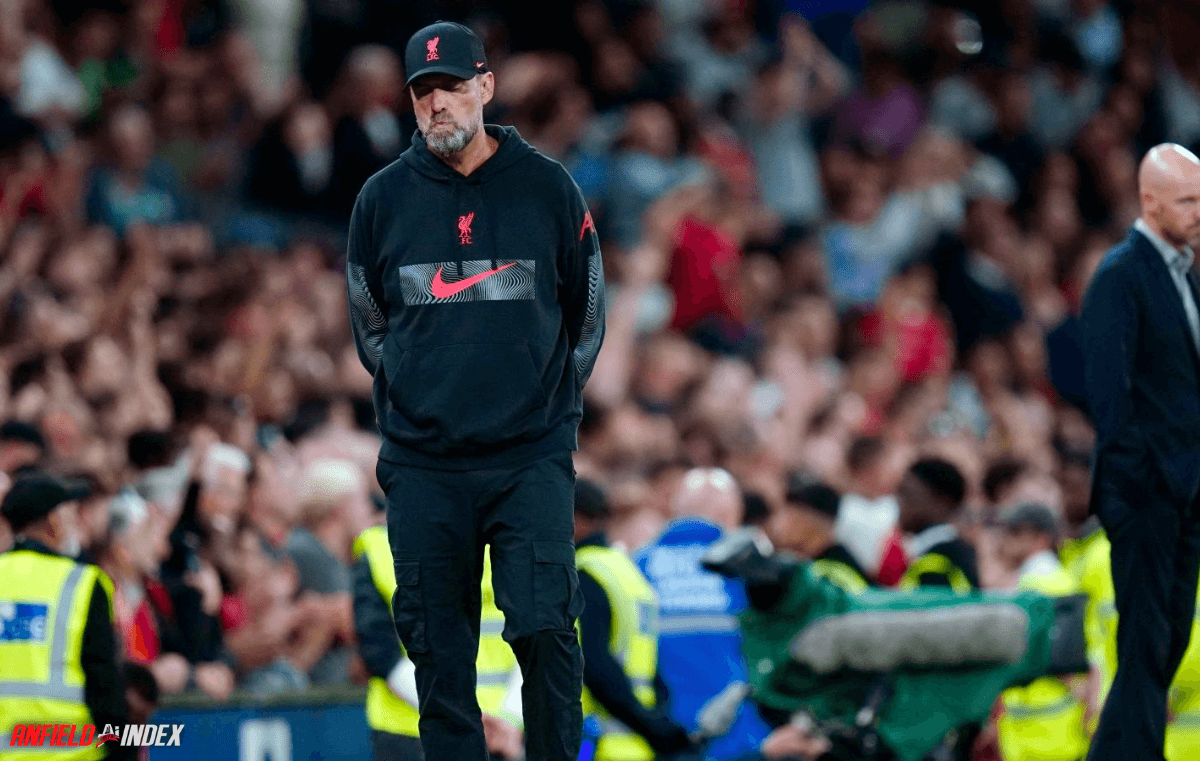 Manchester United vs Liverpool - The Good, The Bad and The Ugly
Three games, two draws and a defeat, seven points dropped.
The start to this season has gone from "less than ideal" to farcical. The Premier League fixture generator was very nice to Liverpool to begin the season. Let's not pretend otherwise. This was a straightforward start to the season for a team with title winning ambitions. Newly promoted Fulham, struggling to get players in the door. A Crystal Palace team who, while talented, had a mess of a pre-season due to Covid restrictions and injuries. And Manchester United, the worst Manchester United team in over 30 years. Three straight-forward games, right? Three wins, right? Nine points, right?
Not even a little bit. Utterly abject performances have seen the Reds make their worst start under Jurgen Klopp.

With that in mind, I thought I'd take a look at the Good, the Bad, and the Ugly from the Reds defeat against that lot.
The Good 
THERE WAS NOTHING GOOD! Nothing. Harvey Elliott tried his best, Carvalho was lively when he came on, but nothing about this game was good from a Liverpool perspective.
The Bad 
Klopp's team selection
Yes, Liverpool have a number of injuries but there is simply no excuse for pairing Jordan Henderson and James Milner together in midfield. Neither is good enough to be starting for Liverpool, in any role, and it was pure arrogance to think they could start together against a team who had to react after their hammering against Brentford especially with Liverpool having issues in other areas.
The decision to leave Fabinho out was utterly ridiculous. Fabinho struggled against Fulham, in large part because Henderson was stinking the place out and he was having to do two people's jobs, but he was absolutely fine against Palace. He should have done better for the goal but he played quite well. There was no logical reason to leave him out to bring in a vastly inferior player. Especially when United possess an attacking midfielder of the calibre of Bruno Fernandes. Regardless of form, Fernandes is a massive threat and he was given the freedom of Old Trafford without Fabinho there to look after Liverpool's midfield.
The first 30 minutes
Sometimes teams have slow starts to games, and then grow into them after 10 minutes. That didn't happen here. Liverpool basically staying in the dressing room and let United run all over empty space for the first half an hour. United should have been one up when Elanga hit the post after being fed by Fernandes, who had lost his marker and gained 15 yards of space in the sake of three seconds. They did go one up when Liverpool, in possession on the edge of the United box, proceeded to do one bizarre thing after another for about 45 seconds.
The ball was needlessly hoofed up in the air when there was time and space for a touch. Then Sancho was allowed to win the ball unchallenged, and feed Rashford without being stopped. From there it was all-hands-on-deck desperation defending. Elanga terrorised Trent, the ball found its way to Sancho in a space that had recently been vacated by a Liverpool player who decided to go for a walk, and he had time to take a touch. He looked up and saw Van Dijk central, and Alisson to the right of the goal as Sancho looked. His only option was to shoot to the left, but James Milner was coming across to block that possibility. Sancho would have to beat Alisson on the side of the goal Alisson was covering unless… James Milner decided to hurl himself to the ground. Sancho dummied and now things really opened up. Trent had taken a cue from others and was walking across the box, and reacted too late as Sancho scored into the open left corner of the goal.
Some have tried to level the blame on Van Dijk, but it's very obvious where his mind was. By holding his ground he was forcing Sancho to shoot. If Sancho shoots, there are two possible outcomes. He scores or he misses. If Van Dijk had engaged, the options to Sancho become far greater and favour Liverpool far less. He could shoot anyway. Or he could beat Van Dijk off the dribble and have an easier, uncontested shot. Or he could beat Van Dijk, get fouled and win a penalty. Or he could slip the ball to the completely unmarked Bruno Fernandes to tap home. Or Van Dijk could stop him. But that's a one in five outcome. Far smaller odds of it going in Virgil's favour than simply daring Sancho to shoot. Virgil played the odds, and lost. But the hoof up in the air on the edge of United's box, the failure to stop Sancho 80 yards from the Liverpool goal and the bizarre decision by Milner to hurl himself on the ground were far greater contributing factors to the goal.
Things didn't get better until Firmino got sick of seeing the midfield fail to do it's job and dropped in to the number six position and managed to wrestle a bit of control for Liverpool.
The Ugly
There's so much but let's start with:
Players attitudes
There seemed to be absolutely no urgency from Liverpool's players. Not to begin the game, not when Elanga hit the post, not even when they went 1-0 down. Too arrogant perhaps? Too much praise over the years, and United being so abject for so long, leading them to believe they could just turn up and roll over their biggest rivals? Issues behind the scenes perhaps? Who knows. But it wasn't anywhere close to the level of professionalism we've come to expect from these players. And in particular, it's "leaders".
Screaming at each other
First it was Milner screaming at Van Dijk, while Van Dijk largely kept his cool and moved Milner on. It was unusual to see Milner like that, but it wouldn't be the last time. He and Henderson had a screaming match later on, after a poor Henderson pass was combined with a poor Milner touch to give United possession. Seeing Henderson have a tantrum at a team-mate over a mistake all of his own making is nothing new, but seeing Milner bite back was. Van Dijk then involved himself, and that seemed to take the air out of it. Seeing Virgil properly having a go at his team-mates was unusual, especially the two he targeted.
Liverpool's captain
Where to even begin. People have rushed to blame others, and the mainstream media have done what they always do and put their heads in the sand but this needs to be written. Jordan Henderson's performance was nothing short of disgraceful, from all angles.
There's a long held myth that Liverpool don't put in THAT type of performance when he plays. That can now be put to bed.
There was a strange belief that he is a better holding midfielder than Fabinho, despite absolutely no evidence to support that claim. That can now be put to bed.
His performance began with poor passes, ramped up with losing Fernandes who in-turn created Elanga's chance and continued from there. His aimless hoof on the edge of the United box, decision to pull out of the first challenge with Sancho and failure to take one for the team by committing a tactical foul were the nexus for the first United goal. He was also the player who wandered away from the central area of the goal just moments before the ball was played to Sancho.
There was more poor passes, even passes he managed to "complete" were overhit or behind the target, and then tantrum at Milner.
Then he had a decent 10 minutes where Firmino went into midfield and Henderson stepped forward and played closer to the forwards. He won a couple of tackles but offered little on the ball.
The second half began with some sterile passing, before he decided to create a goal out of nothing. Unfortunately for Liverpool, he created that goal for United. With nobody around him, his terrible first touch gifted the ball to Martial. Then he failed, once again, to take one for the team and commit a tactical foul, allowing Martial to set Rashford through on goal.
At that point Jurgen Klopp had seen enough and hauled him off. Liverpool's captain, subbed at 59 minutes minutes while 2-0 down against their biggest rivals.
Henderson has been a major problem for Liverpool for a long time now. He's incapable of playing as a number 8, go through his performances there last season and they only good showing was away to Everton. Klopp has persisted with him out a misplaced sense of loyalty, but it needs to stop. The contract given to him last summer was a mistake, that was evident at the time, became very obvious to everyone as last season progressed and is a glaring issue now. Regardless of what guarantees he might have been given over playing time, his days as a starter for Liverpool need to end.