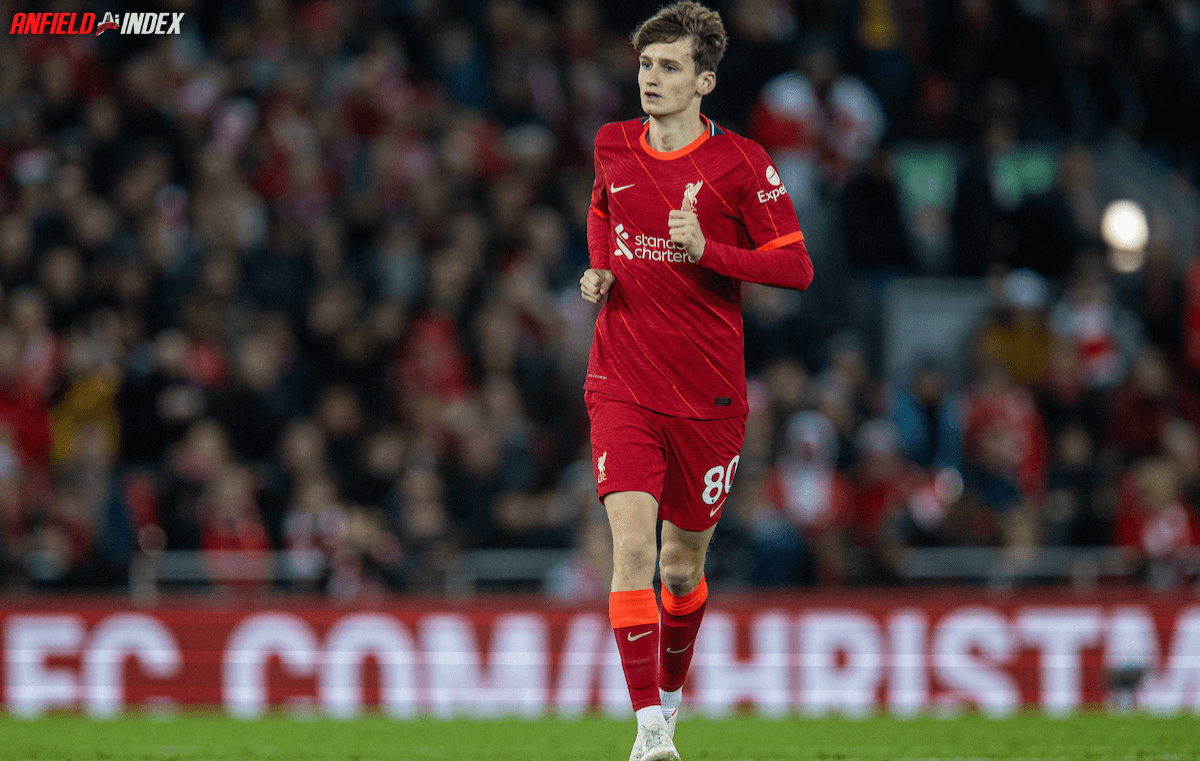 Another Liverpool Talent Begins Making A Name For Himself

Talented Liverpool Academy graduate, Tyler Morton, is enjoying a good season out on loan with English Championship side Blackburn Rovers.
Having impressed as he came through the Anfield ranks, the highly rated 20 year old midfielder seems to be very much following in the footsteps of fellow highly rated team mate Harvey Elliott, who also enjoyed a very successful spell out with the Ewood Park outfit during the 2021/22 domestic campaign.
As per Daily Stoke sports betting magazine, Morton made his senior debut for the club last season, featuring in the EFL Cup clash with Norwich (a 3-0 victory) and manager Jurgen Klopp was clearly impressed, given him more game time – six starting appearances in total, with three further showings from the bench as he experienced the Premier League and the Champions League on top of his domestic cup outings.
Having made the move out for far greater experience, he more than found his feet in the second tier and ahead of the domestic pause for the first ever winter World Cup out in Qatar, Morton had racked up 22 appearances in total for Blackburn (17 of which were starts).
As players slowly gear up for the return of club football with the World Cup motoring through its own tournament games, Morton recently held an interview with the Liverpool Official Site to give fans an update on how he was progressing and finding the spell, and although he was honest enough to admit there were a few teething issues as he adjusted to the level (and got used to his new team mates), he now feels very confident for the second half of the campaign that is to come.
"It took a while to fit in and just adapt to everything that was happening, because I have been at Liverpool since I was four or five and that's all I knew really. So I knew it was going to be a tough challenge for me. But I'm really enjoying it. That's what I like – I like tough challenges and it has definitely been one of them. I'm really happy where I am at the moment and the strides I'm taking. Hopefully I take more."
Morton went on to admit that his good mate Elliott had been invaluable in helping him to make the move, particularly giving advice on the challenges that he would face outside of the more familiar Liverpool set up, and even fellow Academy graduate Leighton Clarkson (seven league games on loan with Blackburn last term and now enjoying a good spell north of the border with Scottish Premiership side Aberdeen) was happy to offer his own thoughts given his own experiences with the former Premier League champions.
"I spoke to him quite a lot, to be honest, about Blackburn because I'm very close with Harv. I had the conversation before I took the move – and Leighton Clarkson as well – and they were just saying how good the lads are and how tight-knit the group is. I've come in straight away and the lads just bounce off each other. I got a lot of advice off him and I appreciated that he was very honest with me; he's my good mate so I knew he was going to be. I took his advice with me and it's paying off."
With ongoing sale and investment talk at the club, fans will be watching on with interest to see how quickly he can develop. If FSG want to share the spending with a new partner, another lad off our own production line is going to do us no harm whatsoever.