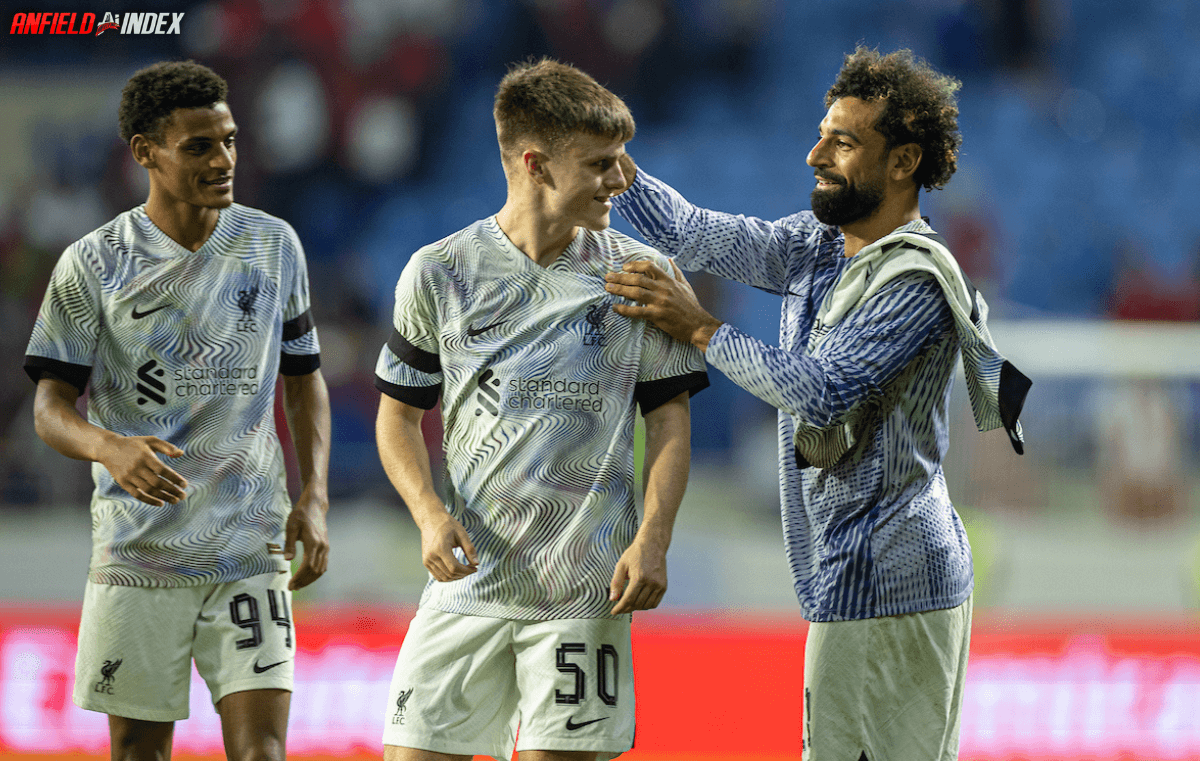 Could Ben Doak Be the New Raheem Sterling?
Michael Owen, Robbie Fowler, Steven Gerrard, and Trent Alexander Arnold were promoted through the Liverpool academy, with early performances creating a major buzz within the Reds' fan base. Despite young Ben Doak not being produced within Kirkby, this has not stopped us all salivating at what could be and the next few games could be an interesting watch, as we wait to see what this young prodigy can deliver. Whereas one of my Anfield Index colleagues, Dave Davis, has written some words attempting to dampen down expectations, I often try to look at the other side of the coin and imagine what could happen over his next half season.
You can find that Dave Davis piece via the link below…
https://anfieldindex.com/53375/ben-doak-expectations-need-dampening-down.html
This 17-year-old has come onto the scene with a youthful exuberance that always excites and the current injuries to our forward line, it may just mean his first team education is fast tracked even more so. With some scintillating cameos in the past few games, we have been given a glimpse of his exciting abilities and what he could offer a team that could benefit from some unpredictability.
It seems an awful long time ago that we were witnessing the final stages of a potentially historic season, with the Reds failing in their attempts at all four trophies. As it turns out, we were witnessing the slow unravelling of an ageing squad, perhaps overplayed and in need of some new blood. Whereas Liverpool Football Club has a tradition of producing elite level talent, this young Scotsman was recruited from another production line, with his low-key summer signing from Celtic costing Julian Ward a mere £600k. It is clear that the FSG model has always had a desire to recruit talented assets from rival academies, and this particular signing could now embark on a timeline not dissimilar from a former red.
Raheem Sterling was first earmarked for great things whilst coming through the ranks at Queens Park Rangers. We now know this 82-cap England international as a player who has enjoyed a silverware-laden career, but will unfortunately be remembered most (when he is long retired) for his stint at Manchester City. The Etihad club snatched our former rising star whilst the Reds were in transition, but that £50m deal only materialised due to his meteoric rise from promising teen to first team starter. His footballing timeline started with QPR in 2003, before Liverpool poached him as a highly skilled and coveted 15-year-old. For a fee that cost the Merseyside club little more than £2m, it represented a signing that would later be the first key step within a wonderful (and ongoing) career.
Whilst at Liverpool, Raheem made 129 appearances, scoring on 23 occasions. His role would be intertwined with the likes of Luis Suárez, Daniel Sturridge, and Philippe Coutinho, becoming part of an ultra-attacking line up. His last season at Anfield would often see him shoe horned into a wing back position, as Brendan Rodgers continually struggled to find a working system after the loss of Suarez. Eventually City would come calling, and a bitter parting of the ways ensued. Without focusing too much on the departure of this current Chelsea player, I find the parallels between his Anfield rise and that of Ben Doak intriguing. With what we have glimpsed so far, I wonder if he himself could have a similar impact, to the one a teenage Sterling once had.
With an ability and skill set very similar to one another, both these players utilise a fearless desire to drive forward with the ball. Looking back at the early stages of Raheem's Premier League career, it is obvious that the outrageous talent around him allowed an education amongst brilliance. Sometimes young players can have too much pressure placed upon their slight shoulders, but in both these respective upbringings, I believe the landscapes to be pretty much ideal.
Doak is a throwback of a wide man, certainly compared to how we view the modern-day winger. There are not too many direct wide forwards within elite teams, with so much emphasis on control, possession and the need to cut inside as inverted threats. Our Dalry born talent is predominantly right footed, with an unshackled urgency to drive past opposing defenders. Not since we saw Sadio Mané torture countless fullbacks (in his first season at Liverpool) have we seen this type of wide forward under Klopp. Within a campaign where we appear to be rebuilding our own patterns of play, this young flyer could be the enigma that stirs something within a faltering machine. His recent Darwin assist and electric 10-minute assault on AC Milan (last Friday) was refreshing, which could lead to something replicated in upcoming games.
People often talk about holding young players back and allowing them loans away, in order to find their early footing in the game. Sometimes it is just the case that good enough is old enough. Given the current injuries to both Diogo Jota and Luis Diaz, I suspect the need for a special talent will be hard to ignore for Klopp. I am all about getting over excited and going all in when something looks good, especially when I see the impact that is ongoing. I would point to the fact that we are not looking for a saviour, but I do believe this young man gaining minutes alongside the likes of Trent, Salah, and Thiago could in many ways be the perfect setting for growth. With Darwin bustling his way into the hearts of the support, it could be that this wave of footballing adolescence can help a fire that is struggling to stay lit right now.
It is only the start of a very long and hopefully successful road for Ben Doak. Whereas false hope and the need to see brilliance can sometimes create a rose-tinted view, I am still willing to believe. After seeing moments and flashes of terrifying talent, I am eager to see what comes next, and the edge of my seat is primed and ready. We could not offer the long-term platform for Raheem Sterling once upon a time, but the Ben Doak story holds both new chapters and a world class author at the helm, and that might just be a story we all need to immerse ourselves in.