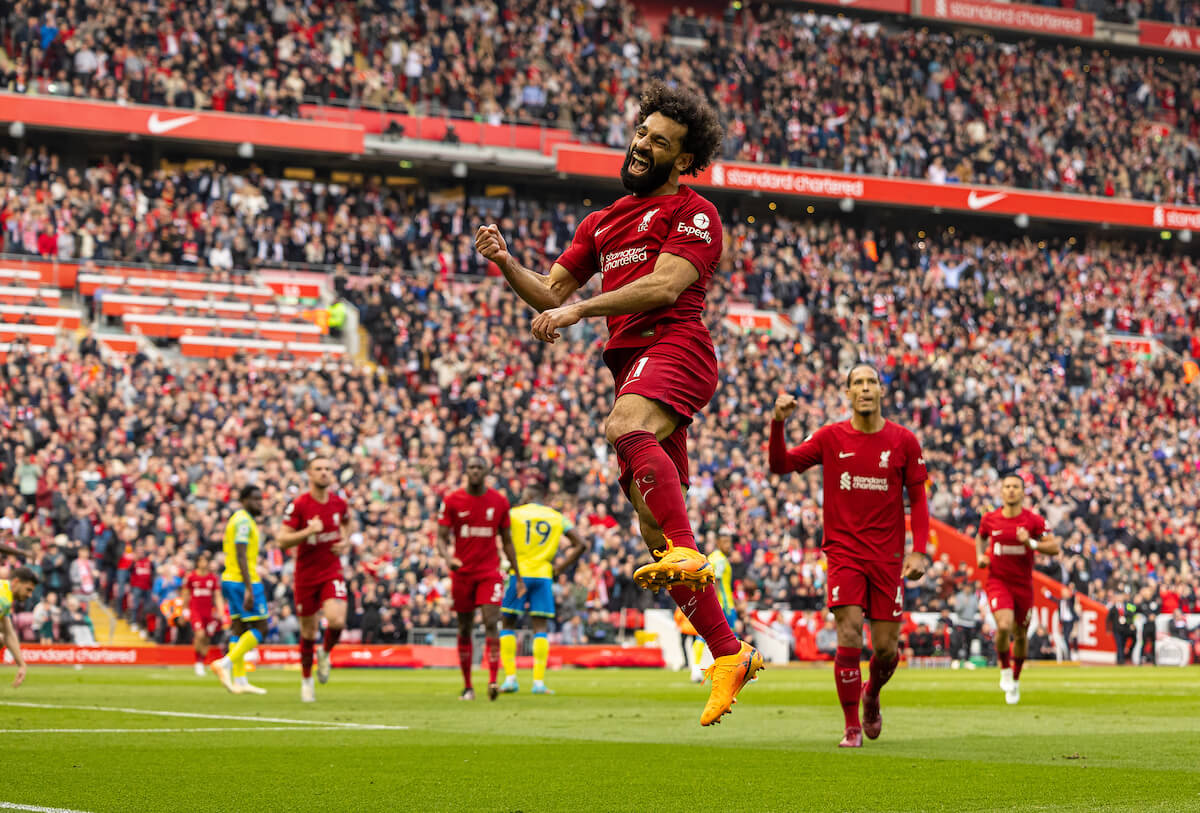 Liverpool 3 Nottingham Forest 2 | Player Ratings

Alisson Becker – 7.0
The Reds player of the season, he would have hoped for a quiet afternoon in front of his home support. That obviously did not happen and despite being assured in his keeping, he seemed too relaxed with his distribution. No issues, just need to maintain concentration and continue staying good with the keeping bits.
Trent Alexander Arnold – 8.0
The man of the moment was given another opportunity to prove his on-ball midfield credentials. He ran much of the Reds on ball patterns of play and allowed a strategic engine in their possession. If the midfield can be shaped around him, then we have a world-class operator back to his best. Salah's goal was initiated by Trent's brilliance in a good display.
Andy Robertson – 7.0
His position in the team has been solidified by a new defensive shape, essentially when the Reds are in possession of the ball. He is still coming to terms with the stay-and-go issue but looks fairly comfortable in the adjusted role. A solid outing.
Ibrahima Konaté – 7.0
The giant Frenchman is allowing the altered shape to evolve, with his enthusiasm and aggression to lock down the right-hand side. Did well in his tussle with Taiwo Awoniyi and though this was not his best game, he showed that he will be vital to how the Reds regenerate.
Virgil van Djik – 6.0
The adjustments can only aid the overworked Dutchman, with more a more solid base to work from. He struggled to keep the shape of things and his possession play was not great. Steady yet still so much more to come.
Jordan Henderson – 6.0
Struggled against Leeds at times, yet at least showed he could follow the new tactical instructions. Did very little on the ball throughout the game, yet tried to maintain positional discipline and ensure the threats could be overloaded.
Fabinho – 6.0
Kept his place as the holding midfielder, with so few options there to replace him. Was effective in his role and allowed Trent and CJ to try and create. He is looking better in this system.
Subbed – 60 mins
Curtis Jones – 7.0
Another start after so long out in the cold. He has become the comeback kid of the season and can immerse himself into the regeneration plans. Was steady and unspectacular, with good recycling of the ball and intelligence in possession.
Subbed – 81 mins
Cody Gakpo – 6.0
Started once more through the middle, with an intelligent nature to his overall game. A system player often must sacrifice his true game for the structure to work. He is not the same as Bobby, yet he is doing a lot of smart work which is allowing a similar effect.
Subbed – 60 mins
Diogo Jota – 8.0
And just like that, Diogo was back in the goals. Two more goals for the Portuguese striker and all is well again. His instincts in front of goal just needed a shake about, and now the buses are flowing freely. Man of the match with two well-taken goals.
Subbed – 81 mins
Mohamed Salah – 7.0
Looked devilishly clinical on Monday, with a clear intent to drag himself and his club forwards. He got a vital goal to confirm the win and was a constant outlet for the ball.
Subs;
Darwin Núñez – 5.0 (on 60)
Should have done better, yet needs proper direction from his manager. Needs to start against West Ham.
Thiago – 6.0 (on 80)
A weird game to come into though kept possession well and covers areas of threat.
James Milner – 5.0 (on 81)
A steady cameo.
Luis Diaz – 7.0 (on 81)
I love this player, he's pure football adrenaline.
The Manager;
Jürgen Klopp – 6.0
Surprised many with an unchanged line-up, with another step towards consistency.
The game was not great, especially with Forest not overly interested in any form of possession. With a counter-attacking mindset, it was almost inevitable that the home side would concede chances. The makeup of the team is still in its infancy; therefore, three points have to be commended after such a barren spell of form.
The subs were probably the right calls, it was just a messy game that simply had to be won.
It was, and now it is onto West Ham.
Pre-match Prediction;
Liverpool 4 – 0 Nottingham Forest