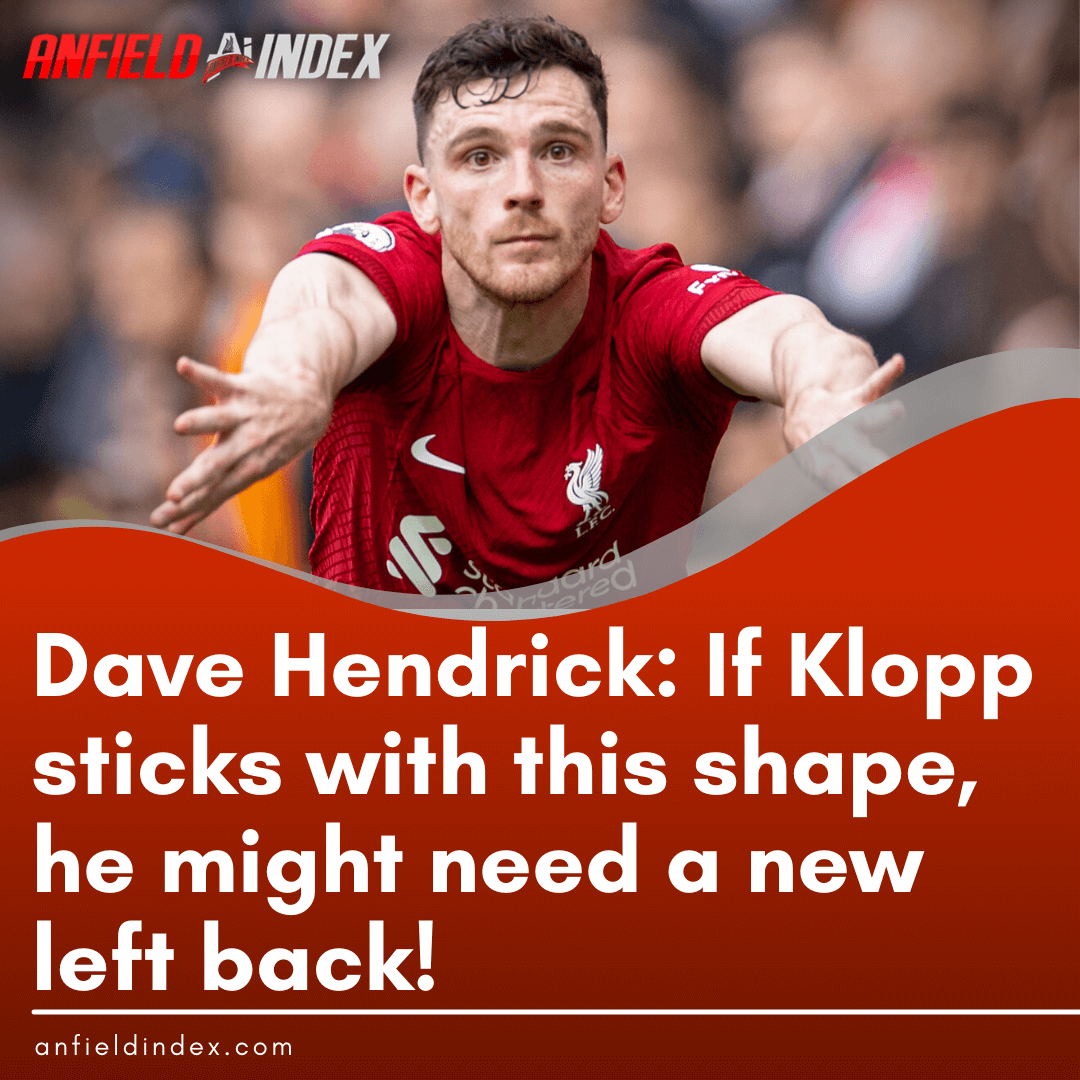 Dave Hendrick: If Klopp wants to stick with this shape, he might need a new left back

Over the last couple of games, we have seen quite a significant change in the shape Liverpool are taking up when in possession and it has led to some unusually high possession numbers for the Reds. They had 74% of the ball against Leeds, and 82% against Nottingham Forest, as they racked up back-to-back wins over teams at the foot of the table. Beating the dross had been an issue for Liverpool this season, so it's definitely a step in the right direction to have won both games – especially as both teams had beaten Liverpool earlier in the season.
The big talking point of Liverpool's new shape has been the altered role of Trent Alexander-Arnold. It's been talked about endlessly and everyone should now understand what the role has entailed having seen it for much of the Arsenal game, as well as the last couple of games. What's been less discussed is how that role alters what's needed from his fellow fullback, Andy Robertson.
With Liverpool playing a box midfield in possession and retaining a front three, it means that only three players are being left as designated defenders. Ibrahima Konate patrolling the right, Virgil Van Dijk anchoring the middle and Andy Robertson on the left. That has required Robertson to be a lot more conservative than he has been since joining the club. This new role involves a lot more defensive discipline than Robertson has been asked to provide since he arrived from Hull and it remains to be seen if it suits him.
Klopp spoke after the game about Robertson needing to pick and choose his moments to get forward, rather than the marauding role he had previously enjoyed, and with Luis Diaz certain to return to his role as the starting left winger once he is back up to full speed there will be less need for Robertson to provide width and service than there has been in these past few games with Diogo Jota in that role. Jota's natural inclination to funnel everything centrally and get himself in the box leaves large open spaces for Robertson to move into, and against poor teams like Leeds and Forest that space will be there for him, and Liverpool, to exploit. Diaz, though, prefers to play wide and hold width. It's why the Robertson-Diaz left-sided pairing has never really meshed. The space Robertson likes to run into, the space Sadio Mane would vacate and open for Robertson, isn't there when Diaz occupies the left wing. With less space, comes less need for Robertson to get forward which means that the Reds could potentially look to go a different way at left-back.
There can be no doubt that Andy Robertson has made himself into a Liverpool legend over his tenure at the club, and has proven a lot of people wrong during that time. His arrival was met with scepticism from some and outcry from others. "Always the cheap option", "Why are we signing players from Hull, they got relegated FFS!!" and my particular favourite "Another player Klopp didn't want, FSG have let him down again". Some of us were a bit more grounded and happy to see how it worked out, as you can read by clicking here but even then we didn't see him becoming the calibre of player he grew into.
On the flip side, there can be no doubt that Robertson has started to decline and that he hasn't been anywhere close to prior levels over the past 18 months. It's understandable, he's played 260 times for Liverpool in a hugely demanding role over the past six seasons, on top of which he has made 47 appearances for Scotland, and you can see why he might be starting to wear down. Robertson is not, and has never been, the type of player to half-arse his way through a game. It's all or nothing with him, and for club and country, he has given absolutely everything while playing a relentless style.
With the demands that have been placed on him starting to take a big physical toll, and this new role for which he is ideally suited, it may we wise for Klopp to look at potential replacements this summer while still keeping Robertson as a vital squad member who still will be asked to play plenty, even if not part of the "first 11". It would seem that this line of thinking is already prevalent within the club as there have been multiple mentions by some of the more respected local media that Liverpool want to sign a left-footed central defender. Not a left-sided central defender, a left-footed one. That's an important distinction because a left-footed central defender would likely be able to step out and play as a more traditional left-back while defending, while then shifting infield to form a back three with Konate and Van Dijk once Liverpool have the ball.
There hasn't been a huge amount of names given by the local journalists as to who the Reds might be looking at but the traits required in such a player are pretty easy to see. Left-footed, good pace, comfort on the ball, good at defending large spaces, good in 1v1 situations, aerial dominance and the ability to carry the ball out of the back line and attack space when necessary. Ideally, you want a defender who's capable of playing a central defender in a two-man pairing as well at left back and left side of a three just to ensure they add a versatility factor. Finding a defender with all of those traits will be difficult but there's a strong chance you can find one who shines at the majority.
The obvious names are Josko Gvardiol, Alessandro Bastoni and Levi Colwill but it's unlikely that any of them are realistic possibilities. Gvardiol will probably cost in excess of £100mil which is an enormous amount of money for a club with a finite budget and a lot of buying to do this summer. Bastoni is one of Inter's two crown jewels and they seem determined to keep him, but it might be worth kicking the tyres on because his current deal does expire in 2024 and if nothing is agreed upon before the summer perhaps his head can be turned. Chelsea seem determined to keep Colwill, but again it might be worth kicking the tyres because they do have a rather desperate need to sell quite a few players and no matter what their fans claim, teams are not lining up to buy Romelu Lukaku, Ruben Loftus-Cheek, Christian Pulisic or Hakim Ziyech. They might be forced to take a decent offer for Colwill.
So with those out of the way, who else is out there that might fit the bill? Evan Ndicka has been linked. Ndicka has played on the left side of a back three for Eintracht Frankfurt for the last few years and has shown flashes of real talent. He's excellent at carrying the ball forward and a solid passer of the ball. He is not, however, a strong defensive player. He does possess decent pace and is therefore comfortable if left 1v1 but his reading of the game and lapses in concentration lead to quite a few positional errors.
Then there's Micky van de Ven, the giant Dutch defender currently playing for Wolfsburg. van de Ven has shown himself capable of performing the on-ball requirements of the role to a very high level, with his mid-range passing and ball-carrying ranking among the best in Europe as per FBref but defensively there are big question marks, especially when it comes to his ability in the air. He can be far too passive, and that can sometimes lead to him being bullied by physical forwards.
Both Ndicka and van de Ven would represent projects, players to be developed into the role, rather than players who could come in and make a strong case to start straight away. So if Klopp is looking for a ready-made fit, neither would really be suitable. So who is?
Well outside of the three likely unobtainable options mentioned above, there are three young defenders plying their trades in Europe who might be pretty much perfect for the role.
Goncalo Inacio – Sporting Lisbon
Inacio is a 21-year-old Portuguese defender who recently made his international debut but has been a vital part of Ruben Amorim's Sporting team for three seasons now. Despite being left-footed, he has often been asked to play on the right side of a back three and hasn't looked at all uncomfortable in the role. He has significant experience on the left of a back three and has played as a left back at senior level. His on-ball numbers jump off the page, when compared to other central defenders in Europe over the past 12 months he ranks in the 90th percentile and above in almost all passing and ball-carrying metrics. He's also strong off the ball, as a front-footed defender who enjoys the defensive side of his job just as much as the on-ball side.
Piero Hincapie – Bayer Leverkusen
Currently plying his trade under the watchful eye of Xabi Alonso, the 21-year-old Ecuadorian is someone who easily catches the eye whenever he plays. Defensively he's very strong but can sometimes suffer from concentration lapses which is natural in such a young defender – he only turned 21 in January. He has plenty of experience playing as both a left-sided central defender in a back four and a left-back. His natural role does seem to be as a left-sided defender in a three but he's more than comfortable if asked to shift out to fullback. He's not as developed as Inacio on the ball but does show real promise when he steps out of defence with the ball and engages midfielders.
Castello Lukeba – Olympique Lyon
The youngest of three, Lukeba won't turn 21 until December, but perhaps the one with the highest upside and the strongest defensive potential. When considering older players who fit the model of what this role should be, a pre-injury Samuel Umtiti comes to mind. The Umtiti who starred at Lyon, and was a key part of France's World Cup success. Lukeba is Umtiti 2.0, hopefully without the dodgy knees. A physical marvel, he's capable of bullying forward players with his strength and aggression but he does struggle aerially. That's basically the only real knock on him because he's an excellent passer with good pace who's equally at home at centre-back or fullback.
Of the three, Inacio is the most ready-made fit for Liverpool and likely the one who will cost the most. Lukeba has the highest ceiling but is the least developed for right now. And Hincapie might be the happy medium. He's definitely the one who'd be most comfortable if asked to play as an attacking left-back at any point.
Any of the three, or indeed others not listed here, would make a lot of sense for Liverpool if the goal is to have Robertson's successor be more a lefty centre-back who can play left back, than a left-back who might be able to cover into the middle.