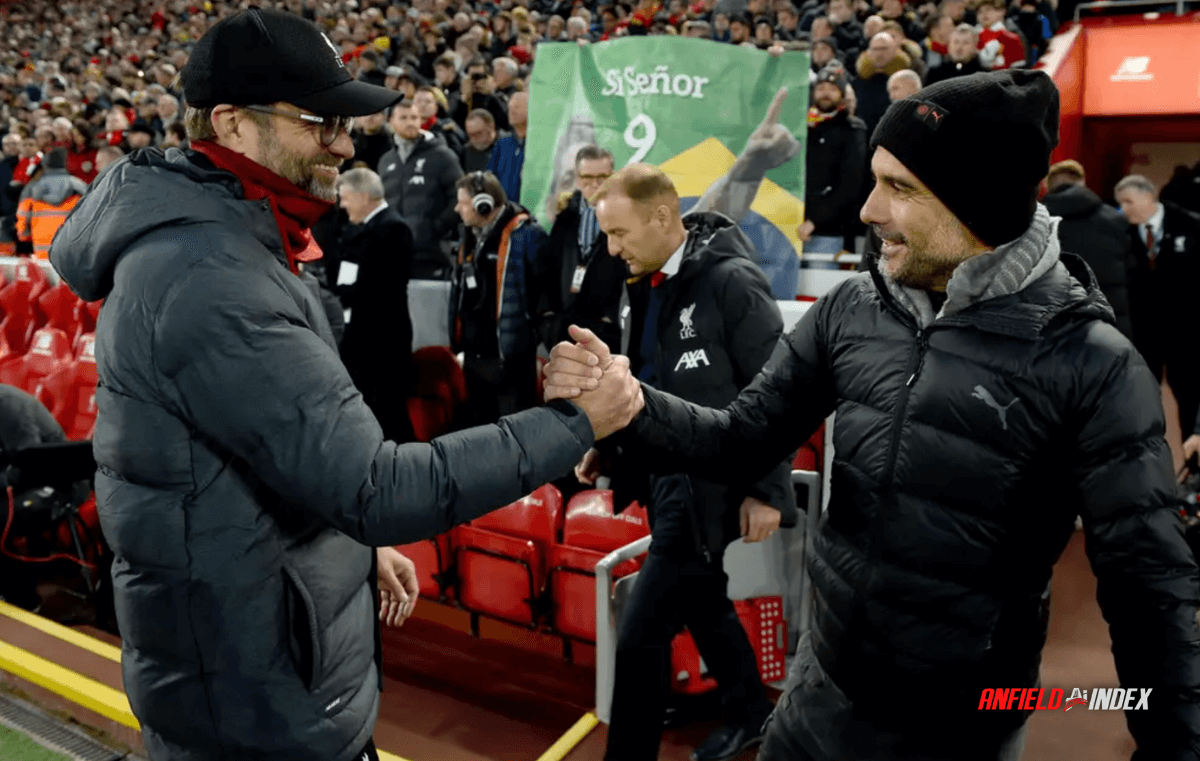 Who Should Be Liverpool's Rivals Next Season…

Manchester City have been the most prominent domestic rival for Liverpool, essentially since Jürgen Klopp took the helm at Anfield. Despite a much-needed improvement process (after the Brendan Rodgers regime), it became clear (very quickly) that Pep Guardiola and his financial doping Blues, would become the key adversary for our German manager. The previous four seasons have seen the Reds finish as runners up to the Etihad team on two occasions, winners once, whilst finishing a disappointing 3rd due to the campaign of injured defenders. This season will see the 19-time English league champions place a disheartening 4th or 5th (or an unlikely 3rd), with next season's European placement still in the balance.
With regards to this campaign, it became evident in the opening batch of games that a title challenge would be beyond us, due to a frailty and lack of physicality within the midfield. The regeneration was forced upon our club, which should lead to a substantial summer of change. The recent appointment of Jorg Schmadtke (to the Sporting Director role) is a positive move that places a strong footballing negotiator into the recruitment process. With various names and players linked to a summer move to Anfield, I will be looking at what our competitors will be shaping up as, in the hope that our summer regeneration is a success.
Manchester City
It really is the unknown for this club, with the threat of sanctions and punishment around the corner. As it stands, a committee is overseeing the final stages of the investigation and determining the fate of the current Premier League champions. This entire scandal could make for a very uncertain summer for the huge spending sky blues. The squad is starting to age (in a similar manner to the Reds), therefore Pep needs to shuffle the pack a little. The question is, of course, will they be able to…
Verdict – Once again the team that has to be in our sights, therefore I feel next season becomes a two-horse race between Klopp & Pep once again.
Arsenal 
I feel like the impending weight of Champions League fixtures will cause a massive strain on the North London team. Arsenal need four or five really good squad additions, if they are to be able to sustain a top four finish next season. In terms of another Premier League challenge, I feel that with other clubs getting their house in order, it could see Mikel Arteta's side tumble down the league table.
Verdict – Back to fighting Tottenham, United, and Chelsea, for a top four finish.
Newcastle United
The overachiever of this group that will perhaps tail off a little next season. Eddie Howe has done a magnificent job in his first full season, with a well assembled group that could still qualify for next year's Champions League. The worry will be that a second season syndrome may unfold, especially given the likelihood of more new players being introduced.
Verdict – A slight drop off is inevitable, with a good few players still needing to be upgraded. LFC should surpass this team with our summer signings and adjusted system of play.
Manchester United 
If the Red Devils continue to throw good money after bad, it could make for a very difficult season next year. The cracks are being papered over, by a League Cup win and a solid enough season. Vast amounts of money have been spent, yet this team isn't improving in line with the expenditure. I foresee a really difficult second season for Erik ten Hag, with Liverpool once more exerting their superiority over them.
Verdict – There is always so much that needs doing, which is good for Liverpool, who will move past their greatest rivals once again. 
Tottenham 
A new manager is due, a new Sporting Director is probably incoming, the club that may lose Harry Kane, and the squad of players look a little misshapen for any incoming coach. There's a lot to be done this summer, which does not bold well for next year. Liverpool should increase the gap between them and North London's second-best team.
Verdict – Tottenham will continue to entertain all opposition fans, while losing their most prized asset.

Chelsea 
So many questions and so may players. Despite the incoming Mauricio Pochettino being a huge upgrade on Frank Lampard, there is still an awful lot of work to be done. This scenario is not being helped by an over exuberant owner, who must employ a Sporting Director that can actually mould a squad, rather than buy every single player on offer.
Verdict – A season of pure transition, one which see the Reds continue to steer clear of them.
Liverpool 
My ambition and faith in what I have seen in these least two months, has me very optimistic for next year. With the signings we hope are incoming, I do feel like next year could be a campaign where we can take advantage. I believe the ongoing implementation of our new system, allows our overall regeneration to be well underway. With this period (and the forthcoming pre-season), I can see Klopp's men ascend very quickly back to their previous levels.
Verdict – I am optimistic (if a little naive) of a strong challenge for the Premier League next season, as that is where we belong to be.
7 wins in a row – only Man City have a better run in the league this season.

3 clean sheets in a row.

3 assists for Mo Salah – another season with double figures for PL goals & assists.

1 point off the top 4.

The Reds are back. pic.twitter.com/FVU2IFFKC6

— LFC Stats (@LFCData) May 15, 2023