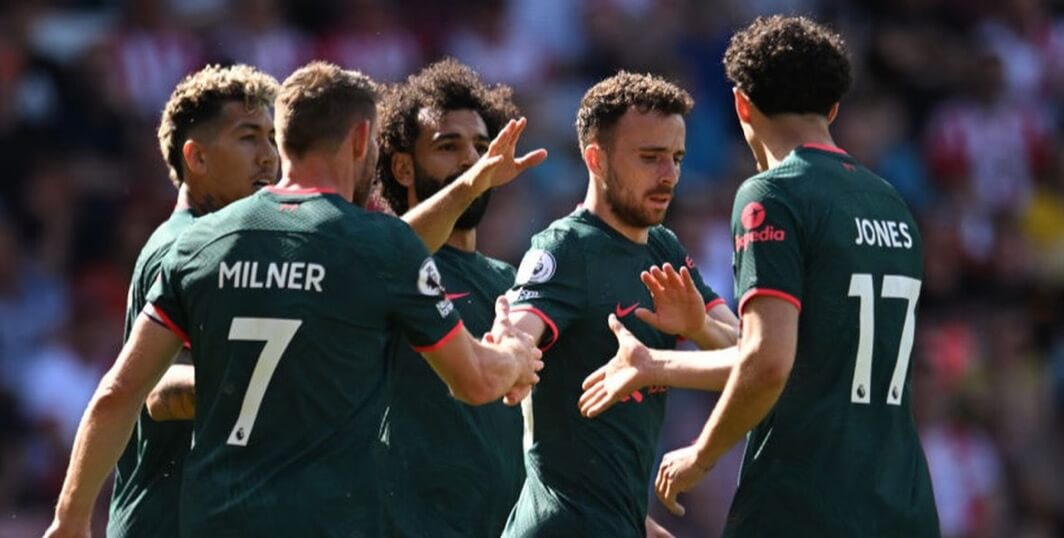 Southampton 4 - 4 Liverpool - The Post-Mortem
This was a game that meant next to nothing for either side, with both teams no longer fighting their respective battles. Jürgen Klopp chose to reward certain players with a starting berth, having spent so much of the campaign on the substitutes bench. With James Milner & Roberto Firmino undertaking their last starts for Liverpool, you could see that loyalty played a major role in his selection.
Below was Jürgen Klopp's starting eleven & subsequent in-game changes, against the recently relegated south coast club.
GK – Caoimhin Kelleher
RCB – Joël Matip
CB – Joe Gomez
LBC – Andy Robertson
CM – Trent Alexander Arnold
CDM – Fabinho
LCM – Curtis Jones
RCM – James Milner
LF – Diogo Jota
CF – Roberto Firmino
RF – Mohamed Salah

Substitutions;
57' Luis Diaz – Diogo Jota
57' Jordan Henderson – Fabinho
57 Cody Gakpo – Roberto Firmino
57' Harvey Elliot – Kostas Tsimikas
With the lineups and substitutions as shown above, the match started with the Reds looking rampant. Once the opening two goals went in, it looked as though Liverpool would run away with the game, before the Saints realised that their visitors could not defend, or offer anything in the way of game management.
This was a game where a ragged defence met an inconsistent rear-guard, therefore a hockey score was always likely. The most worrying facet for me is that this type of performance and scoreline no longer surprises me. I fully expect big chances to be handed out like confetti, with a simple hand raised once the inevitable goal goes in. We have become weak and are now a group that is there to be preyed upon, which is what the Premier Leagues' worst outfit was able to do. Some will say it's only the second-string LFC side (for the most part), yet I imagine all those fringes players earn more than most starting players in the English top tier. It is an unacceptable season and I'm relieved to see this campaign come to a close so that genuine change can be enforced.
The game started weirdly, before continuing to progress in a weird and wide-open fashion, with the Reds finally turning the screw late on. The goals and chances were very reflective of a final fixture of the year, where nothing really matters. Liverpool ended the game with 69% of the ball, 8 shots on target, 8 shots off target, and 11 blocked efforts. We allowed the Championship-bound Saints 10 shots on target, 4 shots off target, yet were unable to block a single effort. That last bit really does tell a story. We were constantly chasing attacks, without the world's best goalkeeper on hand to smother those big chances. The comical fashion of the game was at least entertaining, if bitterly frustrating.
The opening goal for Liverpool was due to some indecisive play in the home side's 18-yard box before Bobby gave us a perfect rendition of how to leave a defense on the deck for the second. The next four goals should have added to the red men's tally, however, it merely rubber-stamped the huge deficiencies in our side, as Southampton cantered into a 4-2 lead.
In fairness to the eventual 4-4 scoreline, I am hopeful that this is the kind of result and performance that will encourage our manager into action. His post-match words assured the fan base that a big recruiting push would be incoming, especially given the horrible display on game 38. The captain was woeful, the entire back three looked unable to find any defensive awareness, whereas Fabinho looked painfully slow. With a plethora of attacking assets, it is the midfield that requires huge attention, with a key decision made on how to set up our team. I would love to see a monstrous defensive right back signed, rather than have Trent scampering to add a fourth man to an overrun defense. We gained the ultimate level of success with a 4-3-3 formation; therefore, I see no reason why we should not sign a Trent replacement which then allows him to migrate fully into the middle ground. The team is unsure how to defend counter-attacking scenarios, so with an extra body to relieve the backpedaling tasks of our number 66, would surely enable an increased level of balance. I say this with an unsure outlook as to how we navigate this next transfer window. A specialist left-sided centre-back behind a ferocious defensive midfielder is required, otherwise, we will continue to be a side teetering on the edge of exposure. Two more midfielders and a right-back are also necessary, which makes for a busy summer of business ahead.
We shall wait and see…
Hopefully, the post-mortem of this game will have Jörg Schmadtke making the direct and much-needed impact on Jürgen Klopp. Our German manger needs a new set of eyes that will point out the failures of people he has no relationship with. We have allowed ourselves to become a soft and underwhelming entity that in no way resembles the team we once were. All great teams will eventually crumble, now we must wait and see how committed our former Dortmund manager is to this much-needed rebuild.
Steven Smith