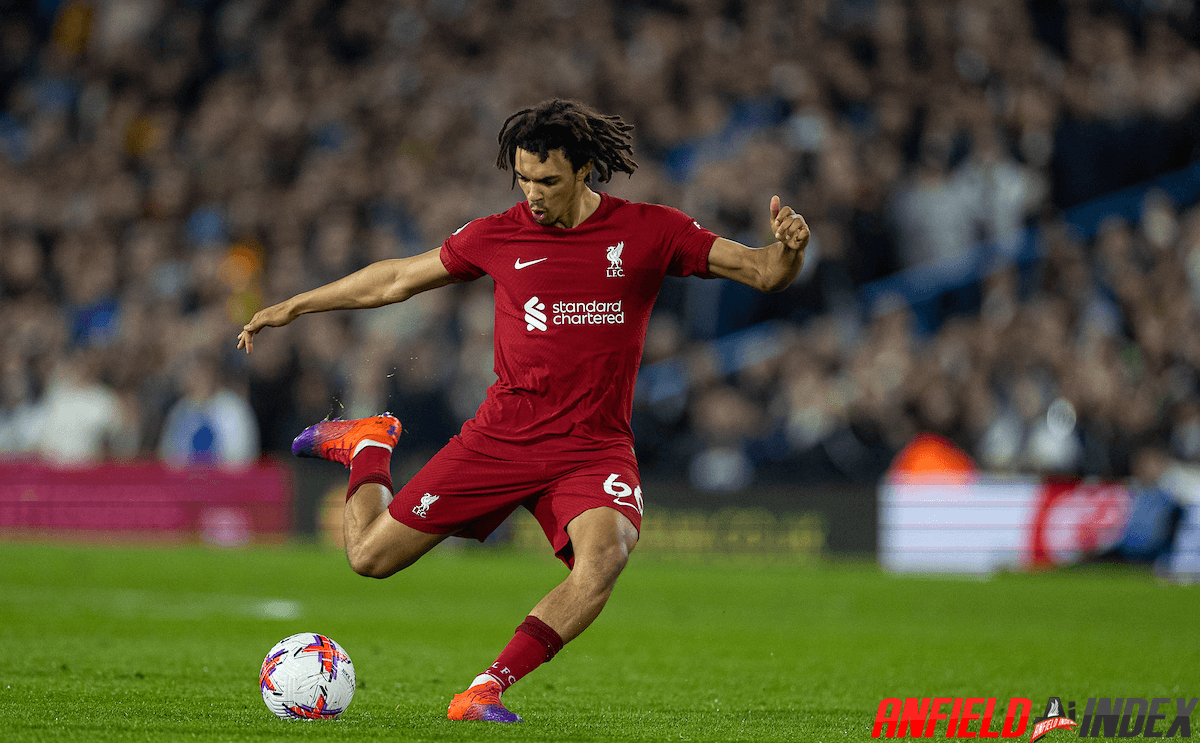 Trent's Midfield Role: As Many Problems As Solutions?
Neil Jones On Trent's Midfield Future
Trent Alexander-Arnold: The Midfield Maestro
"In the closing weeks of the season, it was good to see Trent really step into a role where it looked like he relished the responsibility," Neil Jones said on the Media Matters Podcast on Anfield Index with Dave Davis.
"He looked like he enjoyed his football a lot more."
Liverpool's Trent Alexander-Arnold is no stranger to stepping up, showing his worth on multiple occasions. His recent shift to midfield ignited a lively discussion about Liverpool's formation flexibility. The young full-back demonstrated an exciting versatility that caught the attention of many – including Jurgen Klopp.
This change in role proved beneficial for Alexander-Arnold:

"Trent proved to a lot of people…that he probably could play in the midfield on occasion or in certain games if the team was structured around him correctly."
Liverpool's Formation: Double Pivot Strategy
With Alexander-Arnold's potential for positional flexibility, Liverpool had an opportunity to experiment with formations, making the most of his undeniable talent. A double pivot strategy in a 3223 or 433 formation is a new possibility.
"Jurgen clearly was looking at things throughout the season," Jones explains. The changing tactics saw a switch to four forwards, Bajcetic's incorporation into the team, and Trent's new role. These decisions demonstrate Jurgen Klopp's determination to be more creative and flexible in his tactical approach.
However, Jones warns about the possible drawbacks:
"There were as many problems with putting him [Trent] in there a there were solutions because of the gaps it leaves elsewhere."
Klopp's Options for the Future
So, does this indicate a significant change in Klopp's tactics for the upcoming season? It's possible but not definite. As Jones reminds us, "I'm not sure Liverpool  play every game with this box midfield."
Yet, having the option to shift Alexander-Arnold into the midfield role could give Liverpool the tactical edge they need. For Jones, this new setup could be especially beneficial "in certain games where we're going to have loads of the ball…why not get our most creative and our best player into those kind of areas a bit more frequently."
An Evolution or a One-Off Experiment?
Ultimately, the switch in formation – and Alexander-Arnold's role – could just be a one-off experiment based on the unique circumstances of the season, including injuries to key players. But the experiment's success suggests it could become a part of Liverpool's strategy.
One thing is for sure, as Jones affirms:
"Liverpool have seen that Trent really is this special talent."
It seems Jurgen Klopp has a few more tactical cards up his sleeve – and Trent Alexander-Arnold may be his ace.
With the final weeks of the season unveiling a different, more flexible Liverpool side, we may be witnessing the beginning of a new era in the team's strategy. Whatever the future holds, it's clear that Liverpool and Trent Alexander-Arnold continue to evolve, making every new season an exciting prospect for fans.
Keep an eye on Liverpool's formations and how Alexander-Arnold's role unfolds in the forthcoming matches. Will we see more of Trent the Midfield Maestro? Time will tell.