 Khephren Thuram Can Be Klopp's Next Transformational Star
Liverpool spent a long time, too long, chasing an impossible dream. The Reds had decided that Jude Bellingham was the only midfielder, seemingly in the entire footballing world, capable of improving their midfield.
Having not really pursued the young English star in the summer of 2020 when he was leaving Birmingham City, for reasons nobody has ever fully explained, the fascination with him properly developed in summer of 2021. Liverpool needed midfield additions but decided not to bother strengthening because "the right player" wasn't available. Fast forward to the end of the 21/22 season and Liverpool's midfield had cost them footballing immortality.
The Reds won the FA Cup and League Cup but lost out on the Premier League title by one point, in a season in which their midfield let them down repeatedly. They fell short in the Champions League final as well as Thiago was forced to play through injury, while Naby Keita had to be kept in reserve in case the Spaniard was unable to play. Had Liverpool invested, as they should have, in a midfielder in the summer of 2021 then we might well talk of the 21/22 Liverpool team as the greatest team ever to grace English football.

Instead they fell short but a chance to go again presented itself in the summer of 2022. Liverpool once again needed midfield reinforcements, this time two instead of one due to the massive decline of the club captain, the injury prone nature of Thiago and Naby Keita, and the signs of decline shown by Fabinho in the last months of the season. Liverpool went all in on Aurelien Tchouameni but lost out to Real Madrid. Rather than move on to alternative targets, Jurgen Klopp spent his summer gaslighting fans and mocking the suggestion that midfield additions were needed. That is, until the very end of the window when he admitted he had made a mistake but it was too little, too late and a late move for Moises Caicedo was dismissed out of hand by Brighton who would not have had enough time to seek a suitable replacement.
When Arthur arrived on loan the narratives that Liverpool were "keeping their powder dry" and "prepared to wait for the right player" began. Who is the right player? Apparently Bellingham. From August of 2022 until March of 2023, when David Ornstein reported that Liverpool were unlikely to sign the Dortmund midfielder, the spoofers and bluffers made hay. Barely a day went past without someone, sometimes journalists, sometimes ITKs, sometimes the blaggers in-between, having an "update" on the Reds pursuit of Bellingham. Liverpool had been saving for Bellingham became one of the most commonly used excuses for the Reds failure to address their need. A season of abject failure followed, Liverpool were destined for the Europa League at best, and now Bellingham was off the table.
In truth, it was the correct decision not to sign Bellingham.
Is he a fantastic talent? Absolutely. But for now, that's all he is. Talent. Potential. He's far from the finished article and was not walking in and fixing Liverpool's issues all by himself. By the end of the 22/23 season it had become apparent that Liverpool needed an entirely new starting midfield and potentially a fourth addition in that area on top. Bellingham's transfer fee would have swallowed much of the budget and left Liverpool unable to fill at least one of the other spots, if not both. The reason it could have affected both is that the Bellingham deal isn't simply the fee. Real Madrid have agreed to pay £89 million rising to £115 million, a fee that in itself is not unmanageable, but there's also significant other costs.
First the contract. Bellingham will reportedly earn £10 million a year after tax, that's roughly £360k a week. Plus bonuses. That's more than Mo Salah currently earns and wouldn't undoubtedly have set a bad precedent. If he's earning that much at 20, what would he be earning on his third contract at the age of 27? £560k per week? That type of deal would likely also lead to others in the squad significantly raising their own demands when it comes time for new deals. Then there's his signing bonus, likely a years wages, plus his agents fees which are also likely to be sizeable and then an intermediary payment to his father which is rumoured to have been north of £20 million as well.
All told, it's not just an £89 mil or £115 mil investment in Bellingham, it's total outlay of which likely lands north of £270 mil over six years, plus contract bonuses which would drive it towards the £300 mil marker. All of these costs must be considered when looking at transfers, and regardless of how good Bellingham might become in three to four years, he wasn't worth that type of outlay.
So with Bellingham off the table, Liverpool had to turn their attention to other options and thankfully, unlike last summer, they don't appear to have decided that there were no alternatives on the market and quickly moved on to an alternative.
Bellingham best on-ball attribute is his ability to burst between the lines, carrying the ball. He's a dynamic, powerful runner with excellent control. His best off-ball attributes his pressing ability and his ball recoveries. It seems near certain he would have replaced Jordan Henderson on the right of Liverpool's midfield, be that the three man midfield in a 4-3-3 or the advanced right sided role in the 3-Box-3 shape that sees Trent Alexander-Arnold operate in midfield.
Many have suggested that role should be filled by a more attacking player, but given the needs of the team and the balance behind them, it appears a player with a good engine and the ability to track runners and help out defensively would be more beneficial. Regardless of whether it's a back four with Trent at right back, or the box midfield with Ibou having to cover massive amounts of ground, the right sided midfielder needs to be able to offer far more defensive help than Jordan Henderson has over the last three years.
The left sided role benefits from having Fabinho behind them and thus is less open than the right sided. Add to that the fact that Curtis Jones, playing on the left, was playing as the higher of the two 8/10s when Klopp changed the shape and it does seem likely that the left sided role, likely to be filled by Alexis Mac Allister, will be the more attacking role while the right sided role will have more of a box to box function.
So with Bellingham out of the equation, who is the ideal fit? Well truthfully, there isn't one player out there who's plug and play into that role barring a blockbuster move for Federico Valverde of Real Madrid. Liverpool have been linked to him, but Valverde is likely a Real player until the day he retires so the net needs to be cast wider, potentially at players playing a different role for their current club who could easily adapt.
One such player is Khephren Thuram, and if reports are to be believed he a player Liverpool are close to bringing in the door. The 22 year old son of French legend Lilian Thuram would make perfect sense in the right sided role, both in the 4-3-3 and the 3-Box-2, despite having played most of his football on the left side of varying midfield shapes.
Thuram stands at a commanding 6'4 but has an unusual grace to his game, and showcases some of the best ball-carrying in Europe. While some have suggested he might be a Fabinho replacement, such a move would make little sense for Thuram or Liverpool. He has minimal experience playing as a defensive midfielder. Prior to this past season he had been employed in a double pivot, but as a box to box midfield next to defensive presences like Morgan Schneiderlin, Mario Lemina and Pablo Rosario. During the 22/23 season Nice often operated with a 4-3-3 with Thuram playing as a box to box number eight.
His size could potentially lend itself to playing as a number six, but his skillset does not. It would be a waste. Thuram is far closer to a Yaya Toure type of attacking midfielder than a Fabinho type of defensive midfielder and should be nurtured in a position that will maximize his unique skillset.
Thuram is exceptional at picking the ball up deep in his own half and carrying it towards the opposition box, gliding past players with nimble feet before lengthening his stride and making the most of his size to power aware from chasing defenders. He's also outstanding in tight spaces in and around the edge of the opposition box. As a ball-carrying, he is Bellingham's superior. Having a player like him, who can progress the ball both with his passing and his dribbling could unlock a new dynamic for Liverpool.
He's no slouch in terms of passing either, completing almost 90% of his short and medium range passes. His volume of passing is quite low, but context is key and it's worth remembering what team he's been playing for, how they play, and what's he has been asked to do. In a team like Liverpool, who will dominate the ball in most games, his passing volume will increase and assuming his accuracy holds true we should see his key passes increase as well.
He's also a stand-out in terms of creating opportunities for others with both his dribbling, and his ability to turn the ball over high up the pitch. His telescopic legs make him a very effective ball-winner and there is still plenty of scope for improvement in this area as he scales up his pressing and ball-winning under Klopp. Thuram could prove to be a triple threat chance creator if his passing ticks up a notch and he starts taking more risks in and around the penalty area. He'll add a new wrinkle to Liverpool's attack, one they haven't had previously, in being able to create chances in so many different ways.
This will be particularly important against teams who employ a deep block. Liverpool have often found themselves frustrated and resorting to becoming over-reliant on crosses from wide areas. That should happen less if Thuram joins Trent and Alexis as three quarters of the new-look Liverpool midfield. Trent's passing from central areas, Alexis' ability to manipulate defenses and let the ball do the work for him, and Thuram's dribbling ability now give the Reds three avenues to unlocking stubborn back-lines that weren't previously available to them prior to the shift in shape.
Defensively, Thuram would be a huge addition. Again, because of what was asked of him, he isn't a huge volume tackler but he has shown himself to be a very capable one. With his speed and ability to eat up the ground in front of him he will be a massive help in terms of tracking runners and killing transition chances for opponents.
From a character standpoint, Thuram ticks every box. His teammates at all levels glow about him, and coaches have repeatedly talked about the potential he has. He comes across as a very grounded, level headed individual in interviews, a deep thinker like his father. He has also been given the Konate seal of approval, with Ibou waxing lyrical about him and referring to him as a "little brother".
The reported fee for Thuram stands around £42 mil, which would leave Liverpool's spend for the summer to date at £77 mil between Thuram and Alexis Mac Allister. £12 mil less than had they just signed Jude Bellingham, with their combined wages likely to be around half of what he commands. The additional costs, such as signing bonuses and agent fees, would also represent a fraction of the cost of the English midfielder.
Thuram might not have the hype of Bellingham, but he has the talent to reach the same type of heights being projected for him. He's a really unique player, that really does need to be seen to fully understand. Stats will only tell part of the story, and frankly aren't always useful when projecting how a signing will do for a new club because of the difference in how their teams play to how Liverpool operate.
Thuram works for Liverpool. He makes sense, in both the 4-3-3 and the 3-Box-3, and has the potential to become not just one of Liverpool's best players but one of the best in the entire Premier League and beyond.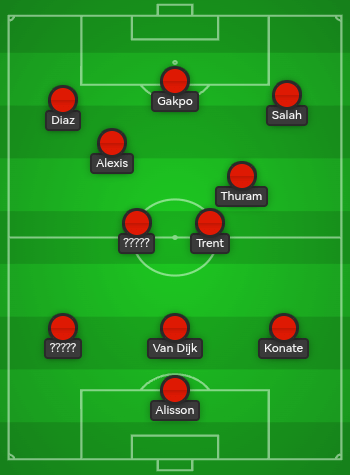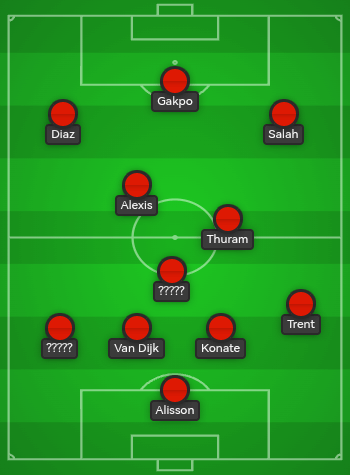 If Liverpool can get this deal over the line, that will be two of their four big needs boxed off. A new ball winner to complete the midfield and a left footed central defender to replace Andy Robertson when the 3-Box-3 is employed, should be next on the list. There's plenty of names doing the rounds for both positions, with Romeo Lavia and Manu Kone seemingly the top two targets for the ball-winning role and Micky Van de Ven and Goncalo Inacio the preferred options for the defensive role. Any combination would work well and put the Reds in a strong position going into next season.
Before those positions are filled though, Liverpool have to finalise the deal for Thuram. He needs to be the next one in. He's a one of one midfielder who could prove to be a transformational player, on and off the ball.