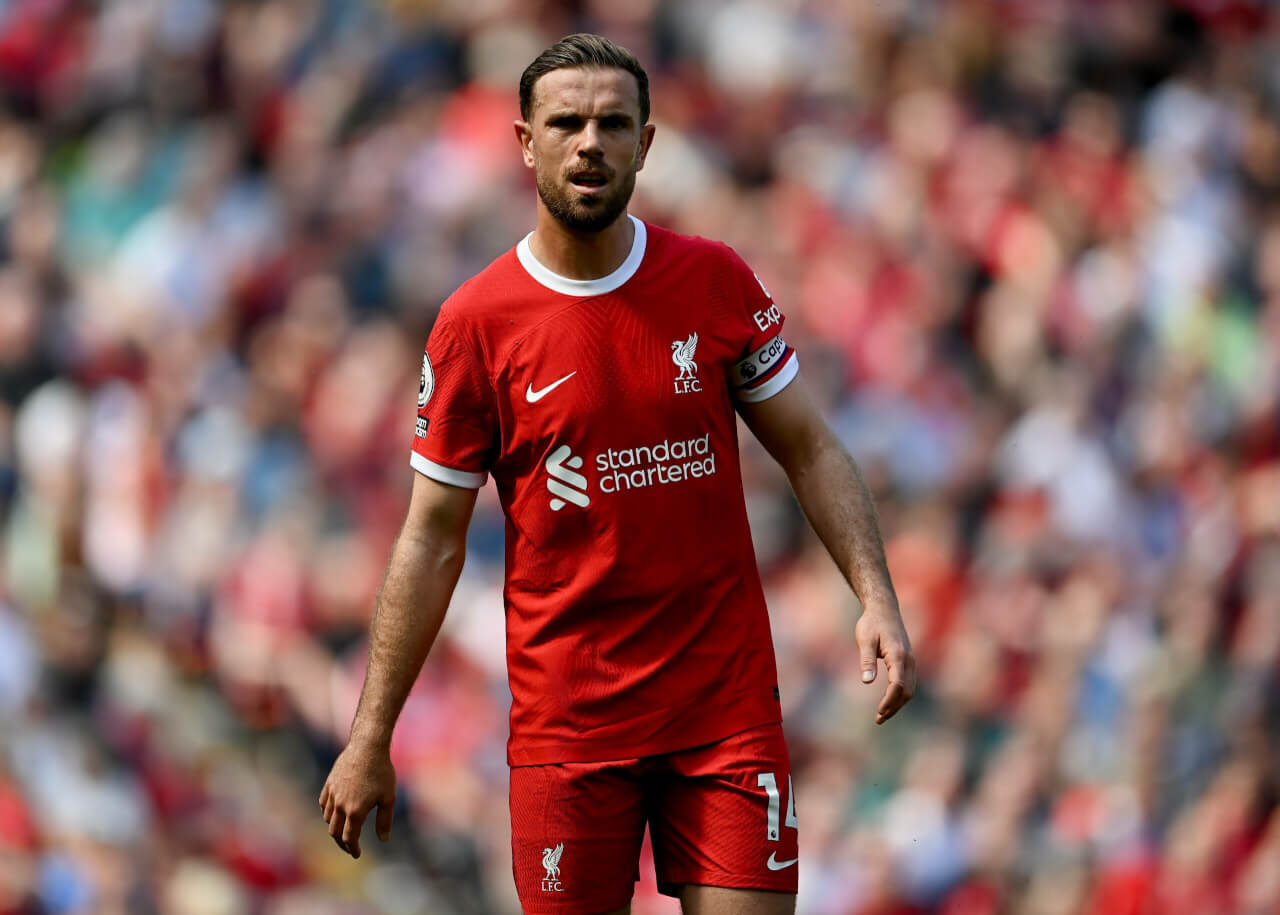 Gerrard Sets Sights on Henderson for Al-Ettifaq Era
Henderson on Gerrard's Radar for Al-Ettifaq Stint
As per reports from Chris Wheeler in the Daily Mail, Jordan Henderson, Liverpool's gallant skipper, is potentially being pursued by Al-Ettifaq, an ambitious move led by the club's newly appointed manager, Steven Gerrard. Gerrard's adventurous stint in the Saudi Pro League is already generating a wave of speculation.
Gerrard's Ambitious Targets for Al-Ettifaq
Gerrard, an iconic Liverpool figure himself, has taken the reins of Al-Ettifaq after signing a two-year contract. His appointment comes despite initial uncertainties when he rejected the club's offer post his Middle Eastern visit.
The 43-year-old former Liverpool star, Gerrard, seems to be charting an intriguing course, with rumoured sights on his former teammate Jordan Henderson and Pierre-Emerick Aubameyang, former Arsenal striker now at Chelsea. Notably, Gerrard's ambitious wishlist doesn't stop there.

Jordan Henderson: Will He be Tempted?
Having devoted 12 years of his career to Anfield, he has two more years to go on his contract, due to run until 2025. The Liverpool captain's potential shift to the Saudi Pro League, at this stage of his career, adds an intriguing layer to Gerrard's plans for Al-Ettifaq.
Pierre-Emerick Aubameyang, a year older than Henderson at 34, might be seeking a fresh start after an underwhelming season at Chelsea. A lucrative move to the burgeoning Saudi league could provide the spark that the ex-Arsenal striker is looking for. A switch to Al-Ettifaq could see Aubameyang follow the footsteps of fellow Chelsea players like N'Golo Kante, Kalidou Koulibaly, and Edouard Mendy.
A High-Stakes Game
The Saudi Pro League has increasingly become a beacon for several Premier League stars. Manchester City duo Riyad Mahrez and Bernardo Silva have been targeted with lucrative offers from Al-Ahli and Al-Hilal, aimed at quadrupling their salaries.
Moreover, David de Gea, Manchester United's top goalkeeper, is also rumoured to be on the radar of Cristiano Ronaldo's club, Al-Nassr.
Gerrard's Former Liverpool Teammates: Are They In the Game?
Rumours are also swirling around Philippe Coutinho, Gerrard's ex-Liverpool teammates potentially teaming up with him at Al-Ettifaq. Also fellow Liverpool legend Sadio Mane is also a reported target, with the wingers chapter at Bayern seemingly concluding already.
Furthermore, Alvaro Morata of Atletico Madrid is another name that could potentially be on Gerrard's Al-Ettifaq wishlist. The Spanish centre-forward might be poised for a cut-price move, adding to the intrigue of Gerrard's squad building strategy.
Steven Gerrard's tenure at Al-Ettifaq has begun with grand intentions. Whether he can convince these Premier League stalwarts to join him in this new venture is something that will unfold in due course. For now, the focus remains on Jordan Henderson and the potential seismic shift it could create in the footballing landscape.