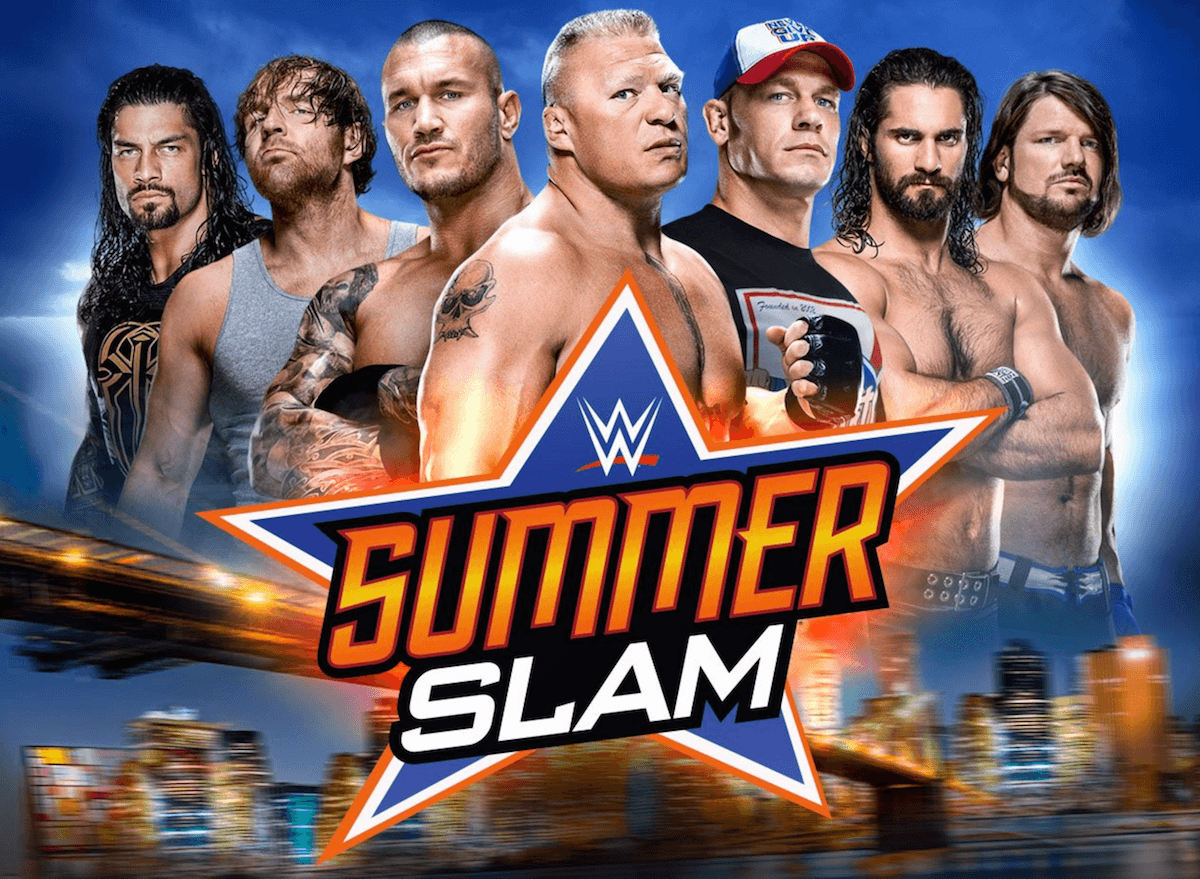 SummerSlam, bloody SummerSlam

Enzo and Cass v Jeri-KO was the perfect way to start the night – the crowd popped huge for their home town favourites, but as WWE often do, the home town heroes lost and it was a nasty looking finish. I suspect this feud will continue.
Sasha and Charlotte were up next for the Women's title and when Charlotte dropped Sasha on the ropes, I winced. If it wasn't a botch, it was a dangerous spot that became the story for the match. The middle rope Razor's Edge reversed into a hurricanrana was very impressive and had the crowd on their feet applauding. I have to say the finish shocked me as I didn't expect Charlotte to win. Perhaps Sasha will make a heel turn before regaining the title.
Next, David Otunga said he was excited in the most unanimated voice you could imagine. He really is poor on commentary and they should just leave that booth to Ranallo and JBL. Miz successfully defended the Intercontinental title against Apollo Crews in an ok match, just as expected.
John Cena and AJ Styles – from submissions to counters, to big moves and drama, this was a phenomenal match. Pun intended. This though, was the match of the night for me, they really pulled out all the stops and I thoroughly enjoyed it. Credit to Cena, he really gives the rub to people and he's supposedly off to work on other projects for a bit, maybe that was why he left his sweatband in the ring. If he does, I'm sure he'll return pretty soon, just the same as he always was and hopefully, Styles will now move into the title picture.
The John Stewart segment: zzzzzzzzzzzzzzzzzzzzzzzzz
New Day v Gallows & Anderson was an ok match, but had a stupid finish to match the stupid storyline. New Day need to lose the titles.
Ambrose and Ziggler had a decent match for the WWE Championship, but the finish was underwhelming. As expected, Ambrose won, but the real question is what next for Ziggler? Something needs to happen or this was pointless.
We had a six women tag match next and the explanation for the suspended Eva Marie not showing up was quite funny. Her replacement, Nikki Bella, got a huge pop and her surprise return will help the Smackdown women's division have a bit of meaning.
Next up was a match I'd been looking forward to, the inter-galactic empire championship match between Finn Balor and Seth Rollins. Balor's entrance was awesome and the crowd joining in helped make for the spectacle. It was what we've been waiting to see on the big stage and I already cannot wait for what he does at Wrestlemania. I loved the start of this match, so different from others and set the pace for what was an excellent contest, though I feel these two have even more to offer. It was good to see Balor get the title and it would've been interesting to see how he handled it, but as was announced later, he sadly injured his shoulder in a running powerbomb spot and will be out for 6 months – a real shame, but perhaps an opportunity for him to return and headline Mania.
I think there was enough matches on the card for them to get away with booking the no contest they did for Rusev v Reigns. I feel it adds to their feud and makes it more interesting; not to mention that Reigns is better being aggressive and not reading comedy lines.
So, the main event was Randy Orton v Brock Lesnar and the first thing I noticed was a 'got juice?' sign a fan held up as Brock came to the ring…. very brave. The match itself was as physical as you would expect, but the abiding memory of this will be the finish, the finish, the finish.
That gash on Orton's forehead was ugly and surely not planned. Lesnar's elbow opened him up wider than anything Ric Flair has ever done to himself – a nasty, deep laceration that must set up a re-match.
A unique way to finish such a big event, but an event I enjoyed and probably one of the best SummerSlam's in years, with a big card, some good matches and some storylines enhanced. Now let's see if Raw and Smackdown can improve.