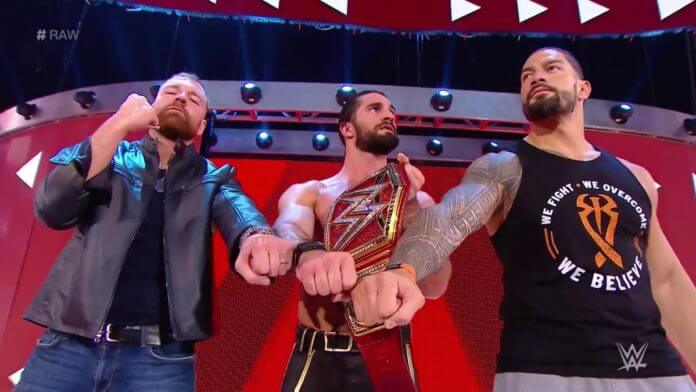 What's Next for the Show That Never Ends?

Another Wrestlemania down. This one was quite excellent, in fact in this writer's opinion it was certainly the best Wrestlemania since 31, and quite possibly the best since WM27.
The ending, though slightly marred by the suddenness of the finish, will be one of those historical moments etched into the fabric of the WWE – just like Daniel Bryan at 30 and Seth Rollins at 31. In the words of Stephanie McMahon – IT WAS HISTORY. HISTORY WAS BEING MADE. THIS IS HISTORY. HISTORY I TELL YOU.
In reality, it was a phenomenal show that seemed to stretch on forever. And yet, wrestling is good, in fact it's "better than the thing you like" so complaining about too much wrestling seems kind of pointless. And by the end of Tuesday, the show that never ends begun the cycle again. Wrestlemania acts not only as the closer to the WWE's storylines, but the fulcrum from which the WWE can begin their next chapters.
And that begins with the Superstar Shakeup.
As a preface, expecting any more NXT call-ups from here on out will only leave you disappointed: for anyone who hasn't seen the spoilers for the NXT tapings; the Undisputed Era isn't done on the black and yellow brand (which makes this writer very happy, because they're just the best.)
So, which superstars are likely to change allegiances on Monday and Tuesday?
The Women
Well, first of all is Becky Lynch, the company's best Man, who will (as mentioned on last week's column) probably drop one of her belts in the next month or so, given Fox's impending takeover of Smackdown Live and the reasonable assumption that they'll want their own women's belt. Becky-Two-Belts has the power of a go-between and is aided by the fact that Lacey Evans and her walking like a lady has similarly floated between both shows.
In all likelihood, Becky will end up on Raw, given the build-up to her taking Ronda's Raw women's title. Supposing Ronda's broken hand keeps her out for a while and she subsequently takes a break from WWE programming (as has been reported), that could be a way to keep Charlotte and Becky on different shows. Given Becky's rise has been so intertwined with Charlotte's tremendous heel run, it would be interesting to see them go their separate ways (for now.)
As for the rest of the women's division: Shayna Baszler isn't yet done with her reign of terror, so Lacey Evans seems to be the only real challenger in Becky's horizon right now until Ruby Riott can be built back up from the Rousey demolition.
Sasha Banks' status in the WWE and ability to be on television has been questioned over the last couple of days, but a return to a program with Charlotte on the big blue brand would be enjoyable, and Smackdown is in desperate need of some reinforcement for the women's division.
As for the women's tag division, well, the IIconics are the champions, aren't they? Not much else matters really, they're all you need.
The Tag Teams
The Usos (the best tag team in the world right now, and for the last two to three years) losing their titles to the Hardy Boyz surely means they'll end up on Raw, where they hopefully have a year-long program with The Revival for the Raw Tag team titles (just get them off Hawkins and Ryder, for the love of all that's holy.)
Gable and Roode are likely safe, given Roode will probably turn heel in the coming weeks, the New Day certainly won't be split up (especially given Big E's injury), Tyler Breeze and Fandango are on halt until the latter is fit enough to return, ditto with the Authors of Pain, Gallows and Anderson are on their way out and the B-Team are, well, the B-Team.
Not much shift going on there, unless they decide to have the Revival take up the Usos' mantle and carry the Smackdown tag team division. Hopefully, though, they don't.
The Men
Despite being injured, the one everyone seemingly expects to shift allegiances is AJ Styles, taking up a new housing project on the landscape of Monday Night Raw. While he's injured at the moment, it still makes plenty of sense – his match with Randy Orton was the last thing available to him in the blue realm and was a fitting end to his tenure as the custodian of the Smackdown Live household.
We already know that Braun Strowman and Drew McIntyre have made the move – hopefully cementing them as main eventers on the show that's actually booked properly – while the returning Kevin Owens and the United States Champion Samoa Joe give Smackdown an excellent wrestling feel alongside the NEW Daniel Bryan.
Although…what if Bryan was one of the ones to move? He's still clearly going to want revenge on Kofi Kingston, but should that be taken out of his hands, he could have one hell of a program with Seth Rollins – especially given Raw's biggest heel won't be on television for another few months (if ever).
Raw's need for heels – and the ideal scenario of splitting him from his former best friend – means Sami Zayn would find a nice home on Mondays, especially after his excellent anti-smark promos last week, while Bray Wyatt would probably be best suited to Raw, where he'll have the time to build up his character again
Everybody knows Vince won't let Roman move, but who's next for the Big Dog? Well, a match with Finn Balor for the Intercontinental Championship would be fun but might detract from all the goodwill Roman's obtained following his incredible return, which probably means we'll see another Roman vs. Lashley feud after the latter destroyed Dean Ambrose on his farewell night.
The Bar's (strange) intervention in the Raw main event hopefully means Cesaro's about to have his very own push, given Sheamus' body is one bad bump away from completely breaking, and perhaps someone like Rusev or Andrade (R.I.P Almas) could benefit from a Raw reboot.
Finally, there's the new Legend Killer, Five Stars Lars, Mr Sullivan himself, who could really end up on either show and EC3 – who seems to now be managed by Drake Maverick, which could work quite well indeed.
The fact of the matter is, nobody knows. That's the fun of it, really.
An emotional goodbye
Go and watch the Shield's farewell to Dean Ambrose after Raw. It's on WWE's YouTube page. It's emotional, it's a perfect way to hear Dean for the final time, and for someone who's loved just about everything Ambrose has done in the WWE (like this writer) it's just so damn sad.
He's the best promo the WWE has – go watch the YouTube videos of him as Jon Moxley or early FCW era Dean Ambrose for that matter for empirical evidence. He's had some phenomenal matches: his duo of matches against William Regal in FCW are underrated gems, his TLC match with Seth Rollins is fantastic and his match against Triple H before Wrestlemania had me on tenterhooks.
But really, everyone has their favourites. When the Shield debuted, Dean Ambrose was just the coolest thing ever, and he never stopped being cool.
He'll be missed.