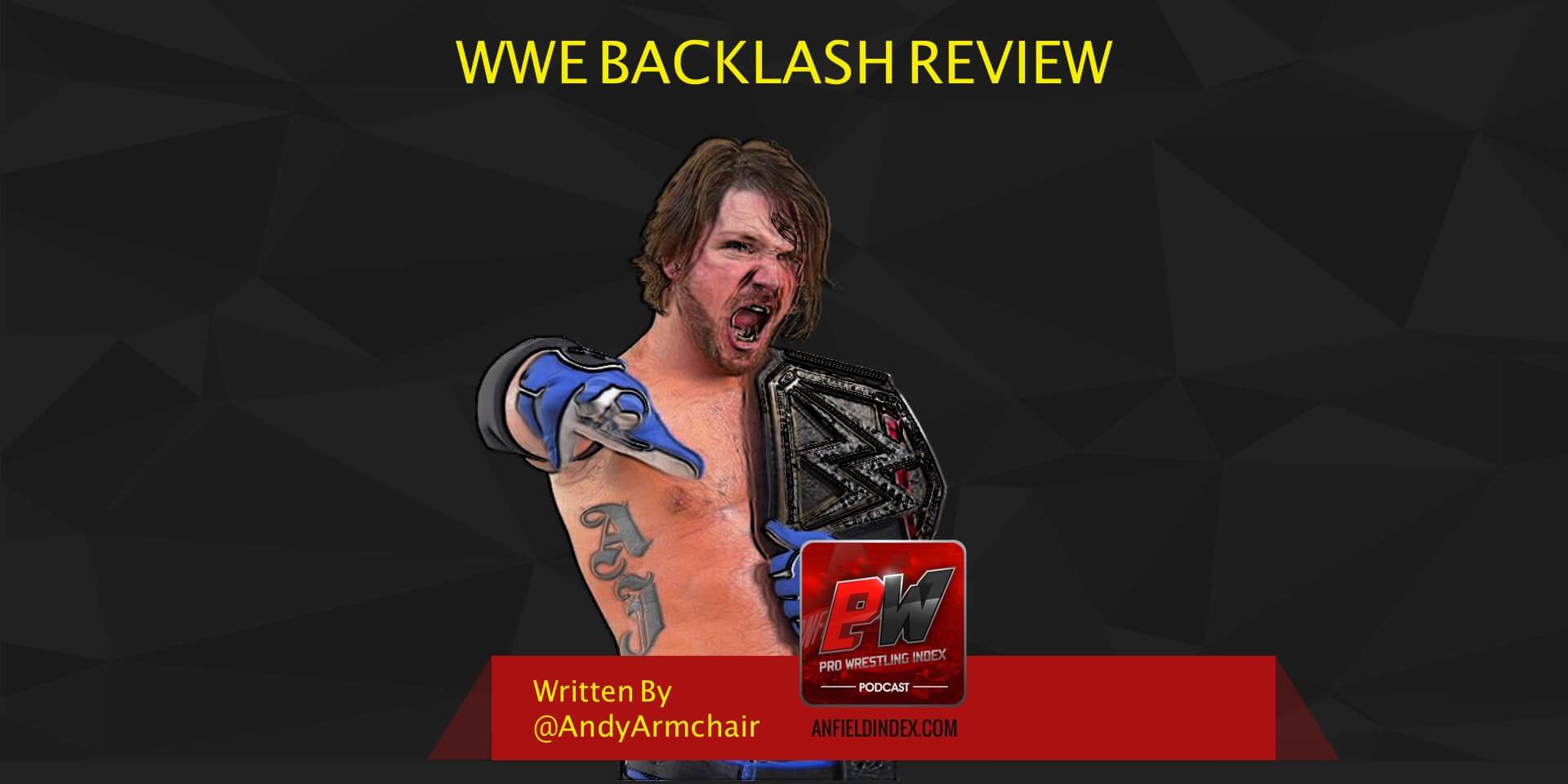 WWE Backlash Review
As a ppv I had low expectations of, Backlash had an opportunity to at least pleasantly surprise. Before I get into the matches, my bug-bear with the camera work continues; the close up shots make the arena and crowd seem smaller, despite it not being a small setting. Anyhow, that's my pet peeve out of the way and into the action. Actually, that's not my only pet peeve, the other one is what is the point of David Otunga on commentary? Anyway, moving swiftly on….
Starting with an in-ring promo makes it feel like an edition of Smackdown tv, not a ppv.
The first actual match was the six-pack challenge for the Smackdown Women's Championship. Naomi's glow in the dark looks good, but I don't like the Superbowl half-time dance routine entrance. It's a shame Alexa Bliss went first, she's been doing well. We then saw an awful spot badly botched between Naomi and Natalya, before Naomi got eliminated shortly afterwards and Natalya and then Nikki Bella immediately followed. It left us with Carmella and Becky Lynch, which only took a few minutes to demonstrate the chasm of difference between in terms of ability. It was good to see Becky crowned champion, even if she did defeat the entire roster in one match.

The Uso's not only turning heel, but also actually working as full-on heels in the ring by changing their presentation has made them more interesting and relevant. I like them as aggressive heels and injuring Zack Ryder to help get them into the Tag Team Title tournament final was a nice move after taking American Alpha out of the tournament this past week on Smackdown with an injury angle. On another positive, I didn't have to put up with the annoying 'Hype' routine twice in one night; so that was good.
The tag tournament final itself was a decent match and the fact that Slater and Rhyno won may be taken as an indication of how weak the Smackdown tag division is, but it was also a nod to Slater for the way he's got himself so over with the crowd. He's been fun and entertaining for quite some time and although some of the vignettes with his 'family' have been silly, they have been entertaining and their inevitably short reign as Tag Team Champions should be fun.
Miz v Dolph Ziggler was a match I couldn't get excited about. They actually had a pretty good match, but I just couldn't get emotionally invested in match between two mid-card characters. Miz is just doing what he does, but Ziggler needs something different and hopefully they can use this loss to fuel a character change for him because the plucky loser who is athletic, but ultimately not worth the fans truly getting behind. Miz retaining makes sense for his character, but he needs a feud that people can care about.
Next up was Bray Loser…. I mean Wyatt. Yep, a character that WWE is so over he can lose every match he has. Maybe Vince sees him as a modern day Honky Tonk Man because he even lost to part-time Kane in a match thrown together after news got out just hours before the show that Randy Orton had got injured. A limping RKO means Orton will get his turn at beating Wyatt as soon as he's fit again.
The main event was the one match I was really looking forward to and in truth, the only big match on the card. I wondered what kind of match AJ Styles could get out of Dean Ambrose, given how underwhelming Ambrose has been of late, but it has to be said that this was the best I've seen Ambrose in a very long time. It cannot be coincidence that Styles is getting so many different opponents best matches out of them, he has lived up to his moniker and absolutely made the most of his heel turn a few months ago. This was an enjoyable, physical contest and although Ambrose sometimes forgot his selling, it was a match befitting the title and the perfect time to make the switch and crown Styles as champion. His rise in WWE has been mesmeric and the company have quickly realised what a gem they signed at the turn of the year. For the first time in weeks, I'm actually looking forward to seeing Smackdown with Styles as champ and I'm sure I'm not the only one.
Overall, it was fantastic to see AJ Styles become WWE Champion and logically, other champions were put in place, but with the camera angles and post-match in-ring interviews, this resembled more an episode of Smackdown, rather than the significant ppv special event it should've felt like.