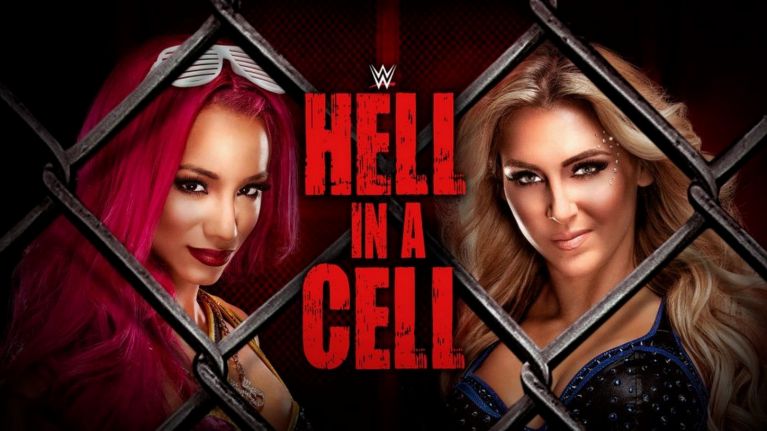 WWE Hell In A Cell Preview

It'll be all eyes on Boston this Sunday as WWE brings the Raw pay per view Hell In A Cell to town. It's being billed as a triple main event show, but in reality there are two main events here and the most significant of them is the Women's title match between the champion and home town hero Sasha Banks and challenger, Charlotte.
Make no mistake, the Women's championship being billed as a main event match at a WWE pay per view event is a big deal, but equally, so is the first ever Women's Hell In A Cell match. It's another step forward for the WWE in how women's wrestling is portrayed and these two are likely to put on a classic. I hope that it is the last match on the night, just to cement its status further and take advantage of what will be an excited crowd. Although WWE have a history of having wrestlers lose in their home town and much has been made of Charlotte being unbeaten in pay per view matches, I think Sasha will retain as taking the title off her so quickly again could hurt her at this stage.
I'm not so enamoured with the other women's division match between Bayley and Dana Brooke. The storyline hasn't been great, but was probably the type of feud that Bayley needed when she arrived on Raw, rather than put her straight in the title picture and lose. The story Bayley had at NXT really helped the crowd rally behind her and it built towards her getting a title shot. She's a very likeable character and a tremendous worker (the best women's wrestler in the company, to my mind), but that story of her building up against adversity is what gathered her so much momentum. Although I expect Bayley to win this one, it wouldn't surprise me if they have Dana go over to extend this feud.
One of the other billed main event matches is Roman Reigns defending the US Title in the cell against Rusev. I think billing this as main event is too much of a push as it's simply not perceived that way and the fan reactions to this feud are testimony to that point of view. I like Rusev, he adds something different and has the potential to be a bigger player for WWE. I also think he carried the US Title well and a feud with Roman Reigns has kept the title quite prominent, but this is a programme that has been too repetitive for me; I feel like I've pretty much seen the same interaction every week between them. Reigns doing the smiling and comedy routine doesn't help in my mind and fans continue to reject him in the old school babyface role, despite the good work he is doing in the ring. Reigns needs to be less about smiles and wisecracks and more about aggression and openly not caring about what anyone thinks of him. That aggressive approach would've been more in keeping with them being in a cell match and I would've more interested in this. For the record, I see Reigns retaining the belt.
Enzo & Cass taking on Gallows and Anderson should be an excellent match that is highly anticipated…. should be. Sadly though, Enzo and Cass drifted somewhat by having a mini-feud with the timeshare salesmen. The way Gallows and Anderson were presented throughout their feud with New Day didn't help either, they're a bad ass team and should never have been doing god awful comedy. Hopefully, these two teams can have a match that may even steal the show. It's tough to call a winner, but I'll opt for Gallows and Anderson. Staying with tag teams, the tag titles are up for grabs with New Day defending against Sheamus and Cesaro and as much as I'd like to see New Day lose the belts to freshen things up, I have a feeling they'll win and we will see Sheamus and Cesaro resume their feud. I hope I'm wrong though.
I've written recently about the cruiserweight division and my misgivings with how it's been handled since the excellent CWC tournament. It's a reflection of how Raw has handled the cruiserweights, rather than the wrestlers themselves, that I have such a malaise towards the Cruiserweight Title match between TJ Perkins and Brian Kendrick. They might have a very good match, but I fear that few will care as Perkins retains.
Finally, Seth Rollins will challenge Kevin Owens for the Universal Title inside hell in a cell and it should be a great match. Unfortunately, Rollins face turn has been too babyface for me and him pandering to the crowd and trying to get chants going doesn't feel natural. Owens, on the other hand, has continued to be pure solid gold on the mic and his on-screen chemistry with 'best friend' Chris Jericho has been exceptional. Jericho is delivering some of the best mic work of his career and the little subtle nuances have been outstanding. I suspect Jericho will get involved with this match and aid Owens to get the win, but also add a little fuel to the fire of simmering tension between Owens and Jericho. Hopefully Rollins will move onto a new feud that will better suit his character and babyface transition.
Overall, this is a show that I have high hopes for and believe will deliver.