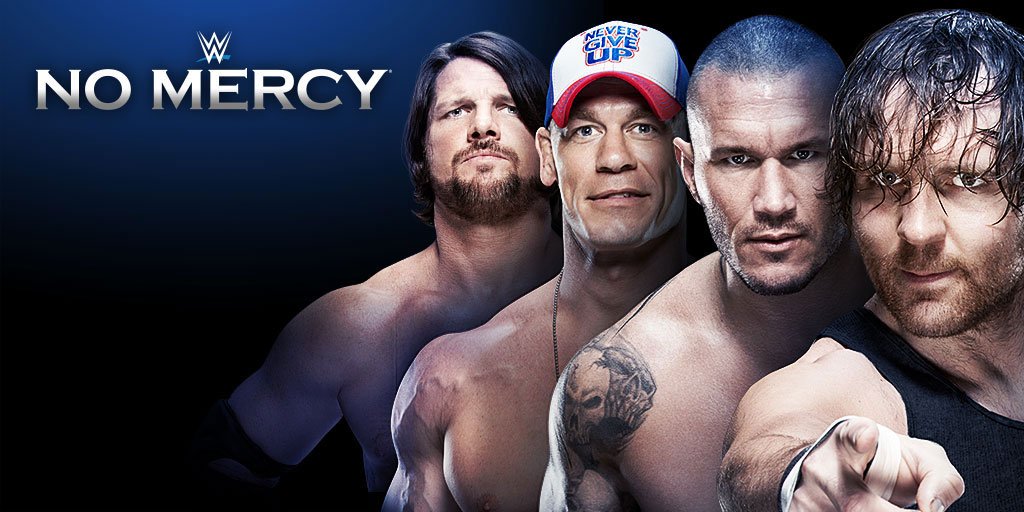 WWE No Mercy Review

Unusually, No Mercy began with the main event. Hopefully, this was purely because of the presidential debate and not a new format as the old school in me insists that the main event should close the show.
Anyhow, we got straight to the WWE title match between AJ Styles, John Cena and Dean Ambrose… well, after a five-minute vignette as Styles was making his entrance… talk about taking you out of the moment, another reason why your biggest match should be built up towards. That aside, this was a match I had high hopes for and all three competitors got into a frenetic pace very early in the match. From a personal perspective, it was great to see Styles hit that middle rope springboard into a reverse DDT move that used to be a regular part of his arsenal. It turned out to be an exhilarating 25 minutes that included a non-finish that was probably supposed to make Cena and Ambrose look strong, as well as be a way to have another triple threat between them. I wasn't a fan of that non-finish as I don't think it was necessary and Styles using the chair to win was all that was needed. I'm sure we'll see a re-match soon.
Next up was Nikki Bella against Carmella and I wasn't expecting this to be a wrestling clinic. Carmella showed in her time at NXT that she knew how to project her character and does have potential, but her move up was too soon. Having a feud with an established star like Nikki Bella has been good getting Carmella established, but the limitations were there to see in what was an ok match. The question will be if this continues after Bella won the match clean.
The tag team title match with Heath Slater and Rhyno defending against The Usos was decent, though not spectacular. With the recent building of The Usos and their ruthless streak, I expected them to continue that story and have them target Slater, but that never really happened and I was surprised to see Slater and Rhyno simply win clean.
After the former Smackdown World Champion Jack Swagger made his Smackdown debut this past week…… erm, yeah, they actually claimed it was his Smackdown debut. So Swagger is back on Smackdown with a whole new ……errrrr….. well, he looks and sounds just the same, so it was unsurprising that the crowd were about as animated as David Otunga on commentary at the prospect of Swagger and Baron Corbin facing off. Their match wasn't up to much and I suspect with Corbin winning, their feud is not over yet. Corbin is limited, but has potential; however, he will need something more engaging than this if WWE are to utilise the heat he can generate.
I thought The Miz defending the Intercontinental title against Dolph Ziggler in a title v career match was going to be the curtain closer, so was a little surprised that it was up around the half way point. It was a contest that I was looking forward to, simply because the clarity in the stipulation made it more interesting. It turned out to be a good match, but not great. To be honest, as good as Miz has been this year, I find him 'clunky' to watch in the ring and thought that was evident here. The match did have plenty of drama, but there was a few too many finishing moves kicked out of – something all too prevalent in WWE. Ziggler winning was logical and felt like it was a special moment, but can he build on this momentum?
Sad to see Becky Lynch ruled out of her match, but good that the impressive Alexa Bliss still got to be showcased, even if was to lose a scruffy match to Naomi.
A minor point – if Smackdown and Raw are competing, why would the Smackdown announcers preview the next Raw PPV?
So, last up was the storyline I've hated the most and the match I cared about the least. They had a pretty decent back and forth contest, but the ridiculous build towards this had me rolling my eyes in embarrassment for weeks and meant that I just didn't care. Bray Wyatt actually won, but after years of poor booking and on off the back of a dreadful storyline, it meant very little. The return of Luke Harper was my favourite part of the match.
On reflection, No Mercy was ok, but nothing more and I think the absence of Becky Lynch hurt that part of the show. Slightly disappointingly, there was very little that made me look forward to this week's Smackdown.