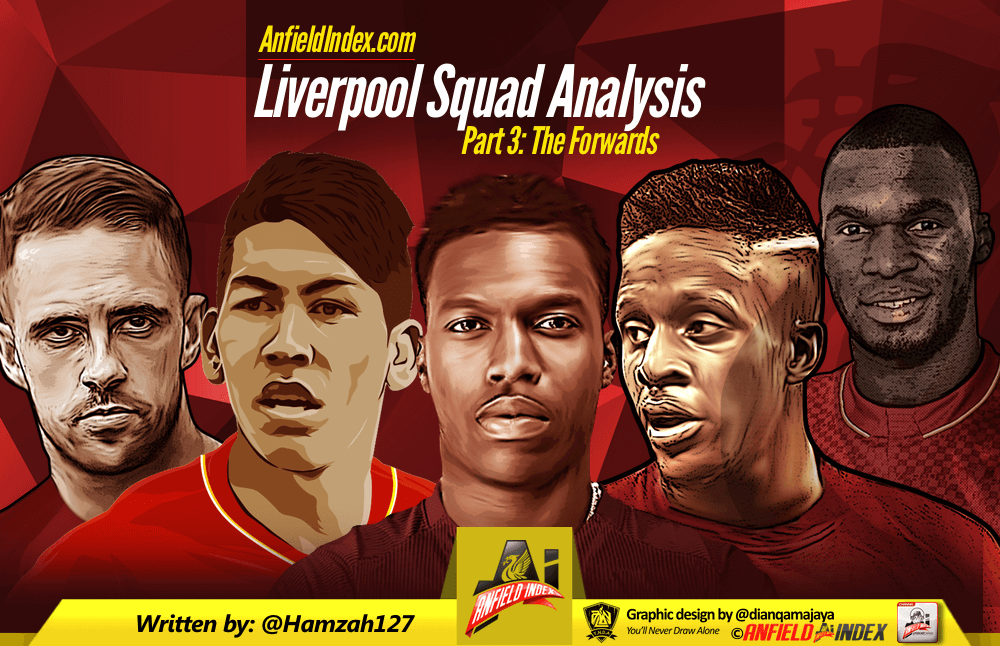 Liverpool Squad Analysis, Part Three: The Forwards

Public perception over Liverpool's forward line has changed drastically from the start of the season; Danny Ings and Christian Benteke started fairly well, whilst Divock Origi and Roberto Firmino struggled, as Daniel Sturridge looked on from the sidelines. Fast forward to late October, where Ings had been ruled out for the season, Benteke was misfiring, Origi and Firmino still struggled and Sturridge was still unfit. All the attention was on Klopp bringing in a new striker in the January transfer window to resuscitate Liverpool's season. Yet now it looks as if Liverpool's front line is one of the best in the league, and the only big question surrounding the future of the Liverpool forwards is where Christian Benteke fits in, and whether Klopp will look to purchase another striker to ensure he is not left short upfront as he was this season.
This is the final and concluding piece of the three part mini-series on the Liverpool FC squad; and in order to assess the forwards within the squad though, I'll be looking to use WhoScored statistics and a few other factors that I used in my two previous squad analysis articles, regarding the midfield and the defence.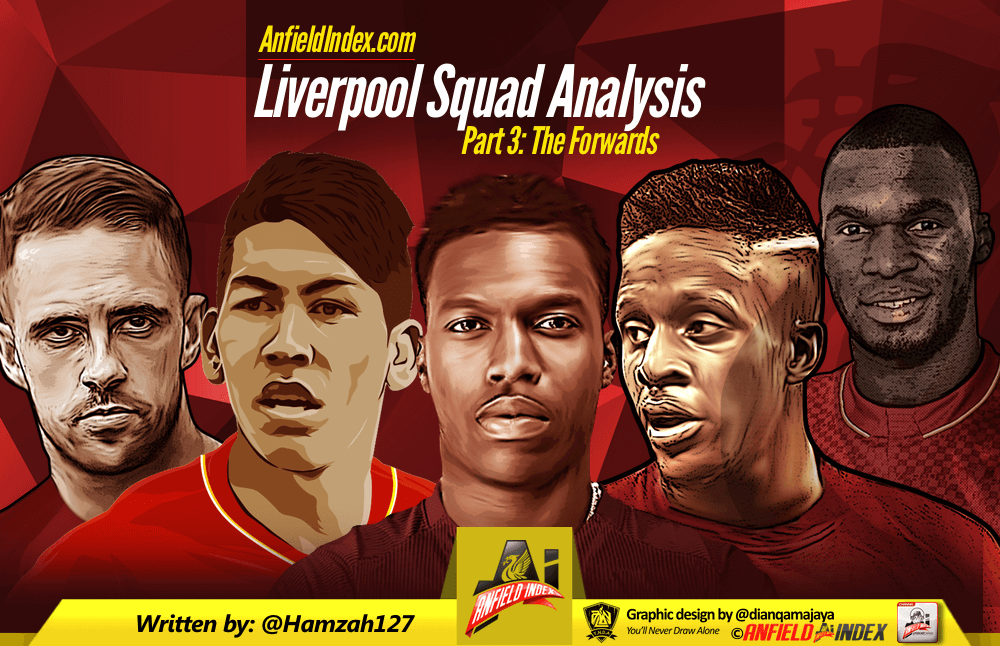 Daniel Sturridge is arguably one of the most frustrating players in the league; when he plays, he is consistent, sharp, quick, has fantastic link-up play, and most importantly scores goals, however it is very much an issue of 'when' he plays, due to his injury record.
This season, Sturridge has only averaged a WhoScored 6.72 rating – but several of these are comprised of substitute appearances; when Sturridge starts, he averages 6.98 and boasts 4 goals in 7 appearances. He is undoubtedly Klopp's first choice striker currently, and Klopp's fitness plan that he gave to Sturridge seems to have worked out well for now, with Sturridge claiming after the Manchester United match that he is both "fit" and "ready".
One potential issue for Sturridge is that he plays best alongside another striker, and that Klopp's preferred tactical system is a 4-2-3-1, where the striker can become isolated at times, however, as Firmino has hit form this season, his positioning is closer to a Centre Forward than an Attacking Midfielder, which may result in more link-up play, and the formation of a strike partnership; although it is worth noting, Firmino has not yet scored with Sturridge on the pitch, so perhaps both Sturridge and Firmino will need more game time together to begin to link-up as Suarez and Sturridge once did.
As long as Sturridge stays fit for the remainder of the season, and performs at the level he usually hits, it's hard to see Sturridge being anywhere but Liverpool for next season, the only issue may be whether Klopp decides to move in for another striker – and if Klopp does decide to do so, it will most likely be a striker intended to compete for the starting position, as with Origi and Ings, there is already depth and youth within the department – which may be a cause for concern for Sturridge, who wants to play as many games as possible when fit. But for Daniel Sturridge, despite his low goalscoring returns over the past season and-a-half, Klopp has already stated how impressed he is by his talent, indicating that he intends to keep Sturridge and start with him too.
Christian Benteke joined Liverpool with a hefty price tag, and similar expectations, and for the most part, he has failed to live up to those expectations. As Klopp did not buy Benteke himself, he has no inclination to keep him, other than his performances over the season. A summer departure for Benteke seemed likely, especially as Klopp chose to play Divock Origi over Benteke in several games, and then utilised Firmino as a striker instead of choosing the big striker, whilst Origi was injured – and most damningly, the reluctance to bring on Benteke in the League Cup final against Manchester City, when looking for a goal. However, Benteke's Liverpool career may yet be resurrected; in Benteke's most recent appearances, he has made a concerted effort to try to press and link-up, most impressively so in the Crystal Palace Premier League fixture. Benteke came off the bench with 10 minutes left of standard time, had a chance with his first touch which he hit at the goalkeeper, but despite this, stuck at his task, and won a penalty in the 95th minute of his own making, by making a run that is expected of all Liverpool forwards. Not only this, but most impressively, he decided that he would take the penalty himself, an extremely brave move for a player who has appeared bereft of confidence this season, and cooly slotted it away, bringing an end to Liverpool's Crystal Palace hoodoo. Benteke has shown a drive, not only in the Palace game, but through his meeting with Klopp earlier in the season where he promised to improve his overall game, as well as his rebuttal of an offer to play in the Chinese League (which most likely would have included a substantial pay increase), illustrating that he really does want to play for Liverpool, and perhaps his desire to prove himself and to play, may be inhibiting him – the same way Lovren tried too hard last season.
His attitude was praised by Carragher, who applauded the way he kept his head down despite not being in the team and did not speak out to the press about his playing time.
It is specifically his attitude and willingness to improve his game that may yet still convince Klopp that he deserves to stay on and play at Liverpool.
WhoScored have given Benteke an average of 6.84 across his Premier League and Europa League games, in which he has scored 8 and assisted 2 goals – a decent return, but one which he will hope to build upon over the remainder of the season if he is to stay on at Liverpool.
Of the forwards, Benteke appears the most likely to leave in the summer, but if he can string together some impressive performances, spurred on by the confidence he would have gained from the Crystal Palace match, he may still have a future at Liverpool – and if he can show the form he displayed at Aston Villa during his time there – it may well be an impressive one.
Roberto Firmino struggled early on in the season, but with the arrival of Jürgen Klopp, he has gone from strength to strength. Now Liverpool's top scorer, and statistically the player most directly in goals since the turn of the year, it seems Firmino's place looks secure, and it is only a question of whether he can maintain this form, or even improve it.
WhoScored have rated Firmino as an impressive 7.20 across the season in the Premier and Europa Leagues, in which he has scored 9 and provided 8 assists. Most impressively though is how he performs as a striker, averaging 7.87, with 6 goals and 5 assists from 9 appearances, compared to when he plays in a CAM position where he has 3 goals and 3 assists from 10 appearances, averaging a still impressive 7.4 rating. Notably though, when deployed as a left or right attacking midfielder, Firmino has failed to directly contribute, which has forced players like Coutinho and Lallana to play in a wide role, instead of their preferred central positions. Since Klopp's arrival, he has been linked with his old Dortmund players, and with a persistent link to Mario Götze reemerging recently, as well as other potential new players joining this summer, will Klopp be able to shoehorn all of his best players into one side, in their favoured and most efficient positions whilst also accommodating for his 4-2-3-1 formation and high tempo pressing style of play?
Firmino's position within the squad looks very secure, unless a wealthy European club decides to take an interest in him, but his position tactically within the starting XI may be subject to change next season, but obviously that is relative to any new signings.
For Firmino now, his focus must be on improving his link-up play with Daniel Sturridge, and performing at the level he is currently showing or potentially even better for the remainder of the season; but of all the forwards in the team, he appears the least likely to be moving on.
Divock Origi burst onto the international scene in the 2014 World Cup, where he impressed for Belgium and kept Romelu Lukaku out of the team whilst Christian Benteke was injured. He subsequently signed for Liverpool, and spent one more season with Lille, where he struggled and was infamously named in the Ligue One worst XI of the season. He also endured a tough start at Liverpool, and only under Klopp, in a 6-1 hammering dished out to Southampton did he finally show what he was capable of; scoring a hatrick of three dissimilar goals, all impressive, but also an aggressive pressing nature, pace, strength and link-up play. Since that game, he has only scored two goals – one a large and late deflection against West Brom, and the other a cool two touch finish against Aston Villa, shortly after being substituted on.
Despite his low goalscoring return this season, the overriding factor when it comes to Origi is his all round game, and specifically his pressing game; his willingness to harry and chase down defenders and loose balls has impressed Klopp, which is why he has made several appearances this season, and was chosen to come off the bench in the League Cup final to produce something too.
This season, Origi averages 6.37 according to WhoScored, but at the age of 20, he clearly has a lot of potential, and is someone who Klopp tried to sign before, showing that Klopp has faith in him.
His goalscoring returns this season may look poor, especially when compared to Manchester United's 20 year-old striker, Martial, who has 11 goals and 4 assists from his 40 appearances (6.98 WhoScored average), but it is important to take into account that Origi has only played 19 games in the Premier and Europa Leagues this season – with 10 of those as a substitute.
It is obvious that Origi will need to improve his goalscoring record eventually, but under Klopp's tutelage, and with the creativity of players such as Coutinho or Firmino behind him he will flourish.
Klopp's faith in him this season, to bring him on so regularly, would suggest that Klopp intends to keep him on for the upcoming season, although a role as third or fourth choice striker would be expected; Origi does need game time however, so a loan spell may not be out of the question, but given that Klopp disproves of the loan system in general regarding developing players, it is most likely that Origi will stay on at Liverpool, and may still see a decent amount of playing time over the remainder of the season – giving him more than enough opportunities to stake his claim in the squad.
Lastly amongst the forwards is Danny Ings, whose season was cut short by an ACL injury suffered, before Klopp had a chance to see him perform in person.
However, from what we have witnessed over the previous season, and in the performances that Ings put in this season, Ings looks a strong and quick player, who would fit in well with Klopp's attacking and pressing philosophy. Ings, like Origi, is very willing to press defenders and lost causes in order to engineer a chance from them
Generally speaking, Ings is a sharp poacher who specialises in finishing tight chances in the box, his tenacity and willingness to run in behind always gives the midfield players an outlet to aim for – in some ways he is similar to Sturridge; for what he lacks in technical skill when compared to Sturridge he makes up for with effort.
His aggressive on the shoulder style of play would suit players like Firmino and Coutinho who like to play passes in behind and he could potentially flourish with them providing chances for him, but his future at Liverpool relies on whether he can impress Klopp once his recovery programme is complete, and also whether Klopp is willing to give him a chance, or if he wishes to bring in another striker instead.
ACL injuries have the potential to ruin careers, but some players – like Theo Walcott – have managed to recover from them at a young age, and that would give hope to Ings, who we can visibly see wishes to play at Liverpool.
As Ings is not at the top of the wage spectrum, is young, and looks to already be a snug fit for Klopp's ideology, his future at Liverpool would appear to be fairly safe, as it is expected that Klopp will afford Ings a chance, and a fairly substantial one too.
Within the forward grouping, the places of Sturridge and Firmino seem the most secure, whilst Origi and Ings are anticipated to stay; there remains a question mark over the future of Christian Benteke, but his future at Liverpool is dependent on him ultimately, as if he manages to score some goals, or simply show the more aggressive, mobile attitude that Klopp wants on the pitch from him he may be given more of a chance to establish himself – much of his poor form has been down to low confidence, high expectations, and an unfamiliar system, when considering this, it's fair to observe that he most probably deserves some more time to get to grips with being at Liverpool, like Lovren has, and even Suarez did to a smaller extent when he first joined. The futures of the forwards depends also on any potential signings upfront by Klopp, but it is pointless to make judgements over speculation.
The forwards are a strong grouping with a lot of potential, as well as versatility – the only issue is that Sturridge, Ings, Origi & Benteke have an injury record, but perhaps a full pre-season will rectify any issues regarding potential injuries. With the forwards, Klopp is most likely to keep what he has and build on it, the potential is here for a very impressive front line, that may well emulate Klopp's old Borussia Dortmund team – but seeing as the attacking grouping is well developed, it will certainly be interesting to see if they can keep their performance levels up for the remainder of the season – and if so, the next season will look very promising indeed.