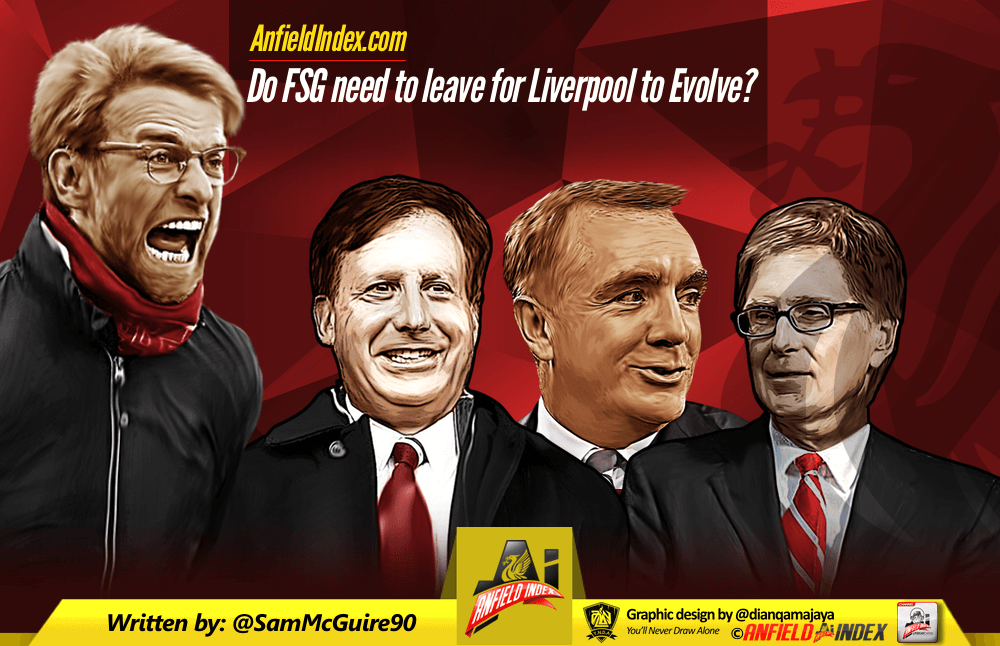 Do FSG need to leave for Liverpool to Evolve?
The credit Fenway Sports Group built up with the Liverpool fans when saving the club from going into administration has all but ran out. There only so much slack you can cut them for bringing the club back from the dead before it turns into resentment due to always having to look for excuses as to why Liverpool aren't progressing on the pitch.
It festers deep down in all of us. When they rocked up at Anfield Tom Werner announced that Liverpool could "compete with anybody".  Of course there was small print attached to such a statement, they're businessmen, they won't be making bold claims without loopholes. The loophole in this instance was Financial fair play. As long as the FFP rules were enforced FSG felt confident enough that they could compete, in a sense. Spending was regulated so there was a readymade excuse for FSG not going out and spending £50 million a player despite having the funds. FFP is lax and FSG's reluctance to spend is visible for all to see.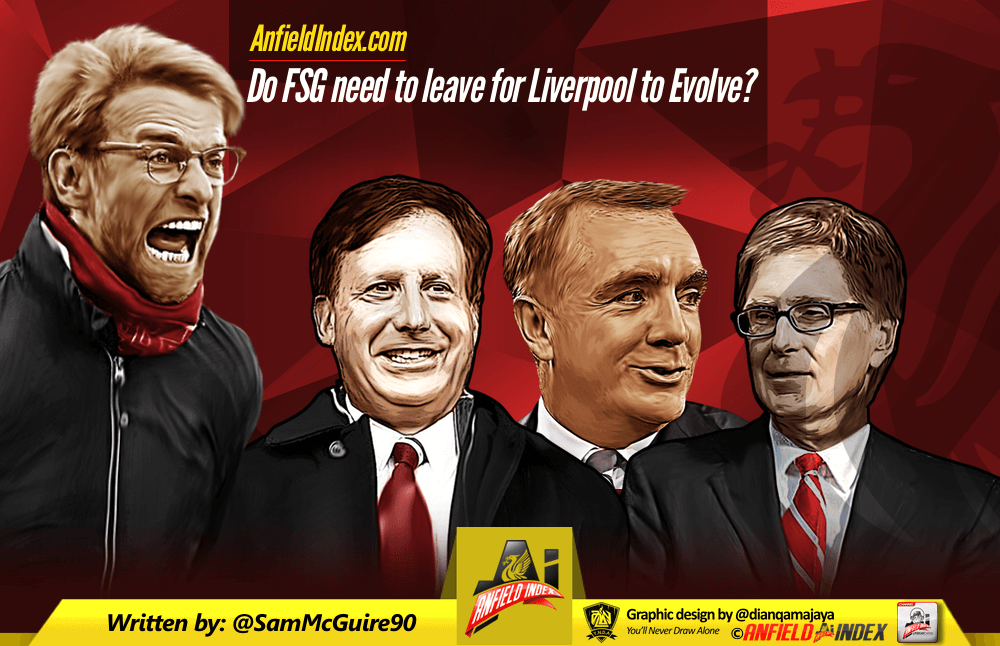 The resentment comes from the fact Liverpool are set up to compete with the big boys off of the pitch but not on it. But we should be. It's all there just waiting to be capitalised upon. We just need that push, we've been tinkering on the edge for so long.
Almost a year ago I wrote about their caretaker-esque role coming to an end sooner than people imagined( which you can find here) and recently speculation about the owners being open to selling the club seem to reaffirm that point. They weren't acting like long-term owners. Earlier this month Joseph Cousins wrote a piece on why he feels FSG have failed to deliver on their promises (if you have ten minutes you can read the well researched piece here).
When criticising FSG on social media you're often met by people still indebted to them for buying the club when they did. Credit where credit is due, FSG have grown the club. Forbes ranks Liverpool in the top 10 richest clubs in the world. The club has more than doubled in value since 2011. Liverpool have developed the sponsorship side of the business under FSG and taken it to new levels. They're exploiting a side of the business that was neglected under previous regimes and adding value to their asset.
Defenders of FSG then refer to how they've always 'backed the manager' before citing how much they've spent since taking over. Again, credit where it's due, they always reinvest money recouped from player sales. Fernando Torres was sold for £50 million and that money went towards Andy Carroll and Luis Suarez. The latter was then sold for £75 million (?) and that was splurged on the Southampton trio amongst many more. Raheem Sterling left for £50 million and that funded the deals for Roberto Firmino and Christian Benteke. The transfer merry-go-round at Liverpool FC.
More often than not they're applauded for backing their managers financially while the managers are criticised for their poor use of the funds allocated to them. What's often ignored is why these managers were able to waste ridiculous amounts of money under FSG's watchful eye.
FSG appointed Kenny Dalglish, a man who hadn't managed in the Premier League for well over a decade and was out of touch with it, and gave him funds that Rafa Benitez would've had wet dreams about. Kenny is a legend, he was before my time but both my Dad and my Granddad have told me stories. I respect him but no person is bigger than the club and that second stint as Liverpool manager put the club back. Why did FSG entrust Kenny with that much money? It was negligent.
At the time Damien Comolli was acting as a Director of Football but Kenny had final say by all accounts. The former was thrown under the bus for the latter's decisions in the market.
After parting ways with Dalglish their next idea was to appoint a Director of Football. It was the right idea. Add continuity to the club throughout. A man with a philosophy that aligned with the FSG's and he'd appoint staff to bring these plans to fruition.
However, with Liverpool in such a state they weren't that attractive and after being turned down by top targets they ended up with Brendan Rodgers, a manager that wanted full control.
They conceded the argument and granted Rodgers control of transfers and he went about spending £26 million on now cult hero Joe Allen and Fabio Borini. Not content with giving Rodgers total power they introduced the infamous Transfer Committee and almost immediately undermined Rodgers. The TC was born due to FSG's indecisiveness.
It was a kind of you pick then we pick scenario as Liverpool's schizophrenic transfer dealings wasted millions. It was never going to work and it was wrong of FSG to, firstly, appoint Rodgers if they didn't agree with his demands and then, secondly, undermine him after appointing him.
Destined to fail from the start. How many millions of pounds did the club waste on players because of this failed experiment?  People can hate Brendan Rodgers all they like but that's on FSG.
It's been five and a half years since and a lot has changed in football since the takeover but not so much at Liverpool. Not yet, anyhow.
If you examine closely the goings on at Liverpool in those years it looks more like a redecoration job as opposed to building on what you already have. Every Summer the club seems to go through a transition due to selling their star players and making 6/7 signings. There's yet to be a Summer of retaining talent but building on what they've got.
Think of the Liverpool squad as a living room. You're fairly happy with it but then after a while it needs freshening up, there are new mod cons out that just won't fit in the room as it is. Instead of extending the room you decide to just redecorate. A bit of paint, you sell your oversized sofa, the best part of your old living room because it's too big to move if you're getting that new TV on the opposite wall, for £700 and buy a different one, a smaller but newer one, for £900. Aesthetically it's improved and you've spent a bit of money on it so it should be better, right? Except now the sofa you bought isn't as comfy as your old one. Your old sofa with this new TV in an extended room would've been perfect but that would've cost too much.
Instead of building on the success of the players already there FSG cash in on their star players and go about redecorating instead of extending.
Many will say it's not their fault that the likes of Torres, Suarez and Sterling left, and it's probably not, but their reluctance to pay big wages is certainly a hindrance as Liverpool look to build. Not paying the going rate will always leave you open to losing your better players to clubs that will. Not qualifying for Europe's elite competition doesn't help either.
FSG did offer Luis Suarez a £200,000 per week deal in the December before he left but how much of that was a charade knowing full well he'd leave in that Summer so they wouldn't be paying him those wages for long? If you're a top player and Liverpool offered up a heavily incentivised deal dependant on getting Champions League football would you accept it knowing the club have only finished in the top 4 once in the past seven years? It's like dangling a gold bar in front of somebody, just slightly out of reach, and asking them to chase it.
Player Recruitment
Liverpool seem to unearth a potentially world class player but instead of supplementing him with already good players they surround him with more potential and wonder why everything is all very inconsistent. Liverpool used to have one/two world class players but their supporting cast was made up of players a tier or two just below. It was all about the team instead of an over reliance on one or two to perform.
Look at the treble winning side. Steven Gerrard was a kid with a lot of potential but due to the squad around him he was able to go about his business without the expectation of having to do it himself. The sides that Rafa built – Gerrard, Torres, Mascherano, Alonso, Carragher, Hyypia and Reina supported by the likes of Arbeloa, Hamman, at the time a young Agger, and Benayoun.
Even the side that Brendan Rodgers inherited had a core; Reina, Agger, Carragher, Gerrard and Suarez. All winners and all with experience of big games. It allowed the likes of Daniel Sturridge and Philippe Coutinho the chance to flourish without the added responsibility of being solely match winners.
The squad Klopp took over is made up of players who would've supplemented the Houllier and Rafa squads. We're now overly reliant on potential. FSG oversaw this change in personnel and didn't intervene.
Adam Lallana and Christian Benteke are performing as exactly they did for their previous clubs. They've not taken themselves up a level, not because they don't have the talent to do so but because the Liverpool squad doesn't push them to do so. Benteke was no doubt a poor fit but he's still posting up his numbers from his Villa days. Adam Lallana's stats have been near identical for the previous four seasons. I'm not his biggest fan but I'm convinced had Lallana been involved in the 13/14 season his numbers would've improved. Why? Well, despite being a £23 million man, he wouldn't have been viewed as a marquee player. Liverpool still had Agger, Gerrard and Suarez and their youngsters; Sturridge, Sterling and Coutinho, were all in the form of their lives. He would've taken his game up a level because of those around him.
Instead Lallana signed for marquee money (for Liverpool) and was expected to influence an attack that was missing Suarez,  the then injured Sturridge and an increasingly aging Steven Gerrard. Fast forward a season and you have another marquee signing, Christian Benteke, being supplied by an 'average' player in Lallana, newly acquired Roberto Firmino and a still inconsistent Coutinho. And people wonder why things are so disjointed at Liverpool?
Not all of this can be pinned on FSG but all this has occurred under their ownership. An inconsistent, inexperienced side will always be a bit hit and miss no matter what sport you play. For the game changers and match winners, the ones you need to balance a squad like that you sometimes have to shop in a different market and pay over the top if you aren't the most attractive of propositions and FSG have failed to do this.
This is where the resentment once again rears its ugly head. A few quality, experienced, match winners added to this squad and things would look a lot more positive. I don't want this player but could you see the club really splashing out on a Toni Kroos to play beside Emre Can? Or a Marco Reus? Or a Mats Hummels in defence. These aren't extravagant luxury signings either, these are payers who would bring quality and experience severely lacking. Fans will claim Liverpool never sign world class players but the truth is we never had to in the past. We had a process back then. Good players in the squad mixed with potential world class playing Champions League football regularly meant we developed these players.
Now we aren't playing regular Champions League football. We don't have a squad made up of good solid players. It may not be 'the Liverpool way' but neither was finishing 8th. Times change and it's time the club accepted this.
However, with FSG in charge will such changes occur? The foundations have been laid but perhaps now is the time for new owners to come in and really extend what's already here. Make the most of the potential.