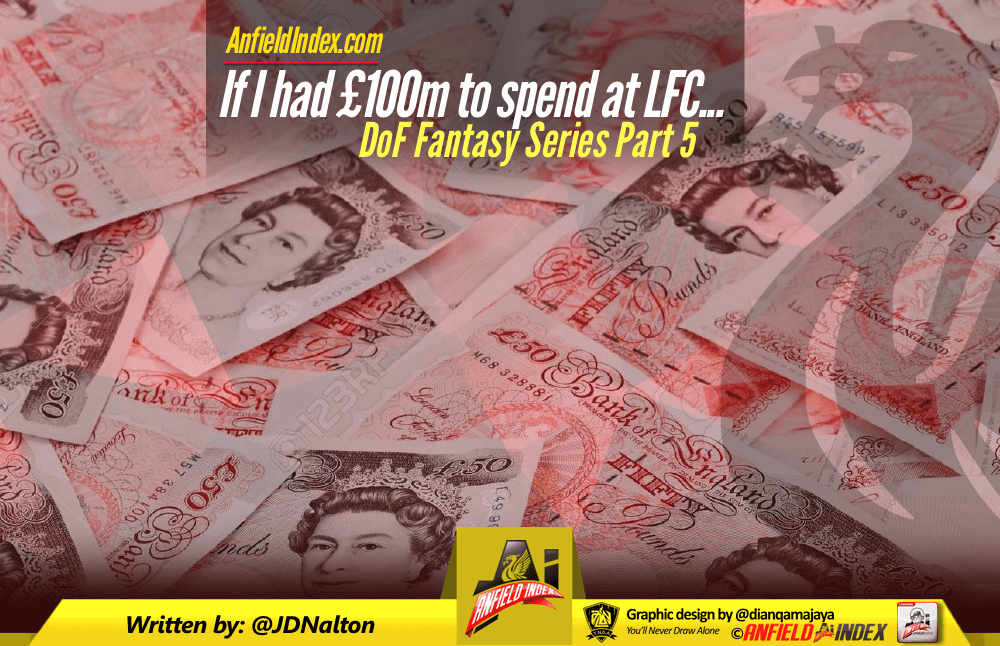 DoF Fantasy Series Part 5: How I'd spend £100m at Liverpool
Liverpool's ridiculously named "transfer committee" has been a hot topic in recent years.
Some think they epitomise everything that's wrong with the club's transfer strategy, but maybe their detractors are yet to realise that the spine of Klopp's new-look side is made up of "committee" signings.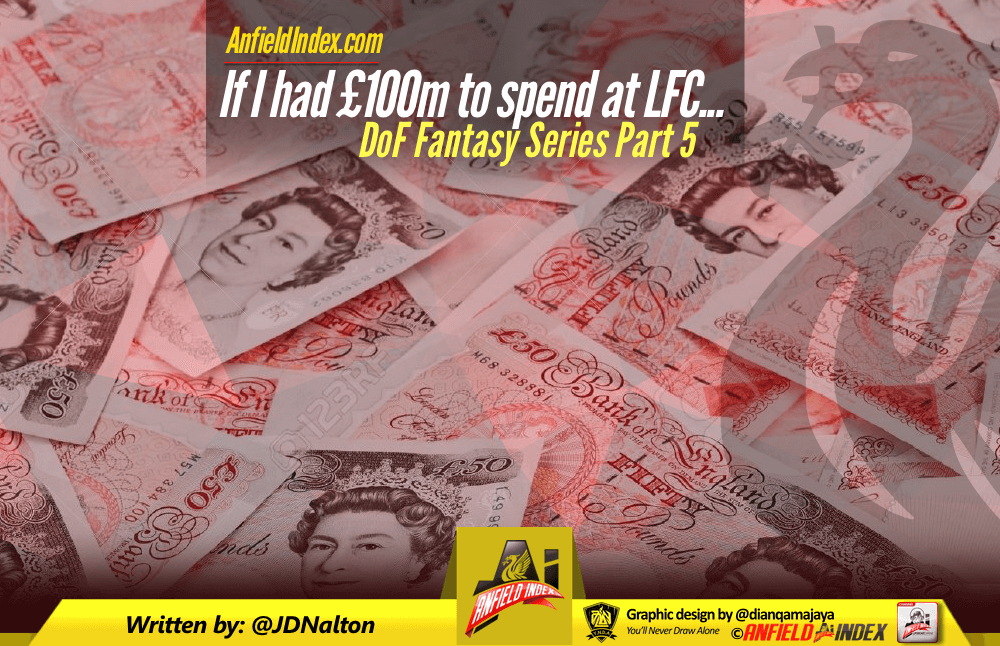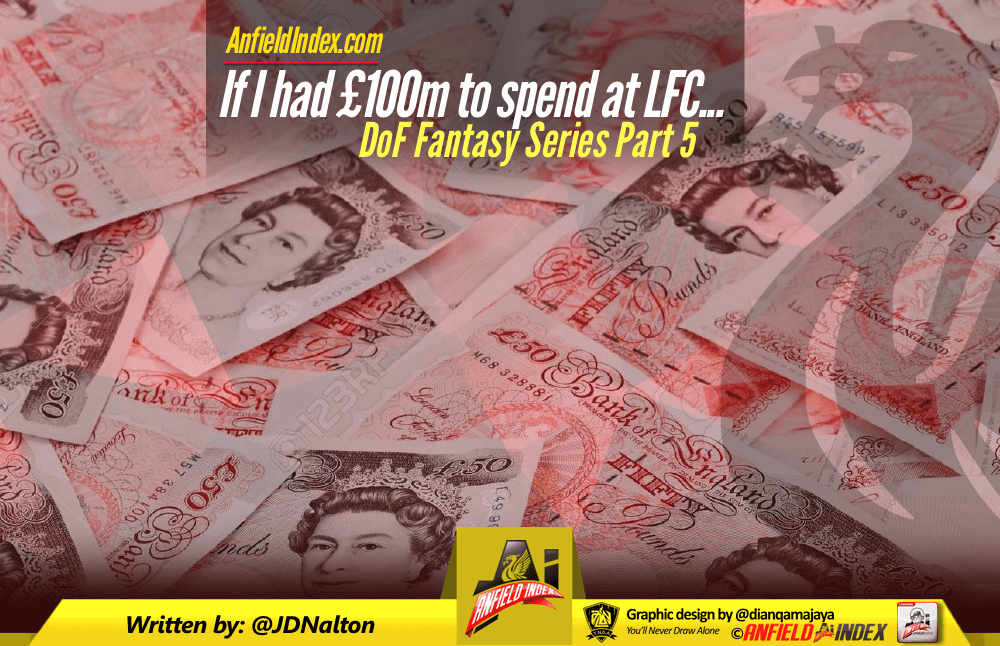 Emre Can, Roberto Firmino, Divock Origi, and Mamadou Sakho were all first choice under the German once the squad had settled following a spate of injuries.
Can and Firmino were the club's best players last season, while Origi and Sakho became Klopp's go-to players at their respective ends of the pitch.
Maybe the committee aren't so bad after all…
That said, the squad is far from perfect. There are plenty of hangers-on as well as players who don't fit in at Liverpool, and especially Klopp's Liverpool.
So with this in mind, Anfield Index have charged some of us writers with taking control of the transfer committee for however long it takes to write an article.
Other articles in the series have been written by Sam McGuire, Jan Riha, and Srikanth Bala.
See You Later – Major Outgoings
Simon Mignolet – £8m
Could be used as back-up with Danny Ward being loaned out again. However, Ward's form during his loan spell at Aberdeen, plus his step up within the Wales pecking order shows he has the quality to be at least an adequate back-up player. Having Mignolet and Karius feels like having two goalkeepers who want to play every game, but Karius's bedding-in period might mean a wait until January to sell Mignolet.
Martin Skrtel – £5m
Doesn't fit the system and is no longer of the required quality if the club are to challenge at the top, or for the top four.
Dejan Lovren – £9m
Came into form at the end of last season, but looking back at his career so far his runs of bad form have lasted for much longer than the good ones. It might be a good time to cash in now his stock is relatively high again.
Tiago Ilori – £5m
Ilori goes based on the fact that the manager doesn't seem to want to use him. The centre back showed promise at times in his loan spell and Granada, and more fleetingly at Bordeaux, but it would probably be more beneficial to give Joe Gomez the nod alongside Sakho.
Christian Benteke – £20m
The Belgian needs to move for his own benefit, and that of the club. He'll do well for a mid-table Premier League side, or perhaps a club on the continent, so quite a bit of the money spent signing him could be recouped.
James Milner – £?
Milner is a good utility squad player but the wage doesn't match the quality. He managed to collect eleven assists last season, but there were some poor performances especially when playing in the centre of midfield. The manager found a role for him towards the end of the campaign, but it's a role which would be better filled by someone else.
It feels like a choice between two similar types of player in Jordan Henderson and Milner. The former is younger and also a natural central midfielder, and should take Milner's place in the squad.
Mario Balotelli – £?
Out on loan: Jordon Ibe, Pedro Chirivella
Incoming
Alessandro Florenzi
Age: 25
Cost: £25m
Florenzi is an all-rounder who combines good technical ability with the work rate required to slot into Liverpool's current set-up. He's played in midfield, as part of an attacking three, and last season he regularly played at right back, helping Roma finish third in Serie A.
The Italian would offer similar things to Nathaniel Clyne, but would be more competent in each area thanks to his understanding of different positions.
It would almost be like signing two players, and he could become a valuable member of the team at right-back or in midfield and would play in every league game fitness permitting.
He'll take some prising from his hometown club though, especially as they have Champions League football to look forward to next season.
---
Kwadwo Asamoah – £20m
Age: 27
Cost: £20m
Asamoah is to the left side of the pitch what Florenzi is to the right.
He'd provide an alternative to madcap Spaniard Alberto Moreno at left-back, as well as being an option further up the pitch.
The Ghanaian suffered several injuries last season which might make him more easily attainable, and rumours suggest that Antonio Conte is hoping to bring him to Chelsea.
---
Javier Mascherano
Age: 32
Cost: £10m
Liverpool's failure to replace Mascherano during the past six years is bordering on negligent, so what better way to make up for this than by bringing back the man himself.
In Argentina there is a continuous search for the next Mascherano as the Barcelona defender reaches the twilight of his career, but while Matias Kranevitter and Lucas Romero have been much talked about as possible replacements, there isn't really a stand-out candidate.
In re-joining Liverpool Mascherano would provide the club with true leadership qualities, experience, and an ability to play in defensive midfield as well as the centre of defence.
---
Virgil Van Dijk
Age: 24
Cost: £18m
Van Dijk is already a very competent central defender, but he's also one who could learn a few things as he reaches his mid to late twenties.
The Dutchman is a better, more versatile version of Joel Matip — the Cameroonian centre back Liverpool have already signed from Schalke who will provide back-up next season.
Van Dijk spent time at Celtic where he partnered Manchester City's future defensive star Jason Denayer. The pair could become two of the most sought after defenders on the continent should they reach their potential.
Liverpool missed a trick, as they often do, when the defender signed for Southampton from Celtic, but it's still worth sending some more money down to the south coast for the talented defender who stands at 193cm (6ft 4).
Given Sakho's injury problems last season it would be good to bed in an alternative left-sided centre back who could eventually challenge for Sakho's spot in the starting XI. Competition would be good for both, and Van Dijk would be a great alternative in the cups at the very least.
---
Gabriel Barbosa
Age: 19
Cost: £25m
Gabriel is a skillful left footed Brazilian forward who's recently made his first appearances for the national side.
He's long been touted as the next star from a conveyor belt of young Brazilian talents, albeit one which has slowed in recent years.
The hype surrounding the player in his youth led to the nickname "Gabigol", such was his prowess in front of goal, but after breaking into the first team at Santos and becoming an established international youth level, he suffered a dip in form.
Compatriot and namesake Gabriel Jesus has caught up with Gabigol as Brazil's most coveted young talent in recent times, and has maybe even overtaken him, but a positional switch and some obvious improvements in mentality have seen him come back into form.
Since moving to a position wide on the right for Santos he's looked more comfortable and has had more space in which to develop his skills.
Despite this joy on the wings, there are calls for him to become the regular number nine for Brazil, leading the line with the creative attacking midfielders and forwards operating behind him. There could be a preview of that with Philippe Coutinho and Roberto Firmino at Liverpool.
He gets nod over the aforementioned Gabriel Jesus due to his left-footedness which will offer further balance to the squad, particularly in attacking areas.
---
Summary
Gabriel aside, the players suggested here are not potential stars, or players who would need time to develop.
They're players who could come in and improve the squad to make sure Liverpool challenge for the league title next season, or at least finish in the top three.
Van Dijk isn't at his full potential yet, but even at his current level he gives the side something they don't have, while Gabriel is versatile enough to get games even as a fringe player to start with.
Squad & positions with positions the player can cover if needed:
Goalkeepers: Lorius Karius, Danny Ward
Right Backs: Nathaniel Clyne, Alessandro Florenzi (CM, RW)
Centre Backs: Mamadou Sakho, Joel Matip, Joe Gomez (RB, LB), Virgil Van Dijk
Left Backs: Alberto Moreno, Kwadwo Asamoah (LW, LM)
Midfielders: Emre Can, Javier Mascherano (CB), Lucas Leiva (CB), Jordan Henderson, Joe Allen, Marko Grujic
Attackers: Philippe Coutinho (CM), Roberto Firmino (STR), Lazar Markovic, Adam Lallana, Gabriel Barbosa (STR)
Strikers: Daniel Sturridge, Divock Origi, Danny Ings
Potential to step up from academy: Cameron Brannagan, Ryan Kent, Harry Wilson, Sheyi Ojo