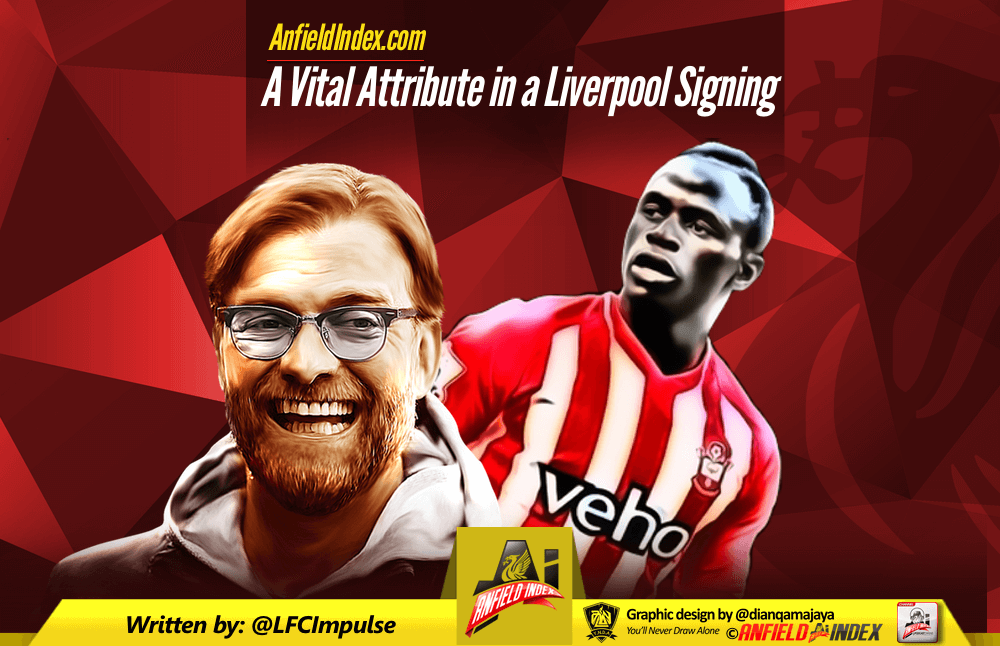 A Vital Attribute in a Liverpool Signing
Just as the season came to a close, the floodgates open for everyone in social media – from journalists with real info, to journalists who make up info, to ITK's seeking for acknowledgement – all looking for fame and recognition by football clubs' respective fan base. Transfer-mania begins when you see every player under the sun being linked with your club and with Liverpool falling victim to the '2+2=5' transfer algorithm; they are hardly shaded from the limelight.
This may not be a bad thing in the grand scheme of things.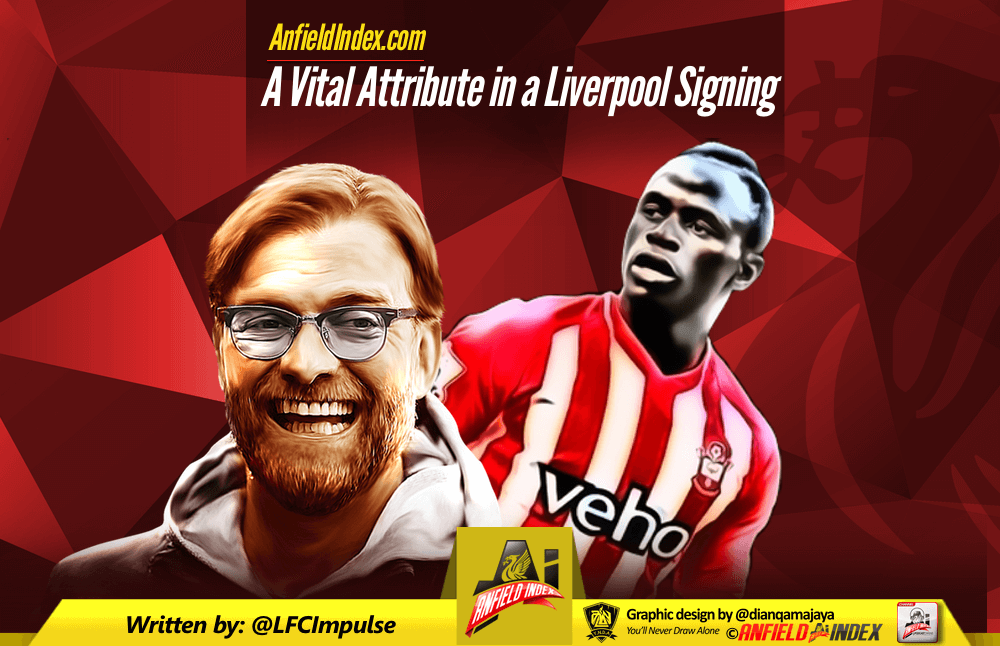 Even after 3 years under Brendan Rodgers, huge pockets of flaws still lie within the Liverpool squad and from a fan's perspective; it's all about picking your poison, really. Think our defence is like melted butter that gets cuts through even by a plastic knife? Think our midfield plays illusions on you by playing tricks into thinking that we actually have a midfield? Think we lack goals up-front? Again: pick your poison.
Well here's my choice for the most important signing for Liverpool FC from an attribute standpoint.
Building the Case
While I do think that Liverpool has always been plagued with horrid defences, there are way too many variables that factored into it – the lack of midfield protection, half-hearted defending, wrong timing between tracking a player and closing a player down, individual errors, goalkeeping errors, and horrible luck – you'd probably get the gist of it by now.
With Loris Karius signing with the Reds as well as the free transfer of Joël Matip, perhaps some of these loopholes will be clogged. Saying that Liverpool needs a defensive-midfielder or a competent, world-class centre-back is a very easy shout, but what I'll be making the case for is more of what attributes from a player the club desperately needs, and that is a wide-forward who adds goals.
From a very literal analysis, of the 63 total league goals scored by Liverpool in the 2015/16 season, only 13 of them came from players who on paper, played in wide positions. This includes the players who played as the wide attacking-midfielder in a 4-2-3-1 and as wingers in the 4-3-3 formation, which were (not permanently, but as and when): Philippe Coutinho, James Milner, Adam Lallana, Divock Origi, and Jordon Ibe.
However, this number is tremendously generous in favour of how Liverpool's wide players have performed in that season. From the 13 goals scored by players who started/came on in wide areas (again, very literal):
5 came from runs that stemmed from central areas (Coutinho – 3, Milner – 2);
1 came from set-piece/penalties taken (Milner – 1, Origi – 1);
2 from central areas outside the box (Lallana – 1, Coutinho – 1);
2 were Coutinho's trademark wonder goals; and
Only 3 came from runs from wide-play (Lallana's game-winning goal against Norwich, Origi's amazing goal against Stoke City, and Ibe's stellar run against West Bromwich Albion).
In comparison to some wide-forwards in Europe in the 2015/16 season (remember, Liverpool as a team scored 13 goals from wide players and remember, this follows the very literal analysis as above):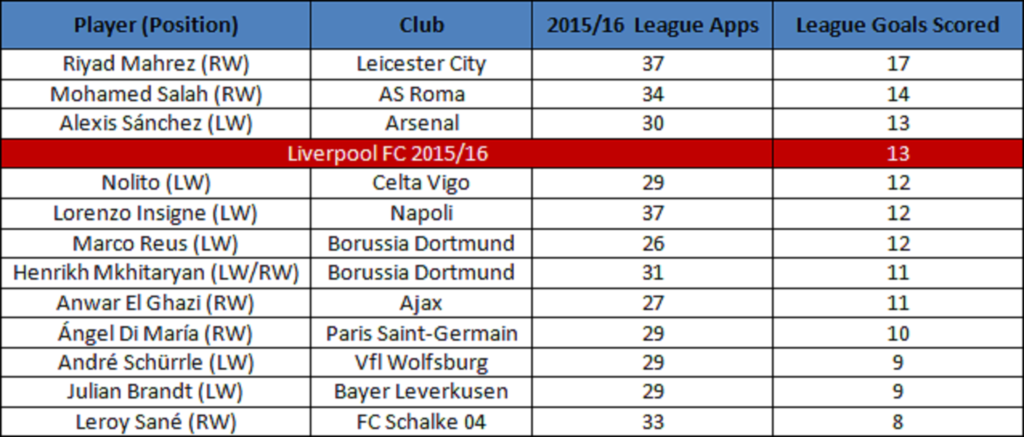 As above, many wide players have scored about the same amount of goals as Liverpool as a team as a whole have in 2015/16, plus-minus 4 goals. Even then, this list isn't even fully populated yet and of course, this list omits the obvious, elite players such as Cristiano Ronaldo, Gareth Bale, Neymar, and Lionel Messi – all of whom have racked up at least 20 goals each.
With that said, the underlying question is: What kind of player could Liverpool FC attain in order to make up for what is lacking? Well, the attributes that a wide-forward bring to the table could be exactly what the club needs.
Wide-Forwards – Their Attributes, Roles, and Tendencies
While deemed as a 'hipster' term, a wide-forward is different from conventional positions in football. In theory, they should cover what both a winger and an inverted-winger can do, but with hints of what a second-striker should do as well.
A player who plays out wide in today's game is not your cut-and-dry, chalk-on-boots player anymore. While some teams still deploy traditional wingers who look to remain as close to the touchline as possible (hence the term, 'chalk on boots') and have good crossing ability, the meta-game now demands a lot more out of players who operate on the flanks.
What differentiates a wide-forward from a traditional winger and even inverted-wingers at that, is the directness in terms of play-style. While the latter two aims at being a supporting role, the former can be seen as a player who occupies areas which a striker or an attacking-midfielder will take, whereby he plays a more crucial role in attacking instances.
Ideally, a successful wide-forward will want to have the pace and on-ball ability to win one-on-one's against their opposing full-back, have the intelligence to know whether to cut back to the by-line and take up the half-space or to cut inward into central areas, have the vision and passing ability to pick out a pass into the box if a teammate makes the run, and also have the shooting capabilities if the opportunity presents itself.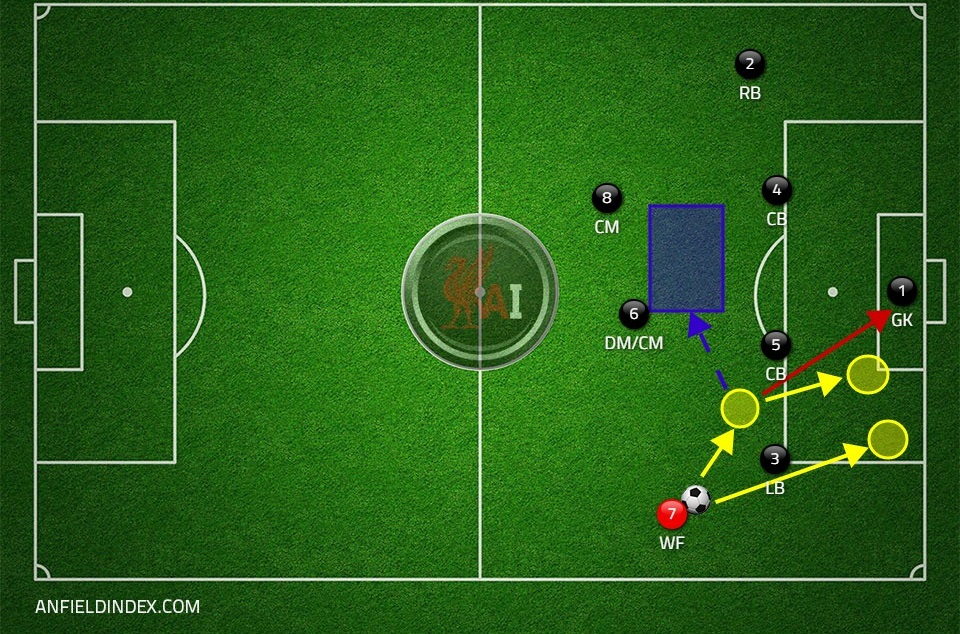 The illustration above gives a much-simplified version of things a wide-forward could do whilst having the ball from wide positions, in a possible chronological order as below:
With the ball at his feet out wide, a wide-forward will typically be matching up against his opposing full-back (a left-back, in the above illustration). Depending on the position of his teammates, the type of opposing full-back, and the scenario when the wide-forward sizes up against his defender, the wide-forward has two quick options:

To cut to the by-line immediately and play like a winger does; or
To cut infield and look to size up against the supporting centre-back as well and reassess the options.
This is seen with the first two yellow arrows shown in the illustration above.
If the wide-forward does the latter, he is faced with yet another dilemma. He could now:

Take a shot from slightly outside the box if his defenders do not close him down (as seen with the red arrow directed at goal);
Cut back into the 'half-space' towards the by-line, just outside the near-post and look to take a shot or to play it across goal (as seen with the second yellow arrow that follows the first); or
Cut even more centrally or pass to a teammate who has occupied said central areas (as seen with the blue arrow and the blue box).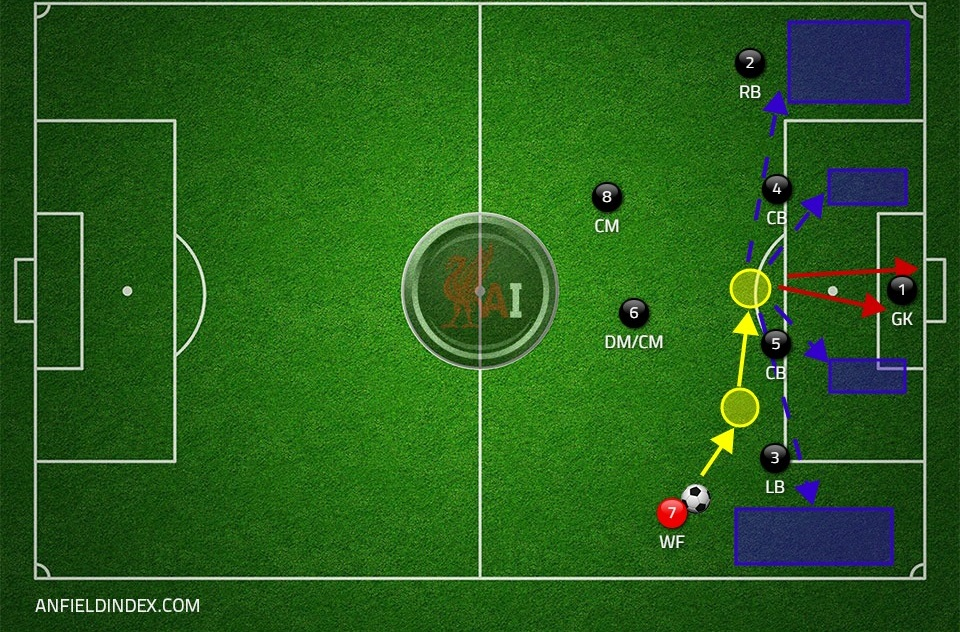 (A slightly more complex illustration of the options available to a wide-forward who has the ball at his feet is seen above. Yellow arrows indicate the movement with the ball – and follow up movement; blue arrows indicate possible areas he could pass the ball to if a teammate occupies those areas, and the red arrows indicate only two of many angles and positions where a wide-forward could take a shot a goal.)
As such, it goes without saying that the options available to a wide-forward calls for a heightened level of positional awareness and split-second decision-making abilities. These, coupled with the actual ability to execution passes, crosses, dribbles, and shots are essential to a wide-forwards' success, though some may be a master of one or two while other may excel in all four areas.
The As-Is Analysis of Liverpool's XI
As it stands, Philippe Coutinho and Roberto Firmino are clear standouts in the Liverpool side and are instant picks in the starting line-up.
The Magician occupies the left-side of the pitch, but often tucks inward and pulls slightly down the pitch in order to be part of the midfield build-up. As such, Alberto Moreno, the club's aggressive left-back, pushes up and occupies the left-wing, operating like how a traditional winger would. Roberto Firmino on the other hand plays a more back-and-forth role, moving along a vertical axis in the centre of the pitch in order to help break pressing set-ups on the midfielders and provide (off-the-ball) support to the striker.
A huge question mark lies on the right-side of the attacking trio. Over the course of Klopp's short tenure thus far, we've seen several different players occupy that flank with each of them playing different roles suiting their different attributes.
With James Milner, we see a 'Dirk Kuyt' approach combined partially with that of a traditional winger, while Sheyi Ojo plays much like how an inverted winger would, considering him having a dominant left-foot. Adam Lallana played a jack-of-all-trades persona on the right, with varying degrees of effectiveness.
Closing Words – Key Opportunities and Potential Struggles
The current options for the right-side of attack for Liverpool consists of a more traditional right-sided midfielder, a still-developing inverted winger, and a chance-creation-centric attacking-midfielder pushed out wide, as mentioned above. Adding a wide, goal-scoring forward could change up the dynamic of the Liverpool squad. Allowing for more starting line-up and in-game tactical flexibility would be essential in tackling the uncertainties of the Premier League and the multiple defensive structures being set-up to combat the varying attacking styles of teams in the league.
Having an avenue for goals that stems from build-up play out wide makes it that much more difficult for defences to cope with Liverpool. No longer can teams just stick to having the wingers double-up with full-backs to stop crosses or to pile up in the middle of the pitch. The added movement from wide which vacates certain attacking positions forces opposing teams to constantly adapt with each attacking transition.
Now this all sounds fine and dandy but ultimately, with opportunities to improve comes with its attached inherent risks of failure. The addition of a wide-forward who has the ability to score goals to comply with the "goals, goals, goals" item on the typical Liverpool fans wish-list isn't something that gets delivered down chimneys. There may be potential struggles in terms of putting things into practice with 3 other attacking-minded players to consider as well, and then there's talk of maintaining success, if any, over a long period of time.
Additional worries come into play when it comes to signing players to undertake this role to improve the team, with transitioning and translating of their success from their previous club to Liverpool may not be as seamless as fantasized, and it just so happens that this is the case with Liverpool's big-buck signing this summer, which is the Senegalese from Southampton. Sadio Mané, a wide-forward with the tendency to operate in central areas despite starting on either flank appears to be an appealing proposition to Liverpool fans.
First impressions show that Sadio Mané is indeed a player who would fulfill the role of a wide-forward that was explained above, but as disclaimed there are a lot of questions that needs answering before anyone can conclude whether or not he is the wide-player who can take us forward.
For further information on Sadio Mané, do read two more articles on the AnfieldIndex website by Sam McGuire (link) and David Laumond (here).